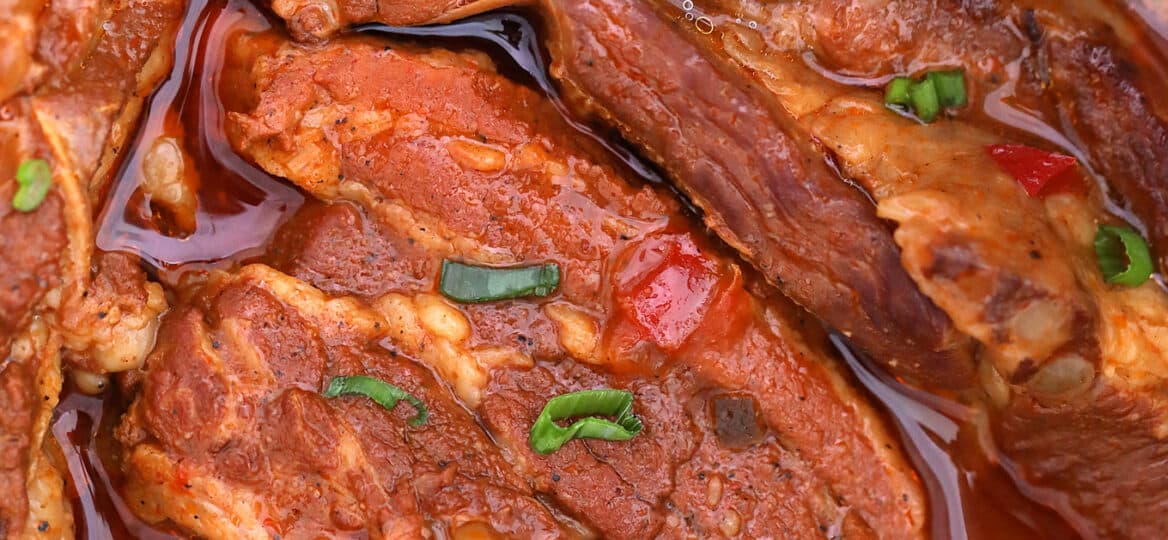 Instant Pot Country Style Ribs [video]
Instant Pot Country Style Ribs are perfectly tender and flavorful. By being smothered in barbeque sauce, this easy dinner meal will leave your mouth watering for more.
It is no secret that I love using my Instant Pot for different recipes. Want to vary your style of ribs? Try making Pot Ribs, Short Ribs, and BBQ Chicken and vary your style of making this dish.
Easy Instant Pot Country Style Ribs
We love making Instant Pot Country Style Ribs, as they are tender and super delicious. It is also an easy dish to make for the family to enjoy. Simply put all the ingredients inside the pressure cooker, and leave it on for about 30 minutes. Then, come back to release the pressure and they are done!
It truly is amazing what technology can do nowadays. They always come out juicy, moist, and very delicious! For best results, make sure to work the barbeque sauce and spices into the meat.
This meal can be easily made to your own tasting. For example, you can choose your favorite barbeque sauce or make your own and you will have a delicious dinner recipe. Also, because the pressure cooker needs a certain amount of liquid in it, we add a little bit of beef stock in order to make it up to the cooker's standards.
We also do not like using baby back ribs because they tend to not have as much meat on them as other kinds of ribs. The more meat on the ribs the easier it is to work in the spices and sauce.
What are country-style ribs?
They are the end of the loin and closer to the pork shoulder. They are typically meatier than other rib cuts and don't have any rib bones, but have parts of the shoulder blade.
How to cook Country Style Ribs in the Instant Pot?
Making them in the pressure cooker is our favorite way to cook them. Firstly, it is a quick and easy way to make them, because the pressure expedites the cooking time. Secondly, they come out always moist, tender, juicy and very delicious. Therefore, we highly recommend this method of making the ribs.
You simply combine the dry ingredient together and then rub it into the meat.
Add the liquid ingredients to the pot, and top the meat with the BBQ sauce.
Then, lock the lid, and let it cook.
Once cooked, remove everything from the pot and serve it with extra barbeque sauce!
It is that simple!
How long to cook country-style ribs in the Instant Pot?
This will vary based on how much meat you will use. For our recipe, we cook it for about 45 minutes, with 15 minutes of Natural Pressure Release. However, if you are cooking a larger portion, you could increase the time by 10-15 minutes. This will not harm in any way the meat. It will be just as tender and moist.
How to cook frozen country style ribs in the Instant Pot?
If you have frozen meat, you can definitely cook it in the pressure cooker. Just prior to cooking, make sure the ribs or the meat is not frozen together. For frozen meat, follow the same steps but increase the cooking time by 20 minutes. We have a good article on how to cook frozen tenderloin in the pressure cooker, and you can access it here.
What goes with country style ribs?
This dish is so amazing that you can eat it as is. However, we love pairing this meal with other recipes.
Some of our favorites are Corn on the Cob, Mashed Potatoes and Sweet Potatoes. All of these taste so delicious when paired together, and we always get complimented once we serve them to our family and friends.
Can you freeze Instant Pot Country Style Ribs?
Yes! If you end up with leftovers, make sure the meat is completely cooled down prior to freezing. Next, transfer the dish to an airtight container, and freeze for up to 3 months. When ready to serve, allow it to thaw in the fridge overnight.
Then, heat it up using the microwave or oven for a few minutes, or until warm.
Recipe Tips and Notes:
We love using this 6-QT Instant Pot. It has lots of options and is very useful for cooking.
Make sure to place the meat inside the pot. Then, put the homemade or barbecue sauce of your preference on top of them.
If there is a fat layer on them make sure that side is on top. It is possible that you will get a "burn" warning. This is because the fat is starting to cook off of the meat. But have no fear because the cooker is doing its job and it is just the built-up pressure inside of the cooker. If it does happen, open the cooker and just flip them, also you get a beautiful sear on that "burnt" side.
Once they're in the cooker season them with salt and pepper generously.
Once cooked, pour some additional sauce on top of the meat to give them a nice coat on the top.