Instant Pot Corn On The Cob [VIDEO]
Instant Pot Corn On The Cob is the easiest, fastest and most delicious way to make corn. Try the Mexican street corn version, it's loaded with flavor.
We have quite a few great dishes to pair the corn with, like Instant Pot Mississippi Pot Roast, Pressure Cooker Pulled Pork and Best Instant Pot Ribs.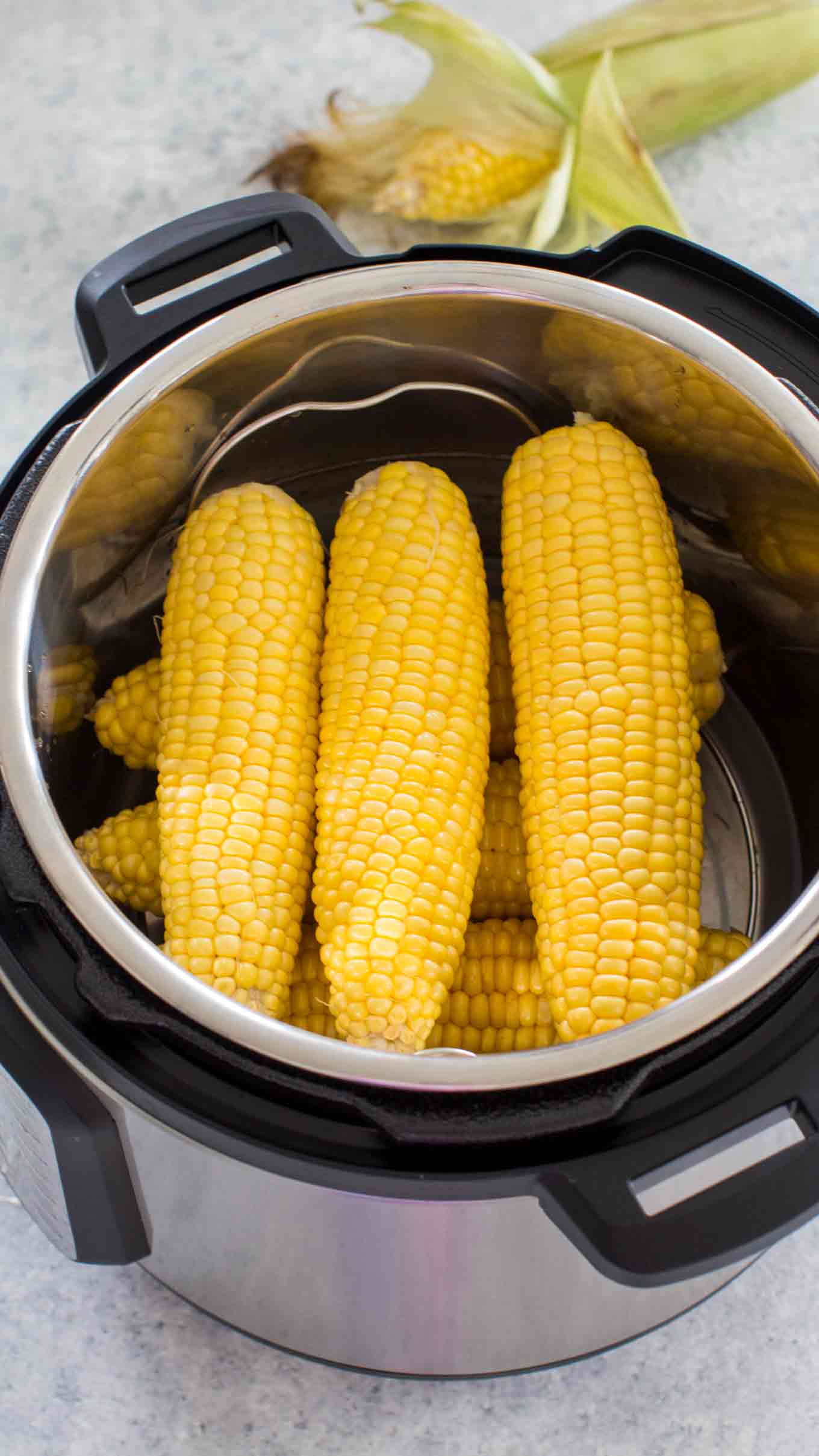 Easy Instant Pot Corn On The Cob
Instant Pot Corn on the Cob is truly one of the easiest ways to make corn, no more waiting by the stove for the corn to boil, no more checking on it. The pressure cooker does all the work for you, it's so easy, you add the corn to the pot and cook on High Pressure for 2 minutes.
It cooks the corn to perfection, sweet, juicy, with just the right amount of chewiness. I am making corn on the cob almost every day now because it's so easy to prepare. I love making some for him to enjoy on the side with his dinner.
The adults in the house love their corn Mexican Street style, which means smothered in a delicious mix of mayo, sour cream, and cheese. Dust of paprika, extra cheese, and lime on the side, you will lick your fingers clean. If you have a cast-iron grill pan, you can slightly grill the corn on it after pressure cooking, just to give it that charcoal look and grilled flavor.
What you will need to make the Instant Pot Corn on the Cob Recipe?
Instant Pot or any other Pressure Cooker
Corn and water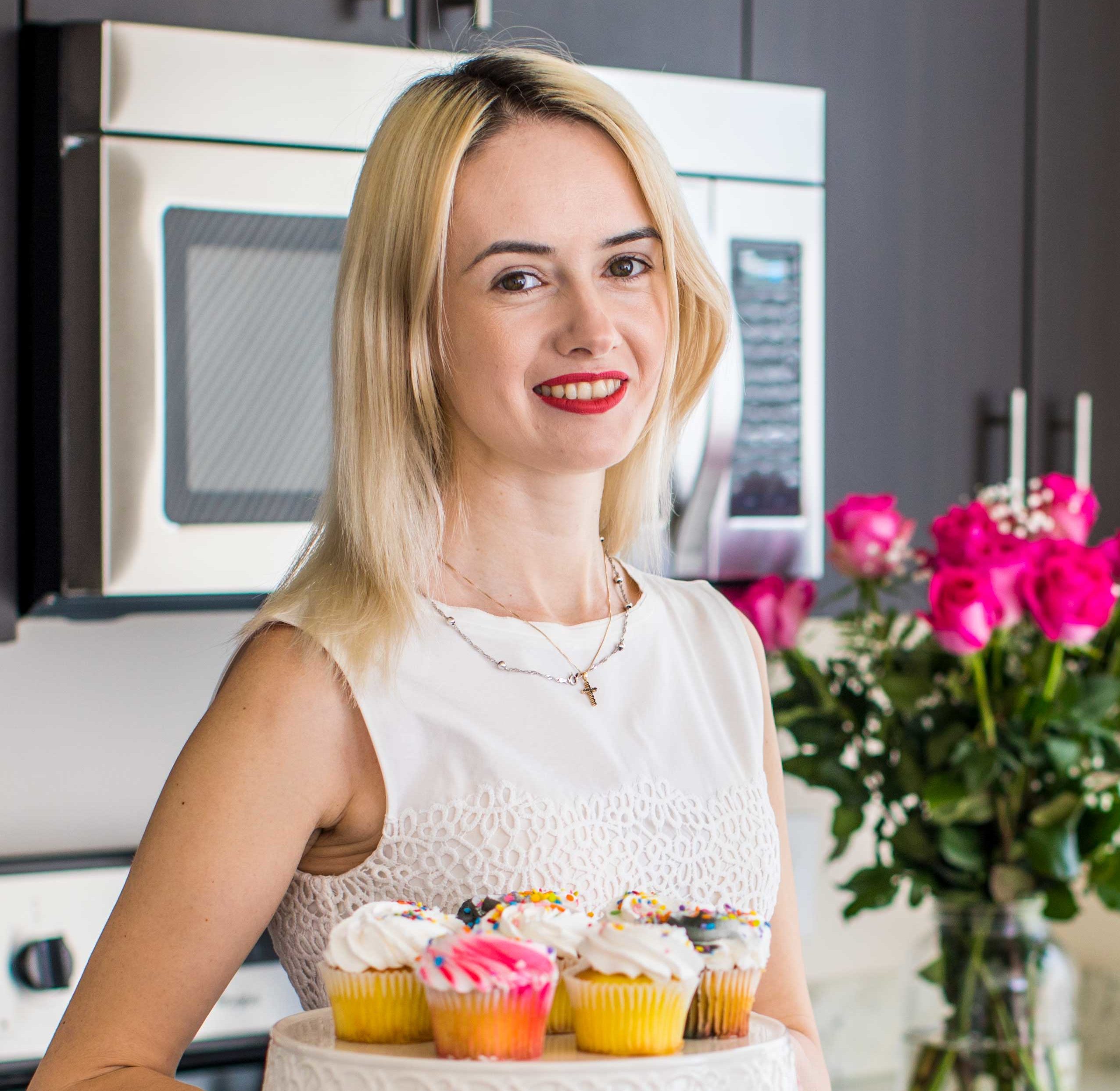 Follow us on Pinterest for more delicious recipes!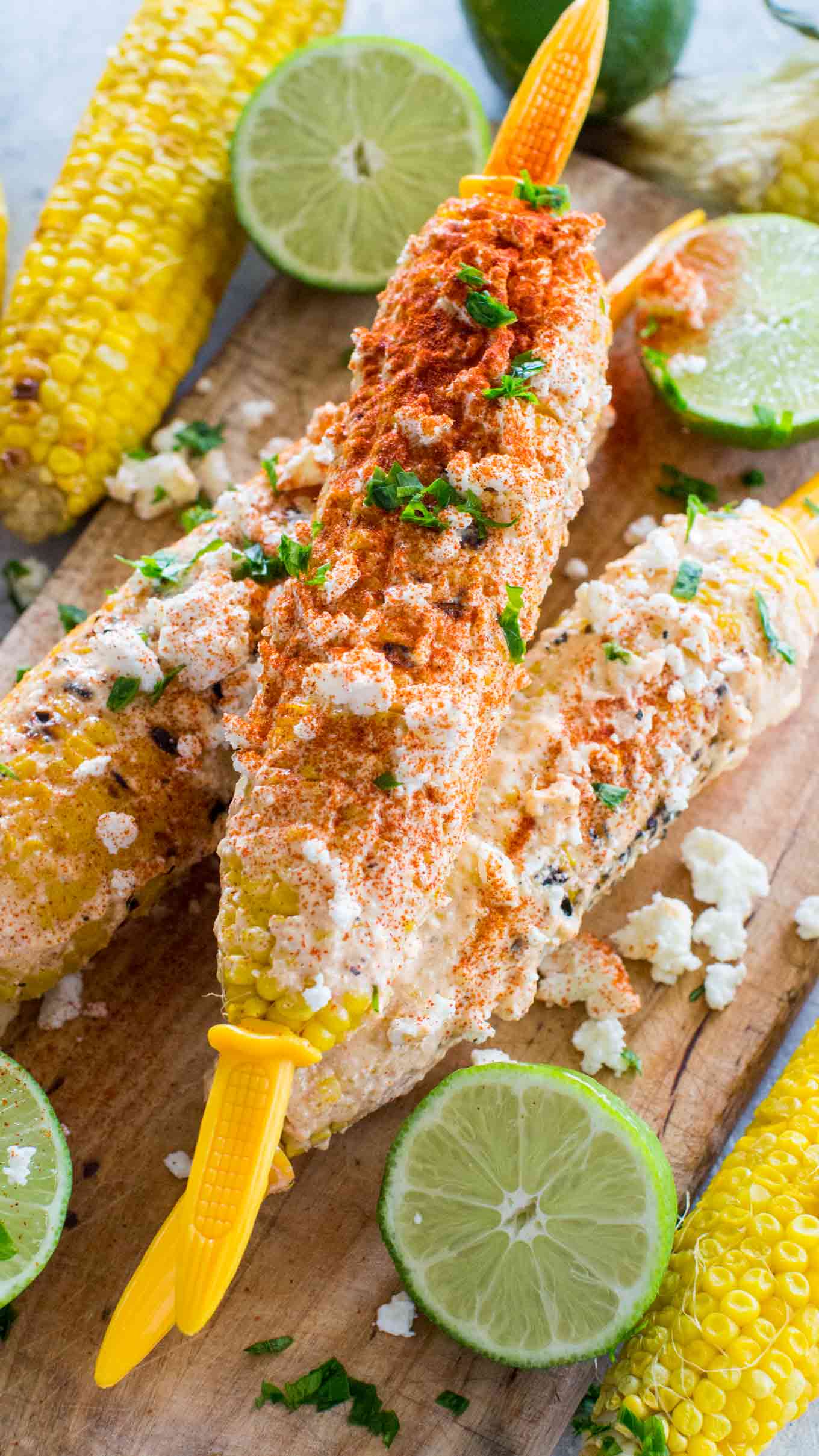 How to cook Corn on the Cob in milk?
You can use 1 cup of evaporated milk and 1 cup of water, with 3 tablespoons of butter, a dash of sugar and salt. This will create very creamy and delicious corn.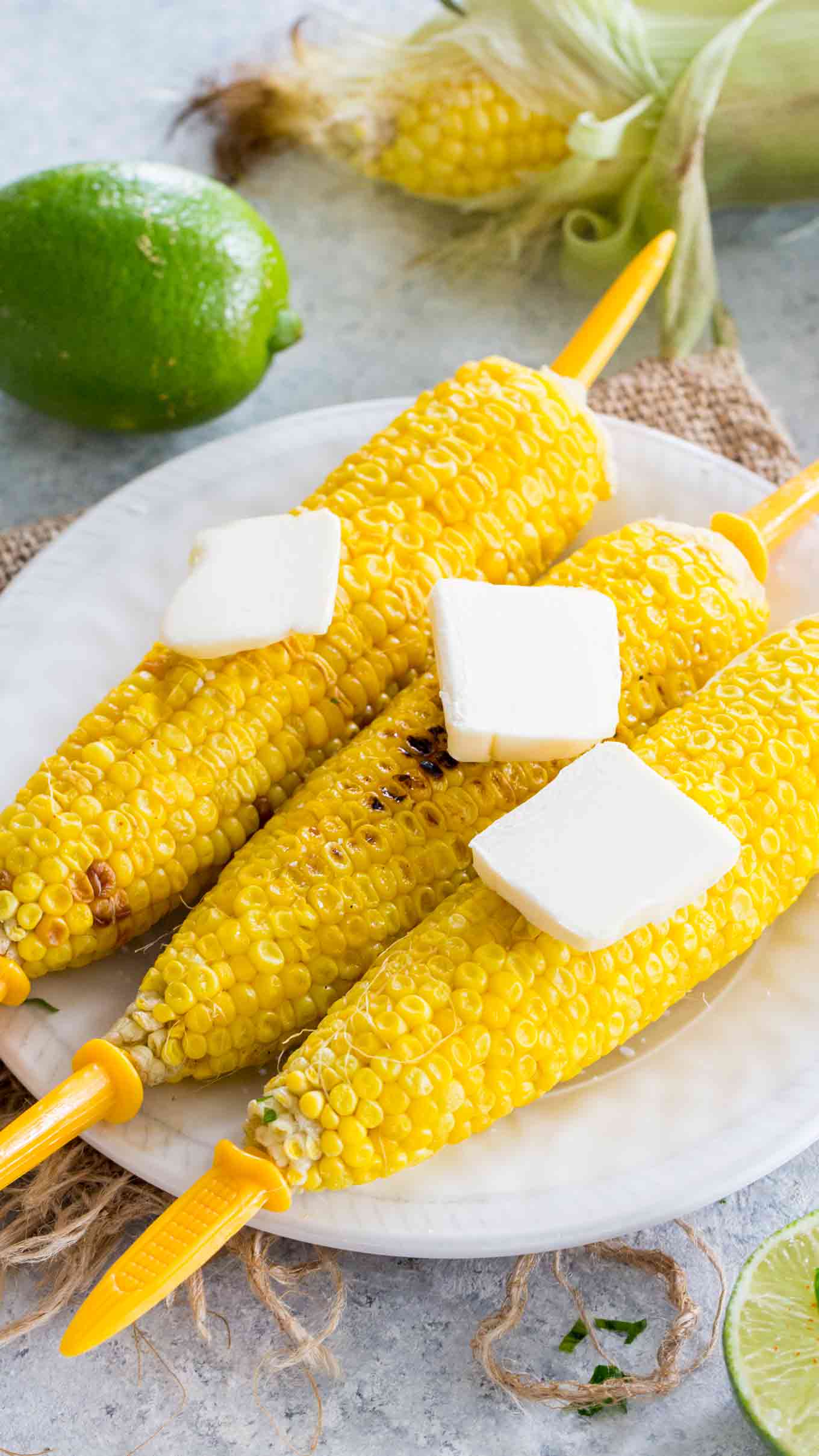 How to make Instant Pot Corn on the Cob using frozen corn?
Follow the same recipe direction, and change the cooking time to 5 minutes on high pressure, with a 5-minute Natural Release.
How do you make Mexican Street Corn?
Usually, the corn is grilled, but if you don't have a grill don't worry. After you pressure cook the corn, you can grill it on a cast iron grill pan, for a few minutes on each side. Then, coat the corn with the creamy mayo and cheese mixture.
After, serve with dust of paprika and lime wedges. For the mayo, cheese mixture you will need:
Sour Cream
Cotija or Feta Cheese
Mayo
Chili Powder
Minced Garlic
Smoked Paprika
Lime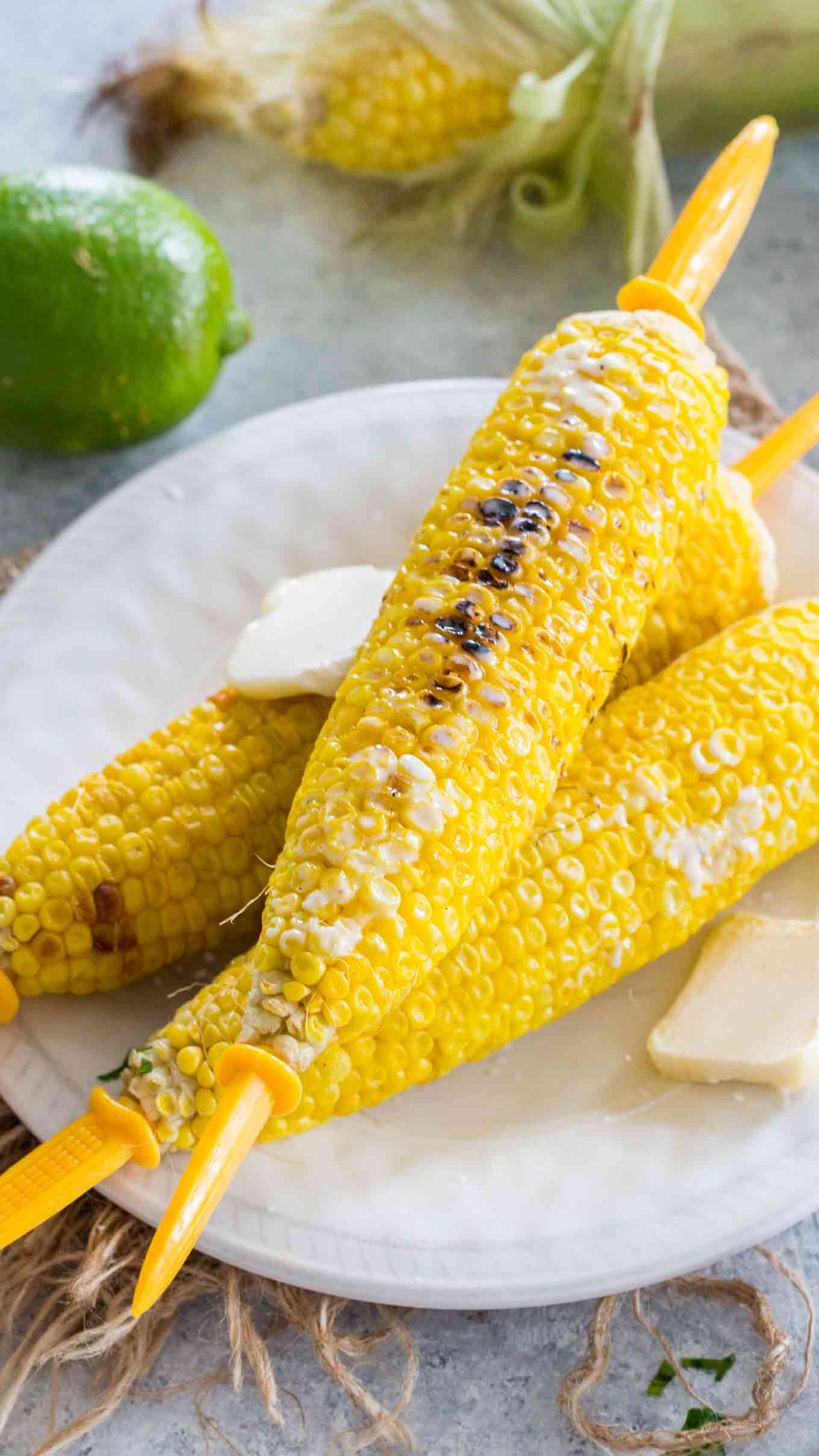 Instant Pot Corn on the Cob Recipe Video:
Save Recipe
Instant Pot Corn On The Cob
Author: Catalina Castravet
Serves: 6 corn ears
Prep time:

2

minutes
Cook time:

2

minutes
Total time:

4

mins
Ingredients
2 cups water*
6 fresh ears of corn
Mexican Street Corn:
1/4 cup mayonnaise
1/4 cup sour cream or Mexican crema
1/2 cup finely crumbled Cotija or feta cheese
1/4 teaspoon salt
1/4 teaspoon pepper
1/2 teaspoon chili powder or paprika
2 cloves garlic (minced (optional))
Garnish:
Finely crumbled Cotija or feta cheese
Chili powder or paprika
1/4 cup finely chopped cilantro leaves
1 lime (cut into wedges)
Instructions
Add a steamer basket or steamer rack trivet to the Instant Pot. Arrange the corn ears onto the steamer rack in two layers.

Add 2 cups water to the pressure cooking pot.
Close the lid and set the valve to the Sealing position.
Cook on high pressure for 2-3 minutes, depending how tender the corn is.
Do a quick release to release the pressure after the Instant Pot beeps.
When valve drops carefully remove lid.
Remove corn from pot and serve, rub with butter and sprinkle with salt. You can also make Mexican Street Corn, see instructions below.
Serve immediately.
Mexican Street Corn:
Clean and oil grilling grate or a cast iron grill pan over medium heat.
In a medium bowl combine: mayonnaise, sour cream crumbled cheese, chili powder and garlic. Stir until all combined and set aside.

When grill is hot (or the cast iron grill pan), and corn and cook, rotating occasionally, until charred in spots on all sides, about 3-4 minutes total if the corn has been already pressure cooked, or 8-10 minutes if the corn is raw.

Use a large spoon to evenly coat corn on all sides with the cheese mixture.
Sprinkle with extra cheese, paprika or chili powder, chopped cilantro and serve immediately with lime wedges on the side.
Notes:
*Use 1 cup of water and 1 cup of evaporated milk, with 1 tablespoon of butter, salt and dash of sugar for corn on the cob cooked in milk.
0 Calories: 207 Carbohydrates: 21 Protein: 5 Fat: 12 Saturated Fat: 3 Cholesterol: 15 Sodium: 361 Potassium: 262 Fiber: 2 Sugar: 7 Vitamin A: 350 Vitamin C: 9.6 Calcium: 70 Iron: 0.6
Save Recipe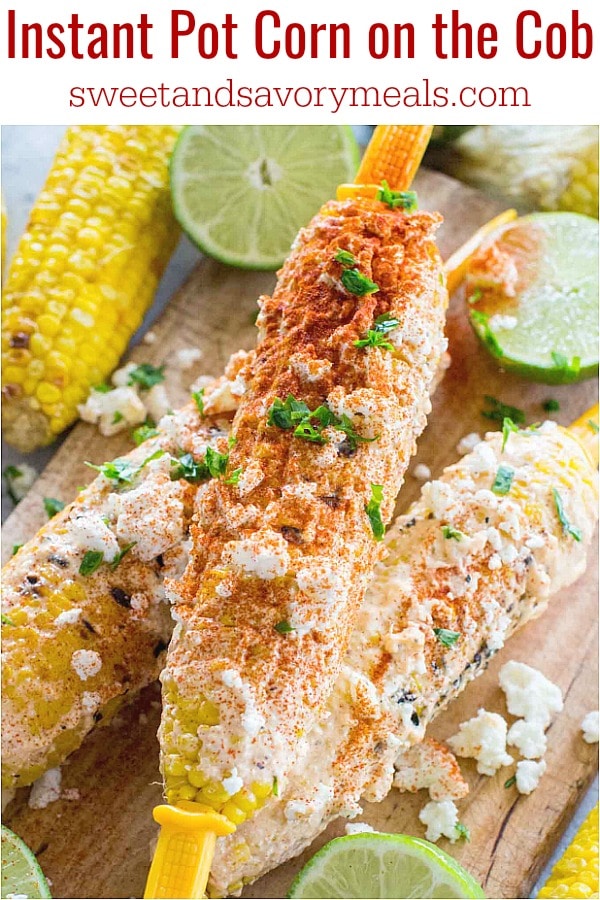 More recipes you might love