Instant Pot Mississippi Pot Roast [VIDEO]
Instant Pot Mississippi Pot Roast is one of the most amazing pot roasts you can make in the pressure cooker. Buttery, juicy, tender and full of pepperoncini's, ranch, and au jus flavors.
We love making easy and delicious dishes in the Instant Pot such as our famous Orange Chicken, IP Ribs and IP Mongolian Beef.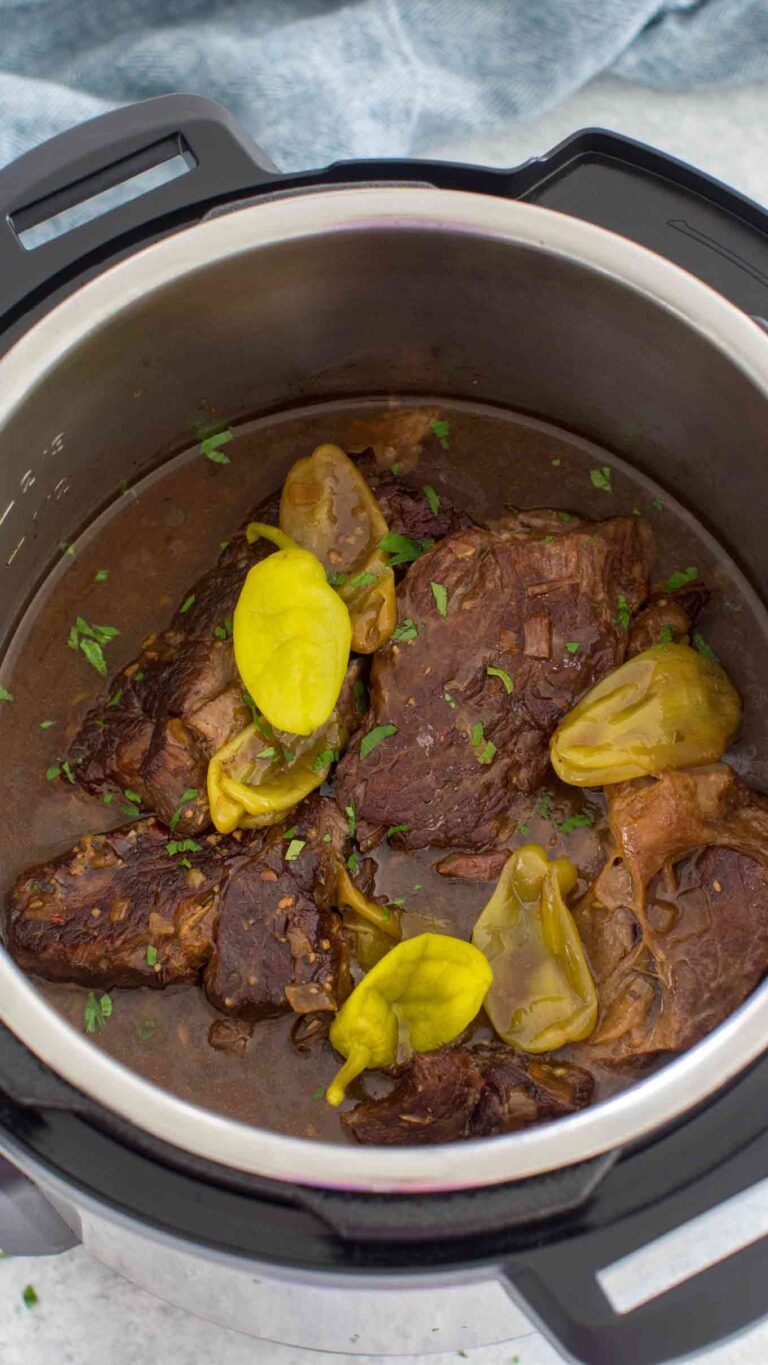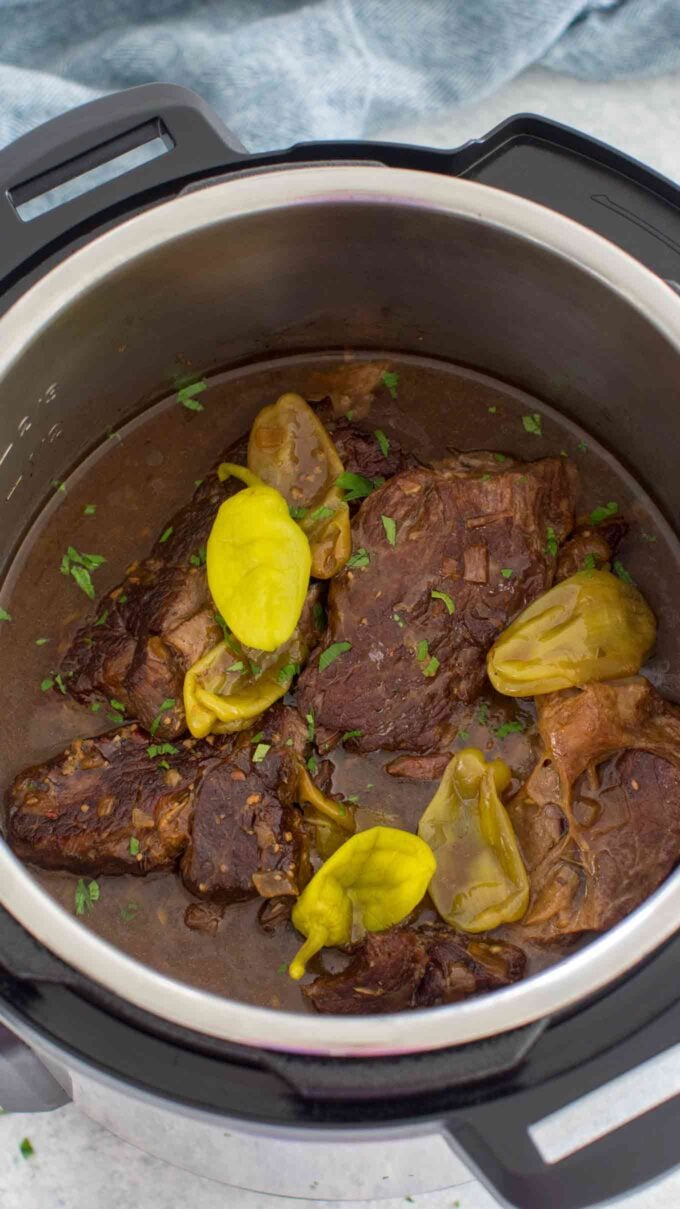 Easy Instant Pot Mississippi Pot Roast
Instant Pot Mississippi Pot Roast is such a fantastic and easy to make a meal that you just can't miss it out. This is probably my favorite way to cook a pot roast. The beef is so incredibly tender, that it melts in your mouth. Cooked with butter, ranch dressing dry mix and au jus mix, the beef is infused with incredibly rich flavors.
This homemade dish is famous for the pepperocinis that are being cooked with. Adding pepperoncini juice give the meat another layer of flavor, and makes the beef even juicer. Take a look at the video below for detailed steps on how to make this recipe.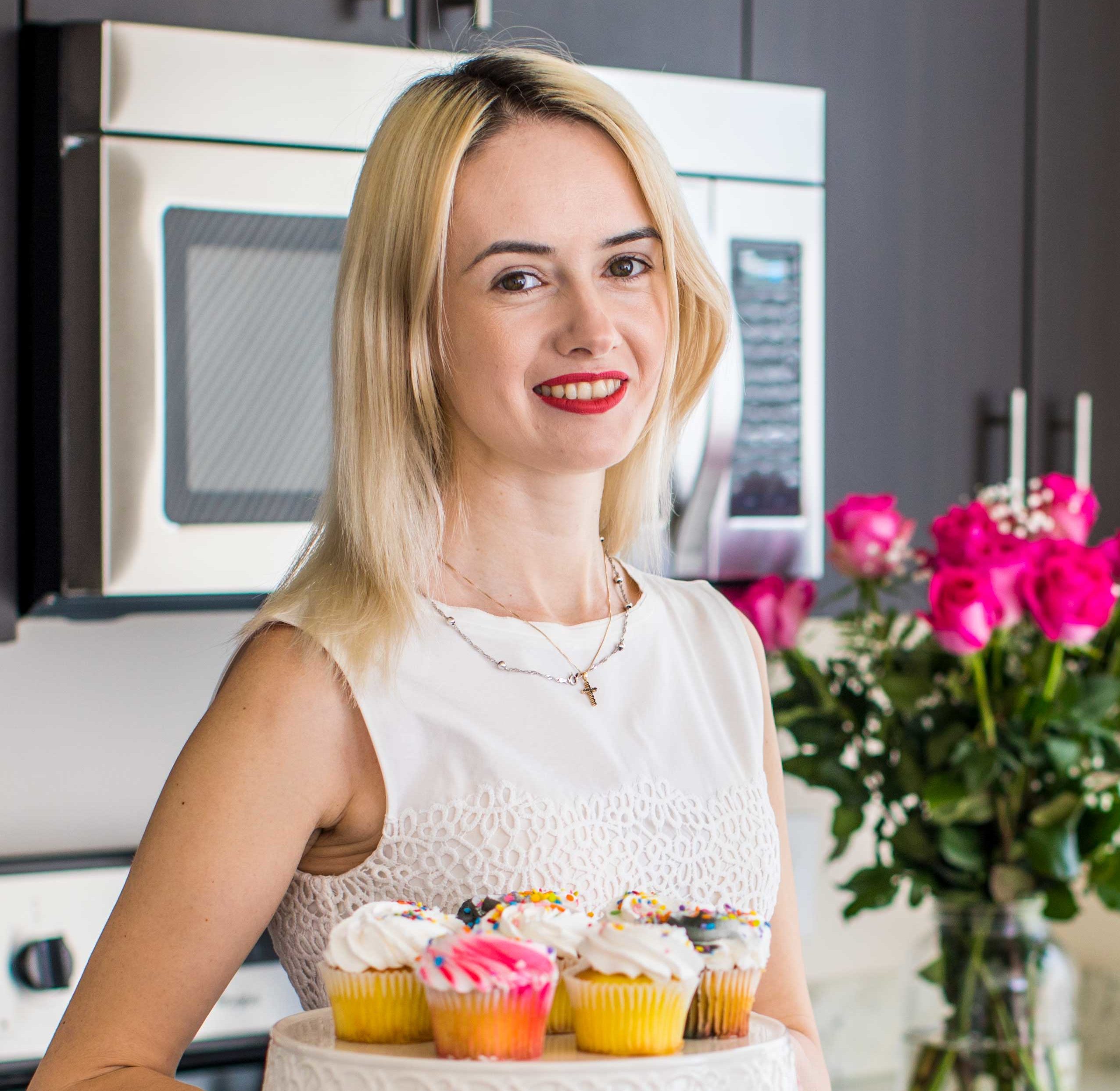 Follow us on Pinterest for more delicious recipes!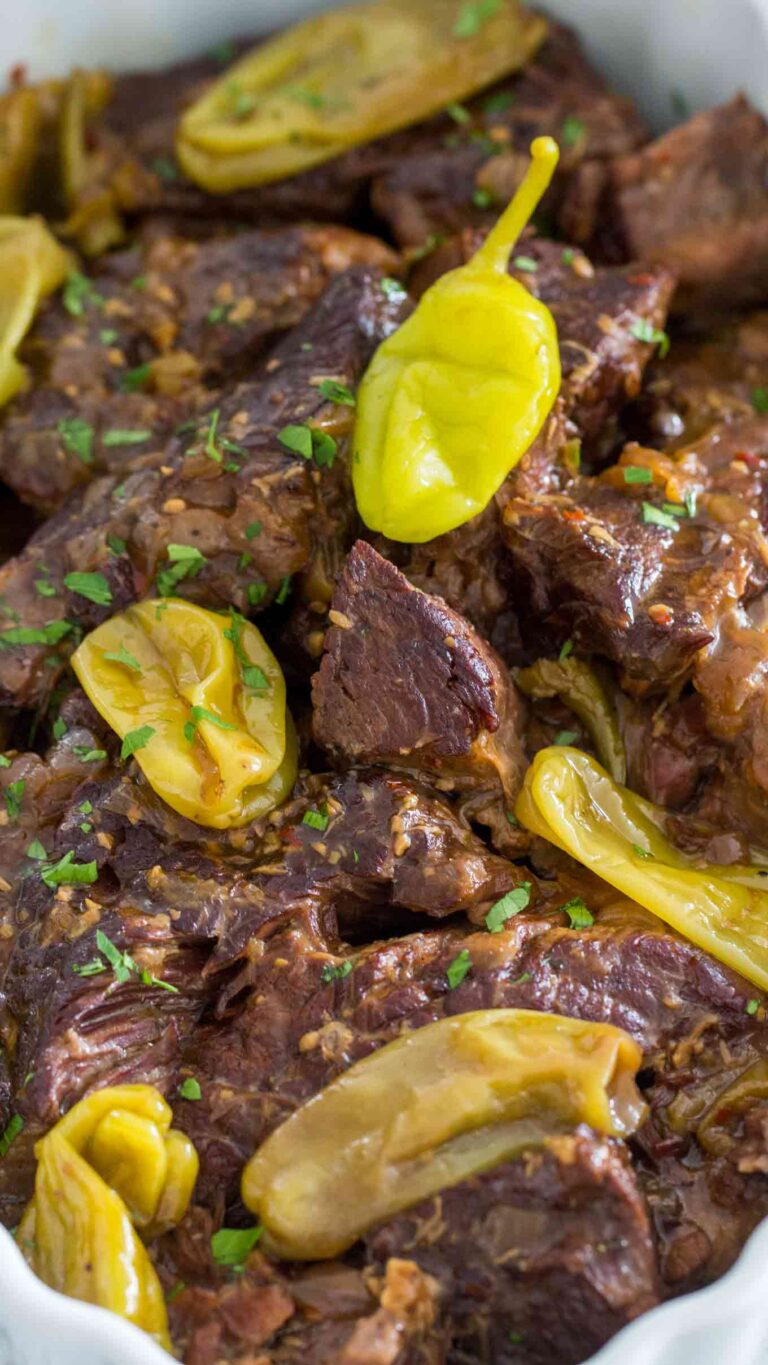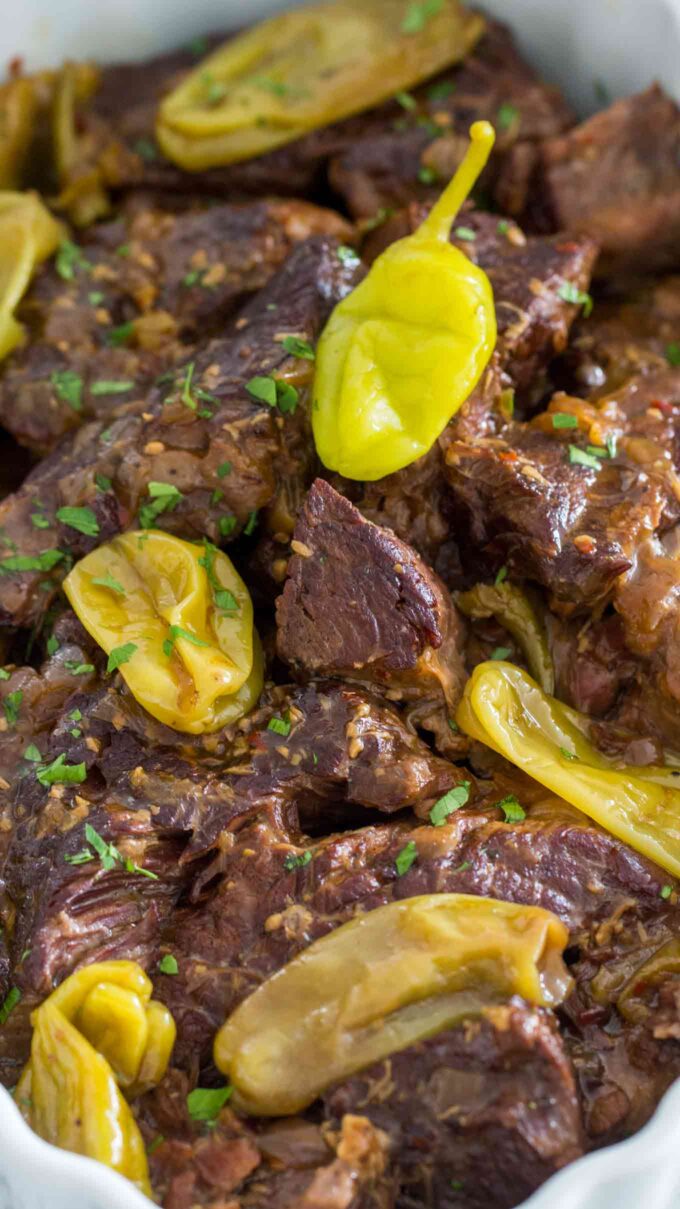 Why You'll Love This Recipe:
Very easy to make with minimal prep work.
A hearty and delicious meal that can be served as a weeknight dinner.
The dish is packed with amazing flavors and protein.
You will have delicious leftovers the next day.
Instant Pot Mississippi Pot Roast Recipe Tips:
Use quality meat, preferably use organic beef, as the meat tends to be extra tender, which is perfect for this recipe.
Also, look for fresh meat that has a bright color, and lots of marbling. The marbling is essential to get great flavor and tenderness.
Cut the chunk into two pieces if needed, as you will have to brown it in batches.
Similarly, browning the beef is essential as it will lock the flavor and the beef juices and also elevate the meat flavor.
Use fresh garlic as it is used a lot in this recipe, it will give the right flavor compared to canned garlic.
In addition, use low sodium beef broth, you don't want to end up with a salty pot roast.
The bay leaves are optional, but they will add a subtle, nice flavor to the gravy and beef.
Au Jus dry mix can be replaced with a brown gravy mix.
Instant Pot – I have the 6 quarts one. It makes weeknight meals so much easier.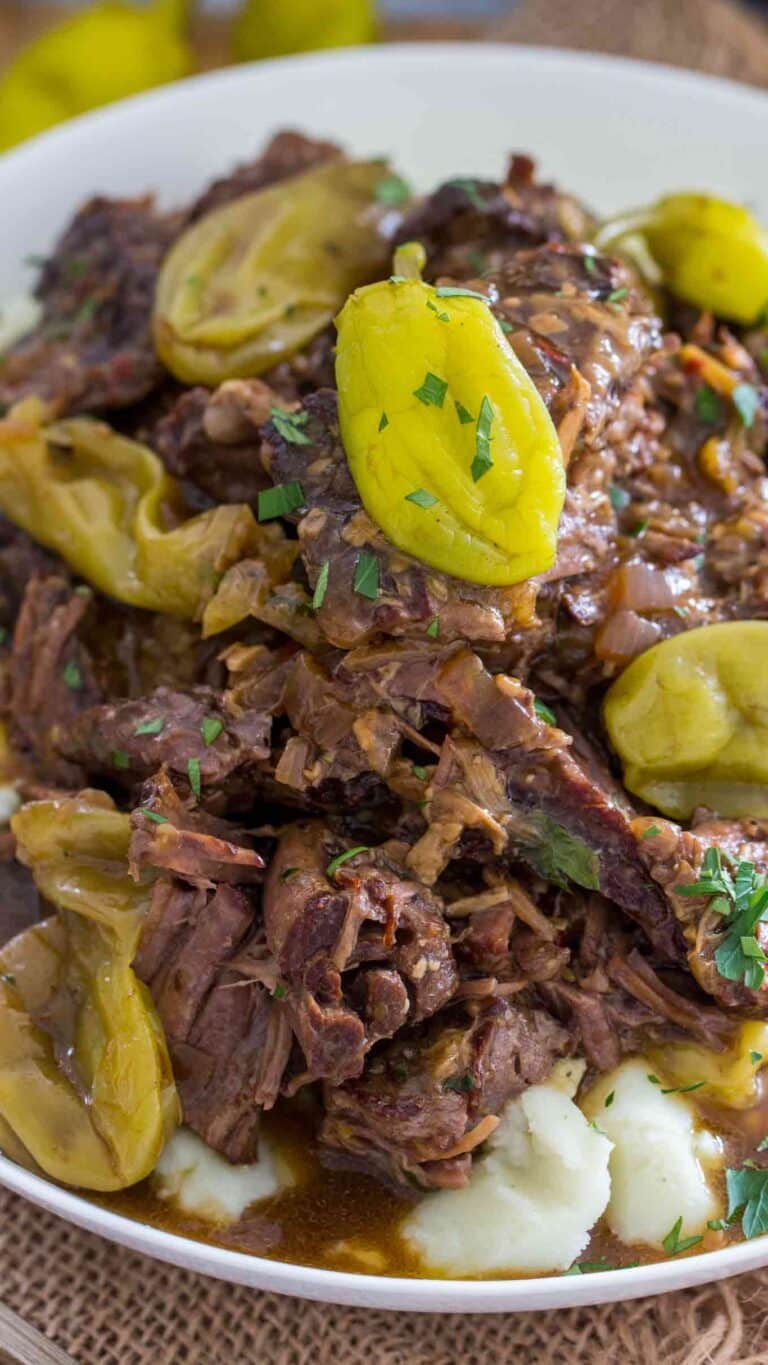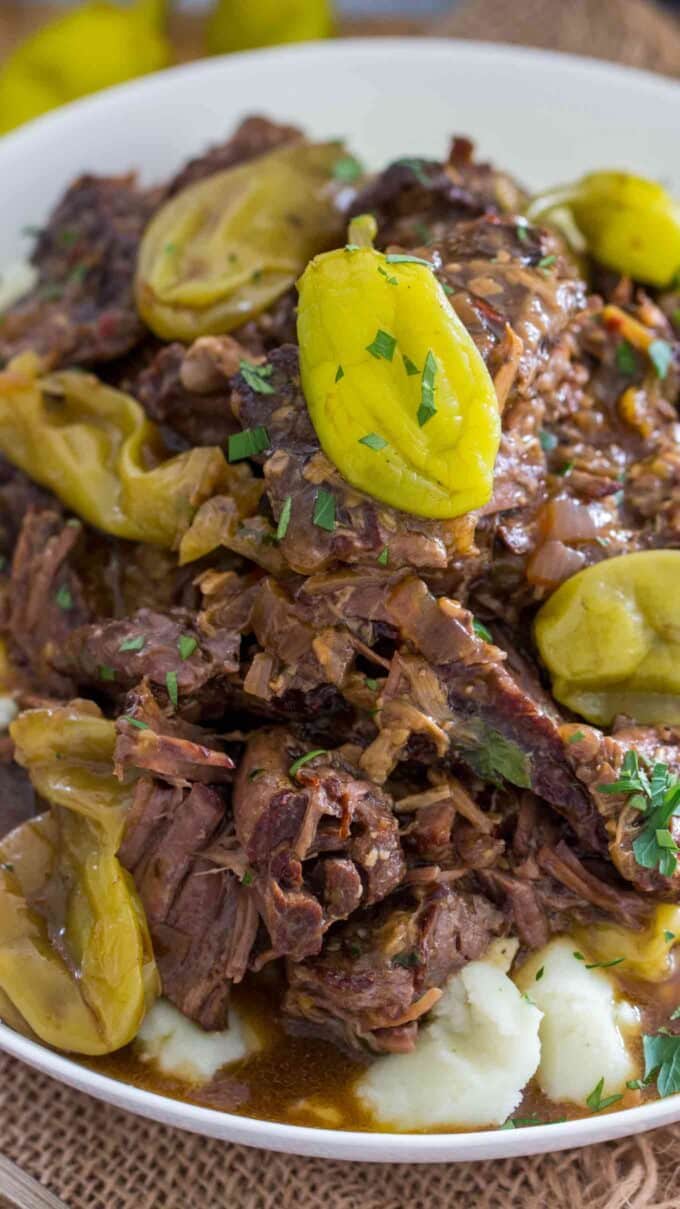 Why browning the chuck roast is important?
Browning will lock in all the fantastic flavors and will give the beef that delicious, caramelized top on the outside, that reveals a juicy and tender inside. Also, I highly recommend that you cut the chuck roast in half, so it fits in the Instant Pot, and make sure you brown it well for a few minutes on each side without moving the beef.
While you can dump and cook all the ingredients, taking the extra few minutes to brown the beef, will make a huge difference in taste and texture.
Can I make Mississippi Pot Roast in the Slow Cooker?
Yes, you can. Brown the beef and add it to the slow cooker. Add the rest of the ingredients to the slow cooker. Cover and cook on low for 8 hours or on high for about 5 hours. Check on the beef roast to be tender. Cook for additional time if needed.
You can find my other popular slow cooker beef roast here: Slow Cooker Pot Roast.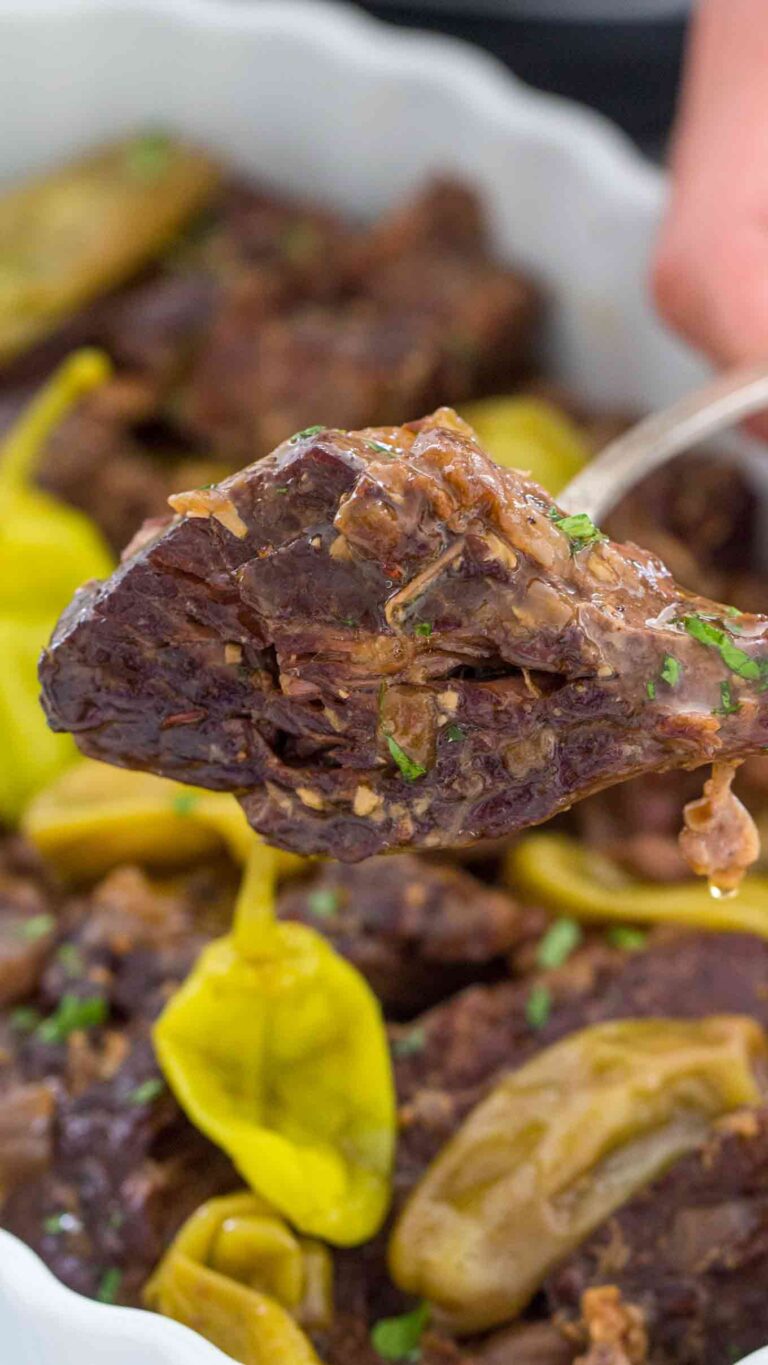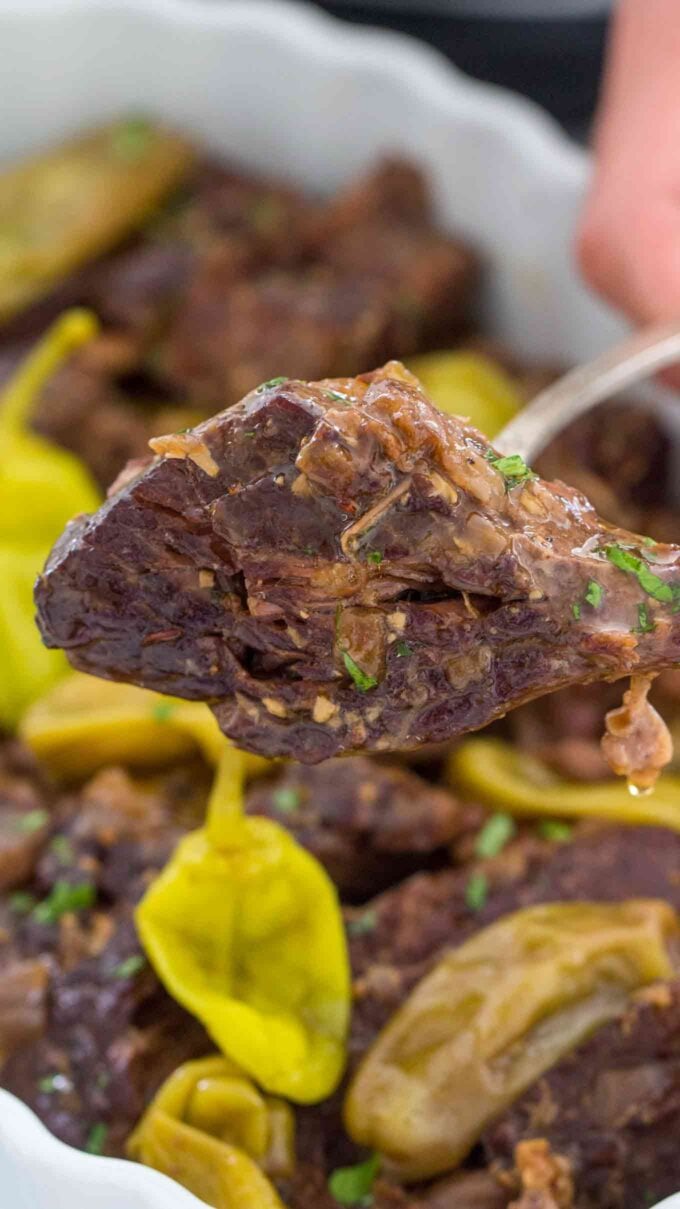 What are good Instant Pot Side Dishes?
Can you refrigerate the Instant Pot Mississippi Pot Roast?
Store the dish in a large airtight container in the fridge, make sure that the gravy liquid covers at least partially the beef, so it won't dry out. Then, store for up to 3-4 days.
What is a 15 Minutes Natural Pressure Release?
A Natural Pressure Release means that the pressure is released gradually. For a Natural Pressure Release, you click on Keep Warm, and wait 10 minutes, after which you open the valve and let any leftover pressure to release. Another option is to Turn Off/Unplug the pressure cooker, wait 15 minutes and after that open the valve.
A natural release is usually used when cooking soups, meat in a large amount of sauce, pasta or steel cut oats. This method prevents any foam from the dish to shoot out through the valve, which can happen during a Quick Pressure Release.
Save Recipe
Instant Pot Mississippi Pot Roast
Author: Catalina Castravet
Serves: 8 people
Prep time:

30

minutes
Cook time:

1

hour
Total time:

1

hr

30

mins
Ingredients
5 lbs chuck roast (cut into 2 chunks that would fit in the pot)
3 tablespoons vegetable or canola oil
1 small onion (diced)
1 tablespoon minced garlic
1/2 cup water
1/2 cup pepperoncini juice (from the jar)
3/4 cup beef broth (low sodium)
1 tablespoon Worcestershire sauce
1/2 teaspoon salt
1/2 teaspoon ground black pepper
1/4 teaspoon red pepper flakes
1 packet of dry Ranch Dressing Mix
1 packet of Au Jus Mix
12 Pepperoncinis (whole)
1 stick unsalted butter (sliced)
8 garlic cloves (whole)
5 bay leaves
Cornstarch Slurry:
2-3 tablespoons cornstarch
3 tablespoons water
Instructions
Set Instant Pot to Saute - Normal mode. When it reads "Hot" add the oil and wait for the oil to heat up.
Brown the meat in batches. If needed cut the chuck roast in two, so it fits in the pot. Cook each piece on EACH side for full 5 minutes without turning.
If needed, add a bit more oil to the pot when searing the rest of the pieces.
Remove the seared pieces on a plate and cover with foil to keep them warm.
Once all the beef has been browned and set aside its time to deglaze the pot.
Add the 1/2 cup of water to the pot and using a wooden spoon scrape the bits and pieces that stuck to the bottom and sides of the pot until its cleared.
Add onion and minced garlic and cook for 1 minute, stirring occasionally.
Add the beef broth, Pepperoncini juice and Worcestershire sauce.
Add the salt, pepper, red pepper flakes, Ranch dressing dry mix and Au Jus mix. Stir to combine.
Turn off the sauté mode.
Add the beef in layers, and add sliced butter and garlic cloves between each layer.
Add the Pepperoncinis to the pot as well as bay leaves.

Close the lid and seal the valve. Cook for 70 minutes on High Pressure. Once the Instant Pot beeps, do a 15 Minute Natural Pressure Release. Release manually the remaining pressure.

Open the lid and turn the Instant Pot to Sauté mode.
If you want the gravy to be thicker, mix cornstarch and water in a small bowl until fully combined.
Add the mixture to the pot and gently stir. Let it simmer for 2-3 minutes. If you want to thicken it even more, add another round of cornstarch slurry. The sauce will thicken more as it cools off as well.
Discard the bay leaves and serve the roast with mashed or baked potatoes. Garnish with extra Pepperoncinis and chopped parsley.
0 Calories: 585 Carbohydrates: 6 Protein: 55 Fat: 38 Saturated Fat: 18 Cholesterol: 195 Sodium: 495 Potassium: 1060 Fiber: 1 Sugar: 1 Vitamin A: 135 Vitamin C: 21.4 Calcium: 64 Iron: 6.3
Save Recipe

More recipes you might love