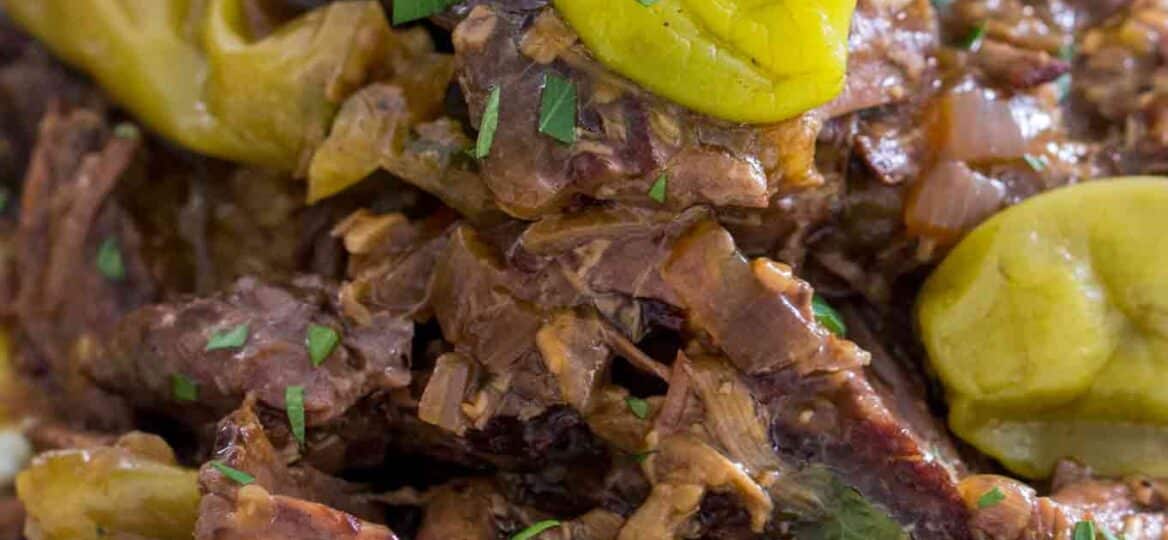 Instant Pot Mississippi Pot Roast [VIDEO]
Instant Pot Mississippi Pot Roast is one of the most amazing pot roasts you can make in the pressure cooker. Buttery, juicy, tender, and full of pepperoncini's, ranch, and au jus flavors.
We love making easy and delicious dishes in the Instant Pot such as our famous Orange Chicken, IP Ribs, and IP Mongolian Beef.
Easy Instant Pot Mississippi Pot Roast
Instant Pot Mississippi Pot Roast is such a fantastic and easy to make a meal that you just can't miss it out. Also, it is one of the best recipes to try for beginners, as it is quite easy to follow and prepare.
This is probably my favorite way to cook a pot roast. The beef is so incredibly tender, that it melts in your mouth. Cooked with butter, ranch dressing dry mix, and au jus mix, the meat is infused with incredibly rich flavors.
This homemade comfort dish is famous for the pepperocinis that are being cooked with. Adding pepperoncini juice give the meat another layer of flavor, and makes the beef even juicer. Take a look at the video below for detailed steps on how to make this recipe.

Why You'll Love This Recipe:
Very easy to make with minimal prep work.
A hearty and delicious meal that can be served as a weeknight dinner.
The dish is packed with amazing flavors and protein.
You will have delicious leftovers the next day.
How to make Instant Pot Mississippi Pot Roast?
Making the roast in your electric pressure cooker is a huge time saver, and probably the easiest dish out there. Just follow these steps:
Saute the meat: Add some oil to the pot. Then, using the saute function, brown the beef on both sides. Set aside.
Add the veggies: Next, add some water and scrape the bottom of the pan, to prevent stickiness and avoid the burn notice. Add the onion and minced garlic and cook for one minute. Then, add the broth and seasoning.
Cook: Add back the beef and cook on HIGH pressure.
Serve: Garnish and serve it warm over your favorite side dish.
CAN I USE A FROZEN ROAST?
Yes, you can cook frozen meats in the pressure cooker. However, remember that you can't cut the frozen roast into chunks. Also, when using frozen meat, you will have to cook it a little longer – by about 10 minutes. This is still way better and quicker than in the oven or slow cooker!
Why browning the chuck roast is important?
Browning will lock in all the fantastic flavors and will give the beef that delicious, caramelized top on the outside, which reveals a juicy and tender inside. Also, I highly recommend that you cut the chuck roast in half, so it fits in the Instant Pot, and make sure you brown it well for a few minutes on each side without moving the beef.
While you can dump and cook all the ingredients, taking the extra few minutes to brown the beef, will make a huge difference in taste and texture.
Can I make Mississippi Pot Roast in the Slow Cooker?
Yes, you can easily make it in the slow cooker as well. Here are the easy steps:
First, brown the beef and add it to the slow cooker.
Then, add the rest of the ingredients to the slow cooker.
Cover and cook on low for 8 hours or on high for about 5 hours. Check on the beef roast to be tender. Cook for additional time if needed.
Serve: Serve it warm over some mashed potatoes.
You can find my other popular slow cooker beef roast here: Slow Cooker Pot Roast.

What are good Instant Pot Side Dishes?
Can you refrigerate the Instant Pot Mississippi Pot Roast?
Store the dish in a large airtight container in the fridge, make sure that the gravy liquid covers at least partially the beef, so it won't dry out. Then, store for up to 3-4 days.
What is a 15 Minutes Natural Pressure Release?
A Natural Pressure Release means that the pressure is released gradually. For a Natural Pressure Release, you click on Keep Warm, and wait 10 minutes, after which you open the valve and let any leftover pressure to release. Another option is to Turn Off/Unplug the pressure cooker, wait 15 minutes, and after that open the valve.
A natural release is usually used when cooking soups, meat in a large amount of sauce, pasta or steel cut oats. This method prevents any foam from the dish to shoot out through the valve, which can happen during a Quick Pressure Release.
More delicious Instant Pot Recipes:
If you love your pressure cooker, here are some easy and delicious meals you might enjoy as well:
Instant Pot Mississippi Pot Roast Recipe Tips:
Use quality meat, preferably use organic beef, as the meat tends to be extra tender, which is perfect for this recipe.
This can be a salty meal, so use unsalted butter and low or no-sodium broth. Also, you can make your own chicken stock.
Also, look for fresh meat that has a bright color, and lots of marbling. The marbling is essential to get great flavor and tenderness.
Cut the chunk into two pieces if needed, as you will have to brown it in batches.
Browning the roast on each side first does increase and lock the flavors but isn't necessary. If making this as a beginner, just dump it in and start the pot!
Use fresh garlic as it is used a lot in this recipe, it will give the right flavor compared to canned garlic.
The bay leaves are optional, but they will add a subtle, nice flavor to the gravy and beef.
Au Jus dry mix can be replaced with a brown gravy mix.
Instant Pot – I have the 6 quarts one. It makes weeknight meals so much easier.
Deliciousness to your inbox
Enjoy weekly hand picked recipes and recommendations