Instant Pot Beef Bourguignon [VIDEO]
Instant Pot Beef Bourguignon is one delicious meal that made in a fraction of the time. Tender, melt in your mouth pieces of beef, cooked with veggies in a wine broth.
Making meals in the Instant Pot is fun and easy. We like a good and easy meal like our popular Orange Chicken, General Tso, and Mongolian Chicken.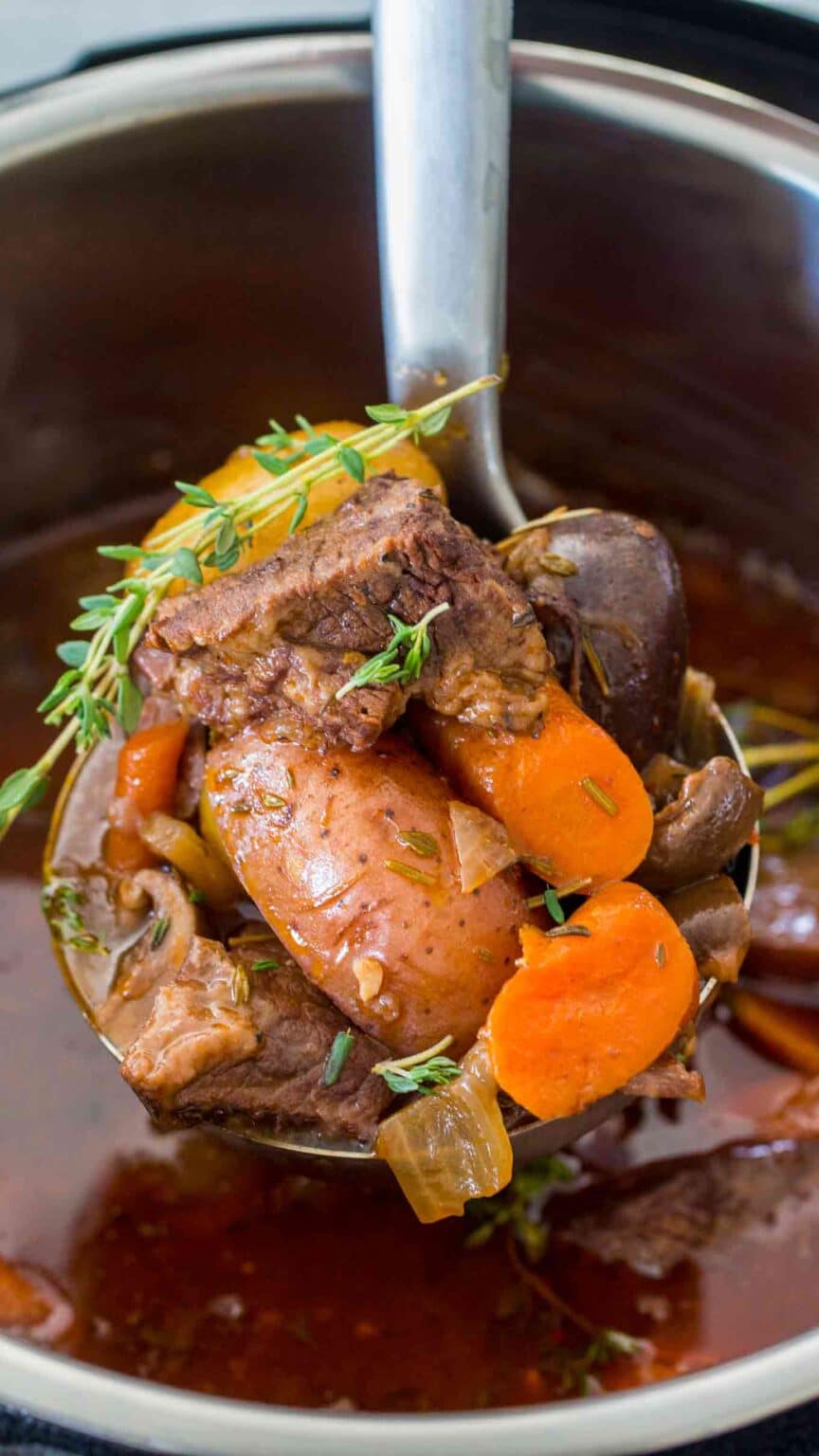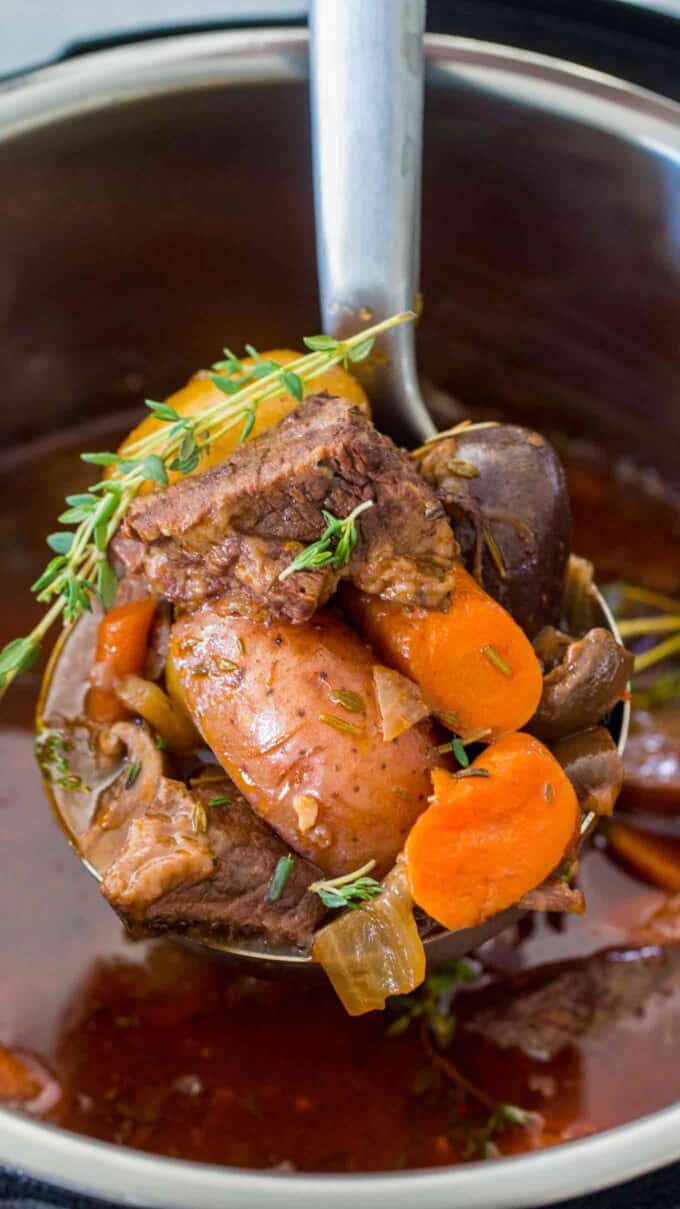 Easy Instant Pot Beef Bourguignon
Instant Pot Beef Bourguignon is such a delicious dish, full of tender beef that has been cooked in the most amazing wine broth. Lots of tender veggies and fragrant herbs to elevate the flavors of this dish. The beef is so tender it actually melts in your mouth.
This recipe is adapted from Julia's Child best-seller book, Mastering the Art of French Cooking. The veggies are perfectly done and make this a hearty meal. That amazing sauce is delicious on mashed potatoes. Or even better, use some crusty bread to soak in the sauce, and enjoy every drop of it.
This is one of the best beef recipes I have ever had. It is a savory comfort meal bursting with flavors and aromas. Perfect if you want to impress some guests or just craving a comforting meal.
WHAT IS BOURGUIGNON?
Bourguignon refers to food that is made in a specific way related to the France region of Bourgogne. Basically, all it is meaning is that the beef is cooked and braised in red wine, alongside other ingredients like carrots, onions, and potatoes.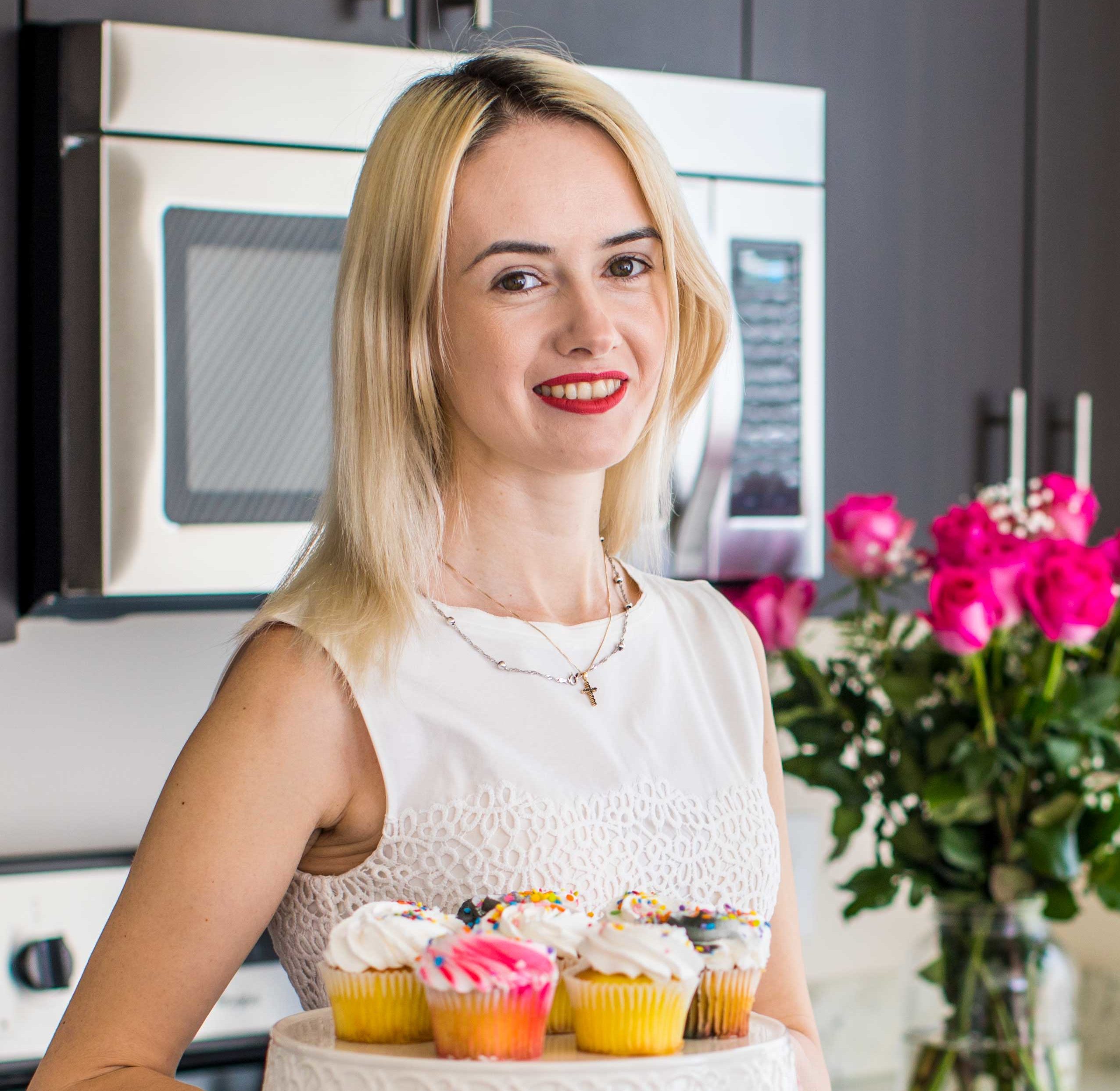 Follow us on Pinterest for more delicious recipes!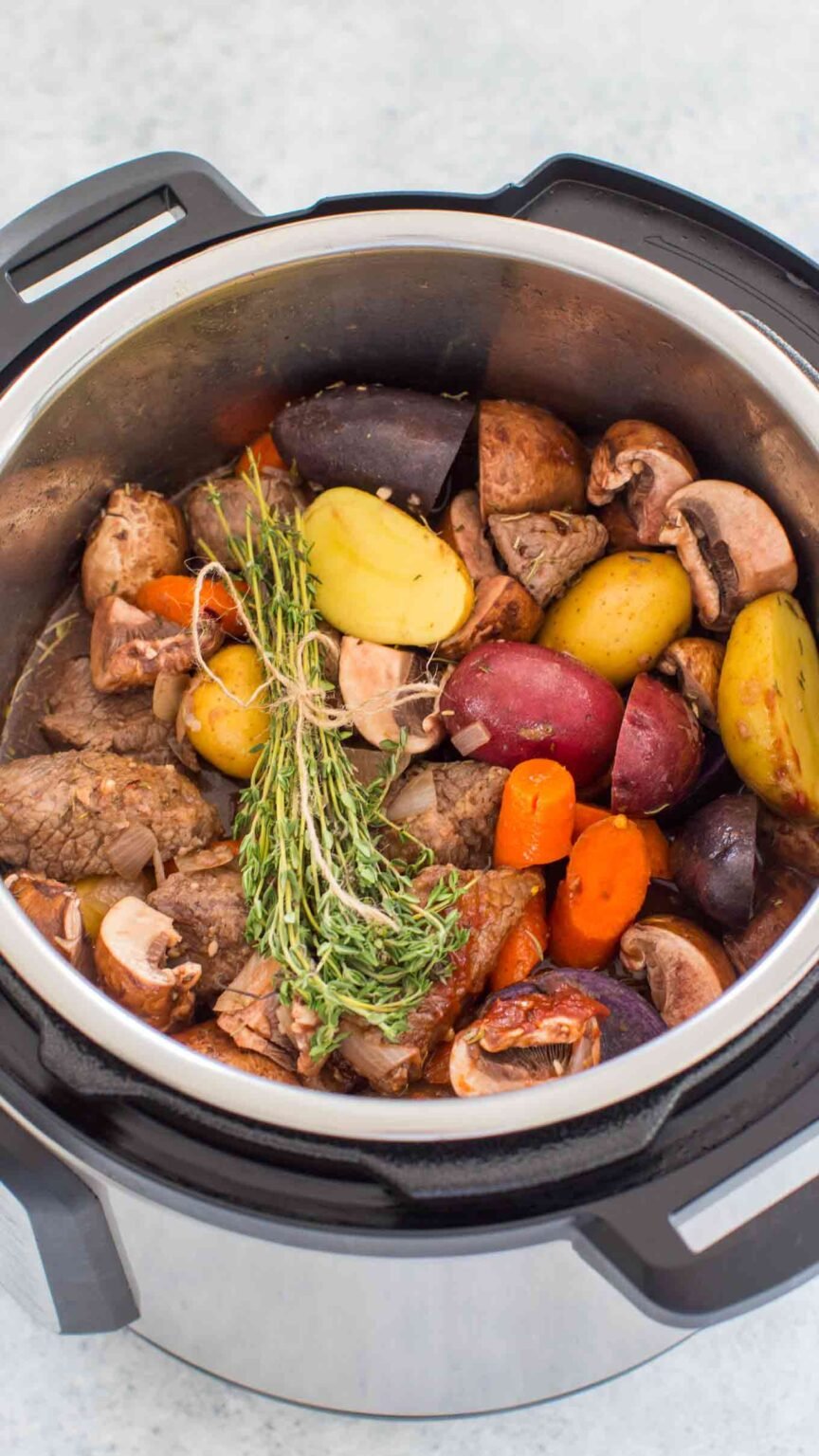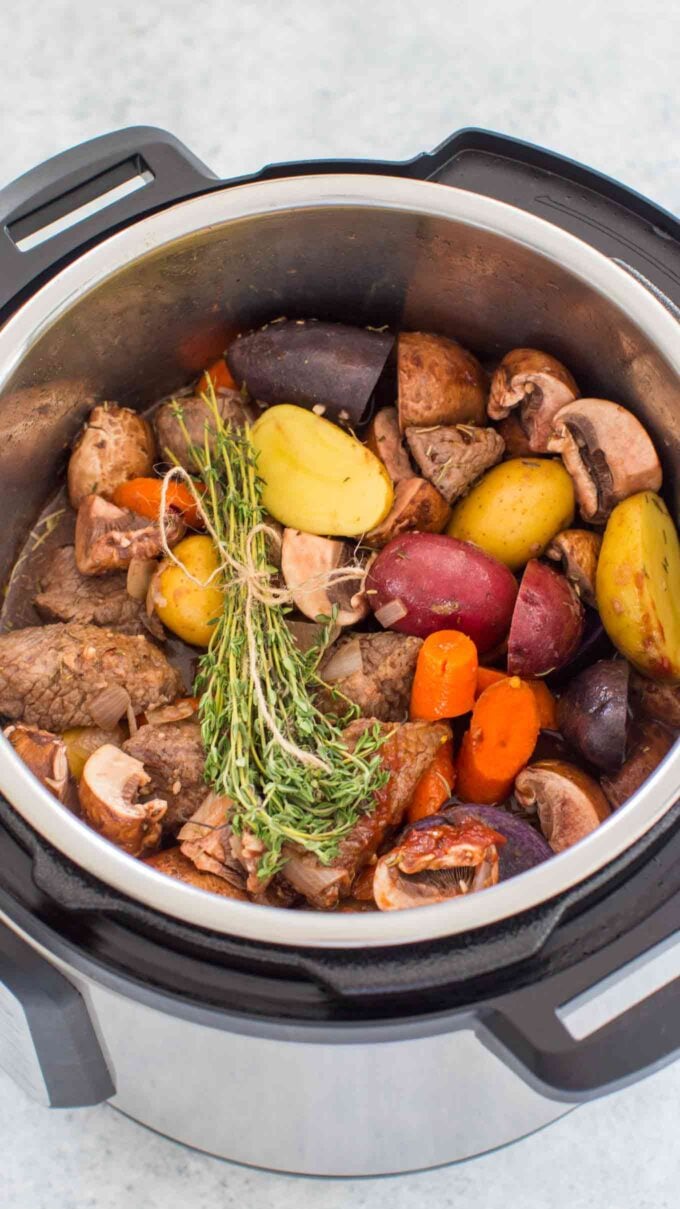 WHAT MEAT IS BEST FOR BEEF BOURGUIGNON?
For this recipe, I like to use chuck beef, but the shoulder, brisket, round, shin, or any braising cut. They work best for stew or bourguignon.
When cooked under pressure, the meat is guaranteed to fall apart and be super tender, juicy, and flavorful.
How to make Instant Pot Beef Bourguignon?
Crisp the beef: Using the IP saute function, saute the meat for a few minutes until it gets that brown color. Once browned, remove from the pot and set aside.
Add in the liquids: Next, add the chopped onions to the pot and cook for one minute. Then, add the broth and whisk.
Cook: Add the beef back along with ketchup and tomato sauce, and veggies. Cover the pot and cook on HIGH.
Serve: Let it come to pressure, then serve warm.
Beef Bourguignon on the stovetop:
Alternatively, you can make this delicious and easy recipe on the stovetop. The stovetop version can be found here.
Does the alcohol from wine cook-off in the Instant Pot?
When you are cooking with alcohol using a Pressure Cooker or slow cooker, the alcohol won't evaporate as when you were cooking on the stove-top. The alcohol is sealed in this case, and only a portion of it will evaporate into steam. Therefore, the dish should only be served to adults.
What wines pair well with Instant Pot Beef Bourguignon?
A nice, fruity red wine such as Zinfandel or Syrah will pair nicely with the flavors in this beef dish.
If you're looking for a white option, Riesling or Pinot Grigio are always great matches for bold, somewhat spicy dishes.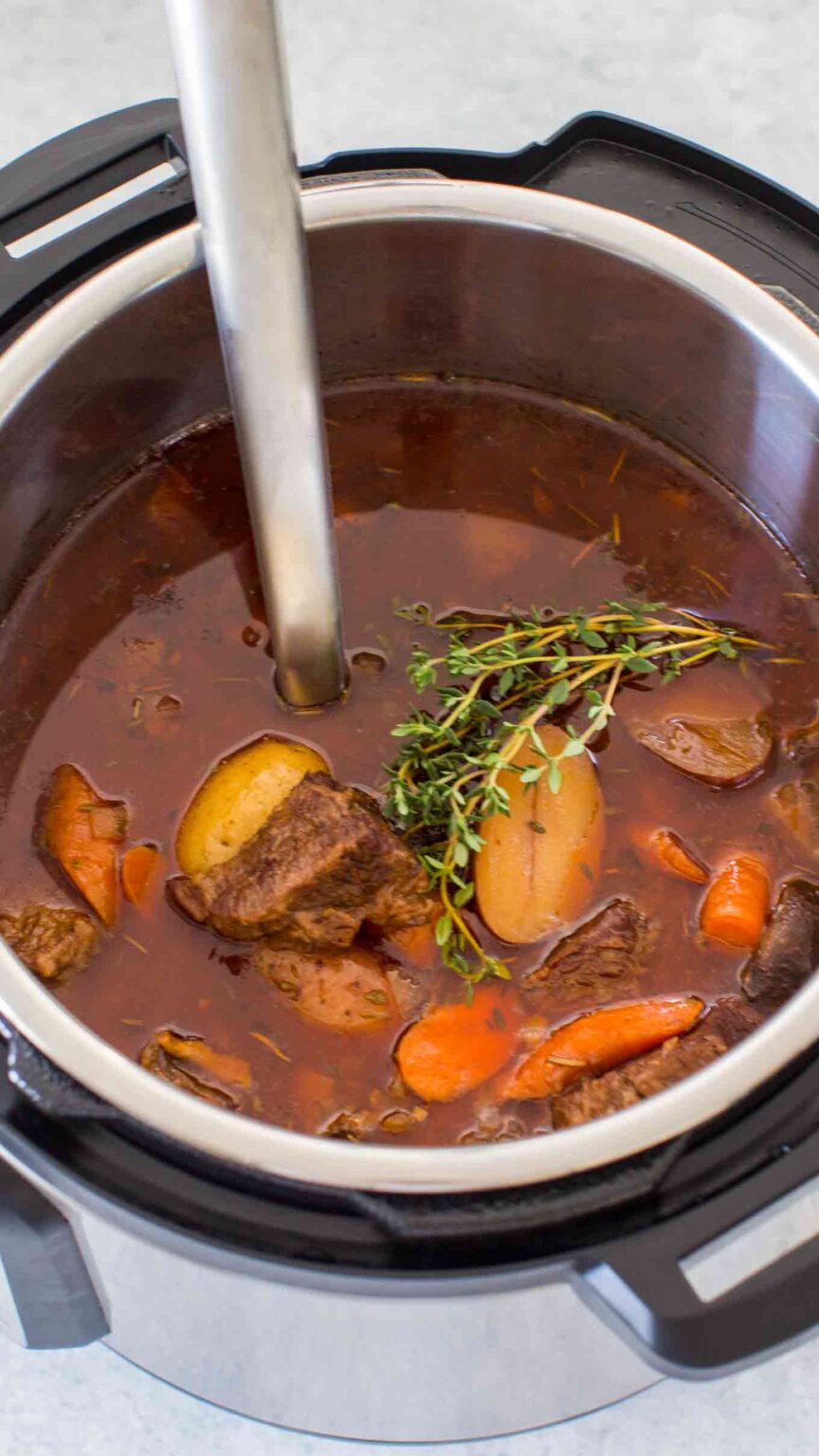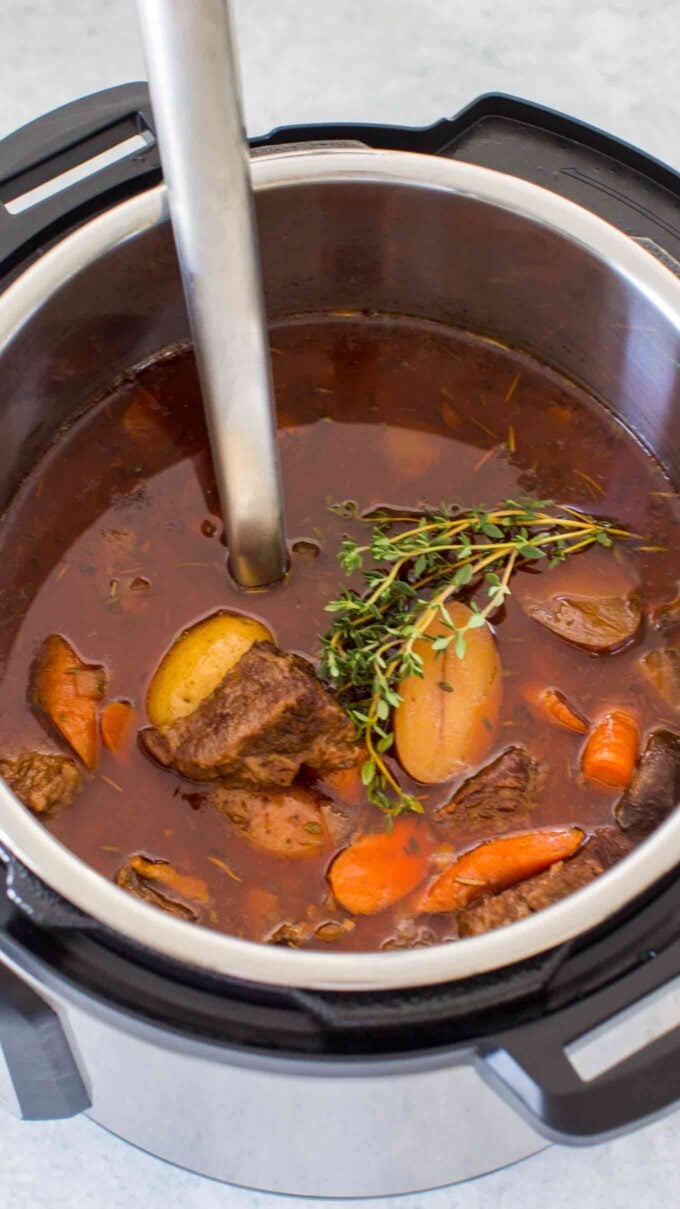 what do you serve with beef bourguignon?
This dish goes well with the following:
Can you freeze Instant Pot Beef Bourguignon?
Yes, this dish can easily be frozen. Let the sauce cool completely before freezing. Transfer into freezer-safe containers or heavy-duty freezer bags and add the beef and broccoli.
Also, make sure the sauce covers at least partially the beef, so t won't dry out. Label with the date, and freeze for up to 3-4 months, or longer if you use a deep freezer.
What is a 10 Minutes Natural Pressure Release?
A Natural Pressure Release means that the pressure is released gradually. For a Natural Pressure Release, you click on Keep Warm, and wait 10 minutes, after which you open the valve and let any leftover pressure to release.
Another option is to Turn Off/Unplug the pressure cooker, wait 10 minutes, and after that open the valve. A natural release is usually used when cooking soups, meat in a large amount of sauce, pasta, or steel cut oats. This method prevents any foam from the dish to shoot out through the valve, which can happen during a Quick Pressure Release.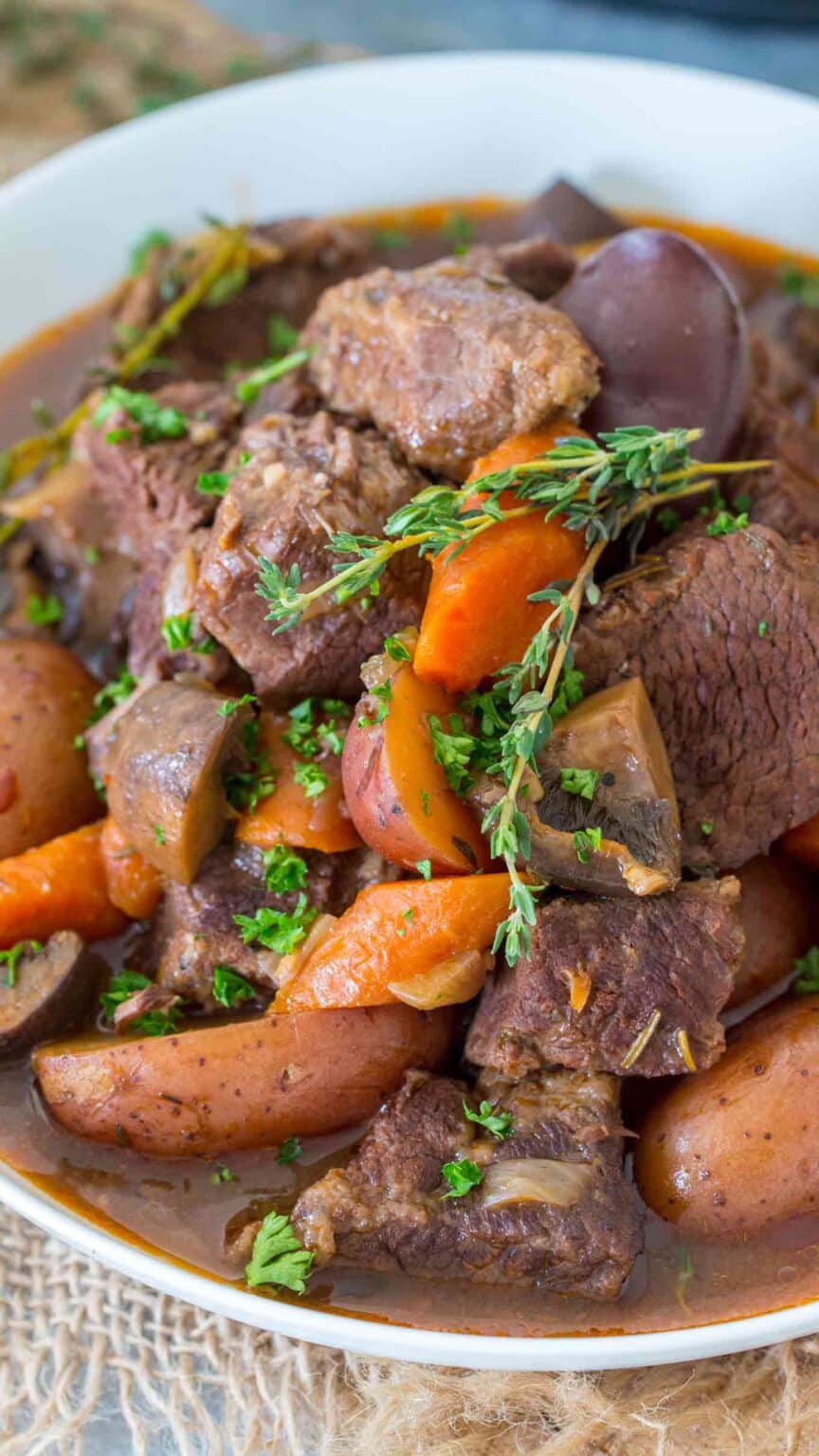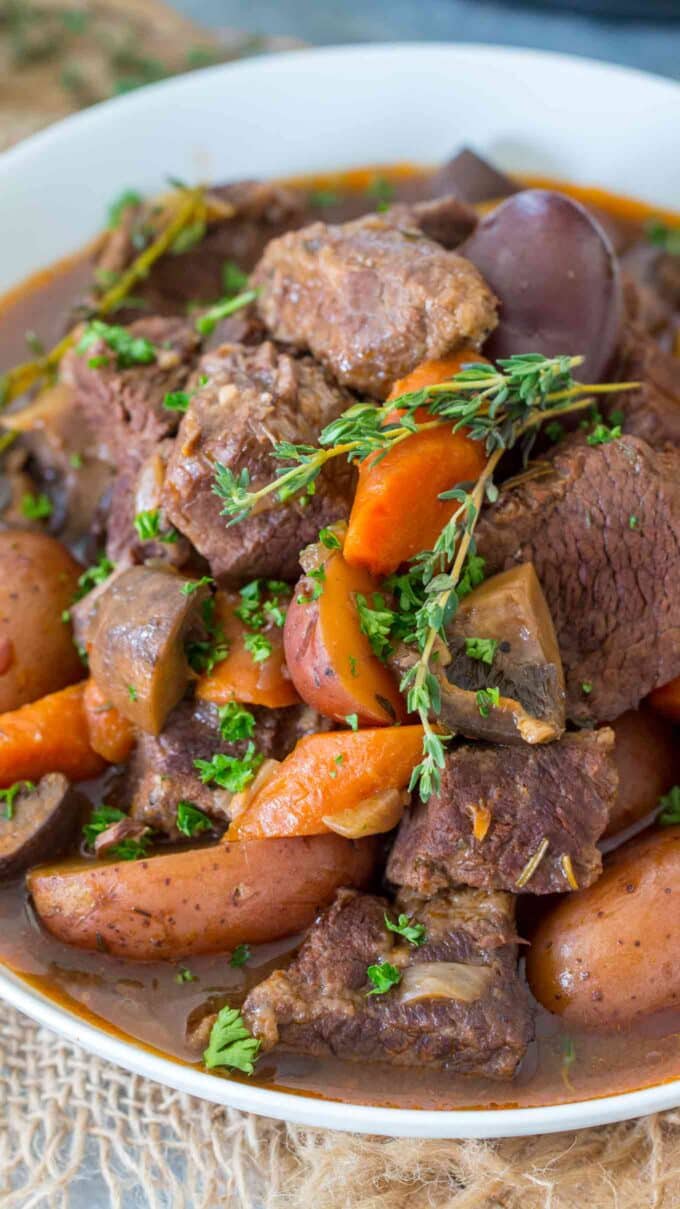 Pressure Cooker Beef Bourguignon Recipe Tips:
Use good quality meat, because a centered meal starts with quality meat, preferably use organic. I usually used stew meat and brisket.
Similarly, look for fresh meat, that has a bright color, and lots of marbling, the marbling is essential to get great flavor and tenderness.
Cut the beef into 2-inch chunks, so they hold their shape well after cooking.
Browning the beef is essential, it will lock the flavor and the beef juices and also elevate the meat flavor.
You can also add a cup of chopped celery.
Also, for a spicier kick, add some red pepper flakes.
If you want to make this dish without the wine, you can replace it with beef broth.
Tools/ingredients that I used to make this Recipe:
Instant Pot – I use it all the time, I have the 6 quarts one. It makes weeknight meals so much easier.
Save Recipe
Instant Pot Beef Bourguignon
Instant Pot Beef Bourguignon is one delicious meal, made in a fraction of the time. Tender, melt in your mouth pieces of beef, cooked with veggies in a wine broth.
Author: Catalina Castravet
Serves: 8 people
Prep time:

20

minutes
Cook time:

45

minutes
Total time:

1

hr

5

mins
Ingredients
Beef:
Rest of Ingredients:
Cornstarch Slurry:
Nutrition information
0 Calories: 169 Carbohydrates: 21 Protein: 3 Fat: 5 Saturated Fat: 0 Cholesterol: 0 Sodium: 585 Potassium: 706 Fiber: 3 Sugar: 5 Vitamin A: 5295 Vitamin C: 13.3 Calcium: 72 Iron: 3.7
Notes:
Use Yukon potatoes if you are looking for the potatoes to hold their shape better.
Save Recipe

More recipes you might love
Categories: