Instant Pot Beef Bourguignon [VIDEO]
Last updated on September 12th, 2021 at 06:51 pm
Instant Pot Beef Bourguignon is a classic French recipe made with tender chunks of beef and veggies in a flavorful red wine sauce. The melt in your mouth meat is so good, your whole family will love it. Making this the perfect recipe for a special occasion.
Making meals in the Instant Pot saves you time and effort, making it possible to have a special occasion meal on a regular day. On top of this good recipe, we recommend you try our Classic Beef Stew, as well as the Beef Tips and Gravy, and if you prefer beer instead of wine, check out this fantastic Guinness Beef Stew.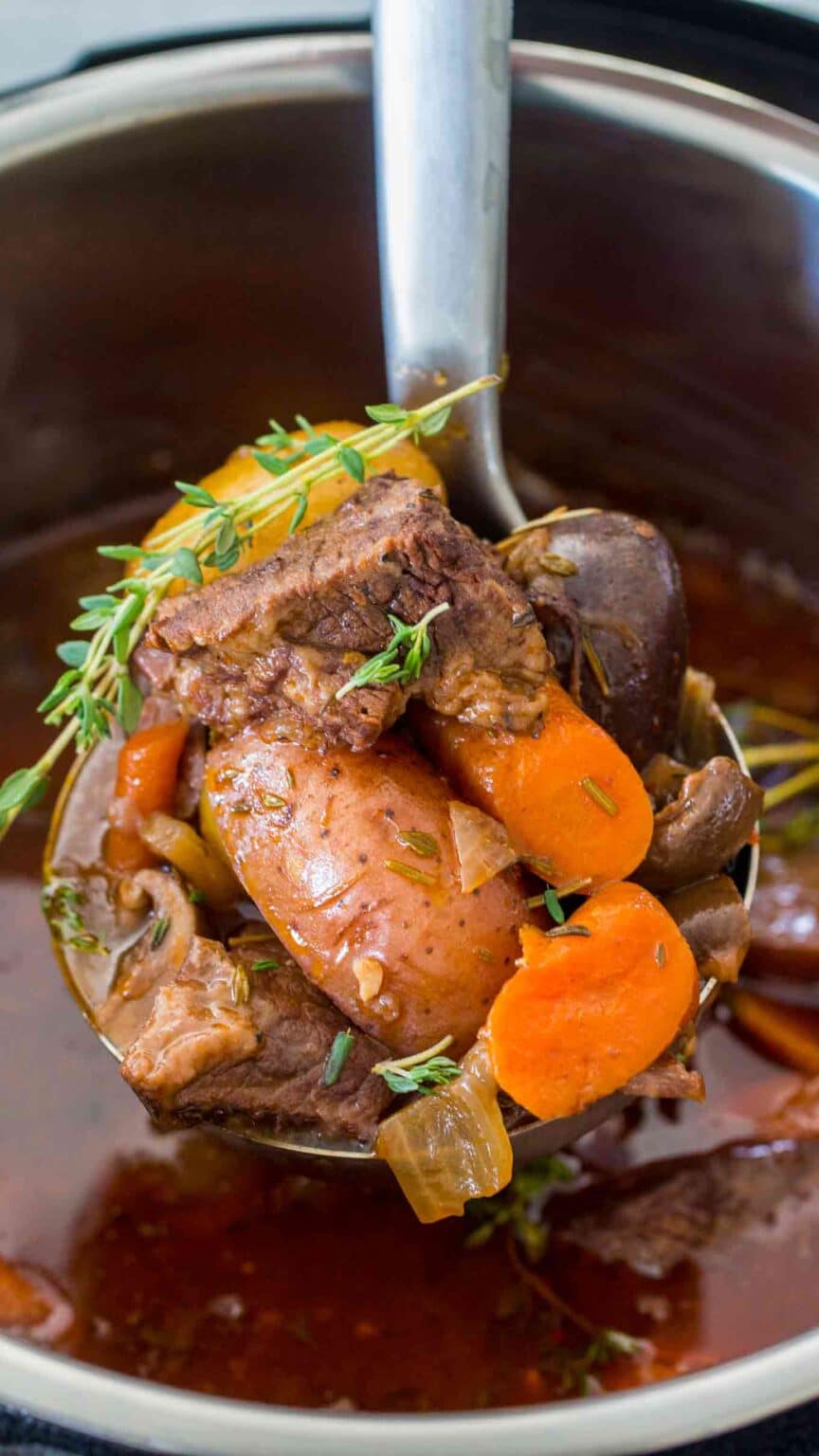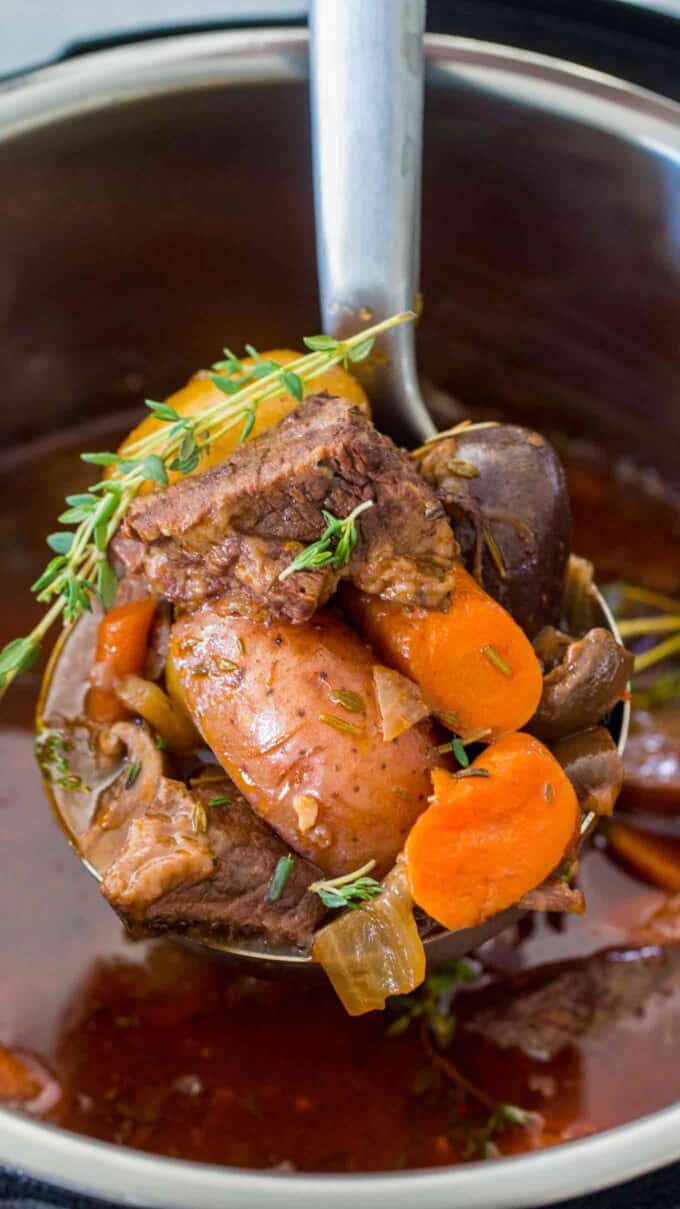 Easy Instant Pot Beef Burgundy
Classic French beef stew is such a delicious dish, full of tender beef that has been cooked in the most amazing wine broth. Lots of tender veggies and fragrant herbs elevate the flavors of this meal.
This instant pot recipe is adapted from Julia Child's beef bourguignon best-seller book, Mastering the Art of French Cooking. It has such a rich flavor, and it's made in a fraction of the time in the electric pressure cooker.
This comforting dish has tender beef chunks and perfectly cooked veggies. The amazing sauce is delicious on mashed potatoes. Or even better, use some crusty bread to soak all the goodness, and enjoy every drop of it.
This is one of the best beef recipes I have ever had. It is a savory comfort meal bursting with flavors and aromas. Perfect if you want to impress some guests or just craving a comforting meal.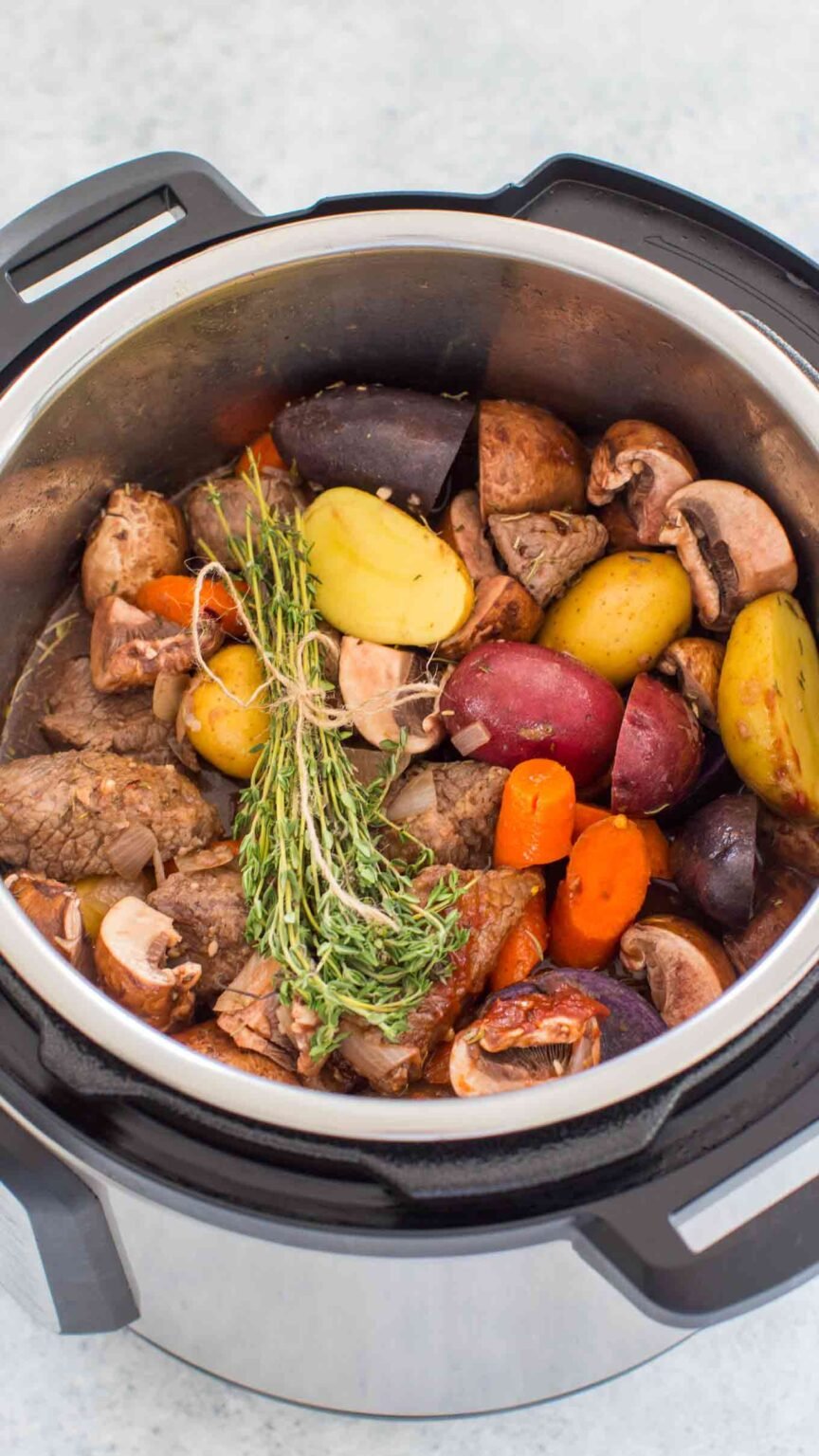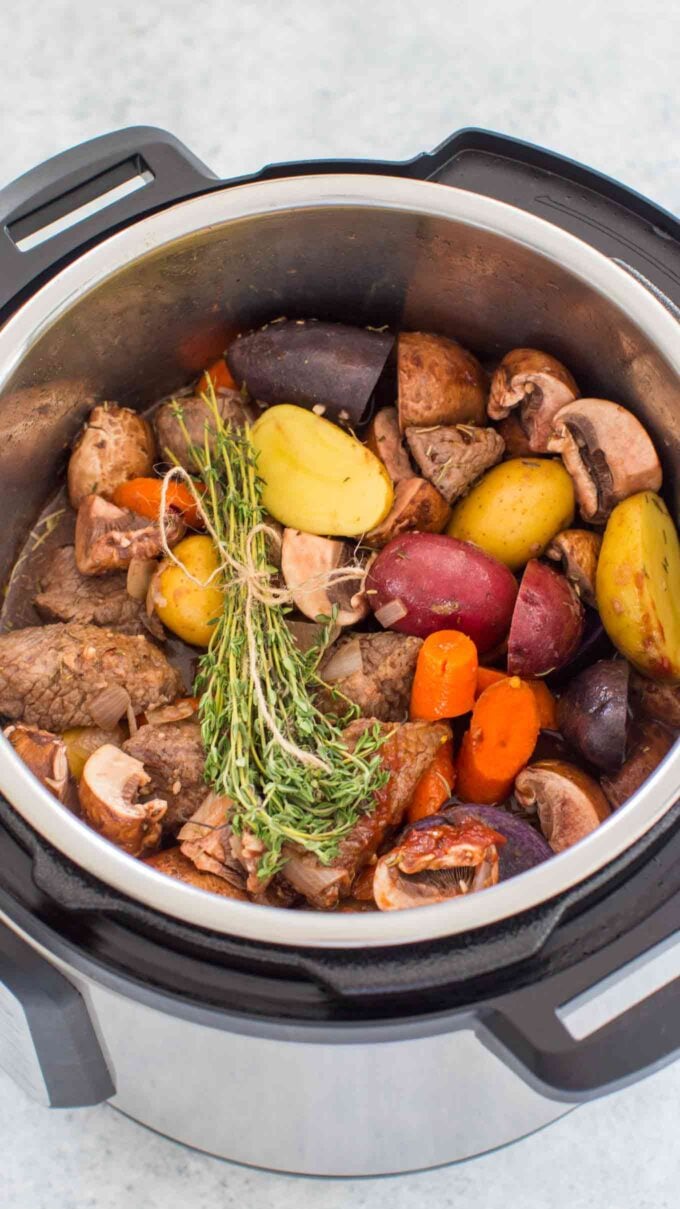 Ingredients Needed:
Meat: We use stew beef for this recipe. It is more cost-friendly and also it gets very tender.
Oil: Use canola oil or vegetable onion. Olive oil will work as well.
All-purpose flour: Used to saute the meat.
Seasoning: Salt, fresh ground pepper, red pepper flakes.
Veggies: Yellow onion, garlic cloves, carrots, baby Bella mushrooms, celery, potatoes.
Herbs: Dried rosemary, dried thyme, fresh thyme, you can also add some fresh rosemary.
Sauces: Tomato sauce and Worcestershire sauce.
Tomato paste
Red wine: Use a cooking red wine, burgundy wine, or you can splurge and use some pinot noir.
Broth: We use beef broth, but beef stock, chicken broth, or chicken stock will work too.
How do you make Instant Pot Beef Bourguignon recipe?
Sauté function: First, toss the beef in the flour mixture, and after that using the IP saute setting, saute the meat for a few minutes until it browned. Once browned, remove from the pot and set aside.
Start adding the veggies: Next, saute the onion and the garlic.
Deglaze: After that, add beef broth and using a wooden spoon scrape the brown bits from the bottom of the pot.
Add beef: Add the beef back along with tomato paste, Worcestershire sauce, and tomato sauce.
Add veggies and wine: Finally, add the rest of the veggies and also the wine.
Herbs: Also, add the dried herbs and seasoning, top with a bunch of fresh herbs for extra flavor.
Pressure cook: Finally, close and lock the lid, point the pressure release valve to sealing, and pressure cook on high pressure for 35 minutes.
Natural Pressure Release: Afterward, when the instant pot beeps, do a 10-minute natural release.
Quick Pressure Release: Next, do a quick release to release the remaining pressure. When the steam release valve drops carefully open the pot.
Cornstarch slurry: At the end, if you prefer a thicker texture, select saute and stir in the mixture of cornstarch and water. Cook for a few minutes, until thickened.
Taste: Also, make sure to taste and adjust for salt and pepper.
Serve: Serve warm with your favorite side dishes.
How to serve:
This Classic Beef Bourguignon goes well with the following:
This dish is delicious on its own, just with some freshly chopped herbs on top.
However, pair it with a nice, fruity red wine such as Zinfandel or Syrah.
If you're looking for a white option, Riesling or Pinot Grigio are always great matches for bold, beef dishes.
In addition, have it with some Mashed Potatoes or some Creamy Mashed Sweet Potatoes.
Also, some beer bread or bread rolls would be amazing to soak all the yummy sauce.
Recipe Variations:
Beef cut: Experiment with the different beef cuts for this recipe. We have listed below the ones that we like.
Wine: In addition, make sure to use a red wine that you would drink, try different brands and flavors. However, skip the wine and use broth for a non-alcoholic version.
Veggies: Also, include or skip some of the veggies. This great recipe is also very versatile, hence you can use the vegetables that you like. We recommend using pearl onions, they do add a nice flavor and texture.
Bacon fat: As an alternative, for extra flavor, brown the bacon in the Instant Pot, and after that cook the rest of the ingredients in about 2 tablespoons of the remaining bacon fat.
Stove version: Alternatively, use a dutch oven to make this classic Beef Bourguignon on the stove.
Slow cooker version: Also, you can make this recipe in the slow cooker. First, add the browned beef add all the ingredients to the crock pot and cook on low for 8 hours or on high for 4-5 hours.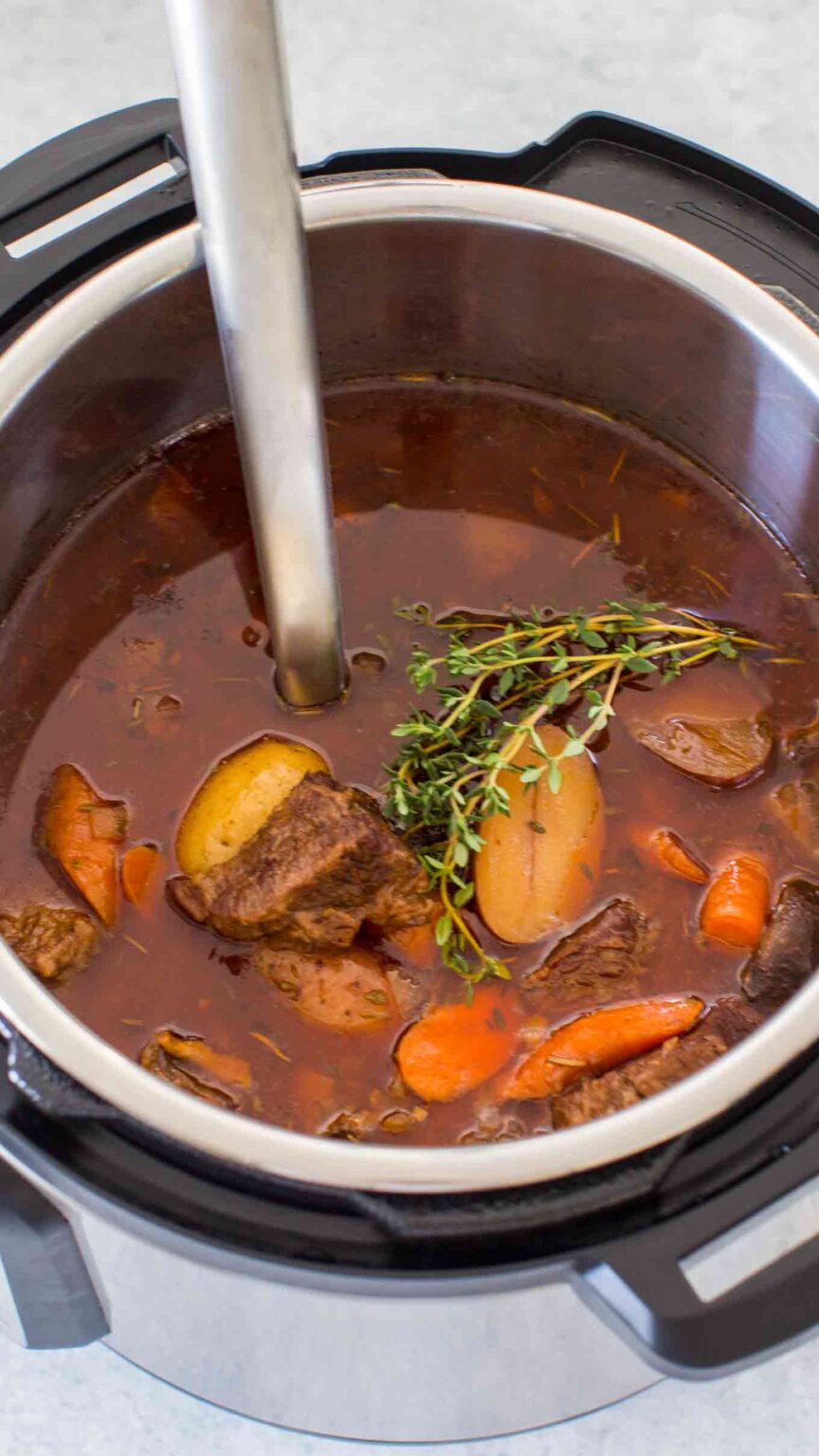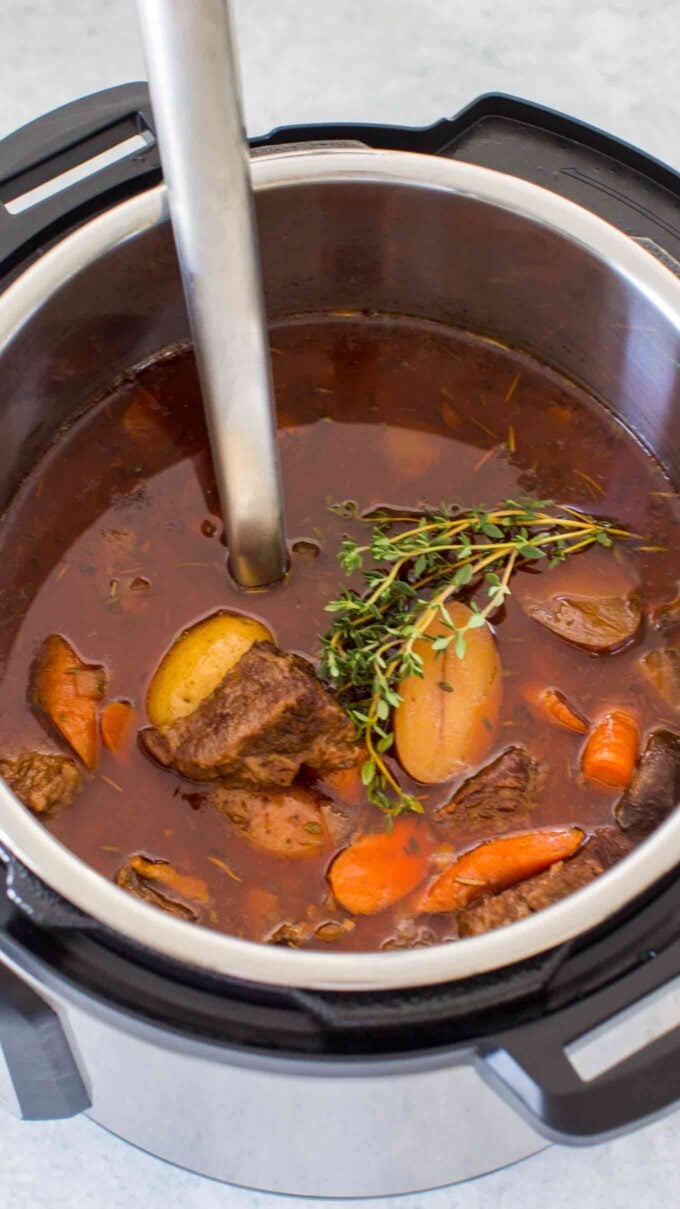 What is Bourguignon?
Bourguignon refers to food that is made in a specific way related to the France region of Bourgogne. Basically, all it is meaning is that the beef is cooked and braised in red wine, alongside other ingredients like carrots, onions, and potatoes.
What meat is best for Beef Bourguignon?
For this recipe, I like to use chuck roast, but the shoulder, brisket, round, shin, or any braising cut. They work best for stew or bourguignon.
When cooked under pressure, the meat is guaranteed to fall apart and be super tender, juicy, and flavorful.
Does the alcohol from wine cook-off in the Instant Pot?
When you are cooking with alcohol using a Pressure Cooker or slow cooker, the alcohol won't evaporate as when you were cooking on the stove-top. The alcohol is sealed in this case, and only a portion of it will evaporate into steam. Therefore, the dish should only be served to adults.
However, after you pressure cook this easy beef bourguignon recipe, you can select saute, and cook for a few more minutes, to make sure the alcohol evaporates.
What is a 10 Minutes Natural Pressure Release?
Natural Pressure Release means that the pressure is released gradually, by switching the IP to Keep Warm or turning it off, after the pressure cooking process is complete.
During the Natural Pressure Release the valve stays in sealing position, and you just wait for a specific amount of time, after which you open the valve (Quick release), to release the remaining pressure.
In some recipes, you will see to do a complete natural pressure release, which means that you do not move the valve into the venting position at all. Just turn off the pressure cooker after the cooking time is done.
However, keep in mind that a complete NPR may take 30 minutes, and sometimes longer. It is complete when the valve drops and you can open the IP.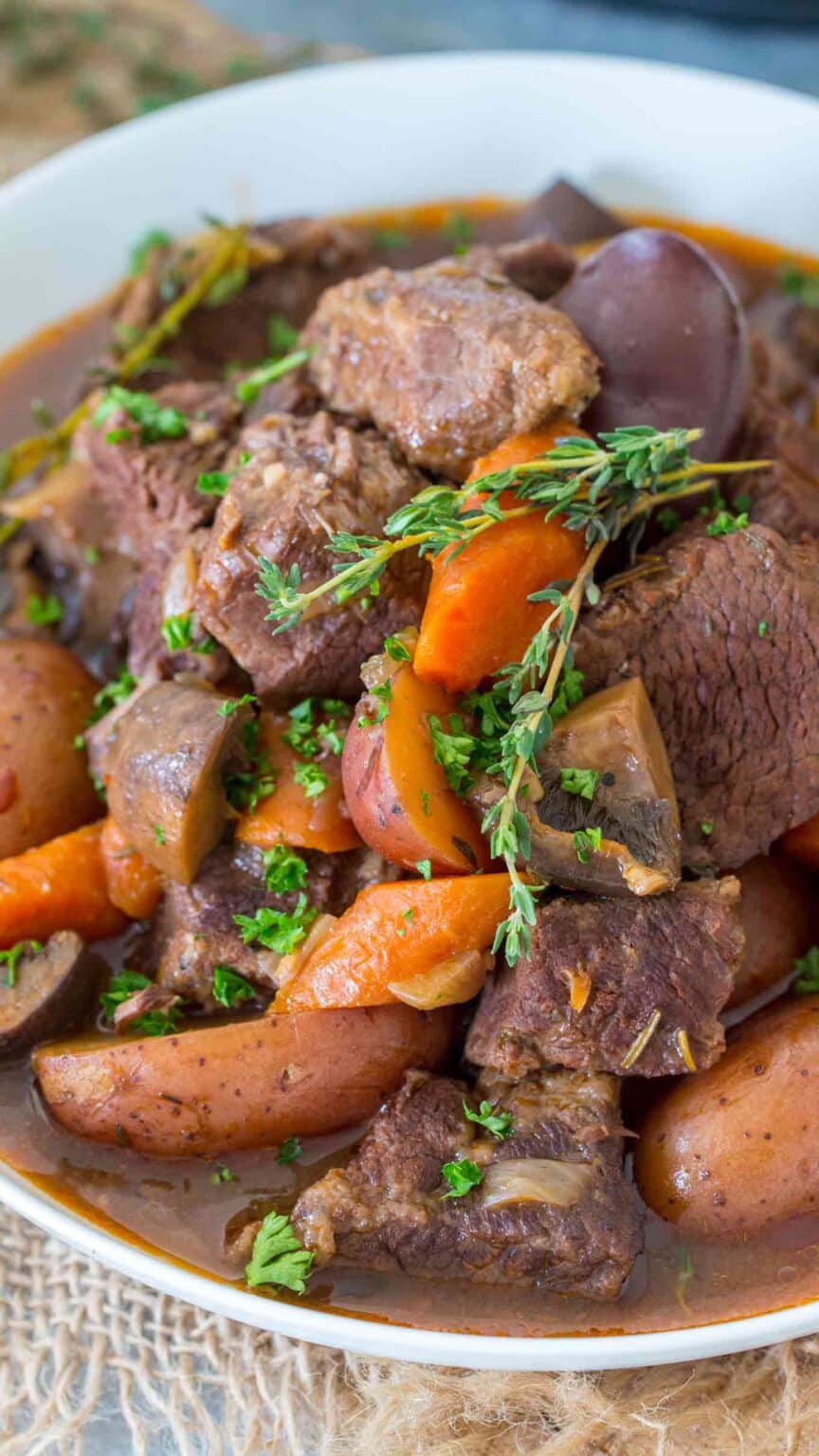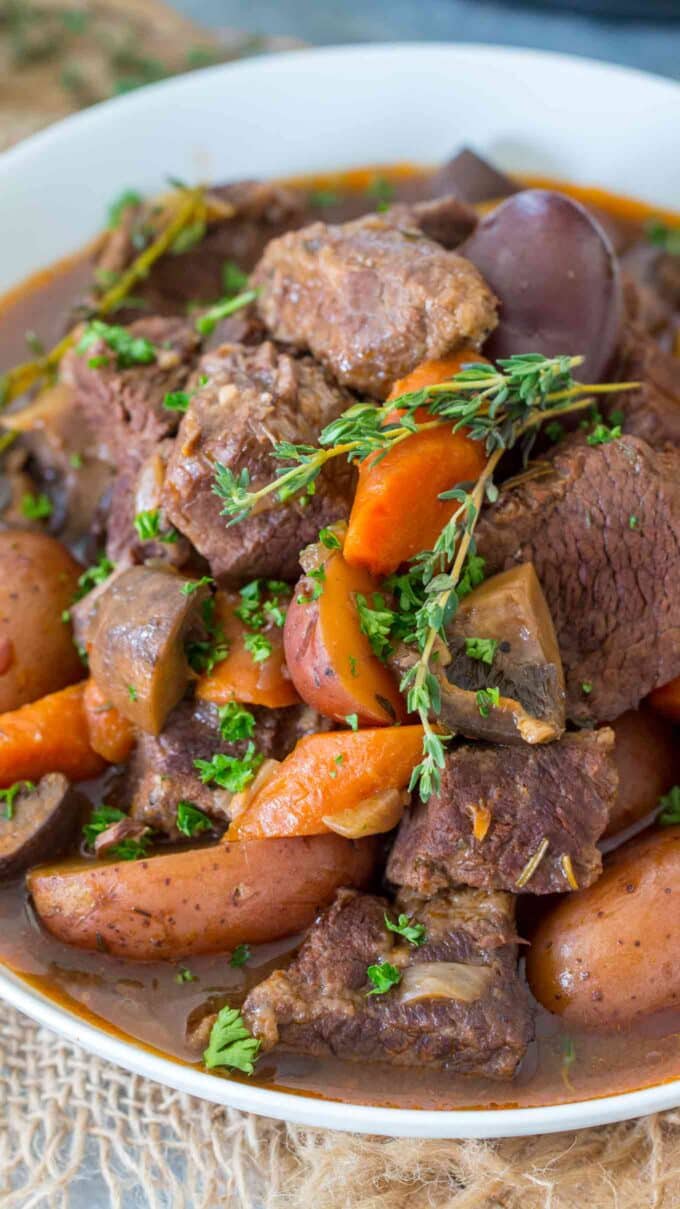 How to store leftovers:
Refrigerate: First, let leftovers fully cool to room temperature. After that, transfer them to an airtight container, including the sauce, and refrigerate for 3-4 days.
Freeze: Let the leftovers cool completely before freezing. Transfer into freezer-safe containers or heavy-duty freezer bags. Also, make sure the sauce covers at least partially the beef, so it won't dry out. Label with the date, and freeze for up to 3-4 months, or longer if you use a deep freezer.
Thaw: When ready to serve, make sure to plan in advance and thaw the meal in the fridge overnight.
Reheat: Finally, to reheat use a dutch oven and add more broth and seasoning if needed.
More Instant Pot Recipes:
Cooking Tips:
Use good quality meat, because a centered meal starts with quality meat. I usually used stew meat or brisket.
Similarly, look for fresh meat, that has a bright color, and lots of marbling, the marbling is essential to get great flavor and tenderness.
Also, if you didn't buy pre-cut stew meat, cut the beef into 2-inch chunks, so they hold their shape well after cooking.
Browning the beef is also essential, as it will add depth of flavor to the overall dish.
If you want to make this dish without the wine, you can replace it with beef broth.
Instant Pot – I use it all the time, I have the 6 quarts one. It makes weeknight meals so much easier.
Instant Pot Beef Bourguignon
Instant Pot Beef Bourguignon is a classic French recipe made with tender chunks of beef and veggies in a flavorful red wine sauce.
Save
Share
Print
Pin
Rate
Ingredients
Beef:
1 1/2 - 2

pounds

stew meat

(cut into 1 1/2 - 2 inch cubes)

2

tablespoons

all-purpose flour

1

teaspoon

salt

1

teaspoon

fresh cracked pepper

2

tablespoons

canola or olive oil
Rest of Ingredients:
1

sweet yellow onion

(peeled and chopped)

1

tablespoon

garlic

(minced)

1

cup

beef broth

1

tablespoon

tomato paste

1/2

cup

tomato sauce

2

tablespoons

Worcestershire sauce

4

carrots

(peeled and chopped into 2-inch chunks)

8

ounces

baby Bella mushrooms

(trimmed and quartered)

1

cup

celery

(chopped - optional)

1

cup

red wine

1

pound

mini potatoes or Yukon

(halved)

1

teaspoon

dried rosemary

1

teaspoon

dried thyme

1/4

teaspoon

red pepper flakes

1

bunch thyme

(tied in a bundle)
Cornstarch Slurry:
2

tablespoons

cornstarch

2

tablespoons

water
Instructions
Add beef chunks to a large bowl, sprinkle flour, salt, and pepper onto it. Stir to combine.

Turn on the Instant Pot and select Sauté. Once Hot add oil to the pot.

Once the oil is hot, cook the beef in batches for 2-3 minutes on each side until nice and brown.

Remove the beef from the pot, cover with foil, and set aside.

Add the chopped onion to the pot and cook for 1 minute, add the garlic, stir and cook for 1 minute.

Add the cup of beef broth, and using a wooden spoon scrape well the bottom of the Instant Pot to remove any bits that are stuck to it, make sure you scrape it well to avoid burning during cooking.

Add the beef back to the pot, add tomato paste, tomato sauce, and Worcestershire sauce.

Add chopped carrots, mushrooms, and celery if using. Add wine and potatoes.

Make sure you don't go over the Max line of your pot.

Add dried rosemary, thyme, and red pepper flakes. Stir to combine.

Add a bunch of fresh thyme on top.

Close the lid and seal the valve. Cook for 35 minutes on High Pressure. Once the Instant Pot beeps, do a 10 Minute Natural Pressure Release.

Release manually the remaining pressure.
Optional:
If you want the beef bourguignon sauce to be thicker, mix corn starch and water in a small bowl until fully combined.

With the IP on Saute, add the mixture to the pot and gently stir, trying not to crush the veggies. Cook for a few minutes until the sauce thickens.
Notes
Use Yukon potatoes if you are looking for potatoes to hold their shape better.
Nutrition
Serving:
0
g
|
Calories:
169
kcal
|
Carbohydrates:
21
g
|
Protein:
3
g
|
Fat:
5
g
|
Saturated Fat:
0
g
|
Cholesterol:
0
mg
|
Sodium:
585
mg
|
Potassium:
706
mg
|
Fiber:
3
g
|
Sugar:
5
g
|
Vitamin A:
5295
IU
|
Vitamin C:
13.3
mg
|
Calcium:
72
mg
|
Iron:
3.7
mg

More recipes you might love