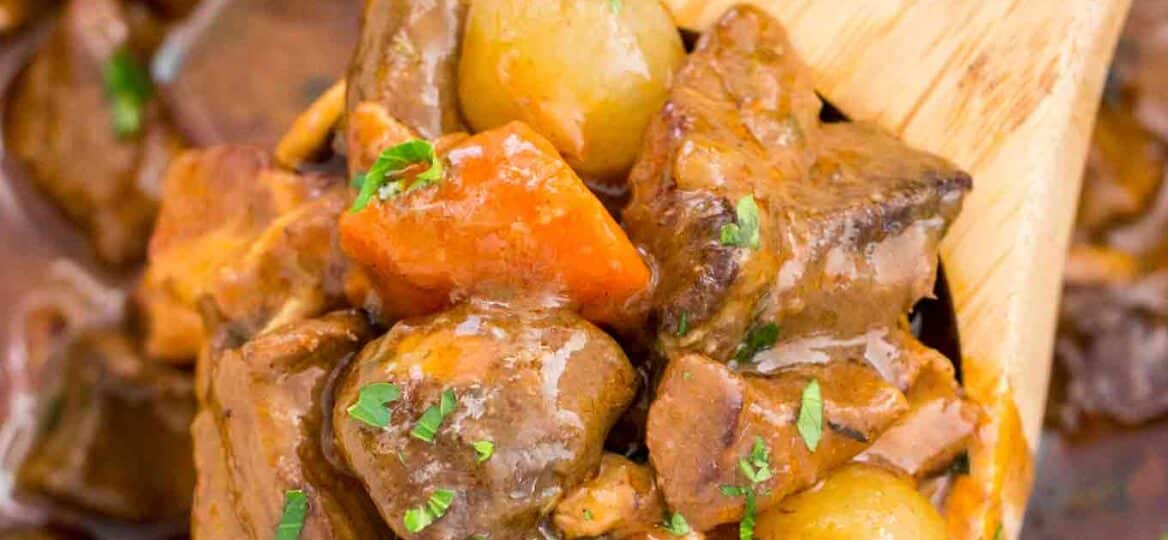 Beef Bourguignon Recipe [Video]
Beef Bourguignon is a classic dish that originated from the Burgundy region of eastern France, which quickly became our favorite comfort food. The recipe is rich in veggies and flavors, and the meat is super moist, which literally melts in your mouth. Also, I have included a short video on how to prepare this dish.
With the colder weather season, this is the perfect dish to indulge yourself. If you crave delicious and tender beef recipes, we suggest you also check the Slow Cooker Corned Beef, Slow Cooker Beef Stew, and Slow Cooker Yankee Roast.
Best EVER Beef Bourguignon
Beef Bourguignon will quickly become a staple dish in your house. It is inspired by French cuisine and is nothing short of amazing. If you love the original recipe of Julia Child, you will also love this one!
It is purely delicious, full of tender and moist meat, that has been cooked in a red wine broth.
The addition of bacon gives the dish an extra rich and smokey aroma. Simply put, this dish is hearty with the right balance of flavors, soaked in the amazingly delicious wine-based sauce. It is always a hit with our guests and family, and we would like to share this amazing recipe with you.
Also, lots of tender veggies and fragrant herbs were added, to elevate the flavors of this dish. The beef is so tender it actually melts in your mouth. The veggies are perfectly done, and the red wine really brings out the deep and rich flavor in the sauce. All in all, this is a hearty meal that should be on your must-try list!
What is the best meat for Beef Bourguignon?
We make this dish with chuck steak or round steak as it yields for us the best flavors and results. Similarly, you could use brisket or any stewing beef that you have on hand.
Since the meat is cooked in a rich and flavorful sauce, any stewing beef cuts should perfectly work for this recipe.
Can I make this recipe in the Instant Pot?
Making Beef Bourguignon in the Instant Pot is a great alternative to the traditional version. In addition, the dish will cook in a fraction of time, so it's definitely worth the try. We have the Instant Pot version in this link.
How to make Beef Bourguignon in the Slow Cooker?
To make this dish in the Slow Cooker, follow the below steps:
Start by sautéing the bacon in a skillet over medium heat, for about 3 minutes. Set aside.
Similarly, sauté the mushrooms in some oil for a few minutes and set aside.
Next, cut the beef into 2-inch chunks and season with salt and pepper. Add to the skillet and brown on each side for about 4 minutes or until it reaches a darker brown color and is nicely seared.
Transfer the beef, bacon, and mushrooms to a 6-quart slow cooker.
Add in the rest of the ingredients except butter and flour.
Mix well to combine all of the ingredients. Cook on high heat setting for 5-6 hours or low for 7-8 hours.
One hour before finished, combined the softened butter with flour, and add to the slow cooker, stir to combine.
What is the difference between a Beef stew and Beef Bourguignon?
The main difference between a beef stew, and French boeuf bourguignon, is the presence of red wine. The traditional stews are usually made with broth or water, while the French version usually contains red wine in the sauce.
Also, stews with wine must be cooked slowly.
Which red wine is best for Beef Bourguignon?
The traditional recipe calls for a red Burgundy or a Pinot Noir. Similarly, you could use Cote du Rhone or Gamay.
What to serve with Beef Bourguignon?
Traditionally the dish is served over rice, pasta, or noodles. Similarly, chunky mashed potatoes would pair well with this dish. You can also serve the dish as is, with some crusty bread or roll on the side for dipping.
CAN YOU FREEZE BEEF BOURGUIGNON?
Yes, this dish can easily be frozen. Let the sauce cool completely before freezing. Transfer into freezer-safe containers or heavy-duty freezer bags.
Also, make sure the sauce covers at least partially the beef, so it won't dry out. Label with the date, and freeze for up to 3-4 months, or longer if you use a deep freezer.
More beef recipes you will love:
RECIPE TIPS
Use good quality meat, because a centered meat meal starts with quality meat, preferably use organic.
Look for fresh meat, that has a bright color, and lots of marbling, the marbling is essential to get great flavor and tenderness.
Cut the beef into 2-inch chunks, so they hold their shape well after cooking.
Browning the beef is essential, it will lock the flavor and the beef juices and also elevate the meat flavor.
The bacon is optional, you can skip it if you don't eat bacon.
TOOLS USED TO MAKE THIS RECIPE
Large Pot: This pot is excellent for cooking, as it maintains the heat evenly and is a high-quality product.
For a budget-friendlier version, you can get the Enameled Cast Iron Dutch Oven, which works also great.
Deliciousness to your inbox
Enjoy weekly hand picked recipes and recommendations