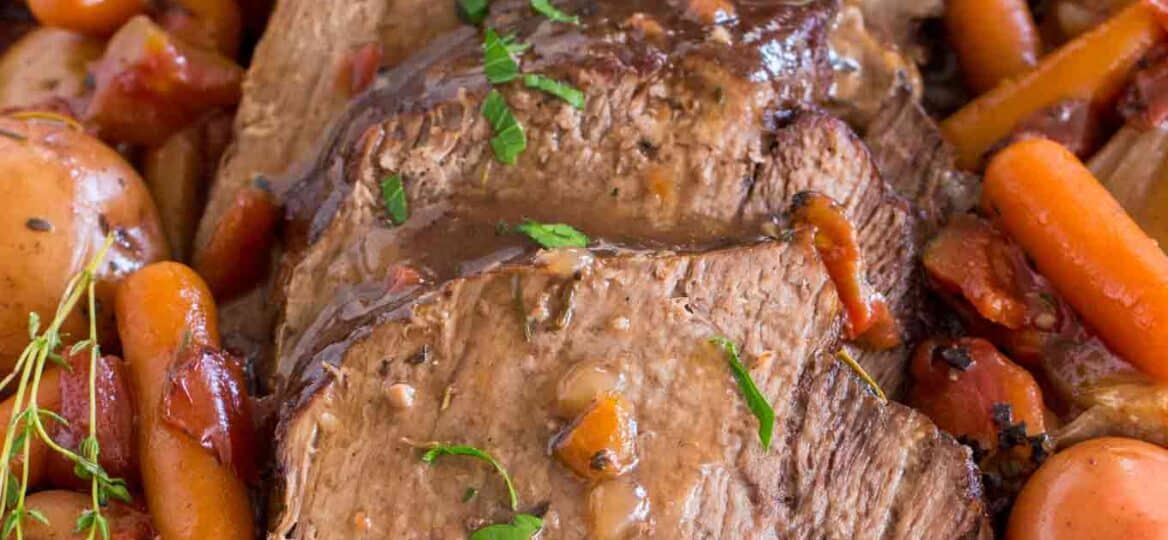 Slow Cooker Yankee Pot Roast [Video]
Slow Cooker Yankee Pot Roast made with root vegetables, potatoes, dried herbs, and tomatoes. The roast is flavorful and slow-cooked to tender perfection.
Slow Cooker recipes are a staple in our house during busy weekdays. I like a good "fix it and forget it" recipe, that I can just add all the ingredients to the slow cooker and later enjoy a tasty meal.
You should try our easy Slow Cooker White Turkey Chili recipe and the famous Slow Cooker Baked Potato Soup. This Slow Cooker Pot Roast with Red Wine is very tender and always a success. If you are looking for something fancier, yet easy, these Slow Cooker Short Ribs should be on top of your must-try list.
Best Slow Cooker Yankee Pot Roast
This Yankee Pot Roast is one of our favorite comfort meals, I like to make it for a weeknight dinner or when we have company. You can't beat the convenience of this recipe, you add everything to the slow cooker and just let it cook to perfection.
The Slow Cooker Yankee Pot Roast is very tender and flavorful. It is very important to brown the beef before adding it to the crockpot, this is how you lock in the juices. Doing so, you will end up with a very tender and full of flavor roast.
Traditionally, a Yankee Pot Roast is made with root vegetables, I like to add some red potatoes and baby carrots. You can easily add some baby Bella mushrooms and some parsnips. I am also a huge fan of adding a cup of red wine and a can of diced tomatoes to the roast, it makes the gravy a hundred times tastier.
What is Yankee Pot Roast?
A Yankee Pot Roast is usually made with root vegetables, potatoes and sometimes tomatoes for extra flavor. You can also add celery and other veggies that you may like, for example, mushrooms. The roast can be made in a slow cooker, or it can be cooked in an oven.
What are the Best Beef Cuts for Yankee Pot Roast?
Chuck Roast: this is a cut from the cow's shoulder and since that is a heavily exercised muscle, the meat is usually tougher. It still contains about 20% of fat, which makes it the perfect candidate for long slow cooking recipes. The end result is usually full of flavor and tender roast.
Beef Brisket: this is a cut from the breast section and it is tougher, it's best when braised. It should be cooked in a small amount of liquid either in the oven, slow cooker, or on the stovetop.
Round Roast: Top and bottom round roasts are cuts from the rear leg and are leaner than chuck roast. The top round is very lean, but tends to be more tender than the bottom round. The round tip roast is cut from the hindquarters, adjacent to the sirloin and is a very flavorful and lean cut. It should be braised, stewed or slowly cooked in a slow cooker or oven to make it tender.
SLOW COOKER YANKEE POT ROAST RECIPE TIPS:
Use high-quality meat, you can either use a round bottom, top or tip chuck roast. If I make this meal when we have company, I choose a round tip roast, to be able to slice and plate it nicely.
A chuck roast cut is great too, as it has more fat, so it will be more tender and juicy.
Use your favorite veggies in this recipe, I prefer a mix of carrots, mushrooms, onions, and potatoes. Celery and parsnips are great additions too.
I like adding whole mini red potatoes to the slow cooker, this way they don't get mushy.
Brown the beef, it will improve its taste and also will lock in all the delicious flavors.
Use low sodium beef broth, you don't want to end up with a salty pot roast.
Replace the wine with beef broth, if you prefer to not use alcohol.
HOW TO STORE THE YANKEE POT ROAST?
Store the Slow Cooker Yankee Pot Roast in a large airtight container in the fridge. Make sure that the gravy liquid covers at least partially the beef, so it won't dry out. Store for up to 3-4 days.