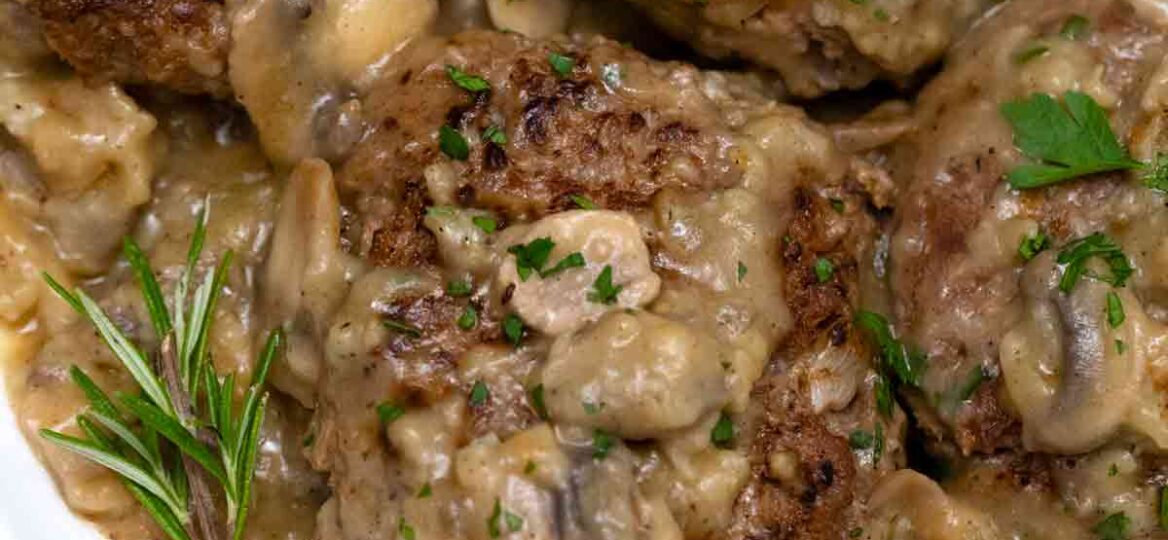 Hamburger Steak with Mushroom Gravy
Hamburger Steak with Mushroom Gravy is an easy recipe made with seasoned ground beef simmered in a rich and creamy mushroom sauce. Ready in under 30 minutes, this is the ultimate classic comfort food.
I love making quick and flavorful beef dinner recipes. Some of my all-time favorite ones are Slow Cooker Corned Beef, Instant Pot Mongolian Beef, and Teriyaki Beef and Broccoli.
Hamburger Steak and Gravy Recipe
This Hamburger Steak with Mushroom Gravy recipe has been around well over 50 years. It a truly a classic dish where ground beef is seasoned and shaped into patties, then quickly pan-fried. The patties are then simmered in a flavorful onion and mushroom sauce, making them extremely tender and flavorful.
If you ask me, this is the ultimate comfort food that is also inexpensive. If you are a beef lover, this is a MUST TRY recipe. On top of that, it will take you less than 30 minutes from start to finish. It is bursting with flavors, and the meat is perfectly juicy and tender.
You can serve it as is or over some mashed potatoes, or some steamed broccoli. I guarantee you that this delicious meal will be a hit with your whole family. Kids and adults just love it. Also, this recipe can be easily doubled and stored for days to come.
What is Hamburger Steak?
It is a simple dish made with ground beef, seasoning, and onions. The meat is shaped into patties then cooked and simmered into a rich brown gravy. It is traditionally served over mashed potatoes, noodles, or brown rice.
How to make Hamburger Steak with Mushroom Gravy?
Prepare the patties: In a bowl, combine ground beef, bread crumbs, egg, seasoning, and mix together. Next, shape into uniformly shaped patties.
Cook the steaks: In a skillet add some olive oil, and heat it up over medium-high heat. Next, add the patties and cook them for about 4 minutes on each side, or until the meat is ready. Once the juices run clear it is ready. Remove the steaks from the pan and cover with foil to keep warm. Also, ensure not to overcook the steak, as this will make the meat dry.
Make the sauce: In a skillet, over medium heat, melt some butter. Then, add chopped mushrooms and onion, and sear for 4-5 minutes. Season with salt and pepper to taste. Add some freshly minced garlic. Then, add the flour to the skillet, and cook for about 1 minute, while constantly stirring. Add the beef broth, and bring to simmer, while continuously whisking the gravy. Lastly, add the Worcestershire sauce and soy sauce to the mix and stir.
Add back the steak patties to the pan: Once the sauce is ready, add the hamburger patties back to the skillet, and cook for another 2-3 minutes.
Serve: Garnish with some freshly chopped parsley, and serve warm over mashed potatoes or rice.
Hamburger Steak Recipe Variations:
This dish can easily be adjusted and modified based on your own preferences. Some great variations and substitutions are:
Bacon: If you are a bacon lover, feel free to add some chopped bacon on top.
Mix in other veggies: You can easily add other veggies or greens. For example, chopped bell pepper, spinach, carrots, etc can be easily added to the sauce.
Add Cheese: Try adding your favorite shredded cheese to the gravy. This will make it richer, creamier, and more flavorful. Also, feel free to add sliced cheese on top of the patties during the last minute of cooking.
Swap the meat: I tend to use 85 to 90% lean ground beef. However, you can easily make them with various meats, such as ground turkey, chicken, pork, or lamb. Also, you can mix them together.
Best mushrooms to use for Hamburger Steak and gravy?
Cremini or shiitake mushrooms work really well in this dish. However, use anything you like or have on hand. For example, portobello, king oyster, Maitake, or Enoki mushrooms are also flavorful and perfect to use here.
How to clean mushrooms?
The keys to great-tasting mushrooms is to buy them fresh and clean using a damp paper towel. Use a damp paper towel or a soft mushroom brush, and gently rub any dirt off of each mushroom. Ensure not to press too hard to avoid peeling off the skin.
Also, remember not to soak them because they absorb water, and when cooked, they will not brown properly.
What should I serve with Hamburger Steak and Gravy?
The classic way to serve this comfort dish is over creamy mashed potatoes, white rice, or brown rice.
I also like serving this dish with veggies on the side, like Brussel Sprouts, roasted asparagus, rainbow veggies, brown sugar roasted carrots.
How to store Hamburger Steaks?
To refrigerate: If you have leftovers, use an airtight container, and refrigerate them for up to 3 days.
To freeze: Want to make a larger batch and freeze for later? Then, I would recommend freezing the patties in a tightly sealed freezer bag for up to 3 months. When ready to serve, just thaw them out overnight in the fridge.
More comfort beef recipes:
Recipe Tips:
You can mix other ground meats to make the patties, such as pork, turkey, or lamb.
To make it spicier, add some chopped jalapenos during the cooking process, or some crushed red pepper flakes.
Also, it is very important to get your pan hot when you put the meat in there. Otherwise, the patties might stick to the pan, and instead of getting that nice brown color, you will end up with plain-looking meat.