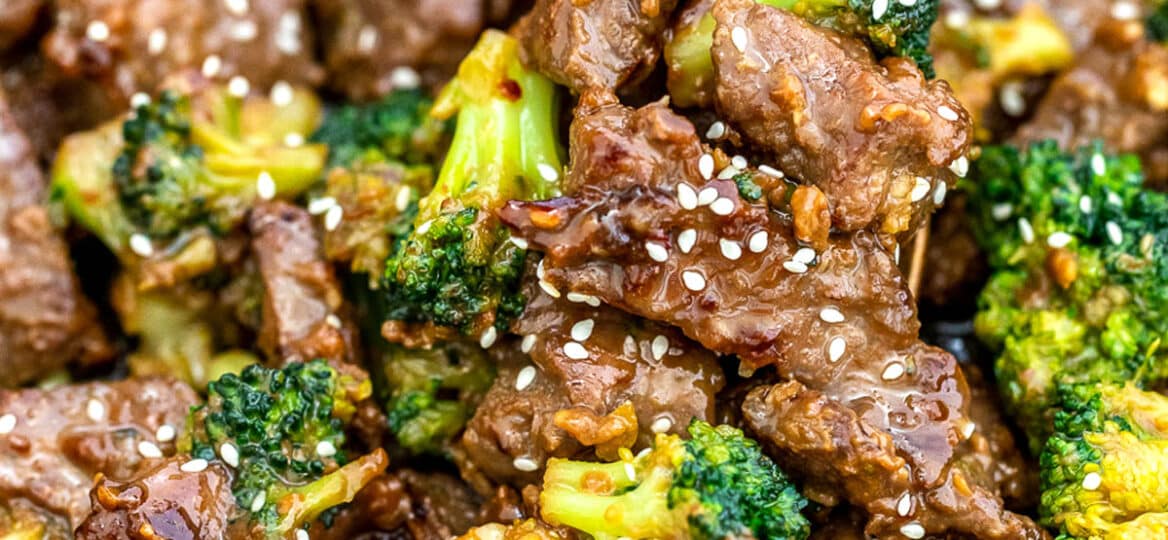 Teriyaki Beef and Broccoli
Teriyaki Beef and Broccoli is a quick dinner or lunch menu item that can also be frozen and served for later. This freezer meal is easy to prepare, too!
If you like Asian-themed dishes, then, this one is perfect! Check out my other recipes like the Korean Fried Chicken, Orange Chicken, and Sweet and Sour Pork!
Teriyaki Beef and Broccoli Freezer Meal
This Teriyaki Beef and Broccoli recipe is my hero. When I have absolutely no time to prepare for a decent meal, it is a good thing that I have a stash of it in the freezer.
Knowing this recipe helps me avoid ordering for takeout when I can still have a homecooked meal. That would be the healthier option for my family and cost-efficient, too!
What this dish needs to complete the meal is just a cup of rice on the side or some noodles, which are both easy to prepare, too.
In no time, you will have a balanced meal that is not only healthy but also yummy! I like how tender the strips are and the perfect garlicky sauce that is both sweet and salty. Prepare yours now for later!
What is a freezer meal?
It is a dish that can be frozen and reheated without altering the taste and texture. It must be something that can withstand long storage periods but when reheated, still manages to please your palate!
Prepare it by making a huge batch of your favorite freezer meal so you can have a ready supply of it anytime. Or, double the ingredients, serve one immediately and then, store the rest for the next time.
What do you need to make Teriyaki Beef and Broccoli Stir Fry
All you need is a wok or a large skillet and these ingredients:
sliced steak
cornstarch
soy sauce or tamari
brown sugar
garlic
ginger
sesame seeds
sesame oil
red pepper flakes
broccoli florets
vegetable or canola oil
How do you make Teriyaki Beef and Broccoli?
Prep the meat: Coat the strips of steak with cornstarch.
Make the sauce: In a bowl, combine the sauce ingredients.
Stir-fry: Heat the oil in the wok. Then, stir-fry the sliced steak with cornstarch until tender and crispy on the edges. Stir in the broccoli and the sauce.
Serve: Finish off the cooking when the sauce thickens. Serve while hot!
How to prepare in advance Teriyaki Beef and Broccoli?
The key is to prepare the ingredients beforehand, and then, freeze! Did I say that this dish is a great freezer meal?
Start by putting key parts of this dish into freezer bags:
Put the meat and cornstarch in one bag and seal.
Put the sauce in another freezer bag.
In a bigger gallon-sized bag, put together the individual meat and sauce bags and put the broccoli florets on top.
Freeze everything. Don't forget to put labels!
When it is time to cook it, thaw everything by putting the frozen bags under running water. Or, you can transfer them from the freezer to the fridge in the morning so come dinnertime, the ingredients are ready. Then, stir-fry it in oil and you're done!
How to make beef soft?
Without any other complicated cooking techniques or sophisticated ingredients, it is possible to have soft and tender beef. Do this by cutting the meat in a direction perpendicular to the direction at which the strips of tissues go.
What cutting against the grain does is that it breaks up the meat tissues so that each slice will be more manageable to cook and chew.
How to make beef and broccoli in the Instant Pot?
Check out our recipe for this using the IP.
How to make beef and broccoli in the slow cooker?
Using the slow cooker, you can cook it on HIGH for 4 hours or LOW for 7 hours. Remember to put the fresh broccoli on the last hour of cooking or simply top the cooked meat with steamed broccoli before serving.
How to Store:
Refrigerate: Store this dish in the refrigerator for 3 to 4 days, covered in an airtight container.
Freeze: Put in freezer bags and store for 3 to 4 months.
To reheat: Thaw and then, stir-fry in heated oil.
Recipe Tips:
You may opt for a low-sodium soy sauce if you want it less salty.
Do not substitute the cornstarch with flour.
You can buy pre-sliced meat to save on time and effort.