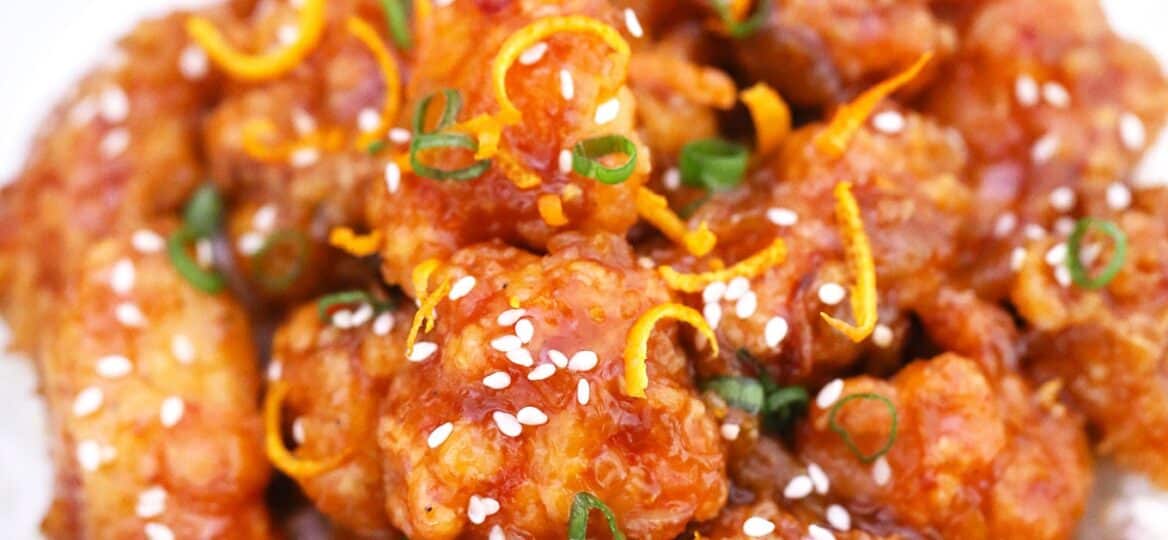 Crispy Orange Chicken [video]
Orange Chicken is a Chinese-inspired dish made with breaded fried chicken, fresh garlic, ginger, vinegar all soaked in a sweet and savory orange sauce. With this easy recipe, make your own restaurant-quality version!
If you like fruit-based savory dishes like this one, check out my other recipes like the Slow Cooker Pineapple Ham, Apple Cinnamon Pork Chops, and Instant Pot Pineapple Chicken.
As a kid, I would always go to the local Chinese restaurant and order this delicious Orange Chicken. To be honest, I am quite obsessed with this dish and make it regularly on a weekly basis.
The homemade version is so much better than the take-out because you control the ingredients and know exactly what goes into this dish. All you have to do is fry the chicken and glaze it with a refreshing homemade orange sauce. It is super easy to make and the perfect family dinner that is ready in under 30 minutes.
We are using chicken breasts which easily dry out if not cooked properly. But this recipe solves this problem. With the addition of the sauce, the tender meat will always be moist!
The homemade and authentic sauce makes all the difference. It has a citrusy flavor further sweetened by adding sugar. Hence, this will surely be a hit with the kids!
An even more compelling reason to make this on your own is that you can save money. You will also be able to tweak the recipe according to your preference. Why buy from Panda Express when you can make your own at home?
Ingredients needed:
Meat: I use boneless skinless chicken breast, cut into bite-size pieces.
Cornstarch and flour: To coat the meat and to make it extra crispy.
Seasoning: Salt and black pepper.
Eggs
Canola oil or sesame oil: For frying.
Orange Sauce Ingredients:
Soy sauce: Use a low-sodium version to control the salt level.
Orange juice and orange zest
White sugar
Brown sugar
Rice vinegar
Freshly minced garlic and ginger
Red pepper flakes
A bit of cornstarch.
How do you make Orange Chicken?
Prepare the breading: In a bowl, mix flour and cornstarch. Season with salt and black pepper. In another bowl, beat two eggs.
Prepare the oil: Heat up 2 inches of canola oil in a deep frying pan.
Dredge the meat: Coat the chicken pieces in the eggs first. Then, dredge them into the cornstarch-flour mixture.
Fry: Put the coated white meat in the hot oil and fry until golden brown. Work in batches.
Toss: Pour in the sauce onto the cooked white meat and coat well.
Serve: Garnish with orange zest and green onions, then, serve over white rice!
Frequently Asked Questions:
What is Chinese orange chicken?
It is a sweet and savory dish made with breaded chicken in a thick sweet orange sauce. It is often compared with General Tso Chicken but this one is not as spicy.
This is not authentic Chinese food. The authentic one makes use of dried tangerine peels. This dish evolved from that. It is the Chinese settlers in the US who invented this dish to suit the American palate.
When you think of this dish, you immediately think of Panda Express, too. It was this restaurant that popularized this dish.
And now, with this easy recipe, you can make it right in your own kitchen!
How to make Orange Chicken in the Instant Pot?
Making this recipe in the Instant Pot is equally delicious and even easier. Actually, the Instant Pot Orange Chicken recipe is one of the most popular recipes on the blog. So, feel free to give it a try when you have some time.
How do you make Baked Orange Chicken?
So, you cringe at the thought of deep-frying the meat. We've got you covered! All you need to do is follow our recipe for Oven Baked Chicken Tenders.
This recipe is for the replacement of the fried white meat in the original recipe. However, you might want to cut up the pieces into smaller chunks instead of strips.
Is it healthy?
One serving of this dish will set you back by 600 to 700 calories. Of this value, 40% is from carbohydrates; 45% from fat, and 15% from protein. It has a notably high sodium content, too.
Because of this, it is recommended to eat this dish in moderation. The batter and sugar contribute to the carbs. To make this dish healthier, you may want to leave out the batter and instead of deep frying, stir fry the meat. Or, follow the baked recipe for the chicken to lessen the oil.
How to serve it?
The best way to serve this meal is over freshly cooked white rice or brown rice.
Another great option is to serve it over cauliflower rice or soba noodles.
How to store leftovers?
Refrigerator: First, let the dish completely cool prior to storing. Then, transfer it to an airtight container and keep it in the refrigerator for 3 to 4 days.
Freezer: You can also keep it frozen for 4 months in a freezer-safe dish.
To reheat: Simply thaw it in the refrigerator overnight then, heat it in the oven or pop it in the microwave for a few minutes until warm.
More Asian inspired dishes:
Recipe Tips:
This is best served over steamed rice or quinoa. You may also garnish with sesame seeds.
Since orange flavors are dominant here, I recommend using natural, or even fresh-squeezed orange juice.
You can add fiber to this dish by adding veggies like broccoli, green beans, or snow peas.
Also, do not let the meat sit in the sauce for too long to prevent it from getting soggy. You can store the meat and sauce separately, too, and then combine when reheating.
Deliciousness to your inbox
Enjoy weekly hand picked recipes and recommendations