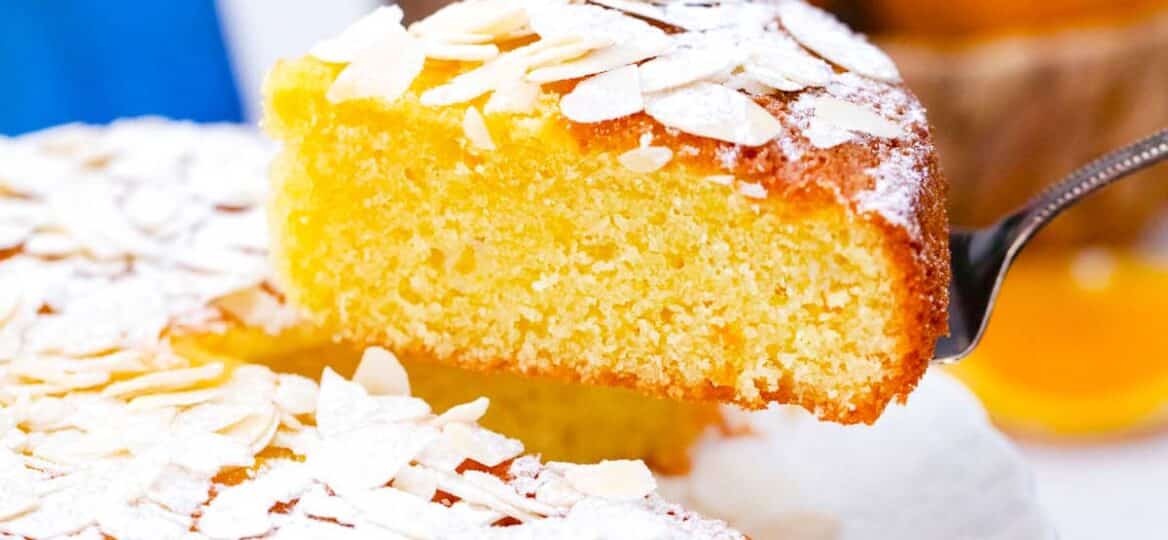 Almond Orange Cake – Gluten Free
Almond Orange Cake is the perfect blend of sweetness and citrus tanginess, in a moist gluten-free dessert that melts in your mouth. This easy recipe is so good, that your family may devour the whole orange cake in one day. It is the perfect dessert cuisine for those who are allergic or sensitive to gluten as well.
Also known as clementine cake, the orange cake recipe has been around for decades. According to experts, Sephardic Jews used what they called a Sephardic orange cake in the 1400s. Another kind of orange cake, the famous Portsmouth orange cake was first recorded in 1894 in Green's Recipe Book.
If you made this and your cake turned out good, share your thoughts at the bottom of the page. For this delicious gluten-free orange almond cake recipe, all you need are a few ingredients including oranges, almonds, almond extract, and baking ingredients like almond flour, sugar, eggs, butter, and baking powder.
Ingredients needed:
These are the simple ingredients for this naturally gluten-free orange cake recipe. After you have everything you need, find the measurements and instructions on our recipe card at the bottom of the page. You can also find more recipe notes there.
Oranges: Any kind of oranges will work for this recipe. We used regular navel oranges, but you can use tangerines, mandarins, clementines, or even blood oranges.

Eggs: Use large eggs that have come to room temperature.

Unsalted butter: Using unsalted butter is best so the flavor of the oranges and almonds is not ruined by saltiness.

Granulated sugar: White granulated sugar is best for this recipe to get the right flavor and texture.

Almond extract: This is what will give your cake its vibrant almond flavor.

Almond flour: Using almond flour is not only good for you but it also adds to the nutty flavor.

Potato starch: Made by extracting the starch from potatoes, potato starch will thicken the batter and hold it all together.

Baking powder: Instead of baking soda, baking powder has a more neutral flavor to let the other flavors shine through.

Sliced almonds: For decorating the top of the cake.
Powdered sugar: Also known as icing sugar or confectioners' sugar, this is a nice light topping for decorating.
How to make orange almond cake from scratch?
Preheat and prepare: To begin, preheat your oven to 350 degrees F and prep a cake pan with flour, oil, and baking paper.
Melt the butter: In the meantime, melt the butter in a small mixing bowl with the microwave and let it cool completely.
Beat the egg whites: Now, separate the egg yolks from the whites in a separate bowl. Beat egg whites until you get stiff peaks, about five or 10 minutes.
Whisk the yolks and sugar: Then, mix the yolks with sugar in a large bowl. Whisk with the mixer for another five minutes or until it is white and frothy.
Add the oranges: After, grate the orange peel to get the orange zest and squeeze to get all of the orange juice out of it. Filter it through a fine sieve and add both to the egg and sugar mixture with the almond extract. Pour in the cooled butter and stir gently with a spoon.
Combine the wet and dry: Next, add the wet mixture to the baking powder, potato starch, and almond flour, mixing it with a spatula to get rid of any lumps.
Add egg whites: Lastly, gently add the egg whites with a gentle bottom-to-top movement just until incorporated.
Bake the cake: Pour the cake batter into the prepared pan and level the top. Bake for 45 minutes. Remove from the oven and let it cool completely in the pan before removing it.
Decorate and serve: Finally, sprinkle the top of the cooled cake with powdered sugar or icing sugar, top with slivered almonds, slice, and serve.
Recipe variations:
Gluten-free cake: Make this a flourless orange cake by using an almond meal instead. Flourless cake is perfect for those who are sensitive to gluten.
Vegetable oil: Feel free to substitute the butter for vegetable or olive oil. Or you can use both to make this orange cake recipe especially moist.
Orange extract: For even more orange flavor, add a teaspoon of orange extract to the batter.
Other fruits: You can use this same recipe with other fruits like lemon, lime, or even grapefruit.
Regular flour: If you are not worried about gluten, you can use regular or whole wheat flour.
No sugar: Instead of cane sugar, you can also use honey, maple syrup, or a sugar substitute.
Sweet chips: For an even sweeter dessert, add a cup of white chocolate chips to the batter.
How to serve:
This easy gluten-free orange almond cake recipe is the perfect dessert for a celebration, family dinner, or just a nice, sweet snack. We have some great serving ideas here that you may like or you can share your own in the comments section.
Just like any cake, this orange almond cake goes well with a scoop of vanilla ice cream.

This is great with an orange glaze or icing on top. Or you can try our rich cream cheese frosting recipe.

Sprinkle some rainbow sprinkles on top of your cake for a more festive look.
Whipped cream would also make a great topping. You could even flavor it with orange extract. This whipped cream recipe would work perfectly.

Arrange orange slices on top of the cake to make it even prettier and tastier.

Another wonderful topping idea is some sweet and tangy orange marmalade.

Instead of (or in addition to) putting white chocolate chips in the batter, you could also sprinkle them all over the top.
Frequently asked questions
What are the best oranges for this recipe?
Any kind of fresh oranges are good for this recipe. You can use navel oranges for a fresh orange flavor, tangerines for a tangier orange cake, or clementines for a sweeter taste. This recipe calls for regular navel oranges, but you can really use whatever you like. You could even try blood oranges for a really unique taste.
Why does my orange cake taste bitter?
You may have gotten some white pith from the oranges when grating them. When you grate the oranges for zest, you should be very careful to only get the orange part of the skin because the white pith is very bitter. You may have also used too much baking powder.
Is almond meal the same as almond flour?
Although both of these are made from ground almonds, the flour is made from blanched almonds with the skins removed. It usually has a much finer texture. Almond meal is made from almonds with the skin still on them, so it is coarser than flour. If you use almond meal, pulse it in the food processor to make it smoother.
How do I make orange puree?
Adding orange puree to your cake will give it an extra burst of orange flavor. First, boil the oranges in a large pot of water. Then, let the boiled oranges cool in the pan at room temperature.
Just let them cool slightly until they are easy to handle. Then, roughly chop the oranges into small chunks (including the orange rind). Place the chunks into a food processor until it is a smooth paste. Set aside until needed.
More easy cake recipes to try:
How to store leftovers:
Store: After letting the leftover cake cool completely, you can refrigerate for three to four days in an airtight container.

Freeze: If you cannot finish your leftovers in a few days, wrap them in plastic wrap and place them in a freezer-safe container. You can freeze it for three months.

Thaw: Be sure to thaw your leftover cake in the fridge overnight before serving.
Baking tips:
Instead of almond flour, you can also try coconut flour, rice flour, or even oat flour.

You can use the entire orange for this recipe. Just use the peels and juice to make a puree. Be sure to boil the whole oranges and process until it is completely smooth before adding it to the cake batter.
You can make orange puree ahead of time, so it is ready when you are.
To check for doneness, a toothpick inserted into the middle of the cake should come out clean.
You could also make this with a springform pan so it is easier to remove when finished.
Almond flour and meal can be found at most grocery stores in the baking section. However, you may have to look in the organic section at some stores.
We have more almond flour cakes on our food blog for you to try.
Almond Orange Cake
Ingredients
1 2/3

cups

almond flour

3/4

cup

unsalted butter

melted and cooled to room temperature

3/4

cup

sugar

5

tablespoons

potato starch

2

medium oranges

zest grated and the juice squeezed

4

eggs

room temperature

1

teaspoon

baking powder

1

teaspoon

almond extract
Topping:
Powdered sugar

Sliced almonds
Instructions
Preheat oven to 350 degrees F.

Lightly grease and sprinkle with almond flour a 9-inch round cake pan and set it aside.

Start by separating the egg whites from the yolks.

Add the egg whites to a large bowl and beat using an electric mixer, until stiff, for about 10 minutes.

Add the egg yolks to another large bowl, together with the sugar, and beat with an electric whisk for 5 minutes, or until light and frothy.

Wash well the orange and grate the zest. After that, squeeze the juice and filter it through a sieve.

After that, add the zest and juice to the egg yolk mixture.

Also, add the melted and cooled butter, almond extract, and mix to combine.

Next, add the almond flour, potato starch and baking powder. Stir the mixture with a rubber spatula until fully combined and smooth.

Finally, gently fold in the whipped egg whites

Transfer the mixture into the prepared pan and level the surface.

Bake in a preheated oven for about 45 minutes.

Remove from the oven and allow to cool completely in the pan on a wire rack before removing from the pan.

Sprinkle with powdered sugar and top with sliced almonds before serving.