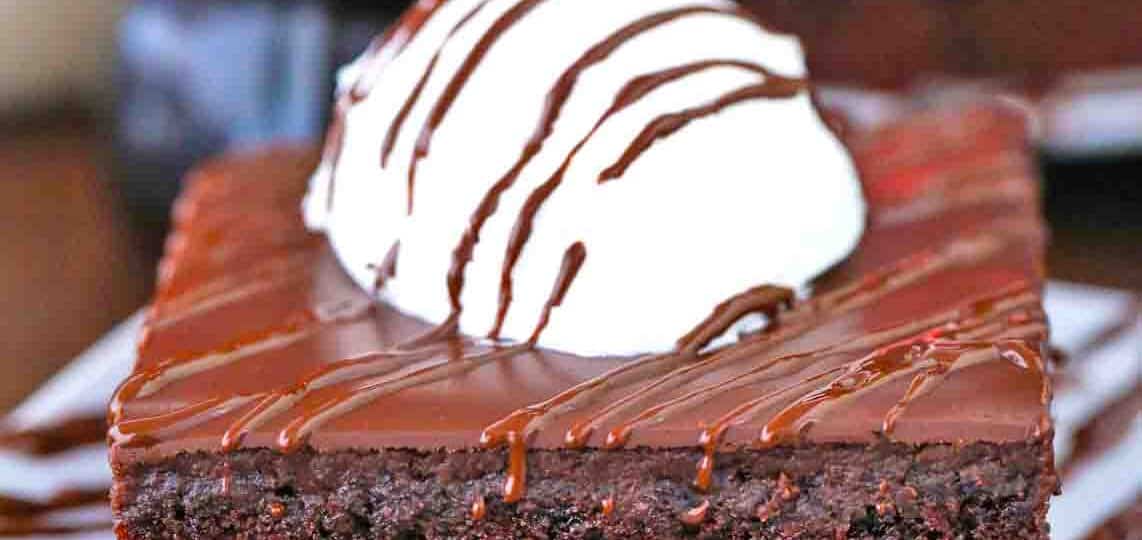 Cracker Barrel Coca-Cola Cake Recipe
Cracker Barrel Coca-Cola Cake is a delicious and decadent cake that is outrageously rich, moist, and incredibly chocolaty. This chocolate cake recipe was made famous by the well-known Cracker Barrel restaurants. With your favorite beverage mixed right into the cake batter, this dessert is a must-try. And if you serve this warm cake with a scoop of vanilla ice cream, you will be in love.
The first chocolate Coca-Cola cake was made in Atlanta, Georgia, which makes sense since that is where the popular beverage was invented. Although nobody knows for sure who first made this cake recipe, it popped up in the early 1950s at a Cracker Barrel restaurant in Georgia. Some say it was Coke who invented it while others say it was a chef at the restaurant.
Out of all the chocolate cakes I have ever made, this Coca-Cola chocolate cake recipe is the winner, hands down. If you are a chocolate fan who likes to make copycat recipes, you must try this one. The cake tastes so rich and chocolatey, you would probably not know it had Coke in it. But this copycat Cracker Barrel Coke cake is unique.
Follow us on Pinterest for more delicious recipes!
Ingredients needed:
To make this Cracker Barrel Coca-Cola cake copycat recipe, you will need these ingredients. Then, scroll down to our recipe card for the complete instructions and exact measurements when you are ready to begin.
All-purpose flour
White granulated sugar
Coca-Cola
Unsweetened cocoa powder
Buttermilk
Eggs
Vanilla extract
Salted butter
Vegetable oil
Baking soda
Coca Coal frosting:
Coca-Cola
Powdered sugar: Also known as confectioners sugar.

Salted butter
Vanilla extract
Unsweetened cocoa powder
How to make Cracker Barrel Coca Cola cake from scratch?
Preheat oven: First, preheat your oven to 350 degrees F. Then, oil a large cake pan with nonstick spray and set it aside.

Mix the flour and sugar: Meanwhile, in a large mixing bowl, whisk flour and sugar and then set it aside.

Heat up the Coke: Then, use a small saucepan over medium heat to bring the Coke, butter, oil, and cocoa powder to a boil, stirring once or twice.
Mix it up: Next, pour the Coka-Cola mix into the flour mixture and beat on medium-low for one minute. Add eggs, vanilla extract, baking soda, and buttermilk. Beat for another minute at medium speed.

Remove cake: After it is thoroughly mixed, pour batter into your prepared pan and bake for 30 minutes or until a toothpick inserted into the center of the cake comes out clean.

Make your frosting: To make the frosting, heat the Coke, cocoa powder, and butter to a boil on medium heat. Take it off the heat and whisk in the vanilla extract and powdered sugar. Pour it onto the hot cake and spread it out evenly.

Serve: Finally, let your cake cool a little before serving with a scoop of vanilla ice cream.
Recipe variations:
A different Coke: Feel free to try using another flavor of Coca-Cola like Vanilla Coke or Cherry Coke.

Diet Coke: For less sugar, use Diet Coke and a sugar substitute.

Generic cola cake: In fact, you do not even have to use real Coca-Cola. You can use generic cola if you like.

Mini marshmallows: Toss in a handful of mini marshmallows for an ooey-gooey taste.

Double chocolate: Make it a double chocolate cake with chocolate chips in the batter.

Other beverages: Although the key ingredient is Coke, go ahead and try using Sprite, root beer, or some other soft drink.

Crunchy: For a crunchy copycat Cracker Barrel Coca-Cola cake, add a cup of chopped walnuts or pecans.
How to serve:
This chocolate fudge coca cola cake is perfect for any occasion or just any day of the week if you feel like having something with rich chocolate flavor. It is an easy recipe that only takes a few minutes to prepare so you can have it any time. Here are some serving ideas you can try.
Our Cracker Barrel Coca-Cola cake goes with any savory dishes from burgers to filet mignon.

Instead of vanilla ice cream, you can serve your Coca-Cola cake with any kind of ice cream. Try our mouthwatering recipe for 3 ingredient Oreo ice cream.

Add some rainbow sprinkles or candy toppings for a more festive cake if you are celebrating a birthday or another occasion.

Top this cake with a scoop of whipped cream instead of frosting for a lighter dessert cuisine. We have a great recipe for homemade whipped cream.

You could also top your chocolate cake with some kind of fresh fruit like cherries, strawberries, or raspberries.

For an even more rich flavor, pour some caramel sauce on top.

Make it a poke cake. Just poke holes in the top, being careful not to go all the way through. Then add the frosting so it seeps down into the cake for extra fudginess.
Frequently asked questions
Why is it called Coca-Cola cake?
The obvious reason is because it is made with the soft drink, Coca-Cola. It was also the Coca-Cola kitchen that helped Cracker Barrel come up with the double chocolate Coca-Cola cake by accidentally using double the amount of cocoa powder the recipe called for. This made the cake even more delicious.
How does the soda help the cake?
Adding any soft drink will contribute by acting as an extra leavening agent with carbon dioxide bubbles. It makes your baked goods lighter and fluffier while also making them richer. The Coke also enhances the flavor of the cocoa powder for a more chocolatey taste.
Can you replace eggs or baking powder with soda?
Yes, in fact, it was Betty Crocker that said you can use Coca-Cola or any carbonated beverage to replace eggs in their cake mix. The carbon dioxide bubbles work the same way and will give your cake the lift and airiness it needs to rise without any eggs, baking soda, or baking powder.
Should I use dutch process cocoa powder?
We do not recommend dutch process cocoa powder for this recipe because it has a stronger flavor. You are already using double the amount of cocoa powder that is in most chocolate cake recipes. If you use a darker cocoa powder, the flavor of the Coca-Cola will not be evident at all.
Do I leave out the liquid in the cake instructions?
Yes, when using a boxed mix, you should leave out the water so it is not too liquidy. Otherwise, your cake will never get done in the middle. If you accidentally do use both, do not panic! You can add a bit of flour to even out the mix.
What are the nutrition facts in this recipe?
These numbers are estimated by these specific ingredients, but the nutrition, calories, and fat amounts may be different if you change anything. There are 600 calories, 27 grams of fat, and 17 grams saturated fat in this decadent dessert. It also has 94 grams carbs, 99 mg cholesterol, 70 grams sugar, and 440 mg of sodium. But you also get 64 mg of calcium, 2 mg iron, 800 units vitamin A, 133 mg potassium, and 5 grams protein.
How to store leftovers:
Store: You can store your leftover Cracker Barrel Coca-Cola cake in an airtight container for up to three days in the fridge.

Freeze: If you want to freeze your leftovers, wrap them in plastic wrap and put them in a freezer bag. They will stay fresh for three to four months.

Thaw: Always thaw out your frozen leftovers in the fridge overnight before serving.
More chocolaty recipes you should try:
Baking tips:
To shorten prep time, use a chocolate cake mix instead of making your own. Then, just add the Coke and follow the directions on the box.

If you use unsalted butter, be sure to add salt to your cake batter.

Since baking is an exact science, measure your ingredients as accurately as possible.
Even though the recipe calls for 30 minutes bake time, check for doneness with a toothpick or skewer.

If your cake gets cool, reheat it in the microwave for a few seconds before adding the ice cream.

You could also use two round cake pans to make a layer cake. However, you may have to change the baking time. Start checking at 30 minutes but it will probably take more like 40 minutes because it is thicker.
If Cracker Barrel is one of your favorite restaurants, try some of our cheesy hashbrown casserole copycat.
Cracker Barrel Coca-Cola Cake
Ingredients
Coca-Cola cake:
1

cup

Coca-Cola

1/2

cup

vegetable oil

like canola or coconut oil

1/2

cup

salted butter

1/3

cup

unsweetened cocoa powder

1 2/3

cups

granulated sugar

2

cups

all-purpose flour

2

eggs

at room temperature

1/2

cup

buttermilk

1

teaspoon

baking soda

2

teaspoons

vanilla extract
Coca-Cola frosting:
1/3

cup

unsweetened cocoa powder

1/2

cup

salted butter

1/4

cup

Coca-Cola

3

cups

powdered sugar

more if needed

1 1/2

teaspoons

vanilla extract
Instructions
Coca-Cola cake:
Preheat oven to 350 degrees F. Butter and sprinkle with flour in a 9x13 pan. Set aside.

In a large bowl, stir together granulated sugar and all-purpose flour. Set aside.

In a medium saucepan, over medium heat, add the butter, Coca-Cola, vegetable oil, and unsweetened cocoa, stir and bring to a boil.

Once boiling, remove the mixture from heat and add it to the bowl with the flour mixture. Using an electric mixer, beat on low-medium speed for about one minute.

After that, add the eggs and mix to combine, and add the buttermilk, baking soda, and vanilla. Beat for another minute on medium speed, and make sure to scrape the sides and bottom of the bowl.

Transfer the batter to the prepared pan, spread it evenly, and level the top with a spatula.

Bake for 30 minutes or until a toothpick inserted in the center of the cake comes out clean or with just a few crumbs attached, not raw batter.
Coca-Cola frosting:
To make the frosting, place a medium saucepan over medium heat, and add butter, cocoa powder, and Coca-Cola. Stir and bring the mixture to just to the boiling point.

Remove from heat and immediately whisk in the powdered sugar and vanilla extract. Pour the mixture over the cake and spread it evenly.

Allow the cake to cool after that slice and serve.