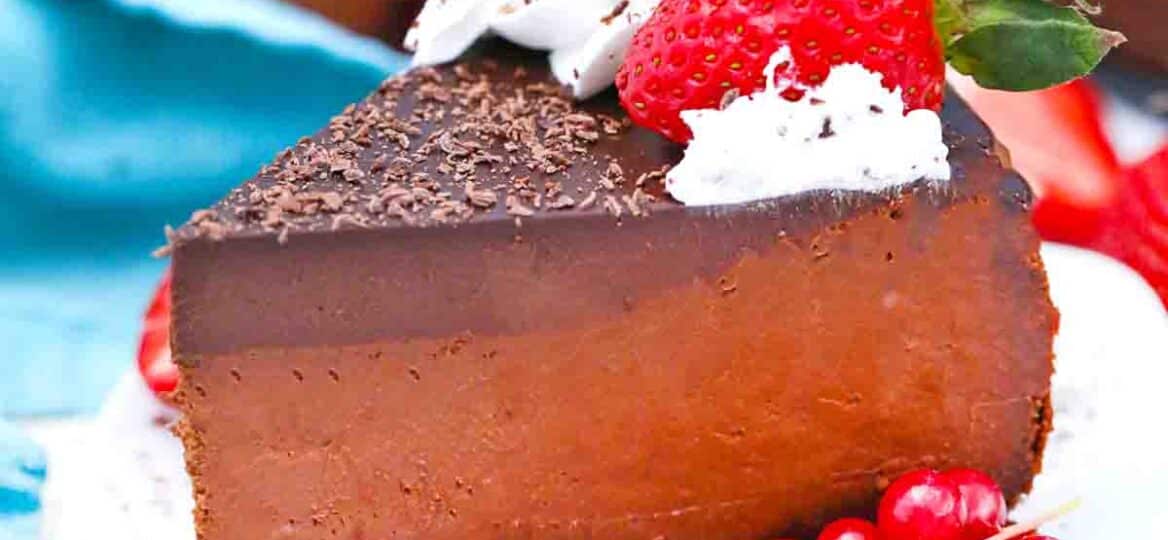 Godiva Chocolate Cheesecake Recipe
Godiva Chocolate Cheesecake is a decadent and show-stopping dessert, that is loaded with chocolate and topped with chocolate ganache. If you are a chocolate lover who also loves cheesecake, this recipe is for you. And it is not as difficult to make as you would think. Just like making any other cheesecake only using delicious Godiva chocolate.
If you like chocolate cheesecake but do not feel like heating up the house with the oven, try our easy recipe for No Bake Chocolate Cheesecake. You only need a few ingredients including sugar, gelatin, whipping cream, sugar, and chocolate. For a more traditional cheesecake, our Cheesecake Factory Original Cheesecake Copycat recipe is perfect.
Godiva Chocolate is a popular brand of Belgian chocolate that started way back in 1926 in Brussels, Belgium. It was named after Lady Godiva, obviously, and had its first shop outside Brussels in Paris in 1958. The mouthwatering chocolate did not make it to the United States until 1966. The company was sold to Campbell Soup in 1967.
If you have had the double chocolate cheesecake at Cheesecake Factory, you will recognize this dessert because they are basically the same thing. But ours is better because it does not have all those additives like guar gums, whole milk powder or nonfat milk solids, soy lecithin, cocoa butter, carob bean, palm oil, wheat flour, or xanthan. What it does have is Godiva chocolate, butter, sugar, coffee, vanilla, cream cheese, whole eggs, and homemade whipped cream.
Ingredients needed:
To make our Godiva chocolate cheesecake recipe, gather these ingredients. Then, find our recipe card at the bottom of the page to get the exact measurements and directions.
Chocolate wafers: Crushed.
Unsalted butter: Melted.
Granulated sugar: Divided.
Hot, brewed coffee: Mixed with 1/4 cup of very hot water.
Vanilla extract
Kosher salt
Godiva 72% dark chocolate bars: Divided.
Cream cheese: Softened to room temperature.
Large eggs: At room temperature.
Whipped cream: Optional.
Fresh raspberries: For garnish.
Optional vanilla whipped cream topping:
Heavy whipping cream
Vanilla extract
Granulated sugar
How to make Godiva chocolate cheesecake from scratch?
Preheat oven: First, preheat the oven to 325 degrees F.
Combine cookie crumbs: In the meantime, mix two tablespoons of sugar, melted butter, and the cookie crumbs together in a medium bowl and then press them into a springform pan. Put it in the fridge to chill.
Mix the coffee: Now, combine the hot coffee mixture and salt and set it to the side.
Chop up the chocolate: Next, chop up half the chocolate into small chunks and set the rest to the side.
Melt the chocolate: Then, melt the chocolate chunks in a microwave-safe bowl at 50 to 60% for one minute before stirring. After, heat in increments of 30 seconds, stirring in between, until melted and smooth. Let it cool for five minutes.
Beat it: While you wait, beat the cream cheese with a mixer at medium speed for about four minutes, until it is smooth. Gradually add the rest of the sugar and continue beating for two minutes or until it is mixed well.
Beat in the eggs: Afterward, beat in the eggs, one at a time. Then, slowly add the coffee and vanilla extract. Pour the melted chocolate in and mix until it is combined.
Bake the cheesecake: Now, pour the batter into the springform pan on top of the crust and bake for 55 to 60 minutes. The sides should be puffy, and the middle should be slightly jiggly.
Cool the cake: Next, place the cake on a wire rack until it is completely cooled. Cover it with aluminum foil and let it chill in the fridge for at least six hours.
Make the vanilla whipped cream: In a large bowl, beat the heavy whipping cream on medium, adding the sugar and vanilla a little at a time. Continue to beat until stiff peaks form. This typically takes two to four minutes.
Garnish and serve: Last, spread the whipped cream on top and grate the rest of the chocolate for garnish or you can top it with fresh raspberries.
Recipe variations:
Milk chocolate topped: You can use milk chocolate instead of dark chocolate on top. If that is too sweet for you, feel free to use unsweetened chocolate.
Different brand: You could also use a different brand of chocolate such as Hershey's or Nestle.
Chocolate chips: Feel free to use chocolate chips instead of chocolate bars.
Sour cream: Substitute sour cream for heavy cream for less fat.
Different cookies: Instead of wafers, try using graham crackers, shortbread, or Oreo cookies.
No coffee: You can leave the coffee mixture out if you do not like it. But, if you have never tried it, you should.
More chocolate: Make your cheesecake even more chocolatey by adding a cup of chocolate chips.
Different flavors: Or make it different with white chocolate, peanut butter, or butterscotch chips.
How to serve:
Try this chocolate cheesecake recipe for a delicious dessert that satisfies your sweet tooth and chocolate cravings. Here are some great serving ideas you can try.
Make this extra chocolatey by spreading some chocolate ganache on top. Or you could top it with chocolate mousse.
If your cheesecake has cracks, add some topping. Our homemade caramel sauce would be amazing.
Instead of whipped cream, you could top your chocolate cheesecake with nuts. Try chopped walnuts or pecans.
Another delicious topping for this Godiva chocolate cheesecake is our strawberry sauce.
Any kind of chocolate cake goes great with a glass of ice-cold milk.
Add a scoop of ice cream for an even better dessert. Try our recipe for homemade strawberry ice cream.
Toss on some rainbow sprinkles for a more festive look.
Frequently asked questions
Why should I use a springform pan?
It is much easier to remove your cheesecake with the detachable sides. Unlike regular cakes, you cannot just flip them over to get them out of the pan. You have to either remove the sides or line it with parchment paper to get it out of the pan easily. Springform pans are also great for making deep-dish pizzas, chocolate mousse, and quiches.
Do I need to use a water bath?
Our recipe does not call for a water bath. However, it is always a good idea to use one to prevent dryness and cracks. The water helps keep the oven moist and prevents your cheesecake from cooking too fast. It will also keep the top flat rather than caved in.
Why do you add coffee to chocolate?
If you have never tried using coffee in your chocolate when baking, you have to try it. Then you will know the answer and you will never make chocolate baked goods without it. The coffee adds depth and makes it taste even richer than regular chocolate. In a 2020 study, it was found that coffee increases sensitivity to sweet flavors and decreases the bitter flavor.
What are the nutrition facts in this recipe?
This is not a diet food. Each delicious slice of this cheesecake contains 504 calories, 40 grams fat, and 24 grams saturated fat. It also has 140 mg cholesterol, 340 mg sodium, 37 grams carbohydrates, and 23 grams sugar. But it also has 11 grams protein, 7 grams fiber, 5 mg iron, 133 mg calcium, 400 mg potassium, 2 mg vitamin C, and 1,800 units vitamin A.
How to store leftovers:
Store: You should keep your leftover cheesecake in an airtight container to prevent dryness. Refrigerate for up to four days.
Freeze: You could also freeze your leftovers for up to six months. For convenience, separate them into individual pieces in freezer bags.
Thaw: To thaw, you will get the best results if you put your frozen cheesecake in the fridge overnight before serving.
More cheesecake recipes to try:
Baking tips:
If you do not have a springform pan, try using a disposable pan made of foil. You can then cut the side to get your cake out.
Another good idea is to line a cake pan with parchment paper, leaving enough hanging over the side to lift out the cooled cheesecake.
If you do not have a food processor to crush the cookies, put them in a zipper baggie and beat them with a rolling pin.
Forget to take out the cream cheese? That is okay. Just put it in the microwave for 15 to 30 seconds until it is soft.
Make sure your melted butter is cooled before mixing it with the cookies or the crust will be greasy.
Use low speed. You want to mix at the lowest speed possible, so you do not have too much air in your cheesecake.
Let your cheesecake cool completely at room temperature before you chill, or it may crack.
Use a serrated knife when you slice your cake. Dip it in hot water and wipe it dry before each cut.
Godiva Chocolate Cheesecake
Ingredients
Crust:
30

chocolate wafers

finely crushed

1/4

cup

unsalted butter

melted

2

tablespoons

granulated sugar
Cheesecake:
1

cup

granulated sugar

1/4

cup

hot brewed coffee

plus 1/4 cup very hot water

1/4

teaspoon

salt

14

ounces

Godiva 72% dark chocolate bars

divided

24

ounces

cream cheese

softened

4

large eggs

room temperature

1/2

tablespoon

vanilla extract
Ganache:
7

ounces

Godiva dark chocolate

finely chopped

1/3

cup

heavy cream
Whipped cream:
1 1/4

cups

heavy whipping cream

cold

1

tablespoon

granulated sugar

2

teaspoons

vanilla extract
Instructions
Crust:
Preheat the oven to 325 degrees Fahrenheit.

In a bowl, mix the crust ingredients until fully combined.

Firmly press the crust mixture onto the bottom of a 9-inch or 10-inch springform pan. Chill in the fridge while you make the cheesecake batter.
Cheesecake:
Stir the hot water and the salt into the coffee. Set aside.

Chop the dark chocolate bars into small pieces and add them to a microwave-safe bowl. Microwave for 1 minute and stir. Microwave again in 30-second increments and stir after each one until the chocolate is smooth and melted. Cool for 5 minutes before using.

Meanwhile, add the cream cheese to a large bowl and using an electric mixer beat on low speed until softened and smooth, about 3-4 minutes.

Next, add the sugar and beat for 1-2 minutes or until well combined.

Add in the eggs, one at a time, beating well after every addition.

Gradually add the coffee mixture and the vanilla extract, beating on low speed until combined.

Next, add the cooled melted chocolate and mix until fully combined.

Pour the batter into the prepared pan over the crust.

Bake for 55 to 65 minutes, or until the cheesecake is puffed on the edges, but still slightly jiggly in the middle.

Let the cheesecake cool on a wire rack completely before topping it with chocolate ganache.
Ganache:
Add half of the chocolate to a medium mixing bowl.

Heat heavy cream on medium-high heat until it comes to a boil. Immediately pour over the chocolate and stir until the chocolate is completely melted.

Add the remaining chocolate and stir until completely melted. If needed microwave for a few seconds only.

Cool until the ganache is thickened but still pourable.

Add chocolate ganache on top of the cheesecake, spreading to the edges.

Refrigerate until ready to serve.
Whipped cream:
Chill in the fridge in a large metal bowl.

Add the whipping cream and start to beat with the mixer on low. Increase to medium speed, and gradually add the sugar and vanilla. Beat just until stiff peak forms, about 2 to 4 minutes.

Top the cheesecake with whipped cream roses, shaved chocolate, and fresh berries.