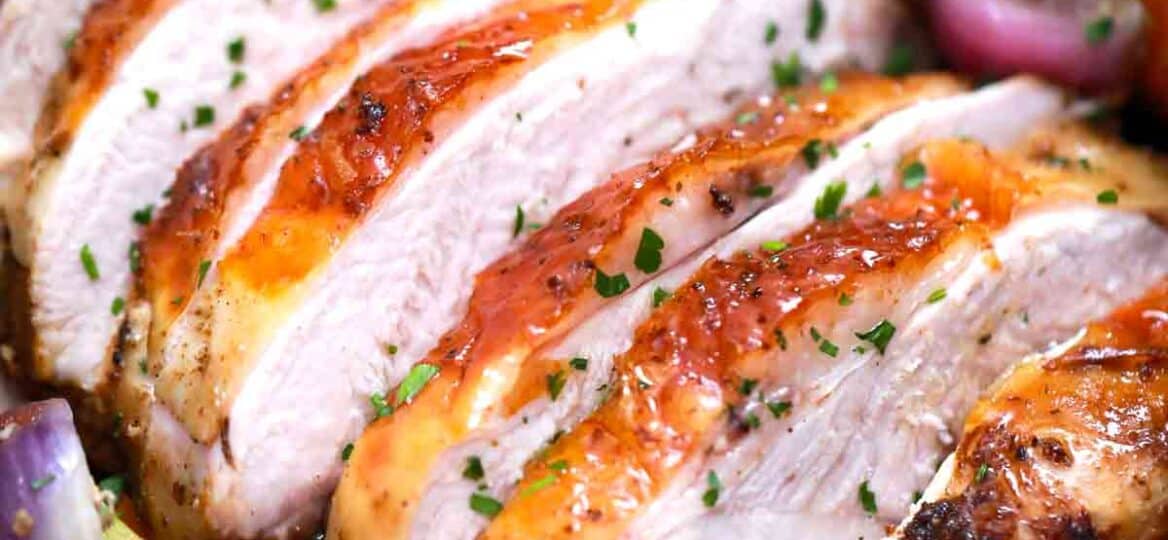 Slow Cooker Turkey Breast [Video]
Slow Cooker Turkey Breast is the easiest way to make a Thanksgiving turkey for a smaller crowd. The combination of the liquid smoke, brown sugar, herbs, and Worcestershire sauce soak into the meat as it cooks. Also, the slow cooker makes the best gravy using the juices left at the bottom of the crockpot.
For a different flavor, this Cranberry Orange Turkey Breast is extremely tasty and juicy, and you can cook it in one pan in less than 30 minutes. Or try our Slow Cooker Baked Potato Soup as an appetizer to this dish. Another way to use your crockpot is with this luscious Slow Cooker Tuscan Chicken Pasta recipe.
Since this is such lean meat, it has a tendency to dry out when you cook it, so this easy recipe is a perfect way to make it nice and juicy. If this is your first time slow cooking a turkey breast, you will be amazed at how tender and succulent the meat is this way.
This main dish is perfect for Thanksgiving or Christmas, also it is great for any special occasion. In addition, after the holidays we like to buy a few and freeze them as they are a great cost.
This way, you can cook a lean, hearty, and high-protein dinner without spending a lot of money. Also, if you plan on hosting Thanksgiving, cooking just a breast, not an entire bird is so much easier, budget-friendly, and smarter.
Follow the recipe to get crispy and delicious skin on the outside and tasty, tender meat that is not dry at all. Cooking it in the crockpot for hours and after that broiling, it is the perfect way to cook this type of meat.
Ingredients needed:
Our recipe card below has the detailed steps and measurements, but these are the basic ingredients you will need for this slow cooker recipe:
Boneless turkey breast: With skin is best.

Olive oil: You can also use melted butter for a butterier flavor.
Italian herbs: Or poultry seasoning.

Other herbs and spices: We used onion and garlic powder, paprika, basil, kosher salt, and black pepper.
Brown sugar: Light or dark.

Liquid smoke: Optional.
Worcestershire sauce: Homemade or store-bought.
Chicken broth: Beef or vegetable broth can also be used in this delicious recipe.
Celery: Halved.
Carrots: Quartered.
Red onion: Sliced into ½-inch wedges.
Garlic cloves: Whole.
How do you make slow cooker turkey breast?
Combine: First, use a small bowl to mix oil with the seasonings and brown sugar. Stir in the Worcestershire sauce and liquid smoke.

Rub: Next, Rub the mixture all over the meat.
Veggies: Then, put the veggies in the bottom of the crockpot with the chicken broth.
Put it in: Lastly, place the meat on top of the veggies, skin side up.
Cook: Finally, put the lid on the crockpot and cook on low for about six to seven hours until the internal temperature reaches 165 degrees F. Cook time will vary depending on the size of the meat.
Crisp: If you want the skin crispy, put the meat on a foil-lined baking sheet and broil it for about five minutes, brushing with melted butter or olive oil.
Recipe variations:
Flavored breast: For an intense flavor, try getting an herb marinated breast from the grocery store.
Add more veggies: Feel free to add more veggies to your meal like sweet potatoes or turnip.

Fruit: Alternatively, add some fruit on top of the turkey like oranges, pineapples, or cranberries.
Zest: In fact, orange or lemon zest would give it a wonderful flavor.
Juice: Don't have any zest? Juice or jam would also work great here.
Spice it up: Feel free to add other spices and herbs of your choosing.
Heat it up: If you like spicy food, add some red pepper flakes to the rub.
How to serve:
This juicy turkey breast is perfect for Thanksgiving dinner for small gatherings. Serve with homemade flavorful gravy and mashed potatoes or try something else, like one of these:
Frequently asked questions
How many people does a turkey breast serve?
You can figure approximately 1.25 pounds of breast meat per person. With that being said, an average breast of about six to seven pounds will feed between five and six people.
If you are cooking a boneless turkey, the serving size per person is about a half-pound so you can feed eight people with a four-pound boneless breast. Of course, this varies depending on who you are serving and how much turkey meat they can eat.
How long does it take a turkey breast to thaw?
A frozen turkey breast can take a while to thaw if you do it the safest way, which is in the fridge. For every four pounds, it will take 24 hours. So, if your meat is seven pounds, it is going to take about two days in the fridge to thaw out.
How do I cook a turkey without an oven?
If you are making a whole turkey and you do not have an oven, don't worry. You can use a different cooking process. My family's favorite way to enjoy ours is roasted in the oven, but second best is with a slow cooker. Put the entire thing in the crockpot and it will be so juicy and delicious; you may never go back to roasting again.
One of the most popular ways to cook an entire turkey is to smoke it. And you do not even have to have a smoker. Just a BBQ grill with a lid and a bag of hickory chips. If you don't have any chips or don't like the smoked flavor, just grill it without the smoke.
Another way to do it is by deep-frying. If you have a large deep fryer and a small turkey, you can do it inside. If not, use a propane fryer outside. Or, if you have a big enough air fryer, you can fry it in there. That is one of the best ways to enjoy a turkey with crispy skin and tender juicy meat.
How to store leftovers:
Store: Storing leftover turkey breast is easy. Just put it in an airtight container and it will stay fresh in your refrigerator for up to four days. Put the gravy in there with it to keep it moist.
Freeze: If you want to freeze it for later use, wrap it tightly in plastic wrap or aluminum foil and put it in a freezer bag. Then, it will be good in the freezer for up to six months.
Thaw: Make sure you remember to take it out of the freezer the night before to thaw in the fridge so it will be ready the next day.
Reheat: For one or two servings, reheat in the microwave on a low setting for about four minutes. Anything bigger than that should go in the oven. Put it in a covered casserole dish or pan and heat it at 350 degrees F for about 10 to 15 minutes. The cooking time will vary depending on the size of the breast.
More Thanksgiving Recipes:
Cooking tips:
If you are in a hurry, you can put the crockpot set on its high temperature, so it gets done in half the time.

Also, if you like dark meat you can use chicken thighs.
Bone-in or boneless turkey breast are both fine.

Similarly, skinless is okay too but the skin is recommended because the fat under the skin melts while it is cooking, making it self-basting.
Additionally, using single- or double-breasted turkey are both good.
Be sure to check the internal temperature before removing it. It should be 165 degrees F when the meat thermometer is inserted in the middle of the breast.
Put vegetables in the bottom of the slow cooker to rest the meat on. This will help it cook better without being too submerged in juices.
You should go ahead and crisp the skin in the broiler after it is done. It only takes a few minutes, and the crispy skin is worth it.
Slow Cooker Turkey Breast
Ingredients
1

boneless turkey breast with skin

about 2 to 2 ½ pounds

1

cup

chicken broth

low-sodium

2

stalks celery

halved

2

carrots

quartered

1

large red onion

cut into ½" wedges

4

cloves

garlic

whole
Rub mixture:
2

tablespoons

melted butter

or olive oil

1

teaspoon

Italian herbs

1

teaspoon

kosher salt

1/2

teaspoon

onion powder

1/2

teaspoon

garlic powder

1/2

teaspoon

black pepper

1/2

teaspoon

paprika

1/2

teaspoon

dried basil

1

tablespoon

brown sugar

1

teaspoon

liquid smoke

1

teaspoon

Worcestershire sauce
Instructions
In a small bowl mix all the Rub mixture ingredients.

Spread the mixture evenly over the turkey breast.

Pour the broth to the bottom of a slow cooker and place the vegetables on the bottom.

Place the turkey breast, skin side up, on top of the vegetables.

Cover with the lid and cook on low for 6-7 hours or until internal temperature reaches 165°F. Do not overcook.

For crispy skin, place the turkey breast on a foil-lined baking sheet and broil for 3-5 minutes or until browned.

Brush with melted butter from time to time or leftover rub mixture.

Let it rest for 15 minutes before slicing and serving.
Deliciousness to your inbox
Enjoy weekly hand picked recipes and recommendations