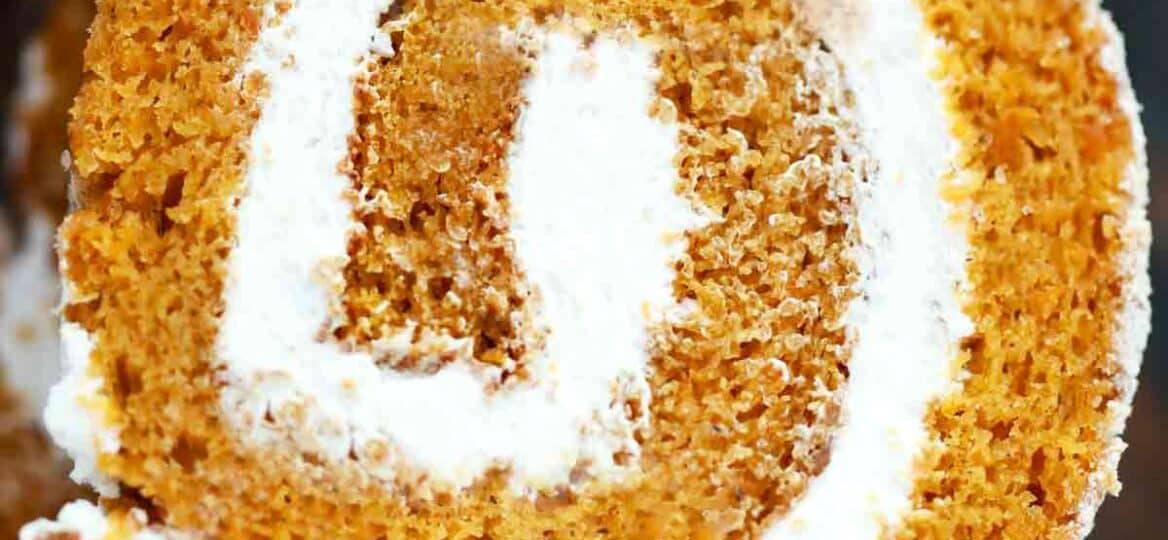 Pumpkin Roll with Cream Cheese Frosting [Video]
Pumpkin Roll is light, airy, and creamy, loaded with fall flavor and spices, and filled with cream cheese frosting. It makes a delightful dessert or snack during the holiday season or any time of the year. You can always find a can of pumpkin puree at the store. The rest of the ingredients you may already have like flour, eggs, vanilla, butter, and sugar.
Pumpkin recipes are popular during the holidays so why not take advantage of this time and make our rich and creamy Classic Pumpkin Pie while you are at it. For those who do not like pumpkin, try this easy recipe for Strawberry Rolls.
If this is your first time making a cake roll, do not be intimidated. It is just as easy as making swiss rolls and anyone can do it. In fact, with this easy pumpkin roll recipe, you can let the kids help you. You will love teaching them how to prepare and enjoy the baking experience so they can teach your grandkids when they get older.
And you do not have to wait until the holidays to enjoy one. This delicious dessert is also great for potluck dishes at work or a family picnic during the spring or summer too. If you are a fan of pumpkin, this one will surely become one of your favorites.
We enjoy making it for our Halloween parties and part of our traditional Thanksgiving spread. With its light and creamy texture, this is a dessert that the entire family will love.
Follow us on Pinterest for more delicious recipes!
Ingredients needed:
Keep scrolling to get to our printable recipe card below for the exact measurements and instructions. But these are the basic ingredients for this easy recipe:
Pumpkin: We used 100% pure pumpkin puree from a can, but you can use fresh if you have it.
Cream cheese: It should always be at room temperature for easy beating and to avoid lumps. In addition, we recommend using full-fay.
Eggs: Large eggs at room temperature.
All-purpose flour: Or you can use your favorite kind of flour, but the measurements might be different. For a gluten-free version, you can also try the 1:1 gluten-free flour, however, keep in mind that the texture might be crumblier so it is harder to roll.
Vanilla: Pure vanilla extract is best.
Butter: Softened and unsalted.
Baking powder and soda: For leavening agents.
Sugar: Granulated white sugar.
Powdered sugar: Sifted and separated, sifting the sugar is important.
Walnuts: In this recipe, we use chopped walnuts or pecans.
Spices: We used cinnamon, nutmeg, and cloves, but you can use pumpkin pie spice.
Salt
Pepper
How do you make pumpkin roll?
Preheat: First, preheat your oven to 375 degrees F.
Prepare: Meanwhile, grease a 15×10-inch jelly roll pan or spray it with cooking spray. Then line it with greased wax paper. Lay a thin kitchen towel on the counter and sprinkle it with ¼ cup of powdered sugar.

Mix dry ingredients: After, mix the flour, salt, spices, baking soda, baking powder, and flour in a large bowl.

Mix wet ingredients: Next, using an electric hand mixer beat the eggs and granulated sugar in a large mixing bowl until it is thick. Then, add the puree and beat it until it is combined before you stir in the flour mixture. As an alternative, you can use a stand mixer with the whisk attachment for this step.
Spread: Then, spread the dough evenly into your prepared pan and sprinkle it with walnuts or chopped pecans.
Bake: Afterward, bake it for 13 to 15 minutes or until the top of the cake springs back when touched.

Turn out: Immediately, loosen the cake and turn it out onto the towel carefully. Peel off the paper and roll it up in the towel, starting on the narrow end. Let it cool completely on a wire rack.

Filling: Meanwhile, in a separate bowl, beat the cream cheese, one cup of powdered sugar, and vanilla until it is smooth. Spread the filling onto the sheet cake in an even layer with an offset spatula and reroll it carefully.

Chill: Finally, wrap in plastic wrap and put it in the fridge for at least an hour.
Recipe variations:
Add juice: Add a teaspoon of lemon juice to the pumpkin cake batter for an extra tangy flavor.
Chocolate: If you are a chocolate lover, add a cup of chocolate chips to the dough or the cream cheese mixture.

In addition, you can add some cocoa powder or 8 ounces of melted chocolate to the dough batter for a chocolate version.

Make it fruity: You could also add some strawberries or other fruit to the filling.

To keep the fall flavors, we recommend adding a layer of cranberry jam before adding the cream cheese frosting.

More sugar: Add ¼ cup of brown sugar for a richer flavor.
More flavors: Alternatively, adding a teaspoon of orange or lemon extract to the cake or filling would be delicious.

Whipped cream filling: Another option is to fill it with whipped cream instead of cream cheese frosting.
Maple syrup: Optionally, you can add some maple syrup or maple flavor to the filling.
Frosting: We kept it simple and light and didn't cover the dessert in frosting. However, you can pipe some frosting on top and spread it with a spatula.
How to serve:
This delicious pumpkin roll with cream cheese frosting is perfect on its own sprinkled with more powdered sugar on top. But you can try one of these ideas too:
This makes a fantastic dessert served with our tender and juicy pumpkin pot roast.

Squeeze some chocolate syrup on top of the warm cake right before serving.

In addition, this treat is delicious served with a drizzle of warm caramel sauce.
Drop a pumpkin spice hot cocoa bomb in a mug of warm milk to go with this delicious cake.
Use a muffin tin to turn this treat into pumpkin cupcakes and use the filling as frosting.

Top with candy corn or sprinkles for a festive look.
Serve with a glass of our Starbucks copycat pumpkin spice latte.
Frequently asked questions
Why is my pumpkin roll cracked?
The reason for this is that it may have been too cold. Therefore, be prepared by placing a clean and dry tea towel on the counter while your cake is baking and sprinkle it with powdered sugar. Take the cake out of the oven and turn it out onto the towel immediately by turning the pan upside down.
Peel the wax paper off carefully. Then, use the towel to roll the hot cake up like a sushi roll while it is still warm, starting on the short end. Afterward, put the whole thing on a wire rack to let the cake cool completely before unrolling it to spread on the cream cheese filling.
The secret to making it perfect is to not let it stay too long cooled, when you make it plan in advance so you have time to attend to it immediately.
How do I fix a sticky pumpkin roll?
First, make sure the cake is completely cool before putting it in the fridge. It is common for the outside of your cake to get sticky from condensation as it cools. It can also get sticky when it is in the refrigerator. Dust the moist pumpkin cake with more powdered sugar to offset the stickiness.
Unfortunately, if you underbaked it, and the above doesn't fix your issue, we recommend topping it with some frosting as serve it as a sheet cake.
Are pumpkin rolls healthy?
Pumpkin is a healthy food so anything you eat with this fruit in it will at least have some health benefits. This classic pumpkin roll recipe is high in vitamin A, fiber, protein, and iron as well as calcium and potassium.
Alternatively, to make it healthier, use Greek yogurt instead of cream cheese and replace the granulated sugar with a sugar substitute like Splenda.
More Thanksgiving recipes:
How to store leftovers:
Store: After the cake is completely cool toed room temperature, wrap it in plastic wrap and put it in an airtight container. It will stay fresh in the fridge for up to five days.
Freeze: If you cannot eat it all in four or five days, store it in the freezer wrapped in plastic wrap and then in a freezer bag and it will last for up to 90 days.
Thaw: Remember to thaw the pumpkin roll cake overnight in the fridge before serving.
Cooking tips:
Make sure you use enough sugar on the towel, so it does not stick.

For best results, roll the cake up right away while it is still hot.
Some people say it is easier to roll it in wax paper or parchment paper used to bake it on instead of using a towel.
Be sure it is completely cool before unrolling it to spread the cream cheese mixture onto it.

It is also important that the filling is loose enough to spread easily so it does not crack or tear the cake.

However, be careful for it to not be too runny.

You can use one of your cookie sheets if you do not have a jelly roll pan.
If your cake is brown on the bottom, turn it over onto another cotton kitchen towel coated in powdered sugar so the lighter side is showing when it is rolled.

Also, when cutting the slices, wash and dry the knife after each cut. For best results, use a serrated knife.
Pumpkin Roll with Cream Cheese Frosting
Ingredients
Pumpkin Roll Cake:
1/4

cup

powdered sugar

to sprinkle on the towel

3/4

cup

all-purpose flour

1/2

teaspoon

baking powder

1/2

teaspoon

baking soda

1

teaspoon

ground cinnamon

1/2

teaspoon

ground nutmeg

1/4

teaspoon

ground cloves

1/4

teaspoon

salt

3

large eggs

at room temperature

1/2

cup

+ 2 tablespoons granulated sugar

1/2

cup

brown sugar

optional - use white if you don't have it on hand

2/3

cup

pure pumpkin puree

NOT pumpkin pie filling
Cream cheese frosting:
1

cup

walnuts

chopped - optional, also pecans can be used

8

ounces

cream cheese

at room temperature

1

cup

powdered sugar

sifted

6

tablespoons

unsalted butter

softened

1

teaspoon

vanilla extract
Instructions
Preheat oven to 375 degrees F.

Grease a 15 x 10-inch jelly-roll pan and line it with wax paper. Lightly grease and flour paper.

Lay a cotton kitchen towel on the counter and sprinkle it with a thin layer of 1/4 cup powdered sugar, or more if needed.

In a medium bowl combine flour, baking powder, baking soda, cinnamon, nutmeg, cloves, and salt.

In a large bowl using an electric mixer, beat the eggs and sugar until thick and foamy.

Beat in the pumpkin puree.

Stir in the flour mixture into the egg mixture using a spatula, do NOT over mix.

Spread the batter evenly onto the prepared pan. Sprinkle with finely chopped nuts on top if using.
Bake:
Bake for 13 to 15 minutes or until the top of the cake springs back when touched.

Remove the pan from the oven and immediately loosen and turn the cake onto the prepared towel.

Carefully peel off the wax paper and roll up the cake and towel together, starting with a narrow end. Cool on wire rack.
Filling:
In a large bowl, using an electric mixer, beat cream cheese, 1 cup powdered sugar, butter, and vanilla extract until smooth.

If the frosting is too thin, add more powdered sugar, a little at a time.

Once the cake has cooled to room temperature, carefully unroll it.

Spread the cream cheese mixture over the cake and reroll it back.

Wrap the dessert in plastic wrap and refrigerate it for at least 1-2 hours.

Sprinkle with powdered sugar before serving.