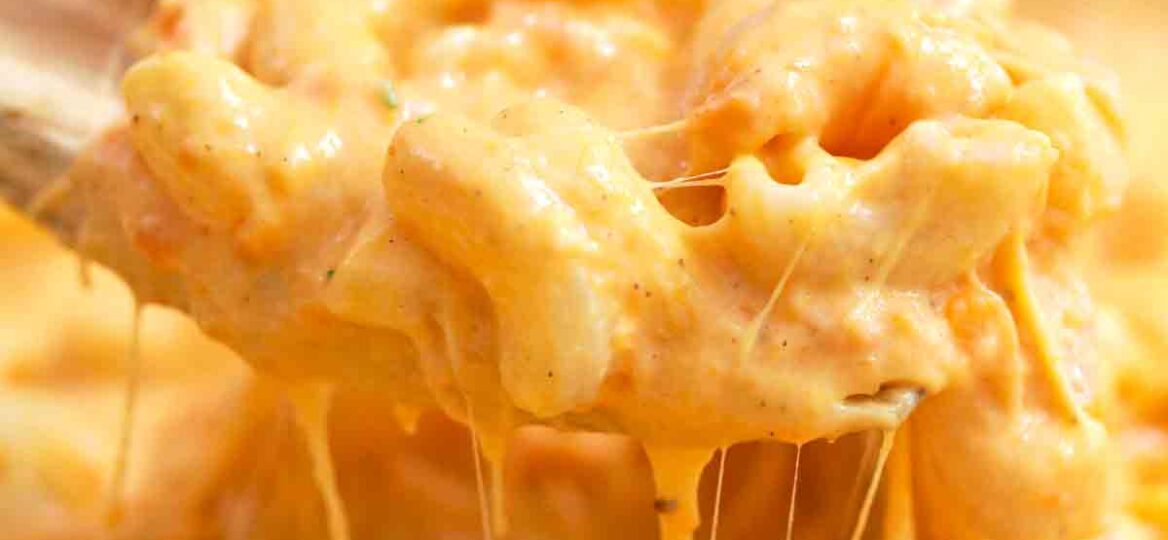 Pumpkin Mac and Cheese [Video]
Pumpkin Mac and Cheese is the ultimate comfort food for the fall or winter season. With just a handful of simple ingredients like pasta, cheese, and pumpkin puree, you can have this extra creamy mac and cheese dish ready in minutes! Whether you want it for a side dish or a main entrée, this recipe is perfect for the holiday season.
For more creamy dishes, try this Easy Instant Pot Mac and Cheese. Or, if you are looking for an even healthier but scrumptious dish, try this Gluten-Free Mac and Cheese. For something heartier for a main meal, this Creamy Beef and Shells recipe is perfect.
When the temperature starts cooling off and the leaves begin to turn orange, red, and yellow, I always think of pumpkin recipes. Whether I am using fresh pumpkin, homemade pumpkin puree, or canned stuff, it all manages to make its way into one of my dishes almost every night.
The creamy sauce of this one-pot stove-top mac and cheese recipe helps me make the most of the pumpkin season. In addition, my family is pleasantly surprised at how well the flavors blend. It has so much flavor in every single bite, that even kids will love it. It is also such a simple and quick cooking recipe that only uses one pot.
Also, this recipe is easy to personalize by changing the type of pasta, kind of cheese, and even which milk you choose. It can even be changed by how much cheese you use.
Since this easy recipe is so versatile you can try it with your favorite cheese, a good-aged cheddar or fontina are among our favorites. Also, to make it even more scrumptious and irresistible, fry some smoked bacon, chop it, and add it on top.
If you prefer to keep it vegetarian, sauteeing some garlic and sage leaves in butter and drizzling that mixture over the creamy pasta is a great alternative. Or just keep it simple, as kids and adults, all love this delicious dish. Check more of our pumpkin recipes, there are plenty to choose from.
Ingredients needed:
For our exact recipe, head to the recipe card at the bottom of the page. But here are the basics for this delicious pumpkin macaroni and cheese:
Pasta: We used elbow macaroni, but you can use whatever you like.
Butter: Melted and unsalted.
Flour: All-purpose flour works best. However, you could also use whole grain or almond flour. In addition, use gluten-free flour if you are making this recipe gluten-free.
Milk: Similarly, almond milk can be substituted for regular.

However, I would rather recommend coconut milk, for its creamier texture.

Cream: Alternatively, sour cream could also be used.

Pumpkin purée: Canned pumpkin or make your own pumpkin puree with this easy recipe.

Here is very important to be careful and not use pumpkin pie filling, as that one is on the sweeter side.

Chicken broth: Prepared or fresh. In addition, use vegetable broth if you want the meal to be vegetarian.
Onion powder
Garlic powder: For extra flavor, you can substitute the garlic powder with about 4 cloves of fresh minced garlic.
Salt and black pepper: To taste.
Hot sauce: Such as Tabasco, sriracha, or even buffalo sauce will work.
Cheese: We used sharp cheddar and shredded parmesan.

However, Fontina, swiss, Pepper Jack would work great as well.

Spices: Dry mustard, nutmeg, and cinnamon.
How do you make creamy pumpkin mac and cheese?
Cook the pasta: First, add your pasta to a large pot of boiling salted water and cook according to package directions minus one minute for al dente. Drain it well but do not rinse.
Melt the butter: Meanwhile, melt butter in a large skillet or saucepan over medium heat. Whisk in the flour and simmer for two minutes.

Make the sauce: After, add the broth and cream a bit at a time, whisking it after each addition.

Combine: Then, stir in the hot sauce, garlic powder, onion powder, pepper, salt, cinnamon, nutmeg, and dry mustard. Boil for one minute as you whisk.

Add cheese: Take the pot off the heat and add the cheese. Whisk it until it is smooth.
Add pasta: Then stir in the pasta until well coated.
Serve: Serve immediately as is or with your favorite toppings.
Recipe variations:
Add veggies: To make a heartier dish, add broccoli, spinach, or some other veggie.
Make it meaty: Alternatively, you could also add some meat like ham, chicken, or turkey.
Spice it up: Toss in some jalapenos, red pepper flakes, or a sprinkle of cayenne pepper for a spicy kick.
No butter: Try using olive oil instead of butter for fewer calories and less fat.
No cheese: Use nutritional yeast instead of cheese for a healthier side dish.
Other spices: Add thyme or sage for extra flavor.
Brown butter: For a completely different buttery taste, use brown butter instead of regular.
Roasted garlic: Another way to add extra flavor is by roasting some garlic, pureeing it, and adding it to the mixture.
Frequently Asked Questions
What is the best pasta to use for this dish?
The best pasta depends on what you want to taste the most. If you are looking for pasta that holds the most sauce, choose farfalle (aka bowties), conchiglie (shells), or penne. You could also go with the traditional macaroni (aka elbows).
The farfalle is the favorite because it is sturdy, has folds and creases to hold the most pumpkin cheese sauce, and it has the best chew factor. However, this recipe calls for elbow macaroni because it is the most common pasta used in macaroni and cheese.
How do you keep your mac and cheese creamy?
The secret to the creamiest and richest macaroni and cheese is to undercook your pasta. In other words, cook it al dente. The easiest way to do this is to cook it one or two minutes less than the instructions on the package call for, depending on which pasta you are using.
And do not scrimp on the paste. Spend a few more cents to get a good name brand instead of the store brand for this pumpkin pasta. It does make a difference in the chewiness, flavor, and performance.
What kind of pumpkin puree should I use?
You can use canned pumpkin puree or homemade pumpkin puree. Both versions will work. Just make sure to use pure pumpkin puree without any added sweeteners or spices.
Can I use fresh pumpkin instead of pumpkin puree?
Yes, you can use fresh pumpkin, but it requires more effort. First, you'll need to peel, chop, and cook the pumpkin until it's soft. Then, blend or mash it into a smooth consistency before adding it to the cheese sauce.
What is the most popular cheese for pumpkin macaroni and cheese?
Choosing the right cheese for this dish is a matter of taste but you need to consider two things, the flavor, and the meltiness. The best flavors are sharp cheddar, asiago, pepper jack, and provolone. But the best melting cheeses are fontina, gruyere, mascarpone, and mozzarella.
However, you can always sprinkle some parmesan cheese on top for extra saltiness. The most important thing in choosing the cheese for this dish is to make sure it goes well with the pumpkin flavor.
Gruyere is one of the favorites, but sharp cheddar cheese is what we use because of its traditional taste. Always keep in mind that if you decide to add more cheese, you will have to increase the amount of the liquid as well, to make sure the sauce stays creamy.
How to store leftovers:
Store: Store your delicious leftovers in an airtight container in your refrigerator for three or four days. Make sure it is cooled to room temperature first.

Freeze: However, if you cannot finish it all within a few days, pack it up in a freezer bag or freezer-safe container. It will stay fresh in your freezer for approximately 90 days.

Thaw: When you are ready to reheat, thaw it in the fridge the night before for best results.
Reheat: Then, reheat it in the microwave in a microwave-safe dish.
Plan ahead: Alternatively, if you know you are going to have to freeze this dish, keep the pasta and cheese sauce separate when you freeze them. Then, when you are ready to serve, boil the frozen pasta for one minute until it is thawed. Meanwhile, let the sauce thaw for one hour before heating it over medium-high heat in a medium pot. Stir frequently. In a small bowl, mix 1 ½ tablespoon of milk with 1 tablespoon of cornstarch. Stir it all together in the saucepan and let it simmer over low heat until it is thickened.
What to serve with it?
This creamy dish is best served right off the stove, but you can try one of these ideas too:
Add a handful of breadcrumbs or panko to the top of the dish for a bit of crunch.

Pumpkin macaroni and cheese is the perfect side dish for our savory red wine pot roast or herb-roasted turkey.
Put it into a casserole dish and bake at 425 degrees F for 10 to 15 minutes to make the top extra crispy and golden brown.

This dish is also great as a main meal by adding meat and vegetables.

Serve with a ½ cup of crunchy chopped walnuts on top.
Try this with a glass of Starbucks copycat pumpkin latte.
More delicious Fall dishes:
Cooking tips:
You could also make this dish in a Dutch oven if you have one. That way you can bake it in the oven afterward to give it a golden-brown color and a bit of crunch.
Feel free to use your favorite pasta. Any shaped pasta will work here.
Use the best cheese. Just like the pasta, you do not want to scrimp when it comes to the cheese either.
Also, do not overcook the pasta. It will continue to cook in the cheese sauce and you do not want it to get mushy.
In addition, even if it seems minuscule, be sure to add the nutmeg. It makes a big difference in this dish.
Another thing to keep in mind is that all cheese is different, add it little by little and observe how thick or thin the sauce is. If needed add more cheese, but if you add it all at once, the sauce can be too thick.
Pumpkin Mac and Cheese
Ingredients
12

ounces

elbow macaroni

or short pasta

1/4

cup

unsalted butter

1/4

cup

all-purpose flour

1

cup

milk

1/2

cup

heavy cream

1

cup

chicken broth

1

teaspoon

dry mustard

1/4

teaspoon

nutmeg

1/4

teaspoon

cinnamon

1

teaspoon

salt

1/2

teaspoon

ground black pepper

1/4

teaspoon

onion powder

1/2

teaspoon

garlic powder

1

cup

pumpkin puree

1

teaspoon

hot sauce

Tobasco or Sriracha

2

cups

sharp cheddar cheese

shredded

1/2

cup

parmesan cheese

shredded
Instructions
Bring a large pot of salted water to a boil and cook pasta according to package directions, aiming for al dente. Drain well, do not rinse.

In the meantime, in a large saucepan melt the butter over medium heat. Whisk in flour and cook for 1-2 minutes.

Next, add milk, cream, and broth a little at a time, whisking until smooth after each addition.

Add dry mustard, nutmeg, cinnamon, salt, ground black pepper, onion powder, garlic powder, and hot sauce. Stir well and cook over medium heat until the mixture comes to a boil. Boil for 1 minute while whisking.

Remove from heat, and stir in the cheeses, until smooth.

Taste and adjust for salt and pepper.
Deliciousness to your inbox
Enjoy weekly hand picked recipes and recommendations