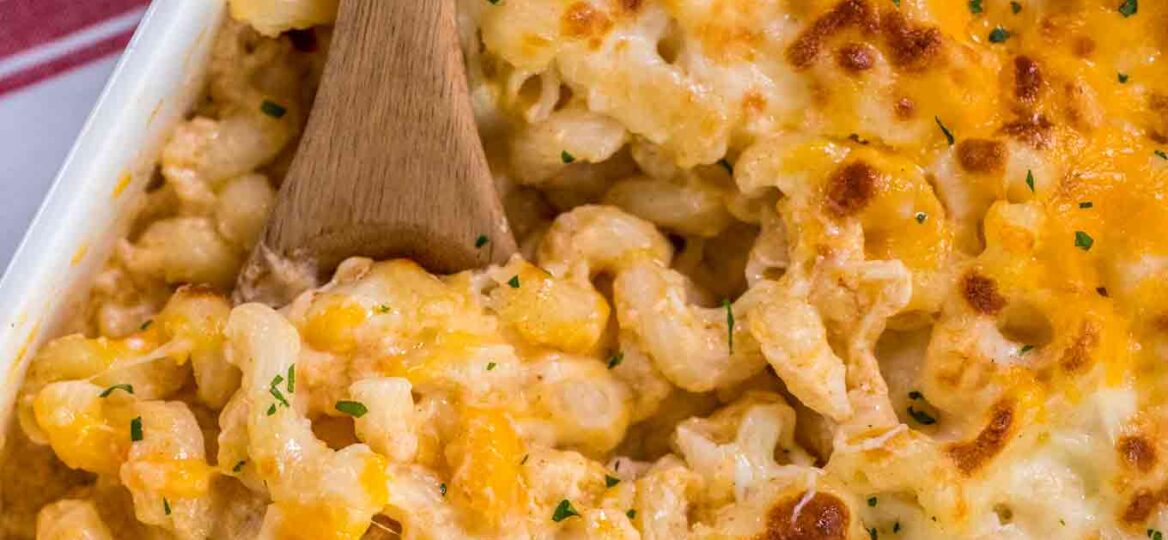 Easy Gluten Free Macaroni and Cheese [video]
Gluten Free Mac and Cheese is creamy, delicious and the perfect comfort food for busy weekdays. This is an easy recipe to prepare with minimal ingredients, and ready in 30 minutes from start to finish.
Homemade Casseroles are my favorite dish when it comes to feeding a large family with minimal work and time. Also, you don't need anything planned to quickly put this together, and enjoy one of the best comfort food. This dish pairs well with oven barbecue ribs, corned beef, or crockpot meatloaf.
Are you looking for a quick and delicious cheese recipe that requires minimal prep work and is also gluten-free? Then, this Creamy Gluten Free Mac and Cheese Casserole is the ideal dish.
There's no reason to miss out on it just because you're skipping gluten. Trust me, you would not even feel the difference between the classic macaroni and cheese version and this one.
For once, this casserole is super rich and creamy. Therefore, there is no reason not to incorporate it into your daily diet. On top of that, you will not be able to have just one bowl of! So prepare to make some extra, because leftovers are equally delicious!
I absolutely love this dish, because it is loaded with flavor. I use both Cheddar and Colby cheese, as the Cheddar brings the classic flavor of macaroni and cheese while the Colby makes it creamy and gooey.
If you prefer all Cheddar or other cheese, feel free to substitute to suit your tastes. We also like to add some Parmesan into the mix.
One of the most important ingredients to a successful gluten-free macaroni and cheese dish is noodles. Therefore, it is important to go with the best option possible. Usually, I go with Barilla Gluten Free Elbow Pasta and totally love it. Similarly, you could use rice or brown rice pasta.
How to make Creamy Gluten Free Mac and Cheese?
For exact steps, follow the recipe card below. But here are the general steps:
Boil the pasta: Follow the package instruction to boil the pasta. I keep it al dente because it will be cooked in the oven later on.
Make the cheese sauce: In a saucepan, over medium-high heat, melt the butter. While stirring constantly, add the flour, milk, and seasoning.
Add the spices and cheese: Next, add the garlic powder, onion powder, along with the rest of the seasoning. Then, add the shredded cheese on top, and gently whisk the mixture.
Bake: Transfer the pasta to a baking dish. Then, pour the cheese mixture on top and bake it at 350 degrees F for about 25 minutes, until the top is golden brown.
Serve: Enjoy it warm with your favorite side dish.
Recipe Variations:
Pasta: When cooking the pasta, it is important not to overcook it as it becomes bloated and mushy in the casserole. Therefore, try to keep it al dente. The pasta should be firm but yielding. However, if it is too crunchy when you bite into it, then cook for a little longer.
Cheese: Use the combination of that you love. I combine cheddar, Colby, and Parmesan because it provides great flavor and creaminess. If you prefer to use all cheddar or all Colby, go ahead. Similarly, you can use sharp cheddar with parmesan.
Topping: To add some crunchiness to this dish, you can top it with some gluten-free breadcrumbs prior to baking. Also, you could top it with some bacon, it works really well here!
Frequently Asked Questions:
Can I make this recipe dairy-free?
Even though it might sound odd, but you could definitely enjoy this recipe as both gluten-free and dairy-free. First, use vegan cheese, instead of the regular version.
Replace milk with almond or soy milk.
Also, use Earth Balance butter sticks, and unsweetened almond milk. I think it is worth a try, and the flavors will still be pretty delicious!
How to make Gluten-Free Mac and Cheese in the Instant Pot?
Making this dish in the Instant Pot is very easy and fast. If I have had a busy day at work, coming home and throwing everything in the Instant Pot for a quick dinner makes cooking stress-free!
Also, when cooked under pressure this meal will be cooked faster, and also will blend the cheeses with pasta well, giving it a nice buttery texture. I have a delicious Instant Pot version of this dish, which can be accessed here. Just make sure to replace the pasta with the gluten-free version.
Do you Cover Baked it with Foil?
Usually, I do not. If covered with foil, the dish will not get a nice brown and crunchy top. It will cause the steam to be kept inside it, which will not give this dish the nicely baked color.
What Goes With Gluten Free Mac and Cheese?
This is such a creamy and rich homemade meal, that it goes well with a lot of dishes. I like serving it with a fresh side salad even roasted veggies, such as asparagus.
Similarly, it goes well with any meats, such as oven-baked chicken, classic meatloaf, or pork loin.
In addition, it is a great potluck food too, so if you decide to indulge in at a potluck, feel free to do so.
What are the best cheeses to use?
There is not a right or wrong one to use, as it's based on preference. However, for a deeper flavor, you can use cheddar, sharp cheddar, gouda, jack cheese, pepper jack cheese, mozzarella, or Velveeta.
Parmesan might be used for topping. Any combination used will work great in this recipe and will result in a rich and delicious dinner.
Best Gluten free pasta to use:
You can find plenty of them at the local grocery store. I usually go with Barilla Gluten Free Elbow Pasta. Alternatively, feel free to use these:
Jovial Gluten Free Elbows, Penne, or Shells Pasta.
Pamela's Elbows and Penne
Rice pasta is another great option
Can you store leftovers?
Absolutely. Transfer the dish to an airtight container, and then store it in the fridge for up to 3-4 days. Make sure to close the container tightly, because it can absorb the smell of other food in the fridge.
More delicious pasta recipes:
How to Reheat this dish?
This meal is truly best enjoyed when it's freshly made and warm. However, if you end up with refrigerated leftovers, it is best to reheat mac n cheese properly.
Therefore, remember to always add a splash of milk or cream while heating, as it will make it creamier.
In reheating it in the microwave, just add it to the bowl and remember to stir everything together halfway through the reheating process.
Recipe tips:
Adjust the salt and pepper per your discretion.
To make it extra creamy, feel free to add extra cheese on top.
Also, use your hands or a food processor to turn toast into crumbs for the topping.
When boiling pasta, place a wooden spoon over the pot to keep it from over boiling.
Similarly, rinse the pasta with cold water after draining it to keep it from cooking longer and getting mushy.