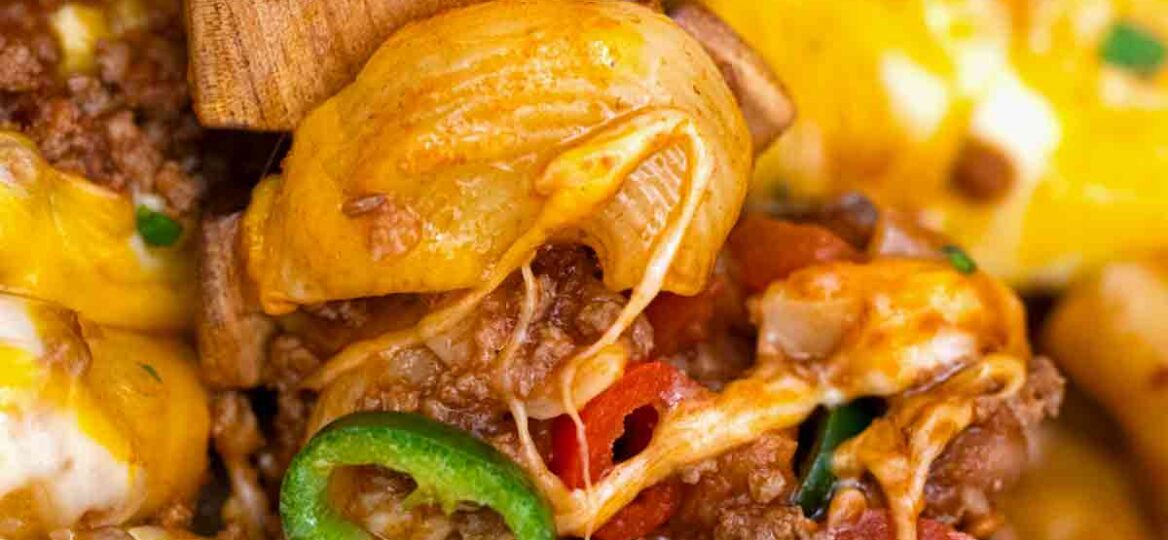 Chili Mac Recipe [Video]
Chili Mac is the ultimate combination of beefy, spicy, and cheesy. This twist on the classic favorite is the perfect go-to hearty comfort food.
It's always nice to have some spicy and flavorful food in every meal. Want to learn other spicy variations? Then head out to my recipes for Instant Pot White Chicken Chili, Spicy Garlic Shrimp, and Spicy Bourbon Chicken.
Homemade Chili Mac Recipe
Chili Mac is one of the cheesiest and effortless dishes that I have ever prepared. The soft macaroni, flavorful chili, and cheesy toppings make for a great game night potluck snack or even when you want a quick yet fulfilling meal.
Everyone loves it, even kids who are picky eaters can't seem to get enough of it. In addition, it is so jam-packed that a little serving goes a long way.
It is even great for picnics as you can just bring it in one big pot. You can even tone down the spiciness according to your preference.
It's really nice to have something this hassle-free to make when you ran out of dinner ideas. This is not your ordinary mac and cheese, it is sure to be a great addition to your recipe list.
How to make Chili Mac?
Cook beef. Sauté onions in oil over medium-high heat. Follow up with bell pepper, garlic, and ground beef.

Add chili. When your ground beef turns brown, add in the cumin, oregano, cocoa powder, chili powder, paprika, and salt. Make sure to toss and stir until beef is nicely browned.
Mix sauce. Add in the crushed tomatoes, puree, paste, broth, Worcestershire sauce, and beans.
Leave to boil. Heat it until boiling point then let it simmer for at least ten minutes. Stir occasionally.
Bake. Preheat oven to medium heat. Toss in the cooked macaroni and drizzle a generous amount of cheese on top. Bake in the oven for at least 2 minutes or when the cheese melts.

Serve. Remove from oven and garnish accordingly. Toss in a fine amount of either jalapeno, red peppers, and cilantro, or you can also use them all together. Afterward, serve.
Chili Mac Variations:
Ground beef substitutes. Use other protein-rich meat such as turkey, sausage, and chicken.
Vegetarian. To make it meatless, substitute ground beef for additional servings of beans such as canned pinto beans or black beans. You can also use tempeh as another alternative. For the broth, go for the vegetable variety.
Toppings. Alternate between green onions, avocado, and olives for topping substitutes. Tortilla strips are also great to serve it like a deconstructed taco dish.
Best cheese to use for Chili Mac:
When it comes to the classic mac and cheese, the best option is real cheddar, particularly yellow cheddar as it melts easily. However, you can also use mozzarella and parmesan as alternatives.
More delicious pasta dishes:
Everyone loves to have a bite of pasta once in a while. Not to mention, they are so easy to prepare and so easy to fill up stomachs that everyone should learn to make at least a few pasta-based dishes.
Want to start mixing things up in the kitchen? Here are some of my other favorite pasta recipes to enjoy with friends and family to get you started:
How to store it?
To enjoy the leftovers within 72 hours, make sure to store it in the fridge inside an airtight container.
If it is fresh out of the oven, let it cool first to avoid trapping excess moisture from the heat.
In addition, you can put it in the freezer if you want to let it last for a month or two.
Recipe Tips:
To make the dish even spicier, drizzle some hot sauce or toss in some red pepper flakes.

A side of sour cream is also great to even out the spiciness.

For a healthy variety, use whole grain elbows or gluten-free pasta.