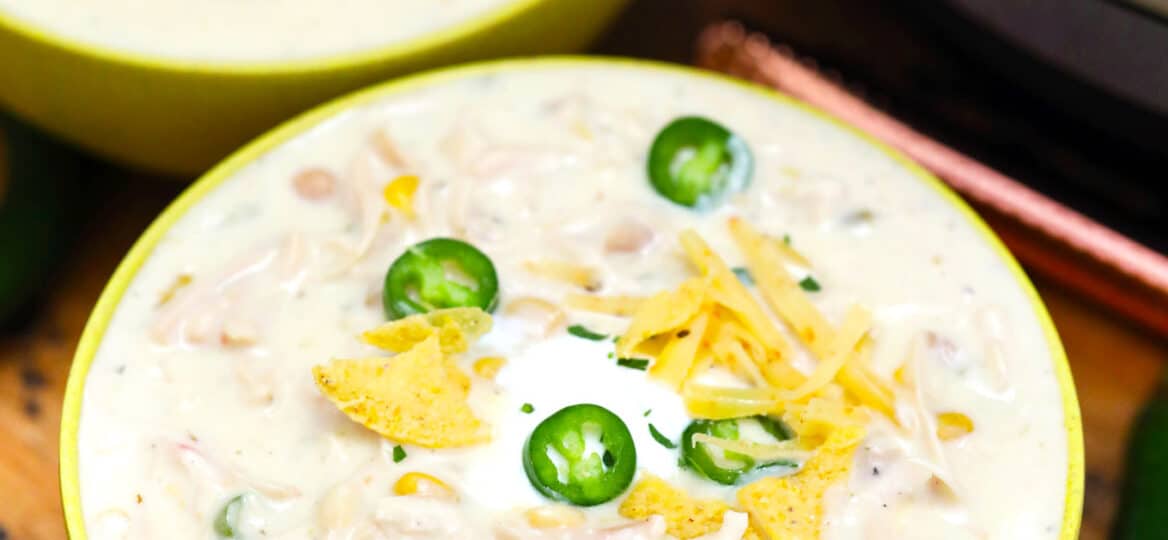 Instant Pot White Chicken Chili [Video]
Instant Pot White Chicken Chili is one of our favorite pressure cooker recipes! It is a hearty meal that is made in a fraction of the time compared to the traditional version.
This meal is super delicious and very easy to make. Just stir everything together, top with cream cheese and cook for 20 minutes. We love chili around here including our popular Classic Chili and Turkey Chili.
Best Instant Pot White Chicken Chili
Instant Pot White Chicken Chili is the perfect homemade meal for busy weeknights. With the help of the pressure cooker, you end up with a warm bowl of delicious chili in no time. The only thing that you need to prepare is basically chopping the onion, and the rest is just dumping the ingredients and go.
We have made this recipe many times over the years, and recommend using fresh and quality products for the best results. Try using organic meat, and for your beans, go with non-BPA lined cans.
We use fresh chicken breasts, but thighs will work just as fine. However, if you prefer to go with thighs, we recommend using skinless and boneless thighs for this recipe.
It will be easier to shred when cooked, with no bones to retrieve. This meals stores very well, and can also be made ahead. Serve it as is, or top it with some sour cream and cilantro for the ultimate finish!
How to Make Instant Pot White Chicken Chili:
Check out the recipe video tutorial attached above. But the general steps are as follows:
Start by sauteing the onion in the pressure cooker. However, this step can be skipped.
Then, simply combine everything in your Instant Pot and stir together.
Next, top with cream cheese and set on manual high pressure for 20 minutes.
After 20 minutes has elapsed, let it naturally depressurize for 10 minutes.
Once done, remove chicken on a board, and shred it using two forks.
Then put it back, and stir everything together. Adding the cornstarch slurry and sour cream as well.
Enjoy warm!
Can I make white chicken chili with frozen chicken?
Yes, you could. For the extra tips on how to cook frozen chicken breasts in the Instant Pot, check out our previous post here. The most important thing to make sure that the meat is not frozen right together.
As long as it is separated but frozen, you can easily cook it in the pressure cooker. Just add an extra 3-4 minutes to the cooking time.
Can I prepare white chicken chili ahead?
Sure, can! You can easily prepare the recipe entirely up to the point of cooking, in the pressure cooker inner pot. Then cover and store in the fridge up to 1 day prior to cooking. The next day simply set your pressure cooker for 20 minutes and you will have dinner in a breeze!
Can I make it in the Crockpot?
Making it in the slow cooker is a great alternative. It is equally simple because you just put the ingredient in it and let it cook for a longer period of time. We already have the crockpot version of this meal, and you can check it out here.
How to Serve White Chicken Chili?
This dish is delicious and hearty just as is. We like serving it with some cilantro or tortilla chips on top. Also, you can serve it over baked potatoes. Some other garnish ideas:
Sliced avocado
Shredded Cheese
Sour Cream
Sliced jalapenos
Croutons
How to freeze it?
It freezes really well, so don't be afraid to make a big batch and save some for later. Before freezing, make sure to let it completely cool down to room temperature. Then, transfer it to a larger freezer bag or container, and freeze up to 3 months.
To thaw, transfer it to the refrigerator overnight, and heat it up the next day.