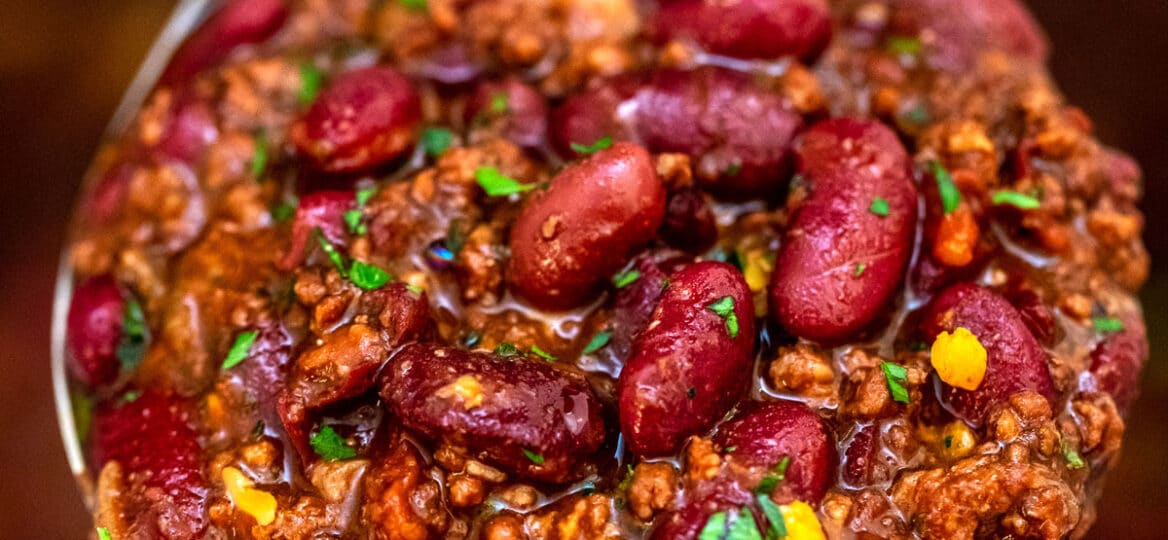 Best Instant Pot Chili [VIDEO]
Instant Pot Chili is the best and one of the easiest meals you can make in your Instant Pot. Hearty and loaded with flavor with the perfect texture! Also, watch the short video tutorial attached and see how to make this recipe without the mess!
Instant Pot recipes are very easy to make and usually reduce the cooking time by a lot. They are convenient and delicious, and it only made sense to add a good chili to my collection. Other favorites include the famous and juicy Pulled Pork, Ribs, and Baked Beans.
Easy Instant Pot Chili Recipe
Instant Pot Chili is the best meal you can make in your pressure cooker. This recipe is incredibly easy and also fool-proof. We love making this delicious recipe at least a few times a month. It always turns out mouth-watering, hearty, and flavorful.
I will give you all my tips for making the perfect pot of chili beans. Top it with some fresh avocados, sour cream, and serve it with a hefty amount of cornbread on the side!
This chili is the perfect comfort food and that type of recipe that you call "a keeper"! The leftovers taste even better and also this is that type of meal that freezes very well.
Is chili supposed to have beans in it?
"Texas chili" or otherwise called "Chili con carne" does not have beans, it usually is chili with peppers and meat. The more commonly known "chili", is a spicy stew containing usually chili peppers, beef, tomatoes, and beans.
What is the best kind of beans for chili?
I love adding one of these or a mix of them: Black Beans, Dark Red Kidney Beans, or Pinto Beans.
How do I make my chili soupier?
If you prefer a more soupy chili, increase the liquid content by one or two cups, or after the chili is done, with the IP on Sauté, add more liquid, and let it simmer for a few minutes. Add as much as you want, until you get to the consistency that you like.
How to make chili thicker?
After you cooked the Chili and you realized you want it thicker, you can cook it on Sauté with the lid off for another 30 minutes, stirring occasionally, until the liquid reduces.
Another option is to add a cornstarch slurry, which works instantly, and I am describing in my recipe.
Also, it is recommended after you prepare this dish to leave it overnight in the fridge. This way the beef will absorb even more liquid, it will become thicker, and also the flavors get a chance to develop more. The moral of the story, make more so you have delicious leftovers the next day.
Crushed tomatoes versus tomato sauce:
Using crushed tomatoes is key as the tomato sauce will add more liquid to the pot and will make the chili soupier.
How long to cook chili in Instant Pot?
It takes 12-15 minutes to cook chili under pressure, plus the additional time it takes to sauté and brown the beef and onions.
You have to also add another 15 minutes for the natural pressure release. This can be done manually, or wait for the pot to release it naturally, depending on your preference. But I always recommend to let the pressure release naturally.
Should I add cocoa powder, espresso, or cinnamon to chili?
These ingredients are so-called flavor enhancers, so if you have some on hand you can either add 1 espresso shot, or 1 tablespoon of cocoa powder, or 1 teaspoon of cinnamon. They will enhance the flavor of the chili and give it an earthy tone.
Add any of these before you add the crushed tomatoes. Do not use all of the flavor enhancers, just pick one. Or combine the cocoa with the cinnamon or the espresso with the cinnamon.
Should I add apple cider vinegar to the chili?
If you would prefer a more tangy taste to your chili, adding 1 tablespoon of apple cider vinegar or even balsamic vinegar at the end, once it's cooked, it will enhance the tomato flavor and make it tangier.
How do you sweeten up a chili?
When you taste and adjust for salt and pepper, if you are looking for a sweeter chili, stir in 1-2 tablespoons of brown sugar.
How to freeze Instant Pot Chili Soup?
First, let the chili cool completely. Divide the cooled chili into small portions that you can consume in one meal. Scoop each portion into a container or freezer-safe ziplock bag, leaving about 1/2 inch of empty space at the top.
Freeze the chili at or below 0 F for as long as four months. Before serving, thaw chili in the refrigerator. Add it to a pot on low-medium heat, and reheat it to a rolling boil, keeping the pot covered to retain moisture. Season as needed.
How to brown the beef for Instant Pot Chili recipe?
Searing the beef in the pressure cooker may be challenging, because of the surface of the pot. There are three easy methods that you can use, and just use whichever you prefer more:
The baking soda method: mix 1/2 teaspoon of baking soda with 1 tablespoon of water until it's dissolved. Add the mixture to the ground beef and using your hands to mix it in. After that, let the beef rest for 20-30 minutes. This is a trick that my mom (and obviously many other cooks) use in many recipes that ask for ground beef. First, it helps the beef retain the moisture, which makes searing and browning in especially in the IP much easier. Second, it tenderizes the beef, for the same reason, since the beef retains more moisture, it's fluffier and more tender once cooked. I love to use this trick also when cooking Salisbury Steaks!
The sear and reserve method – once your Instant Pot is hot and ready to sear the beef, add it to the pot and DO NOT stir for 4-5 minutes. This way the beef gets a chance to really get golden brown on the bottom layer. At this point the beef released moisture, carefully remove the pot from the IP and drain the excess fat into a small bowl, it will be later added back to the pot. Add back the pot to the IP and using a wooden spoon break down the meat and continue cooking.
If you don't really care how browned is your beef, follow the instructions on #2 and use the easy way out. This means, after the 5-minute mark, just start breaking apart the beef and continue cooking it in the moisture that is being realized. This is a quick and easy method.
How to make chili in a Slow Cooker or Crockpot?
Making this recipe in the crockpot is similarly easy and amazingly delicious. We do have the Slow Cooker Chili recipe on our blog – check it out!
Burn notice on Instant Pot:
We've had a few questions in regards to the burn notice on the pressure cooker.
This can be due to a few factors. However, it is probably due to the ground beef lacking fat or that you've walked away and left the meat to burn. Therefore, prior to browning the meat on the pot ensure there is nothing stuck to the bottom of the pot.
As it will continue to cook and confuse the pot to thinking that something is burning. Hence, it is important to clean your pot well after every use. Also, try not to use ground beef that is too lean.
If you get a burn notice after the chili has been combined, then this is probably due to the fact that you didn't thoroughly stir everything together. Also, it could be because there something stuck to the bottom of the pot. Try stirring well to avoid this issue.
More Soup and Stew Recipes:
Tools and Ingredients I used to make this Instant Pot Chili Recipe: