Pickled Radishes Recipe [Video]
Pickled radishes are fast and easy to make in less than 30 minutes with just a handful of ingredients. For this delicious snack or side dish, all you will need is pickling salt, sugar, peppercorns, garlic cloves, bay leaf, rice wine vinegar, red Thai chili peppers, and radishes. They are tangy, crunchy, and just a bit spicy.
After spending a few hours in the fridge getting pickled, these veggies are a perfectly sweet addition to all sorts of recipes. For instance, mix them with these Pickled Eggs and pickled onions for a pickled veggie salad. In addition, you can toss them into this Arugula Strawberry Salad recipe to give it a slightly spicy and sour flavor. Or serve them on top of this Korean Beef Bulgogi for a nice Asian meal.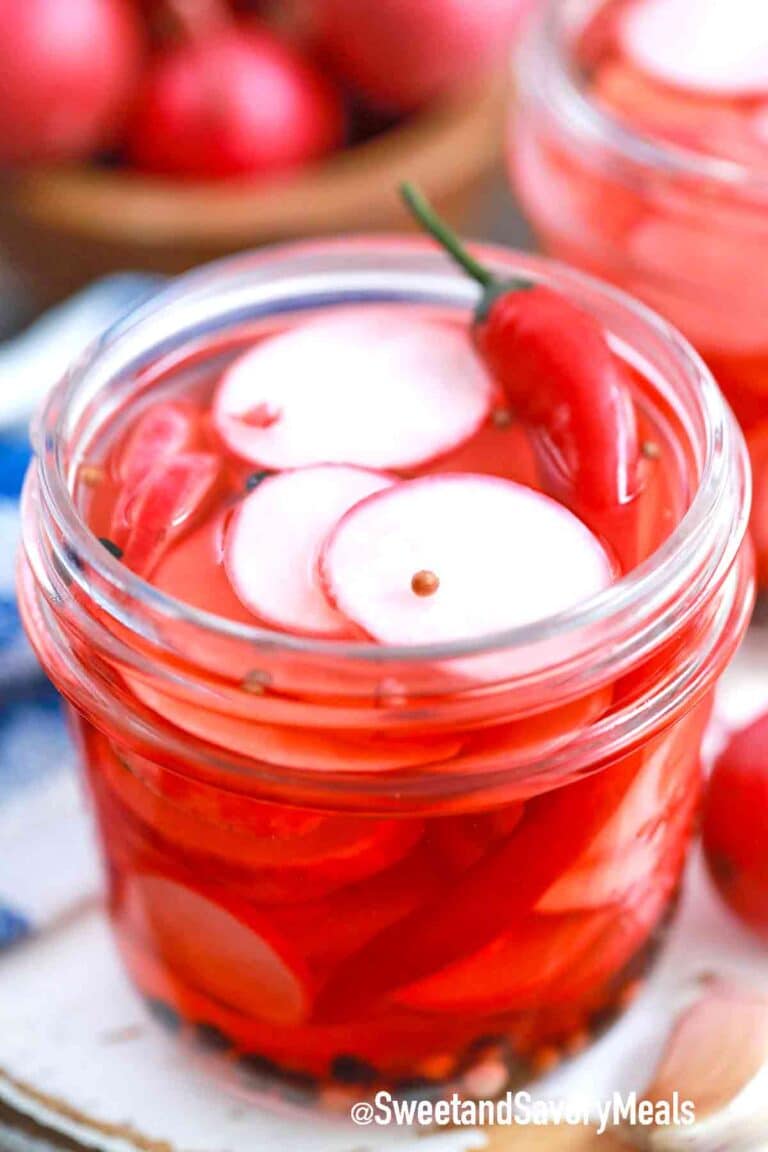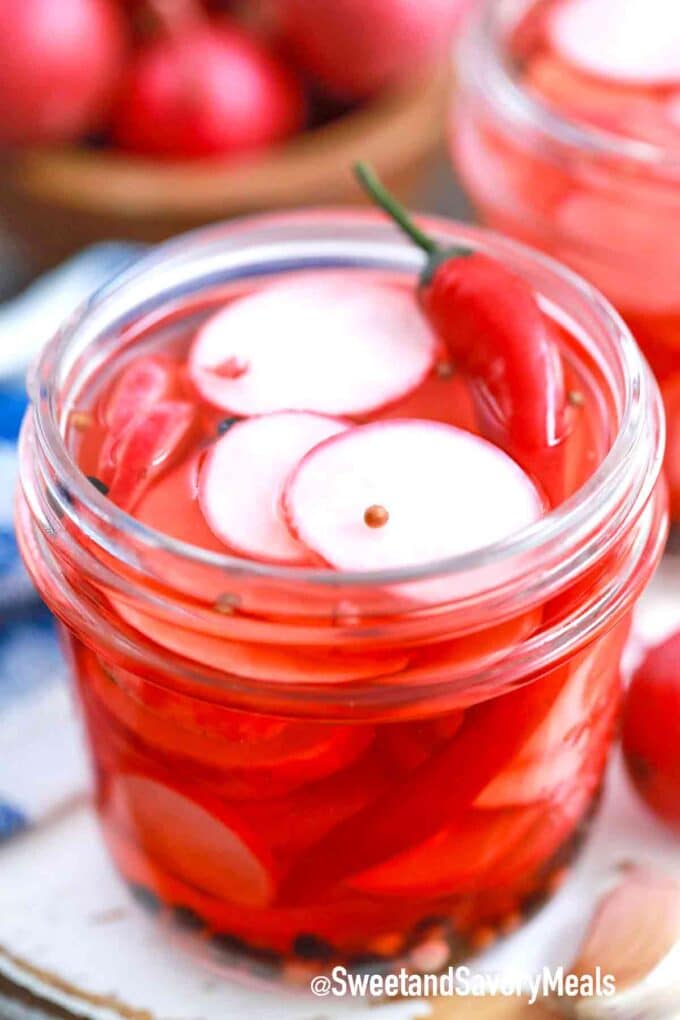 Pickled Radishes Recipe
If you are a fan of radishes but have never tried them pickled, you have to try this great recipe. Not only are they simple and quick to make, but they are also healthy and delicious. In addition, eat them pickled right out of the jar or add them to whatever sounds good from casseroles to soups and stews.
Your family will love the taste and you will love the simplicity of the quick-pickled radishes recipe. They stay good for a long time too so you can keep them on hand for future recipes or dishes. All you need is pickling salt, sugar, peppercorns, garlic cloves, bay leaf, rice wine vinegar, red Thai chili peppers, and radishes.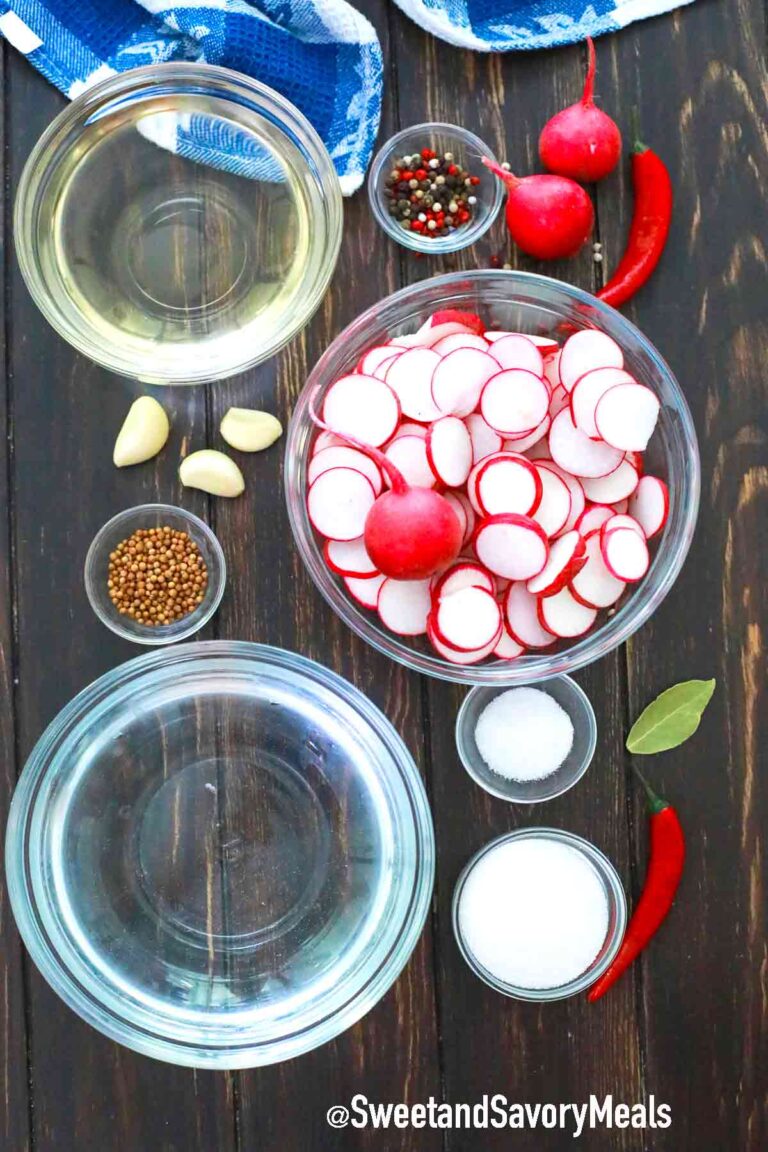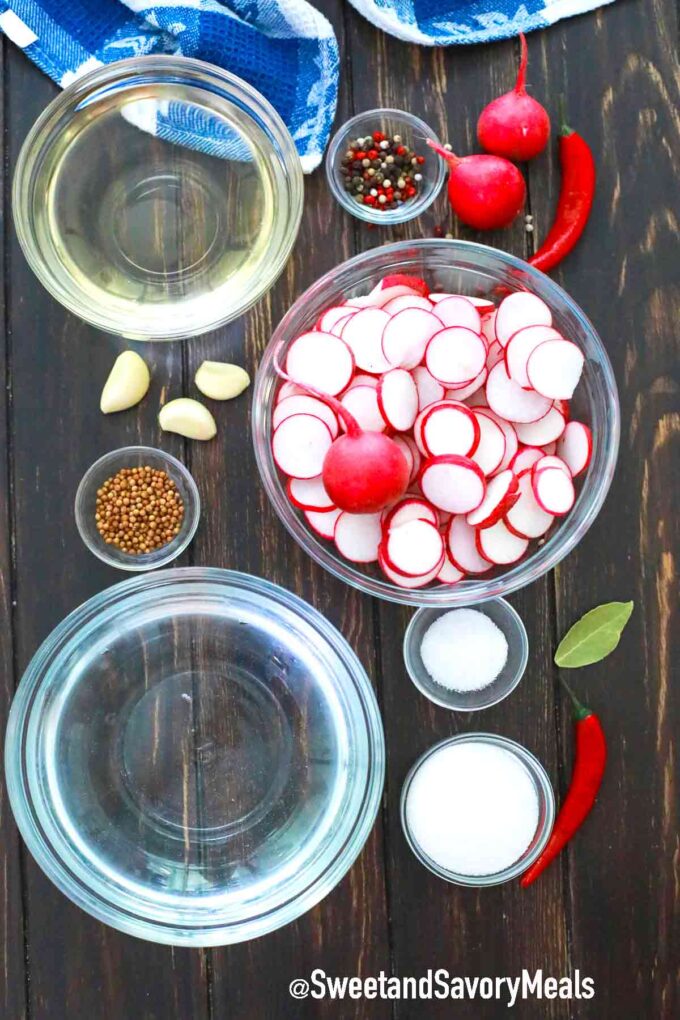 Ingredients needed:
For the precise instructions and measurements, see the handy recipe card below. But these are the basic ingredients you will need.
Red radishes: Sliced thin.
Thai chili peppers: Fresh, dried, or powdered.

Salt: We used pickling salt, but you can use Kosher salt too.

Sugar: White granulated sugar is best.
Peppercorns: We used colorful peppercorns.
Garlic cloves: Or use minced garlic or garlic powder.
Bay leaf: Fresh is best.
Vinegar: We used rice wine vinegar.
Coriander seed: Fresh or dried.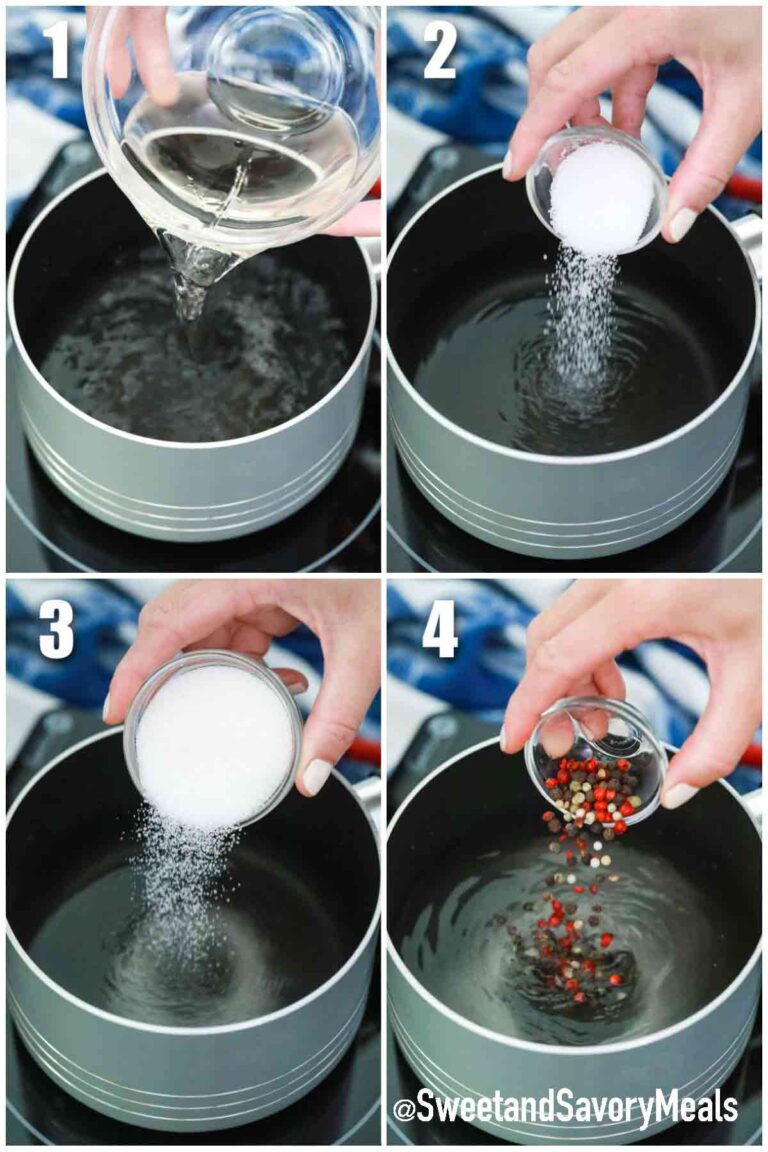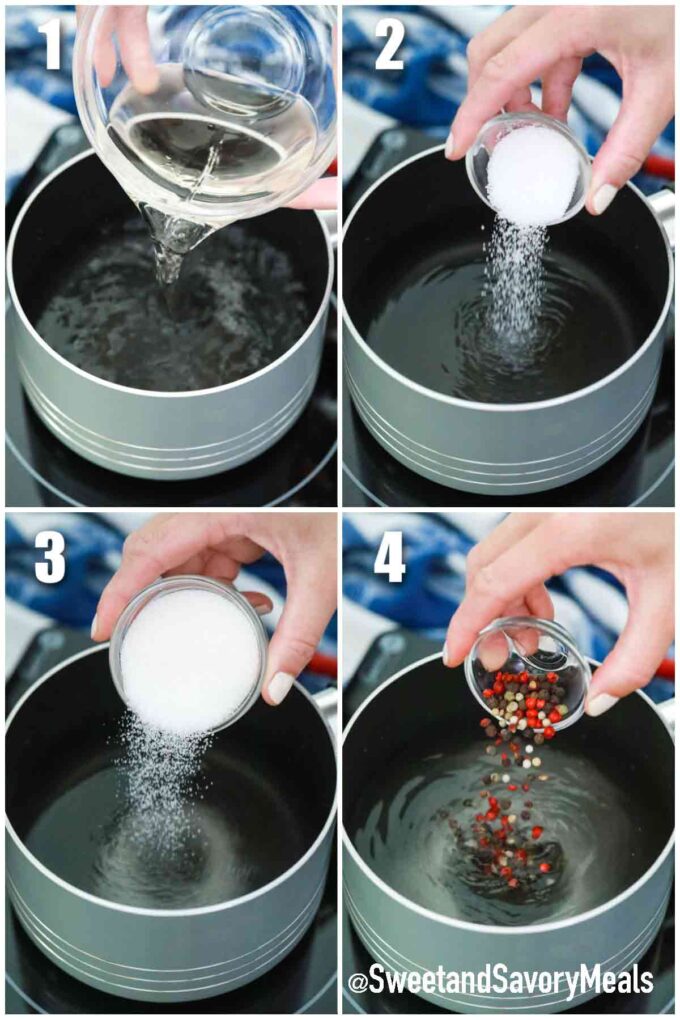 How to make pickled radishes from scratch?
Clean: To start, clean the radishes thoroughly with a vegetable scrubber.

Slice: Then, use a food processor or mandoline to slice them into very thin coins.

Chop: Afterward, dice the bay leaf, garlic clove, and chilis.

Jar them: Next, put the sliced radishes into a half-pint jar, layering the chilis, garlic, and bay leaf in between.

Cook: Using a small saucepan, boil the coriander seed, peppercorns, sugar, salt, vinegar, and three cups of water.

Simmer: Remember, let it simmer until the sugar and salt have dissolved.

Pour: Then, pour the brine over the radishes and let it sit until it is room temperature.

Refrigerate: Last, securely tighten the lid onto the jar and put it in the fridge for two hours.

Enjoy: Finally, the radishes can be used after two hours, but once you open the jar, they only have two weeks left. Unopened, they will last much longer.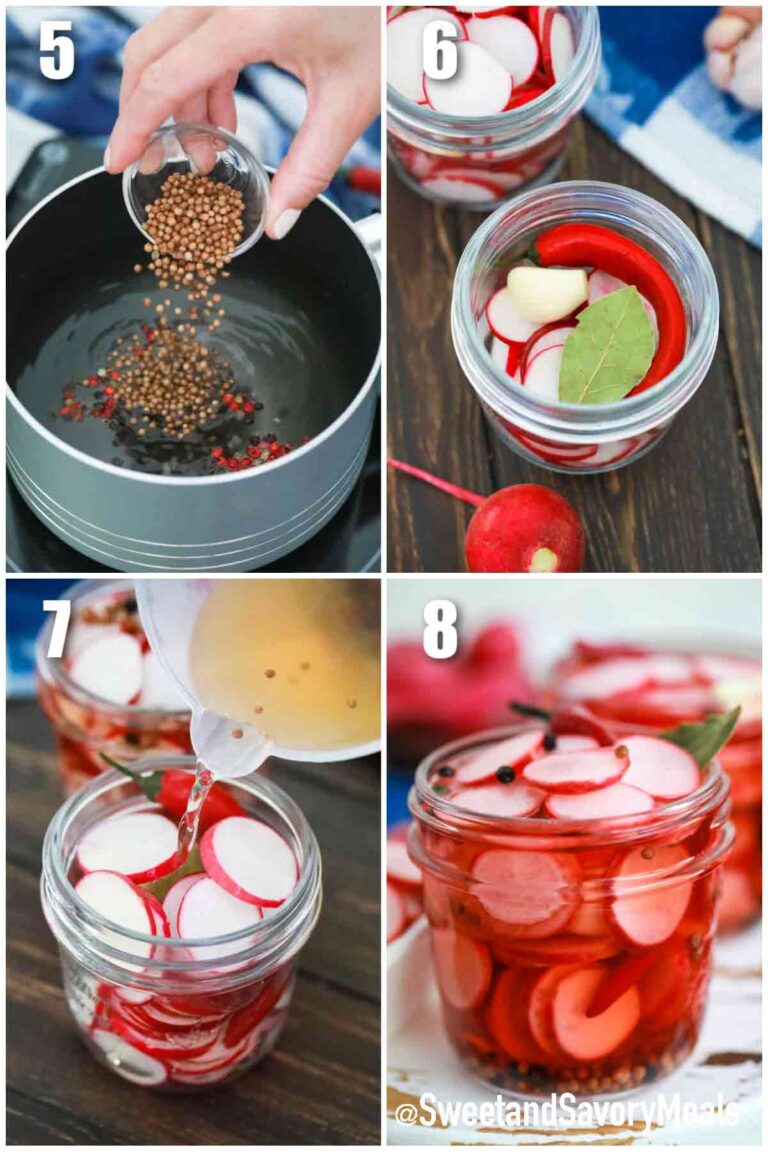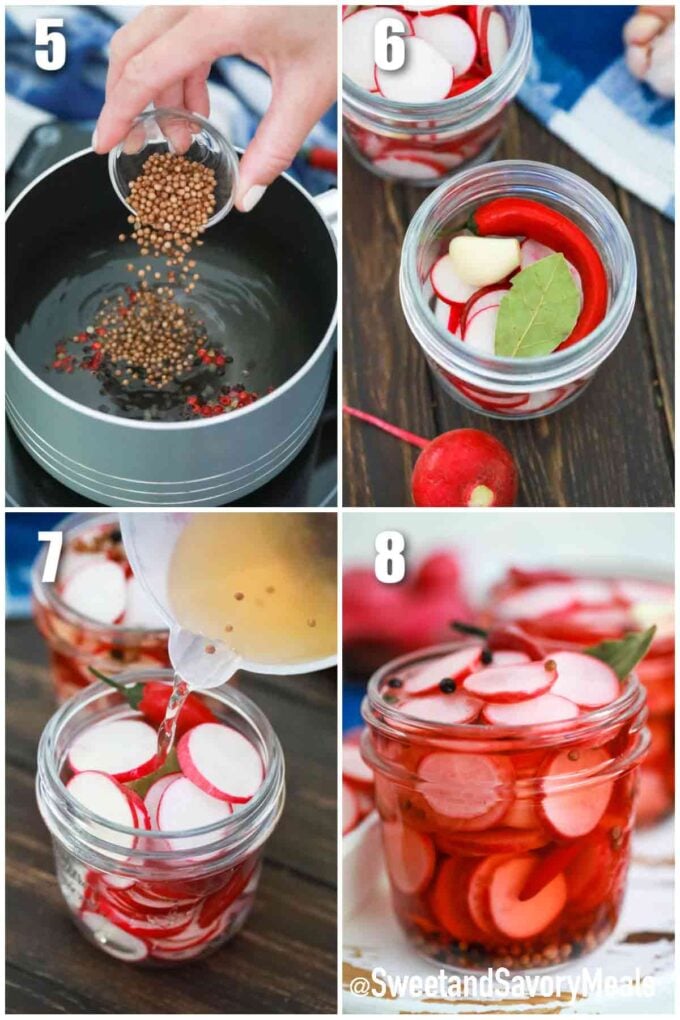 Recipe variations:
Other flavors: Alternatively, try using distilled white vinegar, malt vinegar, apple cider vinegar, or red wine vinegar for different flavors.
Add honey: However, for a sweeter taste, add three tablespoons of honey or maple syrup.
Try some mustard: Other interesting add-ins are whole mustard seeds, fennel, and red pepper flakes.
Add some herbs: Additionally, experiment by adding other spices and herbs to make your radishes unique.
How to serve:
Many people just eat these delicious sweet and tangy veggies straight from the jar. But you can also try serving them in other ways.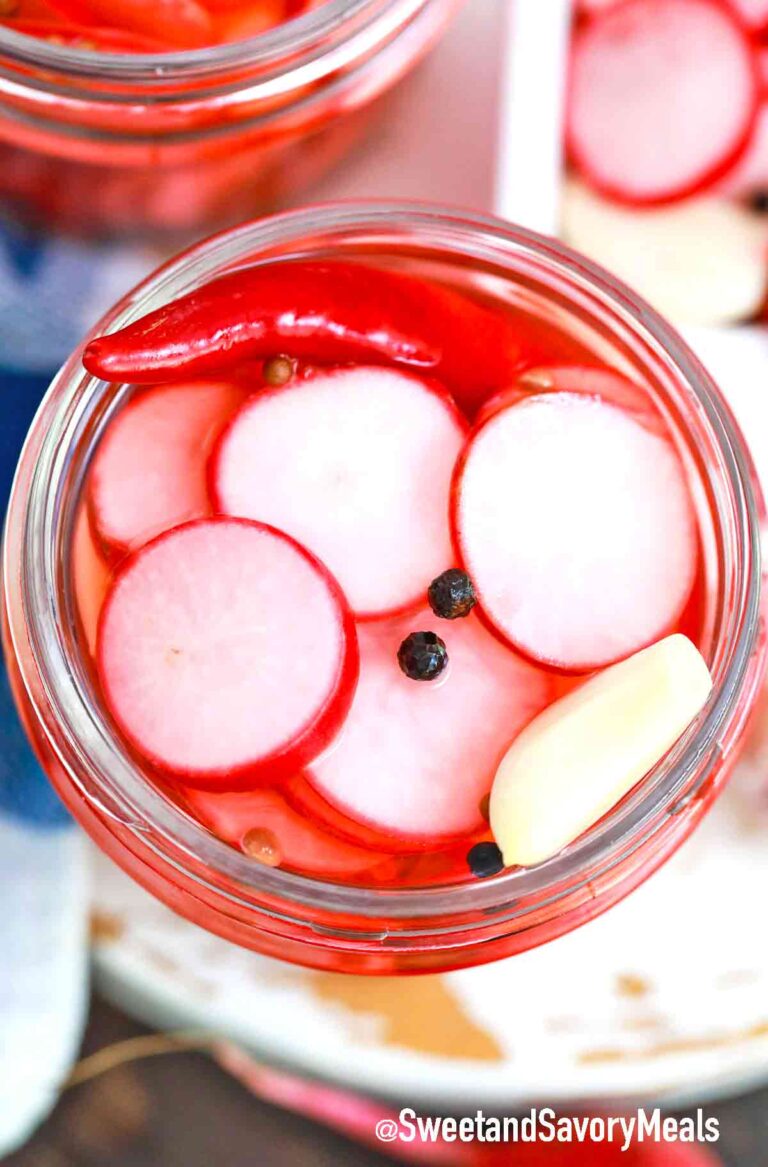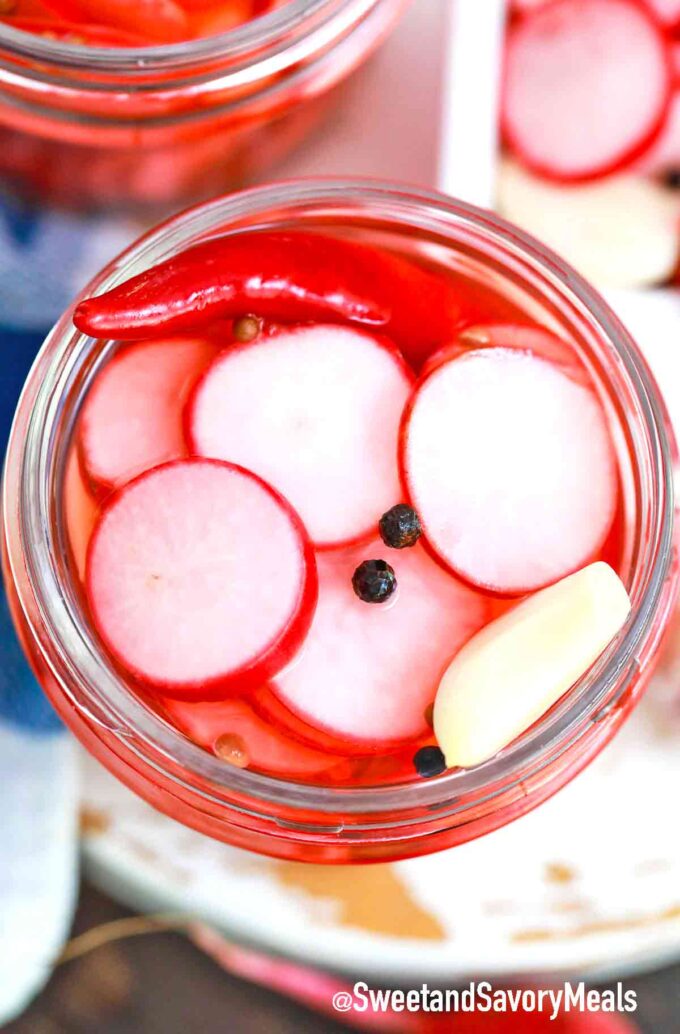 More Easy Side Dishes:
Frequently asked questions
What are the health benefits of radishes?
Whether you eat them pickled, cooked, or raw, radishes are very good for you. Though there are different types of radishes, all of them have health benefits that anyone can benefit from.
Actually, some of the health benefits include reducing the risk of diabetes by regulating blood sugar levels, enhancing your liver function by detoxifying and healing it. In addition, improving your cardiovascular system with calcium and potassium, and they are high in fiber as well.
Why do my pickled radishes stink?
Although some people dislike the smell of the vinegar and radish combination, they are not supposed to have a foul odor. However, if your batch of radishes smells wrong, do not eat them. Actually, it is very possible that they have gone bad or were introduced to some sort of bacteria that was not killed in the pickling process. As a result, toss them out, sterilize the jar, and start over.
How long do pickled radishes last?
According to many, they can last up to four months in the refrigerator if they are not open. However, once you open them though, you should use them within two weeks.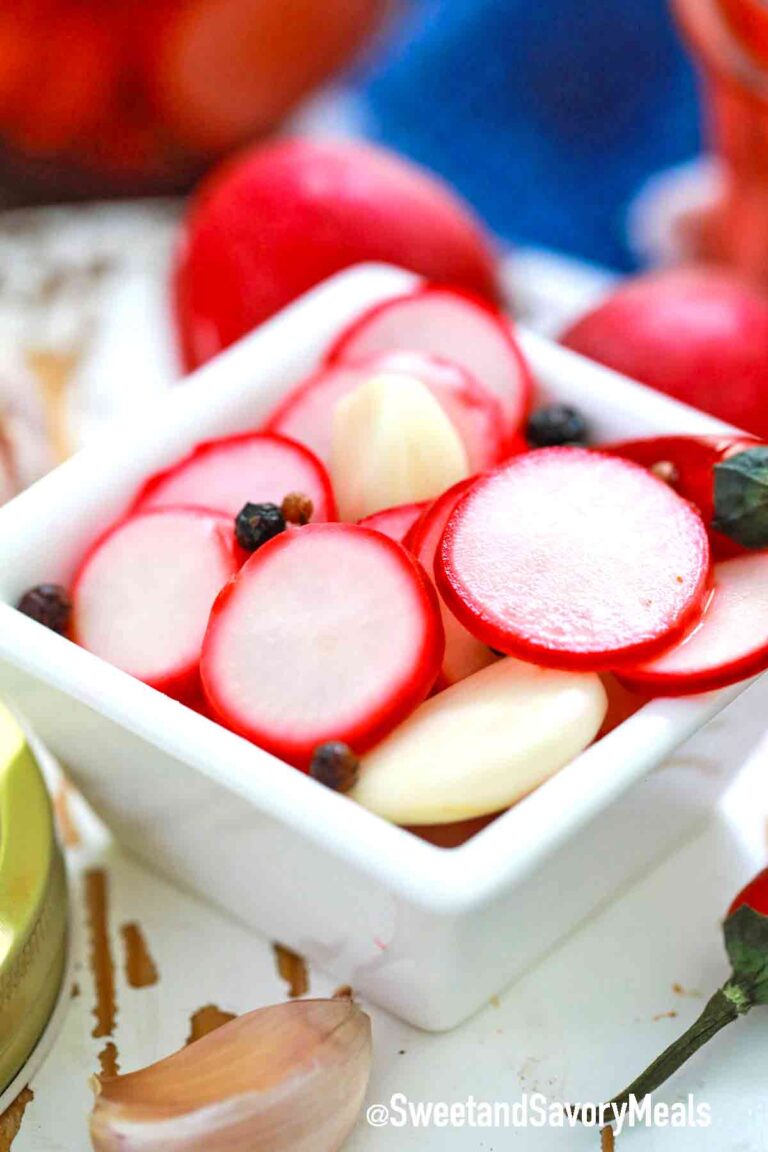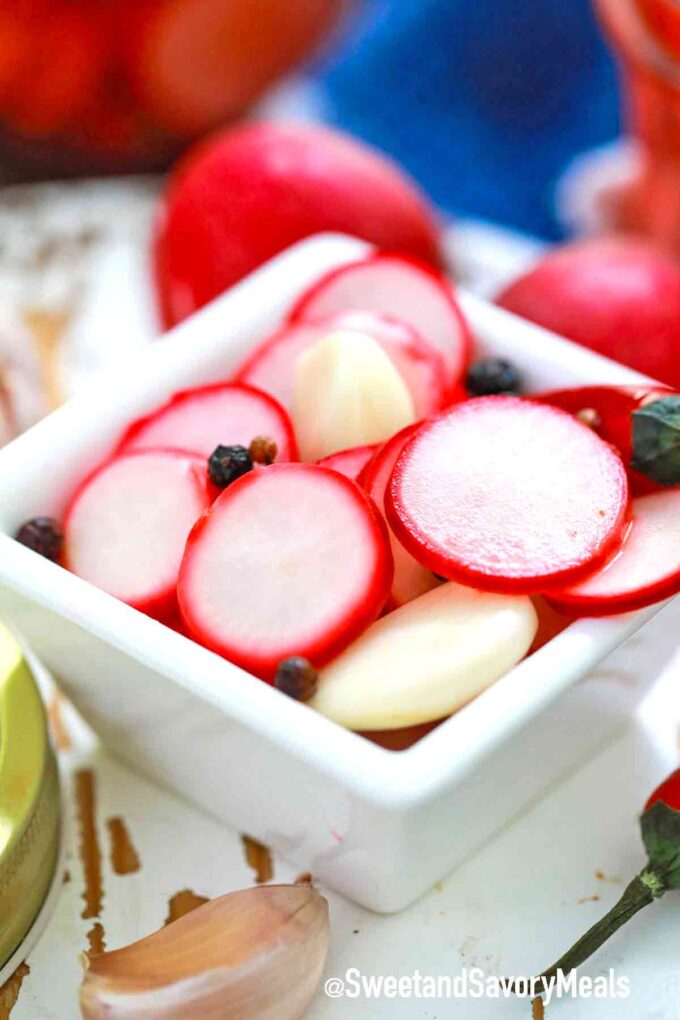 Recipe tips:
If you do not have coriander seed, try cumin, curry powder, caraway, or fennel.

Like more crunch in your radishes? Chop them thicker for a more substantial crunch but make sure to double the pickling time.
Add some thinly cut beets or onions in the jar for a nice change.
On the other hand, if you do not like too much heat, leave out the chili peppers.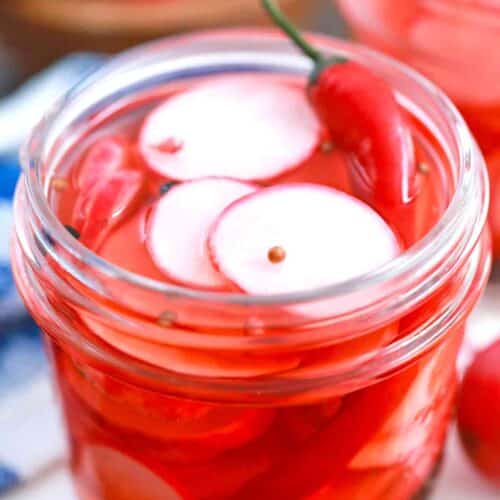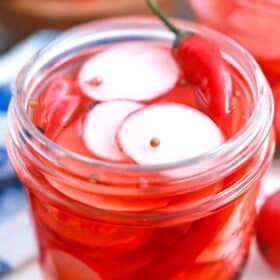 Pickled Radishes Recipe
Pickled radishes are easy to make in less than 30 minutes with just a few ingredients. They are tangy, crunchy, and just a bit spicy.
Save
Share
Print
Pin
Rate
Ingredients
15

radishes

(small or medium)

3

cups

water

1 1/4

cup

rice wine vinegar

1

teaspoon

pickling salt

2

tablespoons

sugar

1

teaspoon

colorful peppercorns

1

bay leaf

1

tablespoon

coriander seeds

3

cloves

garlic

2

red Thai chili peppers
Instructions
Prep the radishes:
First, wash, scrub and clean the radishes.

After that, use a mandoline to thinly slice them crosswise into coins.

Arrange the sliced radishes in a clean half-pint jar, and make sure to layer in the bay leaf, garlic cloves, and one Thai chili pepper.
Make the brine:
Add the water, rice wine vinegar, salt, sugar, peppercorns, coriander seed to a small saucepan over medium heat.

Bring the mixture to a boil and after that simmer it until sugar and salt have completely dissolved. Make sure to stir from time to time, this will take only a few minutes.
Pcikle:
Pour the hot brine over the radishes in the jar, add the remaining Thai chili pepper or on top, and let the mixture cool to room temperature.

After that, close and seal the jar, and place it in the fridge for at least 8 hours.
Nutrition
Calories:
50
kcal
|
Carbohydrates:
7
g
|
Protein:
1
g
|
Fat:
1
g
|
Saturated Fat:
1
g
|
Polyunsaturated Fat:
1
g
|
Monounsaturated Fat:
1
g
|
Sodium:
17
mg
|
Potassium:
53
mg
|
Fiber:
1
g
|
Sugar:
6
g
|
Vitamin A:
3
IU
|
Vitamin C:
2
mg
|
Calcium:
23
mg
|
Iron:
1
mg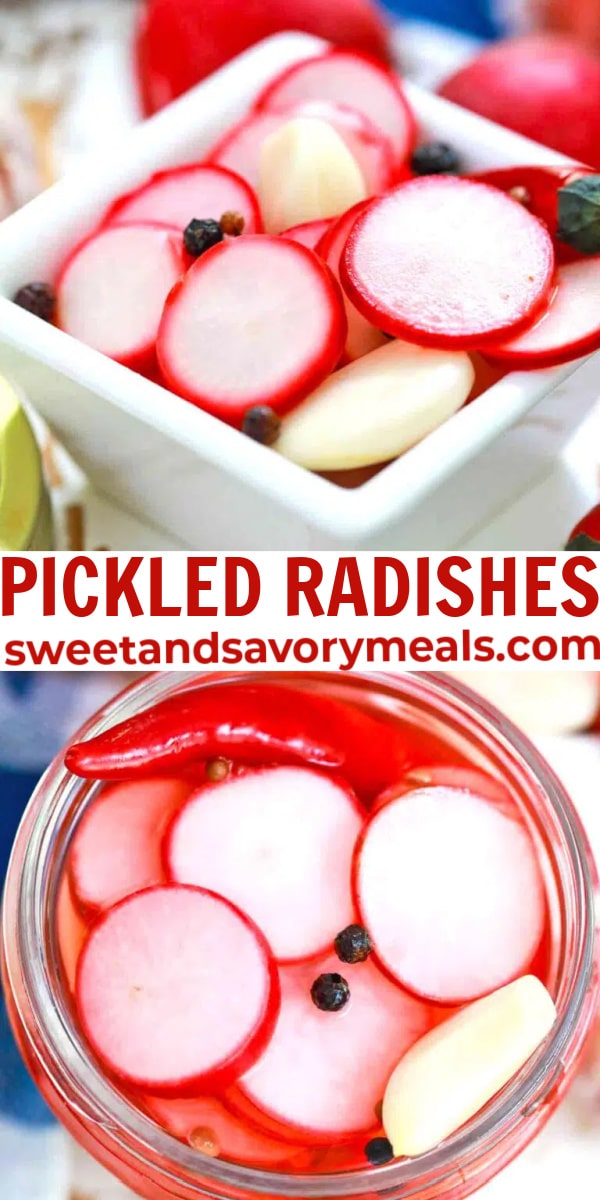 More recipes you might love