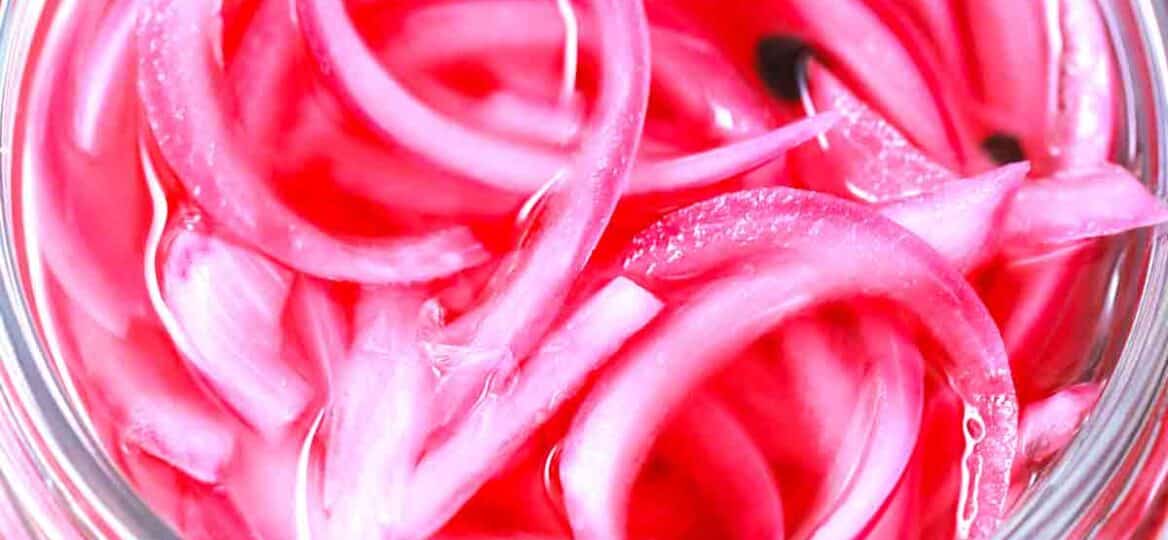 Pickled red onions can be made in minutes with just a few simple ingredients. In fact, all you need is kosher salt, sugar, colorful peppercorns, garlic cloves, bay leaves, rice wine vinegar, and thinly sliced onions.
These quick pickled red onions can be used in just about any savory recipe you can think of. Actually, their crunch and tartiness pair so well with other ingredients, adding a refreshing twist and some texture. For example, toss them into this Classic Potato Salad recipe or this delicious Chicken Tinga recipe. Or if you would rather have a different kind of salad, use them in this Deviled Egg Potato Salad, or in this yummy German Potato Salad.
Pickled Red Onions Recipe
There are so many uses for these, as an appetizer or side dish, you may want to keep some of these in the fridge handy all the time. Just make a new batch every two weeks, if they last that long. Some of the things you can do with this pickled onion recipe are put them in your favorite Mexican dishes like fajitas, burritos, and tacos, or add them to a burger hot off the barbecue grill.
Don't forget, this awesome recipe is so fast and easy that you can make it in less than 30 minutes. And all you need is fresh red onions, vinegar, fresh bay leaves, garlic, peppercorns, sugar, and kosher salt. And it is good to have mason jars, but you can pickle without them.
Ingredients needed:
For the precise instructions and measurements, see the handy recipe card below. But these are the basic ingredients you will need.
Red onions: Sliced thinly.
Vinegar: We used rice wine vinegar.
Bay leaves: Fresh is best.
Garlic cloves: Or use minced garlic or garlic powder.
Peppercorns: We used colorful peppercorns.
Sugar: White granulated sugar is best.
Salt: We used kosher salt, but pickling salt is good too.
How to make pickled red onions from scratch:
Boil: To begin with, boil three cups of water in a medium pot over medium-high heat.
Dissolve:

Add the peppercorns, sugar, and salt, stirring until it is all dissolved.

Cook: Then, put in the onions and vinegar and stir it well.
Cool: Also, let the vinegar mixture sit until it is cool.

Fill: Next, pour the onion and the rest of your ingredients into whatever jars you are using and seal them tightly.

Refrigerate: Finally, these pickled onions are done after two hours in the fridge but will stay good for up to two weeks.
Recipe variations:
Use other colors: Instead of red onions, try white or sweet yellow onions for a different taste.

Alternate kinds of vinegar: Alternatively, try using distilled white vinegar, malt vinegar, or red wine vinegar for different flavors.

Try fruit juice: Yucatan traditions call for sour (Seville) orange juice instead of vinegar. Try it with this recipe and see how it tastes.

Add some herbs: Additionally, adding other herbs and spices will make your onions unique so add whatever you like.

Make it spicy: Similarly, add some habanero or jalapeno peppers to spice up your onions.

Thicken: In addition, you can use thicker slices of onions if you like but let them pickle for four hours instead of two before using them.
How to serve:
Pickled onions can be eaten right out of the jar after they have been pickled in the fridge for at least two hours. Or try one of these ideas:
More Side Dishes:
Frequently asked questions
How long do pickled red onions last?
You can safely keep your pickled red onions in the refrigerator for about two weeks. But since they are so good and can be used for everything from eating raw to adding as a topping, they do not usually last that long anyway.
Which vinegar is best for pickling?
Although distilled white vinegar is the most common choice, this does not necessarily mean it is the best choice for you. The acid content in white vinegar is high and the flavor is mellow, so it works well for all kinds of pickling.
I used rice wine vinegar in this recipe because it has a nice mild taste. Malt vinegar is also a good choice and has a very bold flavor. Cider vinegar is okay, but you have to pay attention to the acidity since many kinds of cider vinegar do not have the 5% acid you need for pickling.
What is the difference between pickling and canning?
When pickling, you use some type of brine like vinegar and salt as pickling liquid. You typically use a mason jar but a glass or ceramic jar with a tight-fitting lid will also work. On the other hand, the canning process is done by using boiling water, salt, and pressure to kill any bacteria and seal in an airtight container. Anything that is canned will last for months while pickling only lasts a couple of weeks.
Recipe tips:
Alternatively, microwave the vinegar mixture. Cook on high until it reaches a simmer and then add the onions and other ingredients as stated.

Also, add more water or blanch the onions first for a more mellow onion flavor.

For less sugar in your pickles, use a sugar substitute instead of white sugar.

These tangy onions would be perfect in a salad such as this avocado chicken Caesar salad, easy cucumber salad, or with this amazing BLT salad recipe.
Deliciousness to your inbox
Enjoy weekly hand picked recipes and recommendations