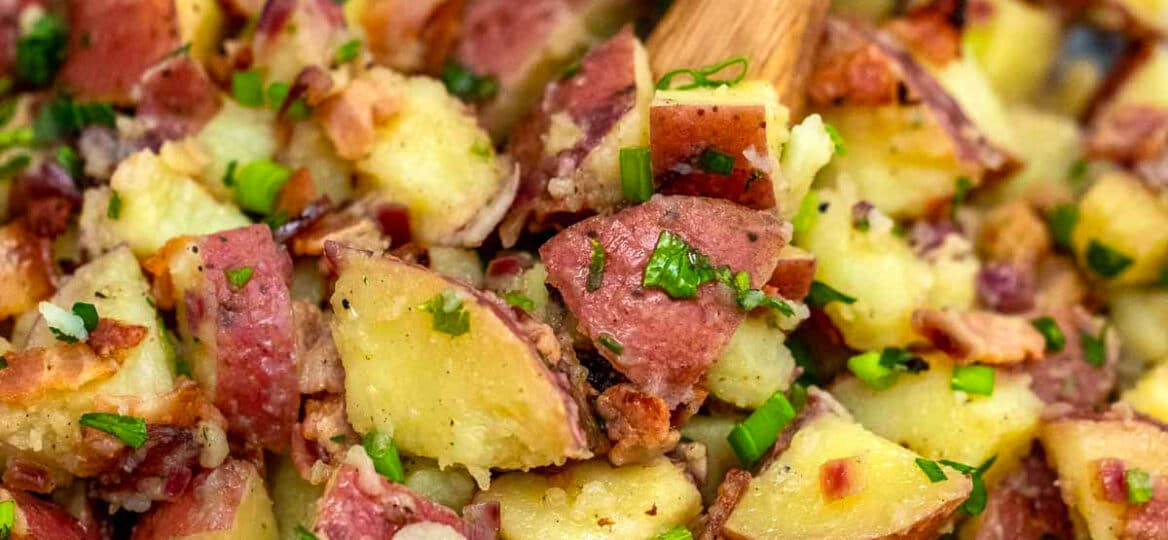 German Potato Salad [Video]
German Potato Salad is loaded with bacon and a delicious bacon-based dressing. This is one of those side dishes that are filling yet very easy to prepare.
Bacon and spuds are a great match, and this recipe is proof of that! If you like bacon, then, you will also enjoy my other recipes like Bacon Ranch Cheese Ball, Candied Bacon, and Instant Pot Chicken Bacon Ranch Pasta.
German Potato Salad with Bacon
This salad used to grace our dining table every summer at Grandma's house. As a child, I have always loved the bacon bits! And now, I still make this dish for the family.
And we all love it! A nice and refreshing change from the usual potato salad recipes, the dressing of this dish is not creamy.
It is quick to cook and does not require too many ingredients. And yet, the flavors are rich and comforting at the same time.
It is so hearty because of the carbs, fat, and protein which make this dish a great source of energy. The bacon goes well with the spuds in terms of flavor and texture, too.
For sure, you will perfect this dish on your first try! So, if you are craving some of this classic side dish, then go ahead, cook, and enjoy!
What is the German Potato Salad?
It is a dish primarily made with red potatoes with a dressing made from bacon drippings. For the most part, it is an American invention inspired by the flavors of southern German cuisine.
Although the usual American version has mayonnaise in the dressing, this recipe has one that is tangy because of the white vinegar, Dijon mustard, and pickle juice.
Best potatoes to use Potato Salad:
Red potatoes are great for salads because even after boiling they hold their shape well. You can use Yukon Gold and Yellow Finn, too.
How to make German Potato Salad
Boil the spuds: In a large pot, boil the diced spuds for about 10 minutes. Then, drain and transfer the spuds in a bowl.
Cook the bacon: Put the pieces in a cold skillet, then heat and cook until they turn crispy. This will take about 8 minutes. Take out the cooked pieces using a slotted spoon, then set aside.
Make the sauce: Using the same skillet, cook the onions in the drippings. Then, add the rest of the ingredients and cook for about 2 minutes.
Assemble: Pour the sauce on the boiled spuds and toss everything with the bacon and parsley. Garnish with green onions, then serve.
Is German Potato Salad served hot or cold?
It can be enjoyed both ways! Once done, serve it immediately while still hot. Or, let it cool, chill, then serve cold.
If you have leftovers, refrigerate them, and then serve later without reheating.
What to serve with it?
Can you make it in advance?
Yes! There are two ways that you can do if you plan to make this ahead:
Refrigerate this for 1 day and let the flavors meld well. Serve it the next day without reheating. It can be served cold anyway.
Prepare the spuds first and refrigerate. Then, prepare the sauce the next day and combine the hot sauce with the cold spuds.
Recipe Tips:
Add hard-boiled eggs for added protein. If you have celery seeds, you can also add them for added flavor.
Remove the skin of the spuds if you like. Boil them whole and eventually, you can peel the skin off while still warm. Then, slice into smaller pieces.
Potatoes do not freeze well. So, when storing, simply cover it in an airtight container and refrigerate.