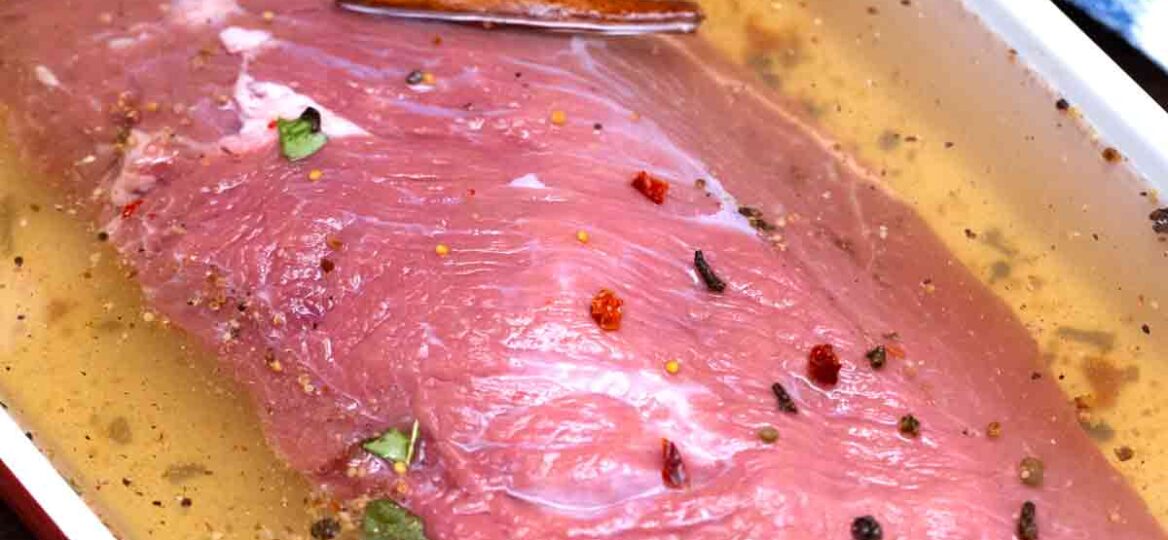 Homemade Corned Beef Brine [Video]
Homemade Corned Beef tastes even better than what you can get at the deli, and is easier to make than you think! It's amazing on sandwiches, with vegetables, in a breakfast hash, and more. All you need is the best brine recipe is you make your own.
Enjoy an Irish-inspired spread anytime, not just on St. Patrick's Day! This Lamb Stew, Irish Soda Bread, and Irish Coffee taste fantastic all year.
How to Make Brine for Corned Beef
Homemade Corned Beef is leagues away from anything you can buy at the grocery store or the deli. Ever noticed how store-bought ones often taste the same? My recipe yields flavor-packed brisket that basically melts in your mouth!
Don't be intimidated by the curing time. Once the meat is soaking in brine, flipping once a day is the only thing left to do. Honestly, the hardest part of this recipe is waiting to finally eat it! And once it's done, you'll have the tastiest corned brisket you've ever had in your life.
Terrific with on a crusty bread sandwich, sauteed with vegetables, in soups, and many more!
What is corned beef?
It's basically meat cured in salt. The dish begins by curing the brisket in salt and spices for several days, then slow-cooking until it's unbelievably tender.
The word "corn" comes from the big pieces of salt, as big as corn kernels, which was traditionally used for curing. This recipe was created to help preserve meat before the days of accessible refrigeration.
What cut do you use to make corned beef?
Brisket is the ideal cut for this cooking method. It's a tough but super flavorful part, which becomes tender throughout the brining or salt-curing process.
What do you need to homemade corned beef brine?
It's a basic brining solution made of water, about 300 grams of salt, brown sugar, and a dash of our homemade pickling spices. I also like throwing in half a stick of cinnamon for a boost of warm spice flavor.
How do you brine corned beef?
Chill the brine. Mix the brine ingredients. Bring to a boil so all the flavors get infused into the brining solution. Turn off heat and cool, then place in the fridge until it's very well-chilled.
Cure the brisket. Take a large container that can fit both the brisket and the brining solution. You can also use a 2-gallon bag for this. Place the meat in there, and cover with the brining liquid. Chill from 5 to 7 days. Flip once every day, so every part of the meat is cured evenly.
How long can you brine corned beef?
At most, you can soak the meat in brine for as long as 10 days. But for this recipe, which uses a smaller cut, 5 to 7 days is enough to infuse the meat with all the brine flavors and tenderize it.
Do you cook corned beef in brine?
No, you need to rinse it off before cooking. Don't worry about wasting all those flavors— they've already penetrated deep into the meat!
How do you cook corned beef?
Once the curing period is over, rinse off your brined brisket carefully. Pour an inch of water into the pot. Add about a tbsp of pickling spices before letting it boil. Next, reduce heat to a very low simmer. Leave the brisket to cook from 3 to 4 hrs. until it's tender enough to cut with a fork. At this point, it's done and ready to enjoy!
Recipe variations:
Simmer in beer: For a delicious twist, slow simmer it in some ginger beer or your favorite beers.
Use other cuts: Can't find brisket? Rump roast will do in a pinch!
Cook with veggies: Instead of just water, simmer the meat with chunks of carrots and potatoes for more flavor.
What to serve with corned beef?
It's phenomenal in these rye sandwiches with sauerkraut, zesty pickle relish, and melted Swiss cheese! Try subbing the turkey in this grilled cheese recipe with thin slices of brisket.
I also love serving it with cabbage for a fast and hearty weeknight meal. For breakfast, it's hard to beat it in a hash with the creamiest scrambled eggs. Want to try something new? Top a plate of creamy Fettucine alfredo with chunks or strips of the meat!
How to store:
Once it's completely cool, transfer to an air-tight container before placing in the fridge. It will stay fresh and delicious when consumed within 4 days or up to a week.
Can you freeze corned beef?
Yes! To freeze, make sure it's entirely cool first. You may also slice it for easier freezing and storage. Wrap in plastic tightly before placing it in a freezer-friendly container. Keep frozen for up to 3 mos.
To reheat, thaw and cook according to the recipe you're using.
More recipes:
Recipe tips:
Always slice carefully against the grain for maximum tenderness.
Do NOT skip brining for a few days as recommended! This is essential!
Deliciousness to your inbox
Enjoy weekly hand picked recipes and recommendations