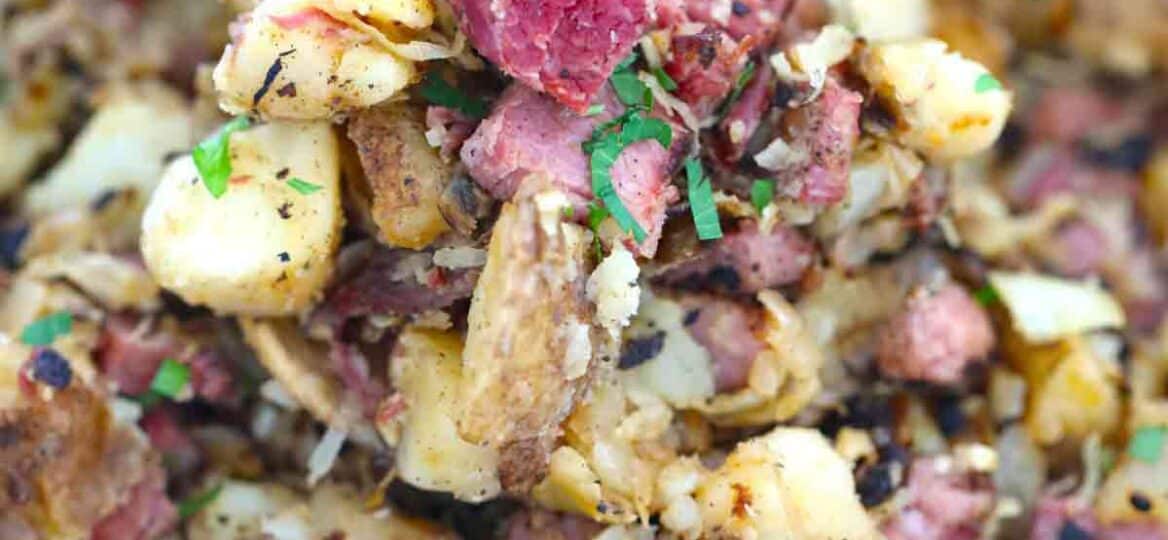 Corned Beef Hash is made with perfectly cooked leftover corned beef, crispy potatoes, onions and seasoned with herbs and spices. A delicious breakfast or brunch option that is filling enough to be served for dinner.
We are huge fans of corned beef in our household, we even have a recipe of how to make your own, and different cooking options, like this Slow Cooker version and the Instant Pot one. Choose what suits you best, in the end, the result will be outstanding anyway!
Corned Beef Breakfast Hash
What is Corned Beef?
It is a salt-cured beef brisket treated with large-grained rock salt, also called "corns" of salt. Sometimes, sugar and many other spices are also added to the marinade to make it more flavorful and appealing. Now, to make your own pickling spices and marinade, follow this recipe.
The method used to brine the beef brisket uses salted water or sodium nitrate mixture, which preserves the pink color of the meat.
What is Hash?
It is a culinary dish made of chopped meat, potatoes, and usually fried onions. Many times eggs or other veggies are added as well. The name is derived from French "hacher", meaning "to chop".
The dish was invented as a way to use up leftovers and was popular in the USA as early as the 1860s.
What is Corned Beef Hash Made of?
This is a classic breakfast or brunch dish, and a delicious way to use leftovers. Usually, it consists of chopped corned beef, potatoes, and onion. To make it more flavor and even better, here are the ingredients that you will need to prepare this recipe:
Cooked corned beef
Onion
Garlic
Boiled potatoes
Butter
Smoked paprika
Dried Italian herbs
Cayenne Pepper
Salt and Pepper
More Breakfast Recipes:
How to Make Corned Beef Hash Skillet?
Prepare the veggies: First, prepare the onion, garlic, and potatoes. Dice the onion, mince the garlic chop the potatoes into 1-inch cubes.
Saute the veggies: After that, start by melting the butter and cook the onion and garlic. Next, add the potatoes, and cook until crispy on the outside.
Add the meat: Now, add the chopped meat, the seasoning, and dried herbs. Afterwards, stir and cook until the meat is also crispy and fully warmed.
Serve: Finally, sprinkle some freshly chopped parsley on top and serve with eggs on the side and we also like to add a bit of sour cream.
Recipe Variations:
Bacon 🥓: It's well known that bacon makes everything better, and this recipe is NOT an exception. Instead of using butter, replace it with 6-8 slices of bacon. Cook it until crispy, after that set them aside. Cook the rest of the ingredients in the bacon grease and at the end serve topped with chopped bacon. The flavors will be so smoky and savory, that everyone will beg you for seconds.
Add more Veggies: Make this recipe healthier and heartier by adding in more veggies. When you cook the onion, feel free to add some chopped bell peppers, broccoli florets, zucchini, spinach, or kale. These will add a veggies boost to the meal!
Make it with Cabbage: Go for a full Irish take on this dish and saute some cabbage as well!
Make it with sweet potatoes: Replace the white potatoes with sweet potatoes, and serve the whole dish with some yogurt dressing on the side.
Add Ranch: Add a tablespoon of Ranch seasoning, even better if you add Ranch and bacon, it will make this recipe so incredibly good!
Try it with Taco Seasoning: If we are talking about different types of seasoning, add one tablespoon of taco seasoning and some chopped jalapenos for a Mexican twist. Serve it topped with salsa, avocado, and sour cream.
Mix in some eggs: For a heartier meal, mix in a few eggs at the end and stir until fully cooked!
Cheese is always a great addition: Cheese just like bacon makes everything better. Add some shredded cheese at the end and pop the skillet in the oven! We love using a good sharp cheddar, Dublin cheese, Gouda, or fontina.
How to Store Leftovers:
Since this is not a pretentious recipe if you are lucky enough to have leftovers, transfer them to an airtight container and store them in the fridge.
To reheat, just heat a skillet over medium-high heat, add some oil and saute the leftovers. If you are in a hurry, just microwave for a few minutes and serve.
To freeze it, just add the leftovers to a Ziploc freezer safe bag or a freezer-safe container and place in the freezer for 1-2 months. Defrost before reheating.
More Corned Beef Recipes:
Recipe Tips:
To make this recipe use cooked corneed beef, not raw.
Make sure to boil the potatoes before sauteeing.
To avoid dirtying another pan, I like to make a few nests in the corn beef hash and crack the eggs into them.
Not a fan of garlic and onion? Just skip it!!!
While this is a corned beef hash, we reccomend using any meat on hand. Italian sausage, grilled chicken, even leftover pot roast are delicious alternatives.