Sausage Breakfast Casserole [Video]
Breakfast Sausage Casserole is a hearty, healthy and filling breakfast, easily customized and that can be made in advance! Make this festive-looking dish with this easy recipe!
Eggs have always been a part of our diet and it is always a good thing to have it in the morning. For more egg recipes like this one, check out my recipes for Egg Foo Young, Pickled Eggs, and Asparagus Frittata!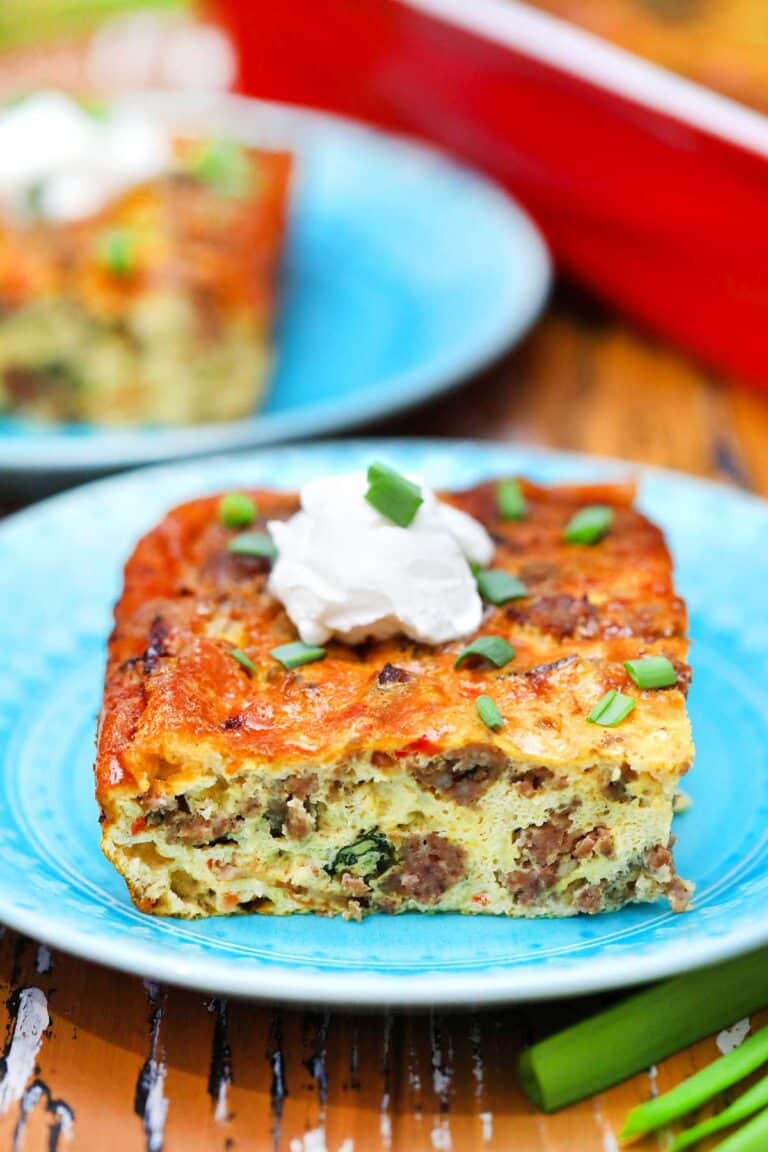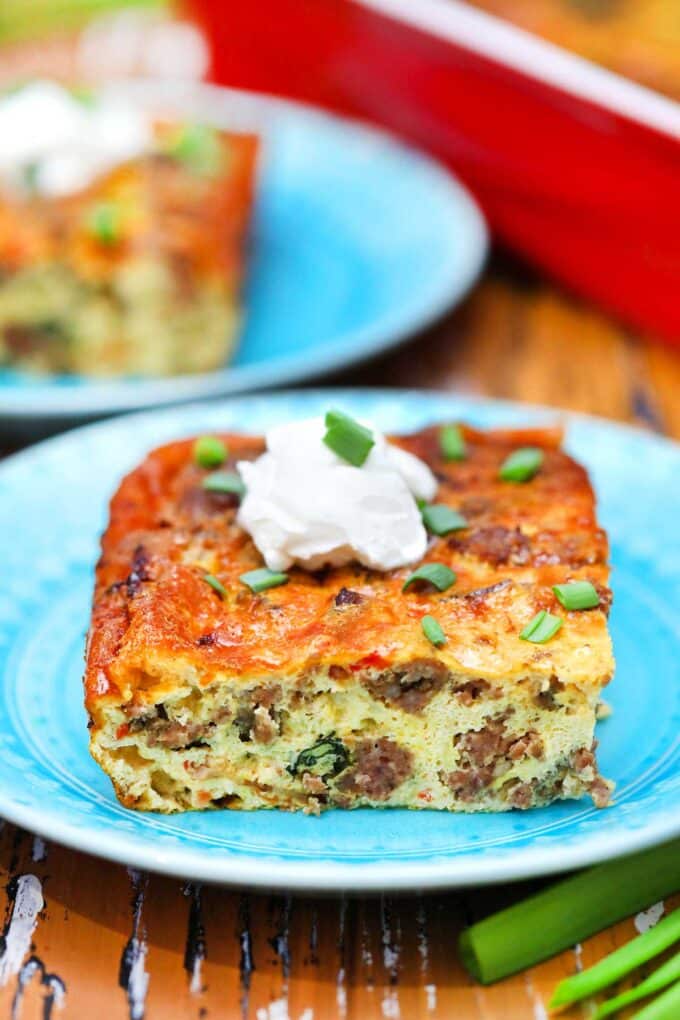 Sausage Breakfast Casserole
Breakfast Casserole is a hearty dish loaded with a variety of meats, veggies, and dairy with eggs as the base. It is as colorful as it is flavorful which is fit for the holidays!
This dish is so easy to make that you can start preparing it the night before and then, just pop it in the oven the next morning. And what is good about making casseroles is that it is an easy way to feed a huge group of people.
Even when it is an ordinary day, you can offer it to your family. It is so appetizing that they will not miss it for sure.
Breakfast, after all, is important for our health and studies have linked it to numerous benefits. With this recipe, you ensure that everyone starts their day right!
How to make Sausage Breakfast Casserole?
Prepare for baking: Preheat the oven and grease the pan.
Make the egg mixture: Using an electric mixer set on low, combine the eggs and dairy ingredients in a large bowl. Season with salt and pepper.
Prepare the sausage mixture: In a skillet, sauté the aromatics then, add in the sausage. Drain any excess grease that may form in the pan. Then, add in the vegetables.
Assemble: Add the sausage mixture to the egg mixture then, add the bacon. Stir everything.
Bake: Pour the mixture into the pan and bake for about 35 to 50 minutes.
Serve: Garnish and then, serve warm.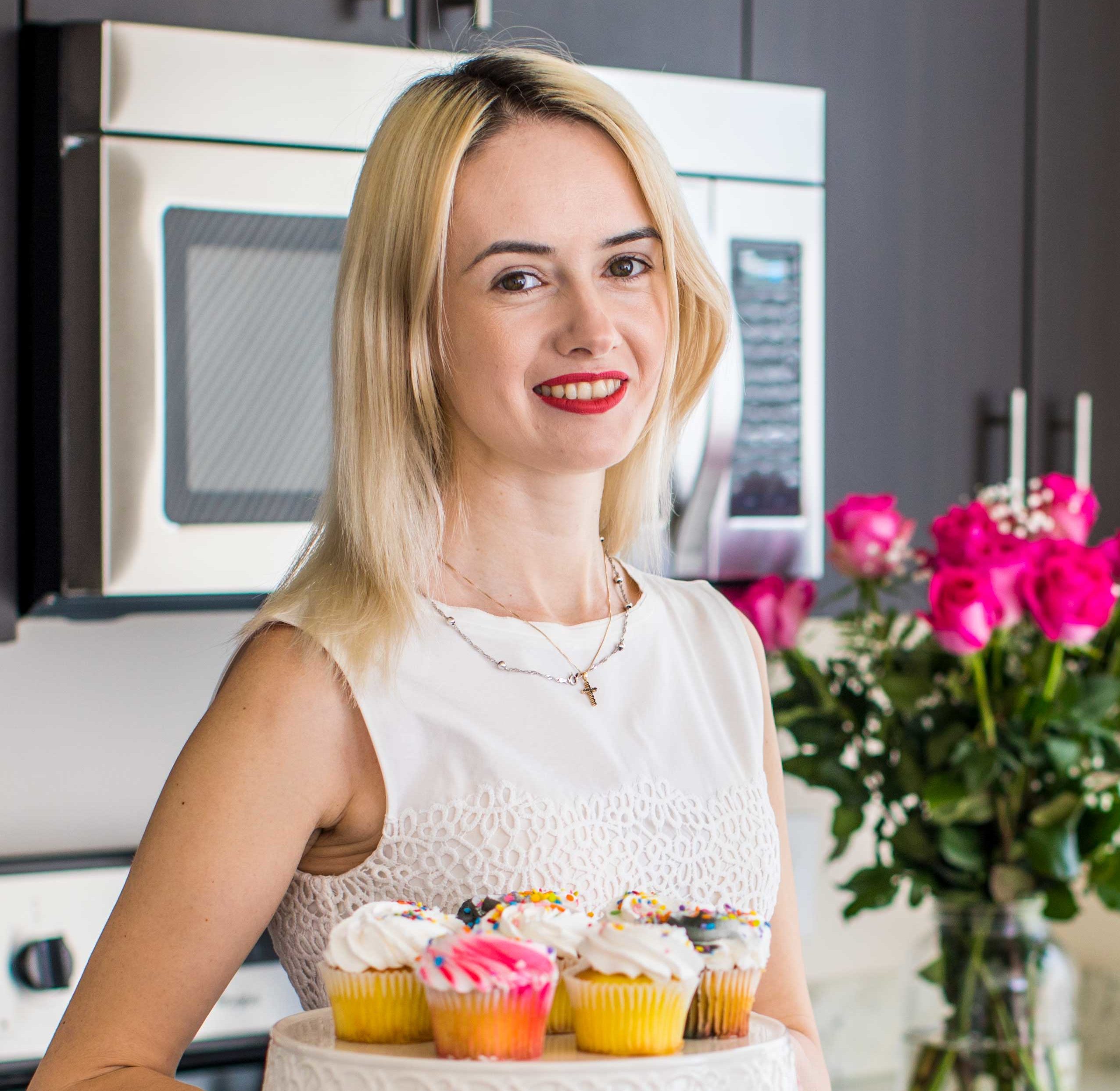 Follow us on Pinterest for more delicious recipes!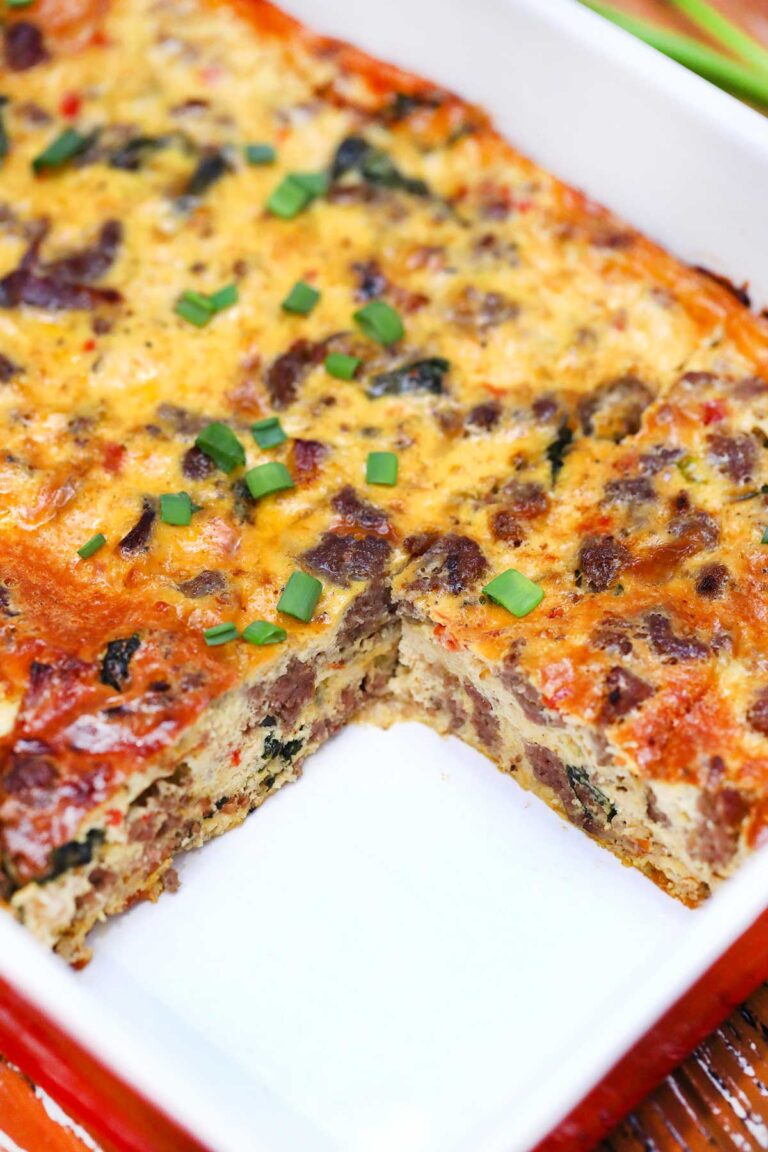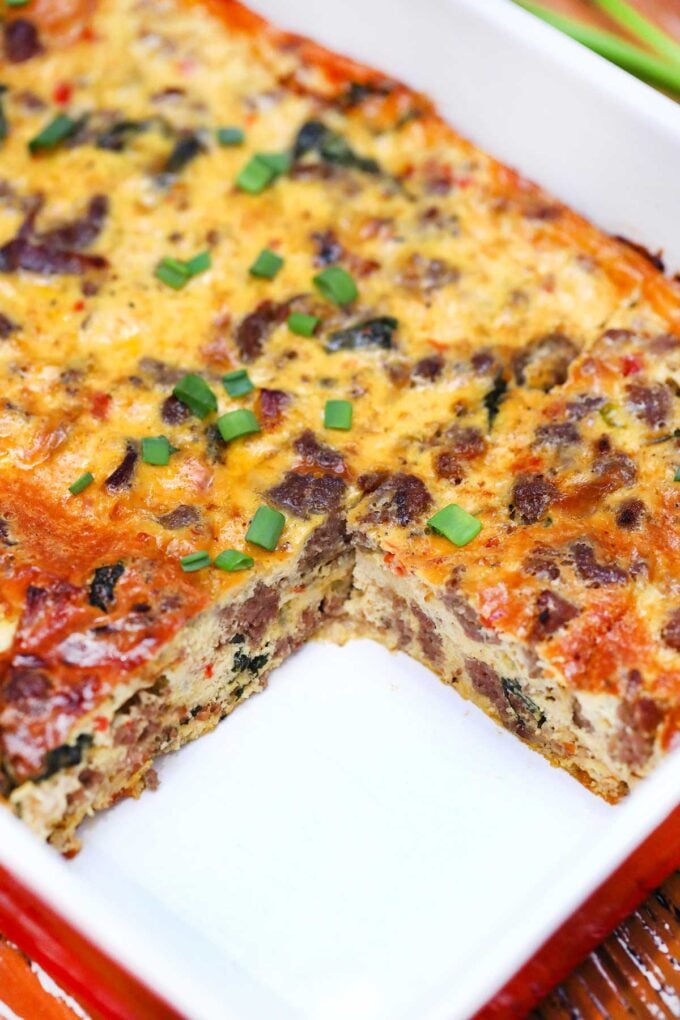 How to make overnight Breakfast Casserole
You can easily turn this into a heartier dish by adding in bread cubes. Follow these simple steps:
Prepare the bread cubes: Cut slices of bread into cubes the night before and refrigerate them. Drying them out in the oven works, too.
Make the wet mixture: Use the same egg and sausage mixtures in this recipe.
Assemble: Combine the mixtures and fold in the bread cubes. Pour evenly on the pan, and then, cover and refrigerate overnight.
Bake: The next day, the bread must have soaked up all the moisture and it is then ready for baking. Let it sit at room temperature first for a few minutes before baking. It will take longer to bake than when there is no bread added.
Serve: Garnish and serve as usual.
What can I add to Breakfast Casserole?
This recipe is highly versatile, and you can mix in any vegetables or meat that you want. Add in ham, ground beef, or even leftover rotisserie chicken and that will be perfect. You can also add in mushrooms, potatoes, or artichokes.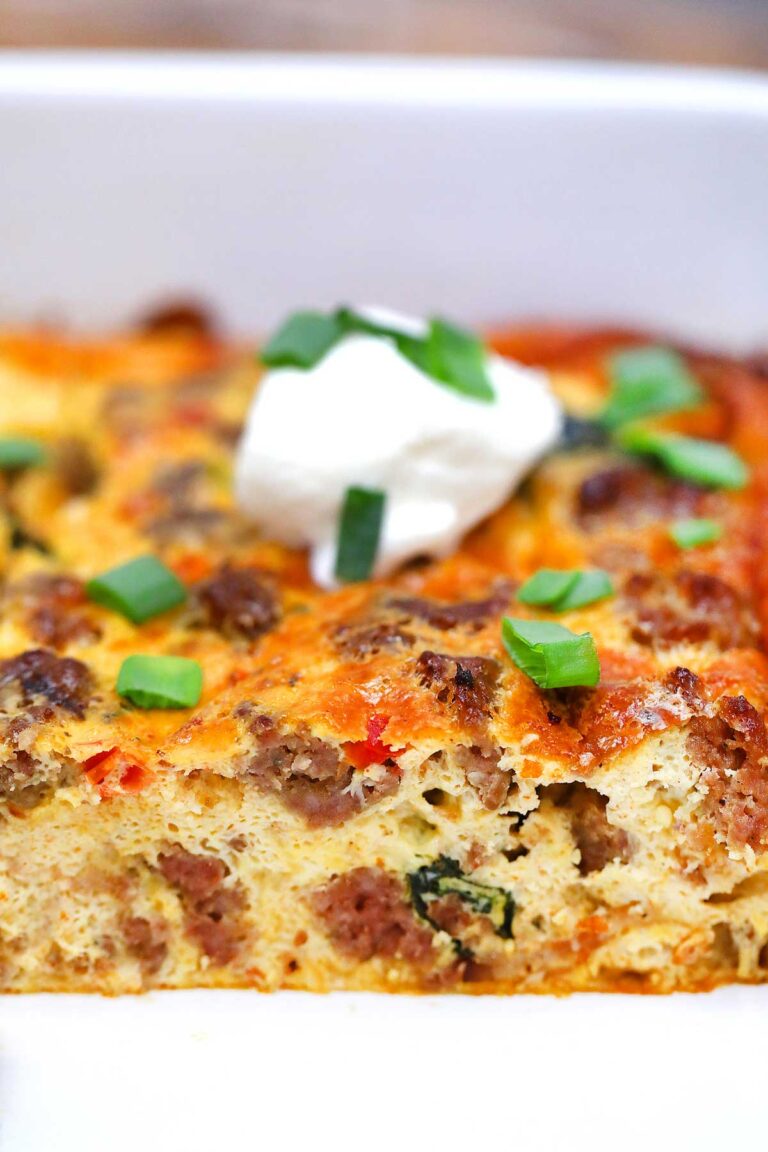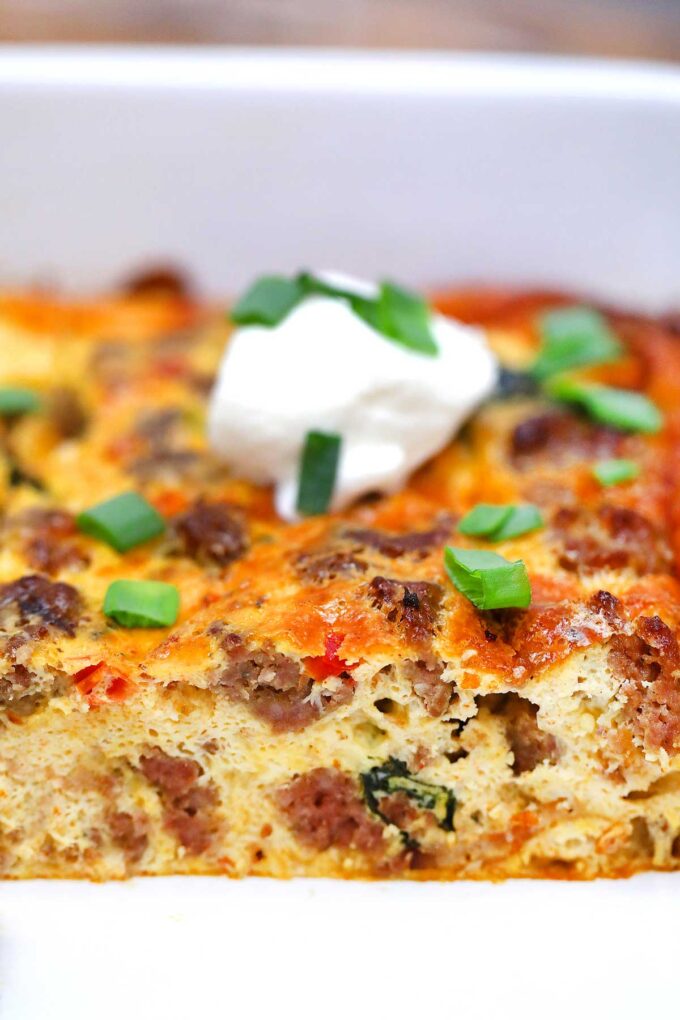 How to Store and Freeze Breakfast Casserole?
Refrigerate: You can simply cover leftovers tightly and store them in the fridge for no more than 5 days. Reheat it in the microwave oven.
Freeze: Baked or unbaked, this dish can stay good for up to 2 months in the freezer. It is a good make-ahead dish as you can simply thaw overnight and then, bake to cook. Simply cover it with a plastic wrap and another layer of foil.
More delicious breakfast recipes: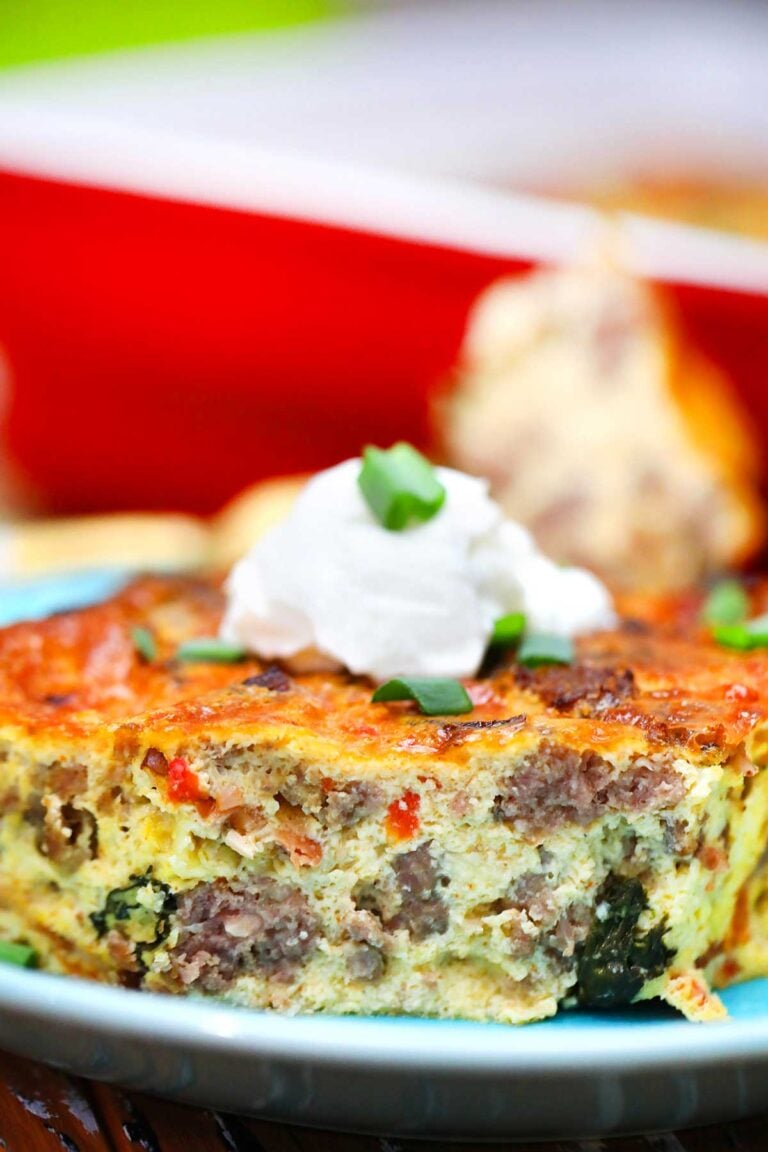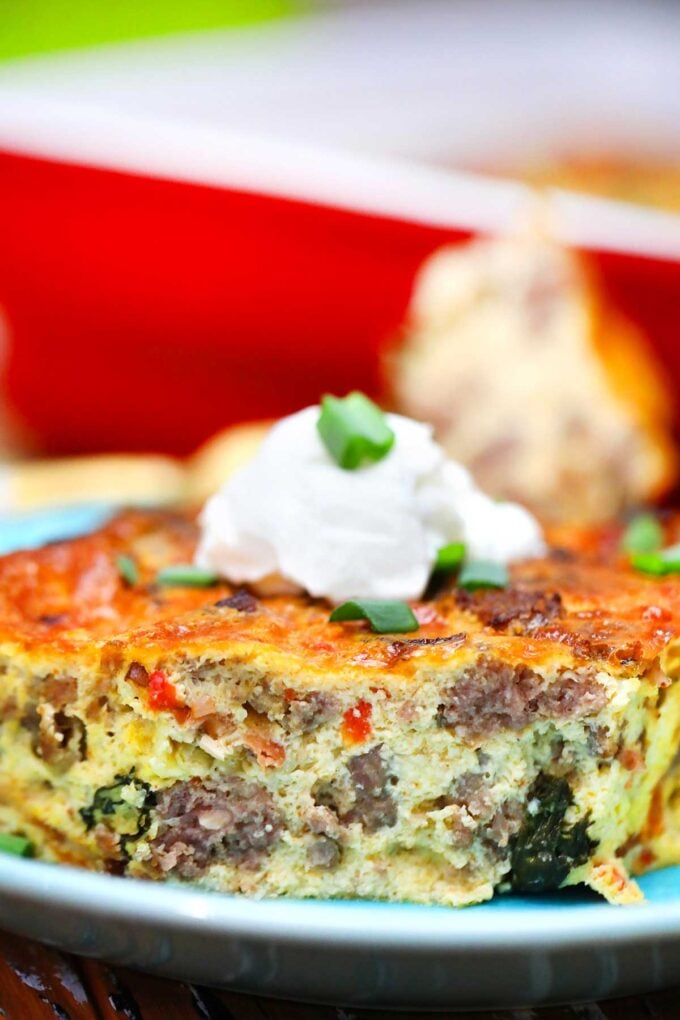 Recipe Tips:
You can leave out any meat and just add more of the veggies.
For the meat, the only recommendation is to add it in cooked already just like what we did in this recipe.
If you are adding in bread, the best kinds are the stale ones as they are dry already and more effective in soaking up the liquid.
Save Recipe
Sausage Breakfast Casserole
Breakfast Casserole made with sausage, bacon, and cheese is a hearty, healthy and filling breakfast, easily customized and that can be made in advance!
Author: Catalina Castravet
Serves: 9 servings
Prep time:

30

minutes
Cook time:

45

minutes
Total time:

1

hr

15

mins
Nutrition information
Calories: 682 Carbohydrates: 5 Protein: 35 Fat: 57 Saturated Fat: 23 Cholesterol: 341 Sodium: 1115 Potassium: 563 Fiber: 1 Sugar: 2 Vitamin A: 1577 Vitamin C: 18 Calcium: 248 Iron: 3
Save Recipe
More recipes you might love
Categories: