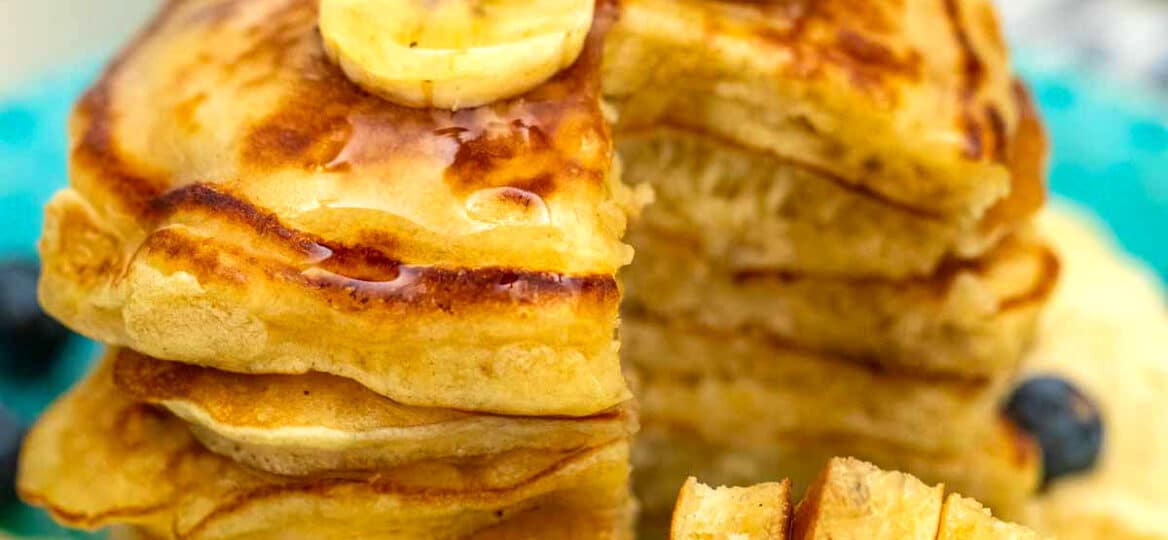 Best Banana Pancakes [Video]
Banana Pancakes are unbelievably fluffy, buttery, and infused with delicate banana flavor. Serve these golden stacks drizzled with maple syrup and topped with fresh fruits!
Want to treat your family and guests to an impressive breakfast spread? Serve these with my creamy Scrambled Eggs, crispy Hash Browns, and hearty Sausage Breakfast Casserole. Here's a secret: I love serving these for brunch or breakfast-for-dinner too!
Fluffy Banana Pancakes Recipe
Banana pancakes are one of those foods that take me right back to my childhood. There's something so nostalgic about waking up to these delicious pancakes, perhaps bacon and eggs, and a cold glass of milk or orange juice.
I love sharing that magic with my family and friends, and this recipe is a favorite in my home.
The best part of this recipe is how effortless it is to make from scratch. You can even use this recipe for breakfast meal prep so you can have a healthy, yummy breakfast all week long!
What are the best bananas to use for pancakes?
I like using small, overripe ones for this recipe. Don't be put off by that brown peel – that's a natural process, and it doesn't affect the fruit itself. I find that overripe ones have the perfect level of sweetness, and the texture keeps this recipe moist.
So if you have a bunch that is starting to turn brown, don't throw them away. Turn them into the best breakfast ever!
How to mash bananas?
You can use a fork to mash them until they are almost smooth. Try not to overdo it, as those bits add some lovely texture to these pancakes.
How to make Banana Pancakes from scratch?
Prepare the flour mix. Measure out the dry ingredients and whisk together.
Prepare the wet mixture. Mash the fruit and whisk with the wet ingredients.
Combine the batter.

Fold gently until you achieve a lumpy and thick texture.
Cook. Cook the pancakes on a hot griddle until golden. Finish cooking the remaining batter.
Serve. Serve pancakes immediately with butter, maple syrup, and slices of fresh fruits if desired. Feel free to add your desired toppings and mix-ins.
Why are my pancakes not fluffy?
Overmixing is a common reason why pancakes fail to turn out fluffy.
You want a thick and lumpy batter, so stop mixing you get that texture. Also, make sure the griddle is hot enough!
Best way to serve pancakes:
This recipe is already an awesome twist on the ordinary version.
However, the delicate taste of this fruit also goes well with other add-ons. You may add a handful of blackberries, raspberries, or blueberries just before flipping. For a nice crunch, throw in some walnuts or granola. Add some chocolate chips and swirl in some peanut butter or jam.
Top it with honey, my Homemade Blueberry Sauce, and whipped cream! You can even let your guests mix and match their perfect combos by laying out a variety of toppings!
How to store:
Cool the leftovers completely.
Stack pancakes together, separating the pieces with wax paper.
Enclose the stack tightly foil before storing inside the freezer.
Reheat by baking in the oven until hot.
How to freeze:
These pancakes are incredibly freezer-friendly.
Just follow the storage instructions above, and you can freeze them for up to three months. Thaw and reheat as needed.
More Delicious Banana Desserts:
Recipe Tips:
Use small, brown bananas.
Do not overmix the batter. Go for a thick and lumpy texture.
If cooking for a crowd, keep the cooked ones in the oven to keep them warm while you finish cooking the rest.