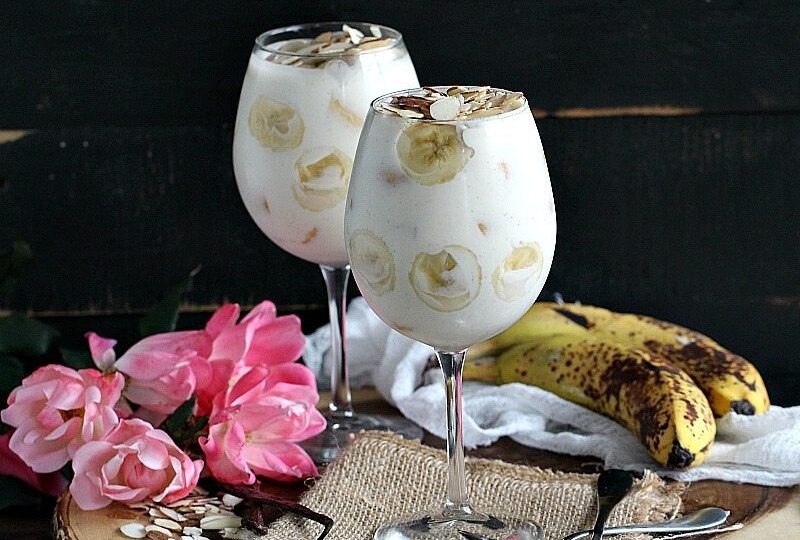 Butterscotch Banana Trifle – No Bake
Butterscotch Banana Trifle is served in individual glasses and topped with sliced almonds for a chewy and nutty finish.
I am a huge trifles fan, as I believe these are the most easy and yet stunning desserts. Everyone can make one, the flavor combos are endless, they can be ready in minutes and all those layers look unbelievably good. I have quiet a few on the blog, from delicious Brownie Trifle Pudding, Coconut Tiramisu Trifles and Roasted Butternut Squash Trifles.
Butterscotch Banana Trifle
Butterscotch Banana Trifle is made with vanilla beans, butterscotch pudding, fresh bananas and wafers, and placed in individual glasses. I went for a good old banana butterscotch flavor. As you know, you can't beat the classic, if its not broken don't fix it, just improve it. To improve it, I added vanilla bean seeds, for a luxurious vanilla flavor. Then, I topped the trifles with sliced almonds for a crunchy, chewy finish.
This Butterscotch Banana Trifle is luxurious, creamy, fragrant and delicious. In addition, the banana, vanilla and butterscotch create a harmony of flavors, the texture is perfect with the chewy, nutty finish.
Pin This Butterscotch Banana Trifle Recipe to your Favorite Board
Why You'll Love This Butterscotch Banana Trifle:
Firstly, it is rich in banana flavor and moist, this is a show stopper dessert.
In addition, it is easy to find ingredients and minimum prep work and dishes to clean.
Perfect for brunch parties and for bigger crowds.
Also, it can be made 1 day in advance so you don't have to worry about a last minute dessert.
Lastly, it can be served with variation of topping such as shaved almonds, pistachios, blueberries, raspberry.
What is a Trifle desert?
Trifle in English cuisine is a dessert made with fruit, an a layer of finger or brownies and custard. It can be topped with whipped cream.
How long does the Trifle take to set?
It is best for trifle to settle for 6-8 hours in the refrigerator before serving. Hence, plan for some extra time for refrigeration.
Can you store the Trifle?
Leftover trifle can be stored, loosely covered in the fridge, for up to 3 days, after which it will still be edible but the trifle will be very soggy and the cream will become looser, soaking up the whipped cream and syrup. Best to eat the trifle within 2-3 days.
Can you freeze the Trifle?
Freezing the trifle is not recommended, as the cream wouldn't freeze well, and upon defrosting it will become watery.