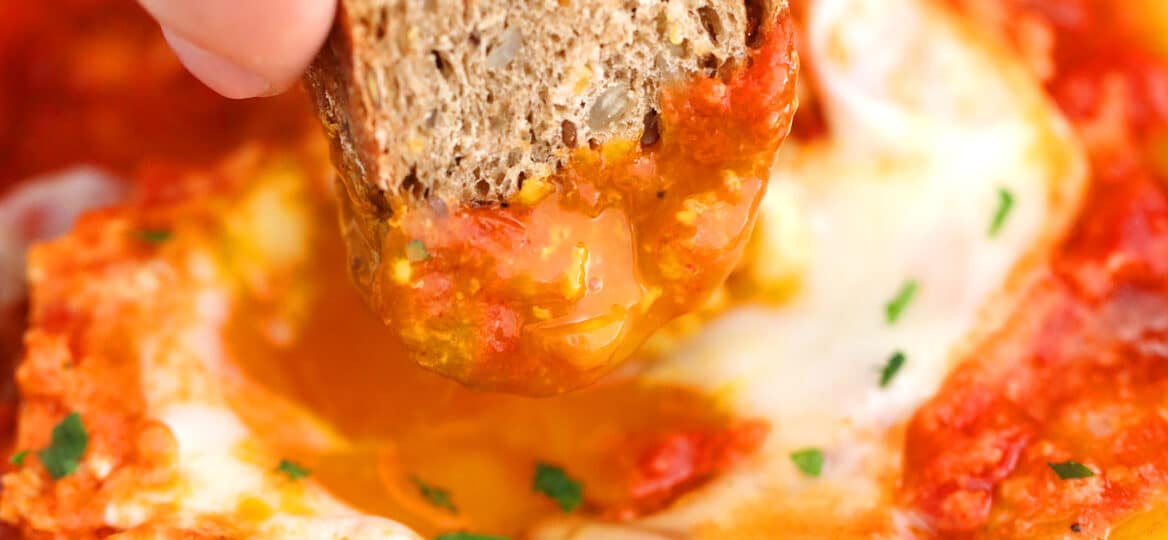 Easy Shakshuka Recipe [Video]
Shakshuka is a festive dish that has eggs on a bed of tomatoes! If you are bored with the usual egg recipes, then, try this quick and easy recipe!
If you are in search of Mediterranean dishes, then, you will enjoy this dish! Check out our other recipes like the Couscous Salad, Tabbouleh, and Hummus!
Best Shakshuka Recipe
Shakshuka is not your ordinary egg recipe. It has all the right colors that make an appetizing breakfast item. And it has all the right flavors, too!
Aside from the eggs, this dish also has a sauce that is to die for! The sauce is a rich blend of whole plum tomatoes and tomato paste. Also, a mixture of easy-to-find herbs and spices season the whole dish.
I cannot stress enough how easy it is to prepare this dish. You get to enjoy all the flavors and colors of this Mediterranean dish in less than an hour. And, you only need one pan! It is that easy!
What is baked Shakshuka?
It is a dish that is popular in the Middle East but is something that probably originated in North Africa. Eggs, tomatoes, and various herbs and spices make up this flavorful and colorful dish. You can serve it for breakfast or brunch. It's also great for lunch and dinner.
In this dish, the tomato sauce is sautéed, and then, topped with eggs. In some recipes, the eggs are poached. But in this recipe, you simply crack them open, put them on top, and then, cooked.
This recipe calls for baking to finish this off, but you can also opt to finish the whole thing on the stove. However, it may not be as quick as it could be if not baked.
Is Shakshuka healthy?
Yes! You get fiber, vitamins, and nutrients from the sauce. It has bell peppers and tomatoes which are healthy on their own.
And, you get protein from the eggs. The overall dish is paleo-friendly except for the addition of the feta cheese. Nevertheless, this is a low-carb food.
How do you make Shakshuka?
Feel free to watch the recipe video tutorial attached above. But the general steps are as follows:
Preheat the oven: Set it to 375 degrees.
Make the sauce: In a skillet, sauté the onions and bell pepper in the olive oil. Then, add garlic and season with cumin, paprika, and cayenne. After a minute, mix in the tomato paste and then, the tomatoes. Let the sauce simmer and thicken.
Bake: Crack the eggs and put them on top of the sauce. Season with salt and pepper. Then, sprinkle feta cheese. Put the skillet in the oven and cook for 7 to 10 minutes.
Serve: Garnish with cilantro before serving it with hot sauce.
IS SHAKSHUKA SPICY?
Shakshuka is usually made with common spices, such as paprika, cumin, and chili powder, along with fresh garlic. It is considered a mildly spicy dish, but you can obviously adjust it based on your tolerance.
What goes well with Shakshuka:
You can serve it with pita bread, tortillas, or any kind of bread for that matter. It makes for a great sandwich, too.
You can also serve it with a salad of your choice, or, with hummus, which is also a Mediterranean dish.
How to store it:
Refrigerate: It is best to store the sauce apart from the eggs. Simply let the whole thing cool down completely and then, transfer it to an airtight container. Keep it in the fridge for about 3 to 4 days.
Freeze: The sauce can be frozen well for up to 3 months. Remember to cool it down first before freezing.
Reheat: To reheat, allow the sauce to thaw for up to 24 hours in the fridge. Simply reheat in a skillet and then, add fresh eggs then, bake. If the sauce looks too thick, then, add a tiny bit of water.
Looking for more Egg and breakfast dishes?
Recipe Tips:
This recipe is extremely versatile. You can add more vegetables like potatoes, eggplant, more peppers, or greens like spinach and kale.
The eggs should jiggle a bit if you shimmy the pan. This is the perfect time to remove the dish from the oven. Also, remember the eggs continue to cook from the residual heat. So, you want to time it for the perfect Shakshuka.
You can also add more protein by mixing in chorizo or sausage.
Feel free to tweak the ratio of the spices according to your preference.