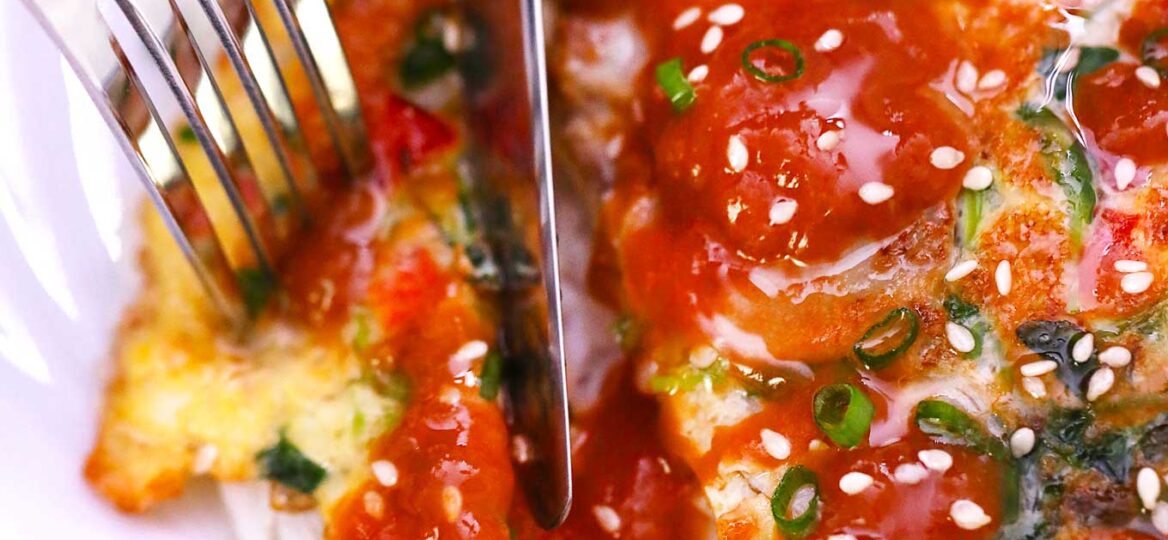 How to Make Egg Foo Young [Video]
Egg Foo Young is a delectable Chinese-inspired dish made with eggs, vegetables, and sometimes meat paired with a sauce. Make a homemade version with this easy recipe!
If you are craving some Chinese dishes, then, this recipe is perfect for you! Try this with our other easy oriental recipes like the Szechuan Chicken, Sweet and Sour Pork, and Moo Goo Gai Pan!
Egg Foo Young Recipe
Egg Foo Young is perfect for a quick weeknight dinner or filling breakfast! It is just an omelet made the Chinese way – with the addition of soy sauce, oyster sauce, rice vinegar, and sesame oil. With these flavors, expect nothing but a savory ensemble!
It may be a popular Chinese takeout, but you can make it at home! This recipe is a great way to utilize those leftover veggies and meat you still have in the fridge.
You will be able to control the ingredients and save money at the same time. Hence, not only will you be able to cook a hearty dinner, but you will also minimize your food wastage.
What is egg foo young?
It is made with beaten egg filled with vegetables and often meat, and then, fried in an oiled pan. Pretty much like the French omelet that we are familiar with. But this dish has a gravy that the French omelet does not have.
It is one of the healthiest Chinese-inspired dishes out there as it has fiber from the vegetables and protein from the egg. The calories range from about 300 to 450, depending on what you filled it with.
The downfall is the high sodium content of the gravy and so, you may opt for the low-sodium soy sauce to lessen this impact.
Also, since this dish is fried, limit the oil that you will use – just enough so that the mixture will not stick to the pan.
What is egg foo young gravy made of?
The Chinese flavors in this dish are in its gravy. In this recipe, we prepare the gravy with the following ingredients:
soy sauce
oyster sauce
rice vinegar
chili sauce
sesame oil
cornstarch or cornflour
water
How to make egg foo young?
Make the gravy: Whisk the ingredients in a bowl. Then, put it in a saucepan and let it simmer to slightly thicken it. Keep warm.
Prepare the egg mixture: Lightly beat the eggs in a bowl and add in the vegetables. In this recipe, we use mushrooms, bell peppers, and bean sprouts.
Cook: Saute onions and garlic in heated vegetable oil with a drizzle of sesame oil. Then, put a portion of the egg mixture, making sure that it forms a round shape. Flip to cook both sides.
Serve: Pour over the gravy on the omelet. Garnish with sesame seeds and chopped green onions.
Variations:
You can tweak the recipe by adding the following suggested ingredients:
Vegetables – peas, bamboo shoots, water chestnuts, carrots, cabbage, peppers, spinach, eggplant, scallions
Meat – fish, shrimp, chicken, ground beef, ground pork, ham, barbecue
For the vegetables, thin slices of carrots or strips of cabbage (or other greens) can be added raw. But the rest of the vegetables may require pre-cooking to soften them up like the eggplant and peppers.
For the meat, cook it first as it requires a longer cooking time than the egg. We like using shrimp, chicken or pork bites.
More delicious breakfast recipes:
Recipe Tips:
Replace the soy sauce with tamari for a gluten-free version.
The rice vinegar can be replaced with mirin or dry sherry.
You can add strips of jalapeno pepper if you want to add heat.
To make it fluffier, fry it in more oil to cover the pan and at a higher temperature. The heat will make the eggs bubble up resulting in more fluffy omelets. Or, add a bit of flour.
You can keep this refrigerated and reheat within 3 days.
You can reheat it in the microwave for about a minute. Or, heat it in the pan for about 5 minutes.
Deliciousness to your inbox
Enjoy weekly hand picked recipes and recommendations