Mongolian Chicken is crispy chicken coated in a flavorful brown sugar sauce! This Chinese-inspired dish is quick and simple to make, but with restaurant-quality taste!
If you are looking for a stir fry recipe, try our recipe for Hunan Beef. Or, do you need an Asian-inspired sauce to go with your dish? Try our recipe for Peanut Sauce! Or, if you are looking into making a steak, then, try our Asian Steak Marinade recipe! We've got you covered for anything Asian!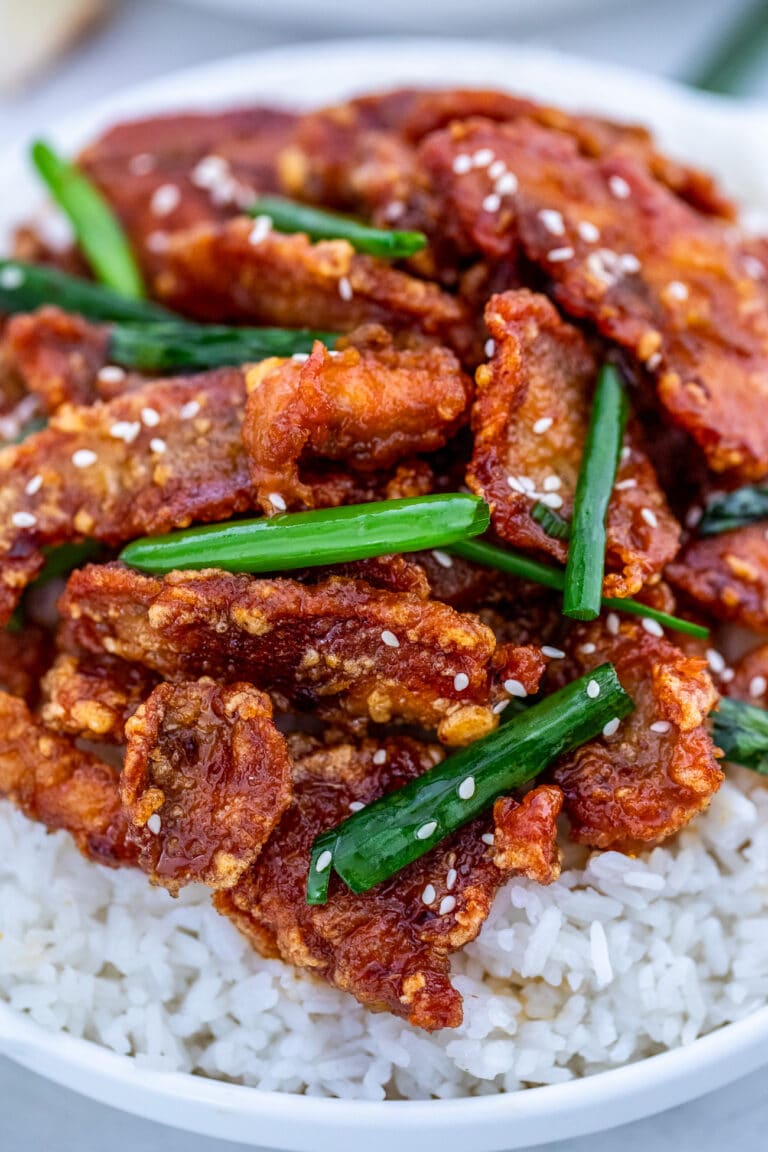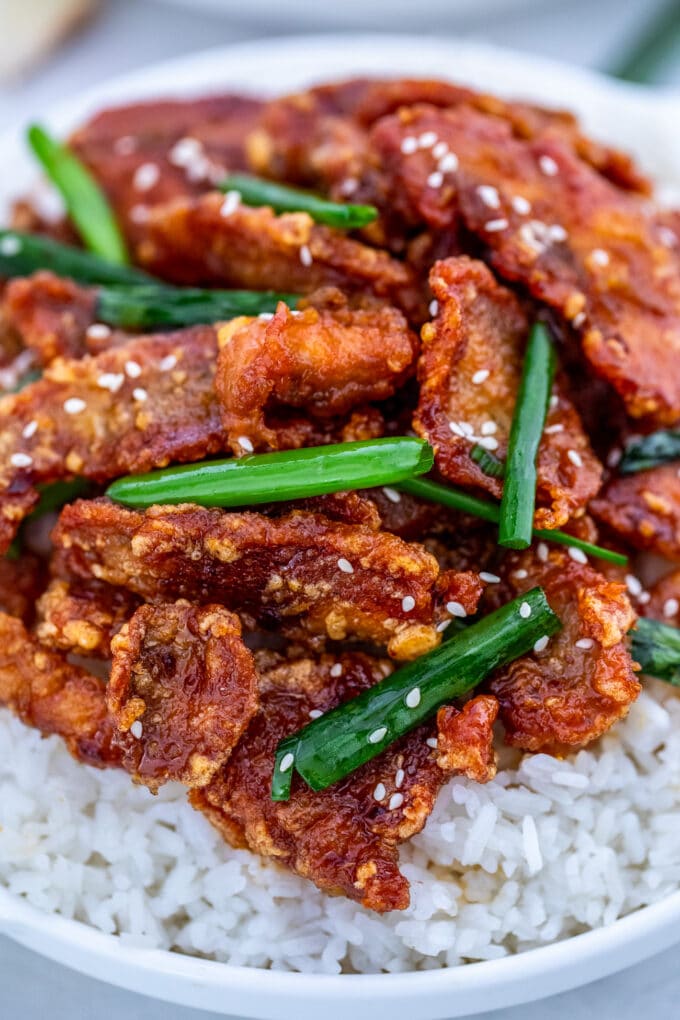 Every time I go to the local Chinese restaurant, I order Crispy Mongolian Chicken. It is one of my favorite stir-fried dishes that I just cannot resist. Being a chef, I decided to make it at home, and since then it's been on our constant rotation menu.
To be honest, this meal is very similar to my go-to Mongolian Beef but made with chicken breasts instead. Made with crispy chicken strips, this dish will surely capture your heart!
Aside from the crispy meat, the sweet and savory sauce is divine! It is sweet but savory; salty but sour at the same time. The play of all these flavors is something unforgettable about it and makes it quite interesting.
This is not an authentic Chinese recipe, by the way. But this has long served to be an American favorite dish for the very reason that we love sweet sauces. With this recipe, you will no longer have to line up at P.F. Chang's!
Ingredients Needed:
Chicken breasts: I use lean and boneless chicken breasts here. However, you can easily use chicken thighs instead. Just go with what you love the most.
Cornstarch: it firms up the meat, and makes it extra crispy on the outside while tender and juicy inside.
Vegetable oil
Green onion: to garnish the dish.
Mongolian Sauce ingredients:
soy sauce
dark brown sugar
rice vinegar
water
garlic
ginger
red pepper flakes
vegetable oil
How do you make Mongolian Chicken?
Prepare the meat: Slice the breasts into one- to two-inch strips and place the slices in a bowl. Then, add cornstarch to coat each piece.
Fry: Heat up a cup of vegetable oil in a pan over medium-high heat. Once hot, brown the meat. This will take about one to two minutes. Stir until everything is golden, and then, transfer into a plate lined with paper towels. This is to absorb any excess oil.
Make the sauce: Over low to medium heat, heat up oil, and sauté the aromatics. After about 30 seconds, add in the rest of the ingredients. Continue to cook until it becomes thick around the 5- to 10-minute mark.
Add sauce: Remove the excess oil from the pan, then, put the meat back in. Stir in the sauce and wait until it thickens. This will take about two to three minutes. Then, add in the green onions.
Serve: Garnish with some sesame seeds if you like, then, serve with white or brown rice.
Recipe Variations:
Meat: Make it easily with other meats, such as beef, pork, or even shrimp.
Instant Pot: Check out the Instant Pot Mongolian Chicken Recipe here. It is equally delicious and made quickly in the pressure cooker.
Oven-Baked: For a healthier take, feel free to make it in the oven.
Vegetarian: To make it vegetarian, replace the meat with firm tofu.
Veggies: Feel free to add extra vegetables to it. Some great additions would be sliced carrots, bok choy, zucchini, mushrooms, red peppers, green peas.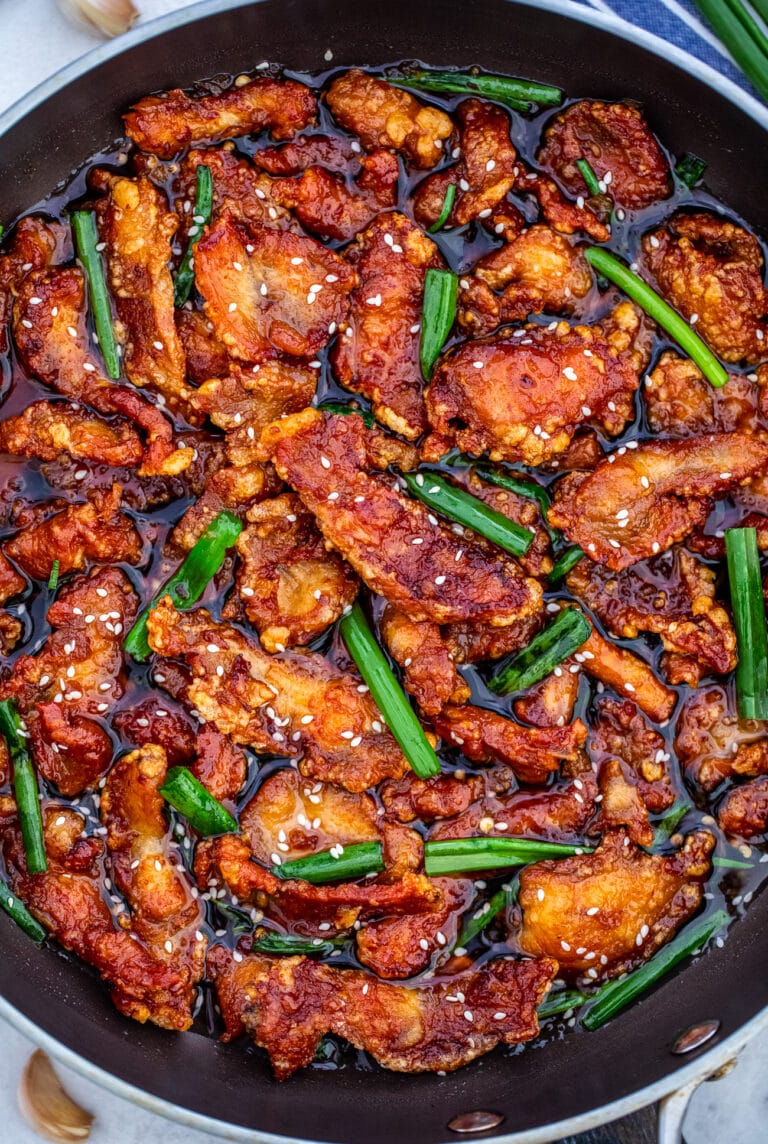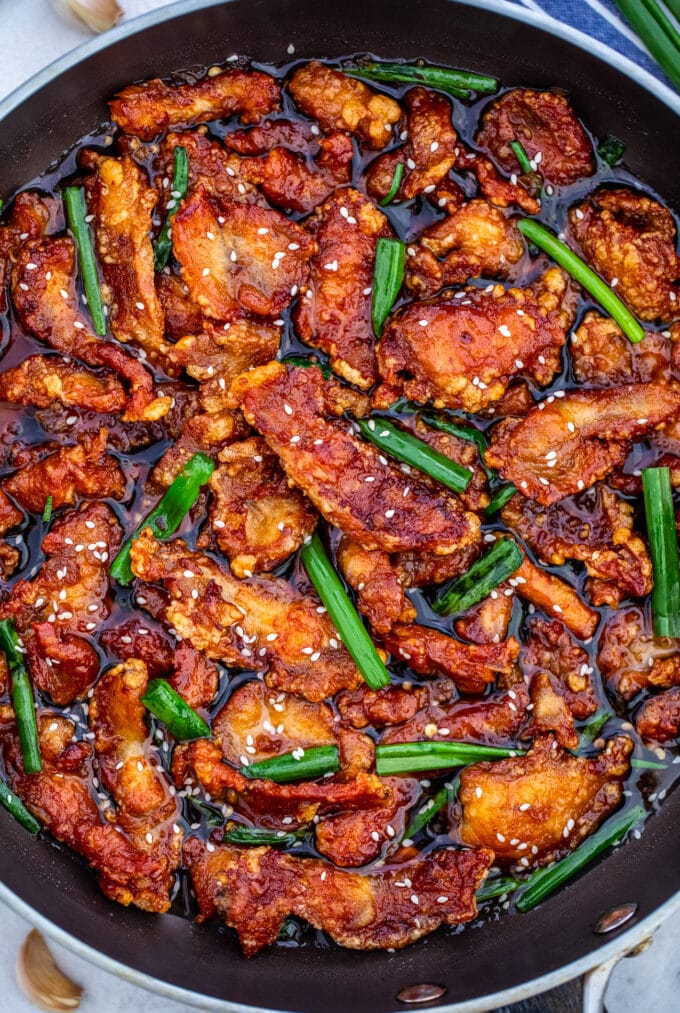 Frequently Asked Questions:
What is Mongolian Chicken?
It makes use of white meat fried to crispy perfection and drowned in a thick sauce mainly comprised of soy sauce and dark brown sugar.
It takes after the Mongolian Beef dish which is usually made from strips of flank steak. But if you are trying to avoid beef, then, this recipe may be ideal for you. It is a delicious way to use some chicken meat.
Why is it called Mongolian Chicken?
This recipe is nowhere near the original and traditional Mongolian cuisine. But, when it was first introduced in Taiwan, the people likened this dish to the Mongolian barbecue which was also served there.
Guess what, Mongolian barbecue is also not a traditional dish. It was invented in the 1950s and is a dish where meat and vegetables are stir-fried – pretty much the same with our Mongolian Chicken here.
Is Mongolian Chicken bad for you?
Basically, anything fried and has high sugar and fat can be bad for you. But this recipe is also a good source of protein. So, it is best to eat this in moderation.
Also, if there is anything that you need to deal with this, it is the balance in your meal. Pair it with veggies and rice or if you prefer, you can eat it with the healthier quinoa for more protein.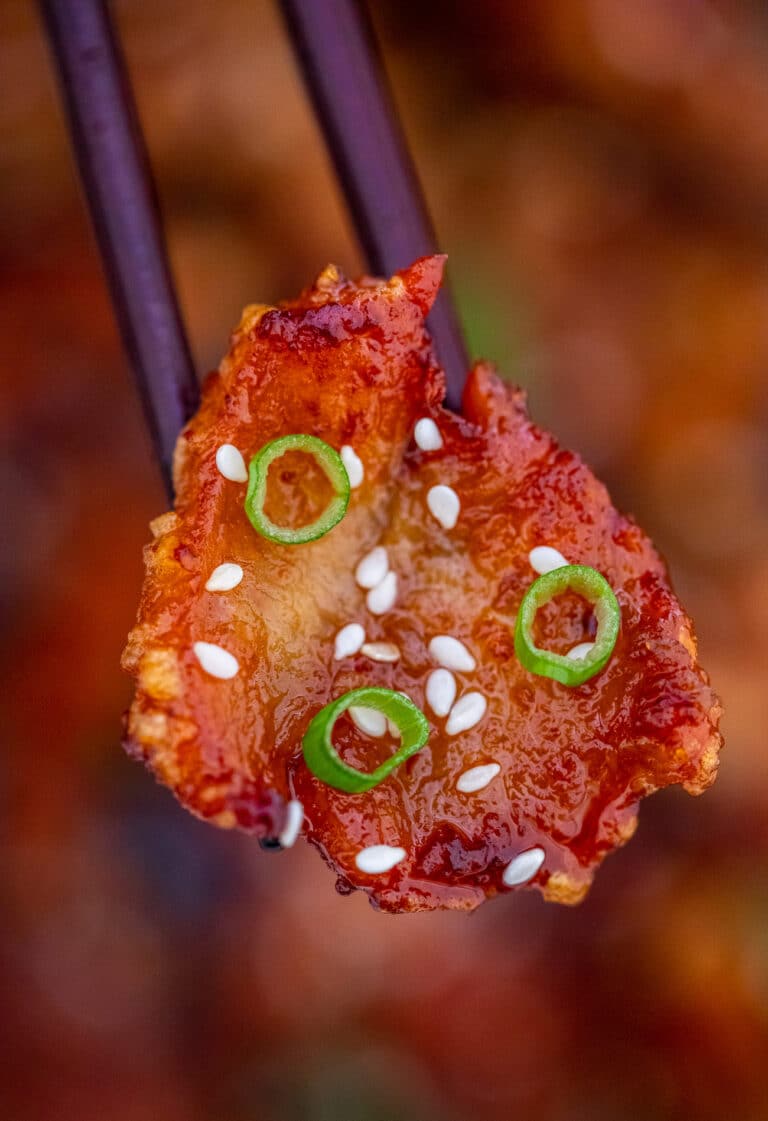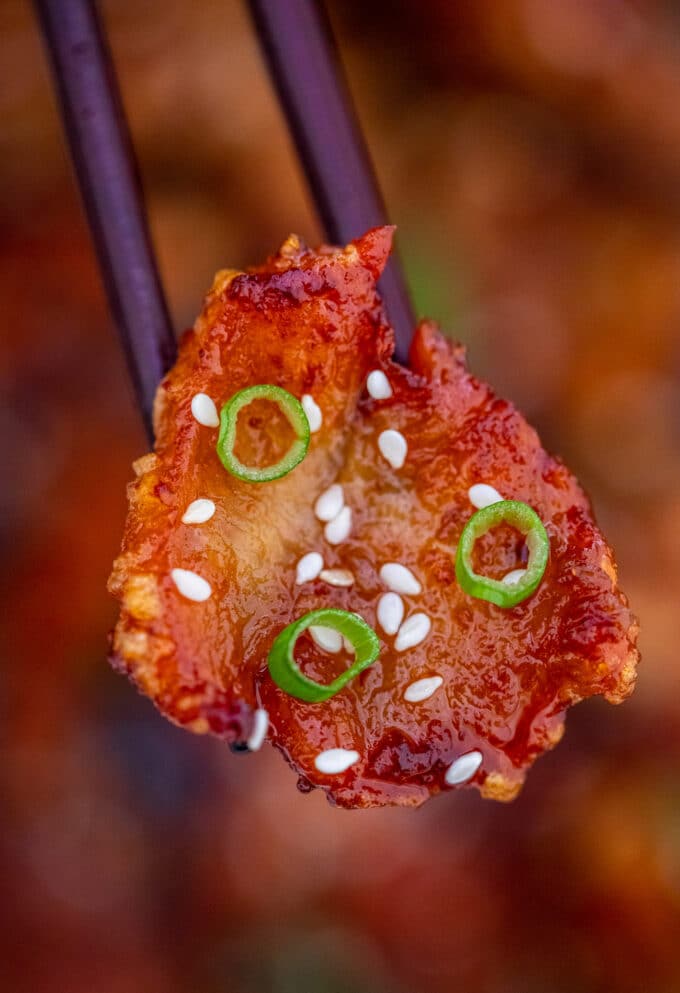 How do you make crispy fried chicken?
Let the following guide you on this:
Use oil that can withstand high temperatures.
The oil temperature must be within the 300 to 350 degrees range to ensure crispiness.
Do not overcrowd the pan so as not to decrease the temperature abruptly.
Cornstarch is the key ingredient. You can add in a little bit of flour though.
How to serve this dish?
The best way to serve this dish is with rice, such as white rice, coconut rice, brown rice, or dirty rice.
You can also serve with noodles, or vegetables, such as steamed broccoli, or roasted bok choy.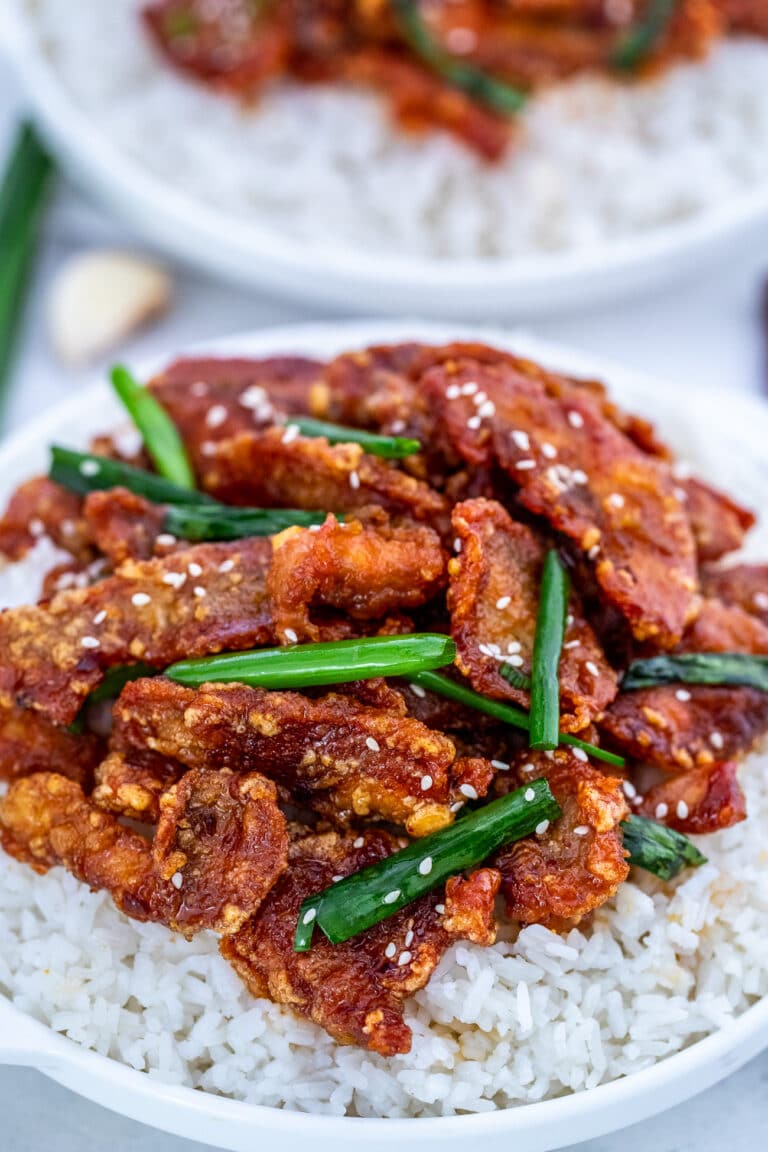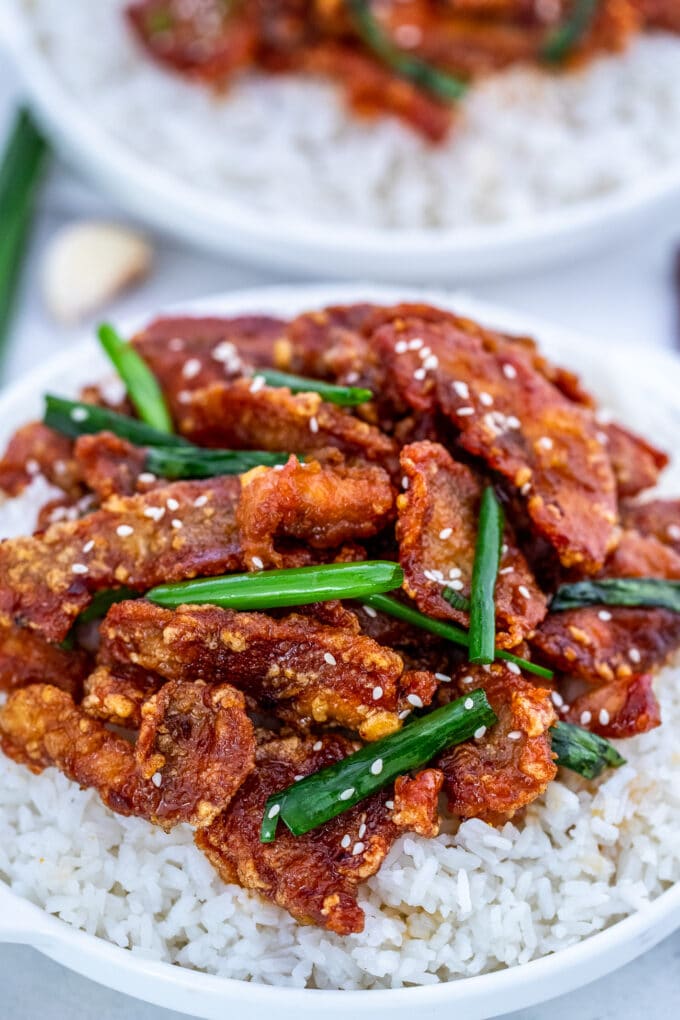 How to Store it:
Refrigerate: You can do so by placing the pieces in an airtight container. This will keep for 3 days.
Freeze: You can also put the pieces in freezer bags and reheat sometime within 2 to 3 months.
To reheat: Simply reheat it in the microwave when it has just been refrigerated. Or, thaw it overnight in the fridge, then, bake it in the oven at 350 degrees to heat through. Or, simply reheat it in a skillet.
More delicious Asian dishes:
Recipe Tips:
Freshly minced garlic and ginger add lots of flavors here. Therefore, I strongly recommend using both.
Test the oil by flicking water on it. If the water sizzles as it touches the oil's surface, then, the oil is hot enough for frying.
Also, you can bake, or oven-fry the poultry for a healthier alternative. Just bake it at 475 degrees F for about 5 minutes per side, on the top rack.
To save time, make the sauce ahead, and then, refrigerate. Then, fry the meat on the day that you need it then, simply combine it with the sauce right before serving.
Aside from breasts, feel free to also use thigh fillets for this. Or, aside from slices, you can also use the same recipe for whole bone-in and skin-on cuts.
In addition, feel free to add more vegetables to it if you prefer. Some great additions would be adding chopped zucchini, water chestnuts, sliced carrots, mushrooms, bell pepper.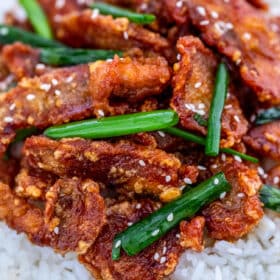 Mongolian Chicken
Mongolian Chicken is crispy chicken coated in a flavorful brown sugar sauce! This Chinese-inspired dish is quick and simple to make, but with restaurant-quality taste!
Save
Share
Print
Pin
Rate
Ingredients
2

pounds

chicken

(thinly sliced into 1-2 inch strips)

1/3

cup

cornstarch

1

cup

vegetable oil

2

green onions

(thinly sliced on diagonal into 1-inch pieces)
Sauce:
1/2

cup

soy sauce

1/2

cup

dark brown sugar

1/2

cup

water

1

tablespoon

garlic

(minced)

1

tablespoon

fresh ginger

(minced)

1/4

teaspoon

red pepper flakes

1

tablespoon

rice vinegar

2

teaspoons

vegetable oil
Instructions
In a medium saucepan over low/medium heat add two tablespoons of vegetable oil, followed by the garlic and ginger, cook and stir for 30 seconds and whisk in the brown sugar, red pepper flakes, soy sauce, rice vinegar, and water.

Cook until slightly thickened, about 5-10 minutes, set aside.

Add the sliced chicken to a large bowl and mix with the cornstarch until the cornstarch is evenly distributed.

Heat 1 cup of vegetable oil in a large saucepan, once hot add the chicken and fry until browned and cooked through about 1-2 minutes. Stir the meat around a little so that it cooks evenly.

Transfer chicken to a paper towel-lined plate and discard the oil from the skillet.

Add chicken back to the skillet, add the soy sauce mixture and cook over medium heat until sauce thickens about 2-3 minutes.

Stir in green onions. Garnish with sesame seeds (optional).

Serve immediately over rice.
Nutrition
Calories:
752
kcal
|
Carbohydrates:
39
g
|
Protein:
45
g
|
Fat:
45
g
|
Saturated Fat:
16
g
|
Cholesterol:
170
mg
|
Sodium:
1792
mg
|
Potassium:
543
mg
|
Fiber:
0
g
|
Sugar:
27
g
|
Vitamin A:
415
IU
|
Vitamin C:
4.8
mg
|
Calcium:
63
mg
|
Iron:
3.1
mg
More recipes you might love