Asian Steak Marinade [Video]
Last updated on June 18th, 2021 at 08:14 pm
Asian Steak Marinade is oozing with umami! If you want to turn your steak into something more flavorful rather than just salty, then, this is perfect!
If you have an upcoming party, then, this recipe is timely! For our other grilled recipes, check out Grilled Chicken Wings, Grilled Pork Chops, and Maple Soy Grilled Salmon!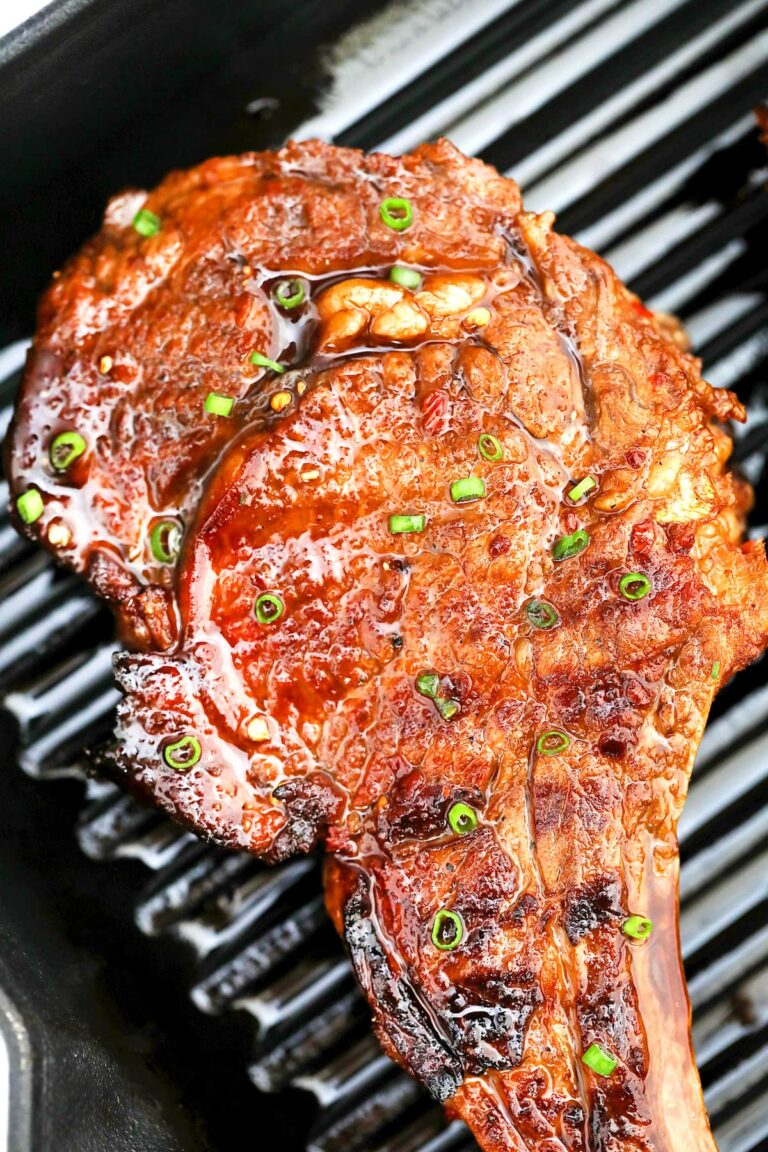 Asian Steak Marinade and Grilled Steak
Asian Steak Marinade is just one of the many delicious options that you can use to make a sumptuous steak. But what I like about this one is that it tastes like those from high-end restaurants, or even better!
The combination of the soy sauce and balsamic vinegar is heavenly! In this recipe, I also incorporated Worcestershire sauce and maple syrup because I like how these all blend together into one flavorful concoction.
The influence of the garlic, onion, and ginger adds depth and makes it more savory. All these ingredients are easy to find which makes this recipe even more useful and easy to make.
And since this is homemade, feel free to change up the ratios as you deem fit. That's one advantage you get over ordering from a restaurant!
What do you need to make Asian Steak Marinade?
As mentioned, this recipe is mainly a combination of soy sauce and balsamic vinegar in equal ratios. The other ingredients are as following:
vegetable oil – also in equal ratio with the soy sauce and balsamic vinegar
Worcestershire sauce
maple syrup
brown sugar
onion powder
garlic powder
ginger powder
red pepper flakes
chopped onions – optional, only if you want to garnish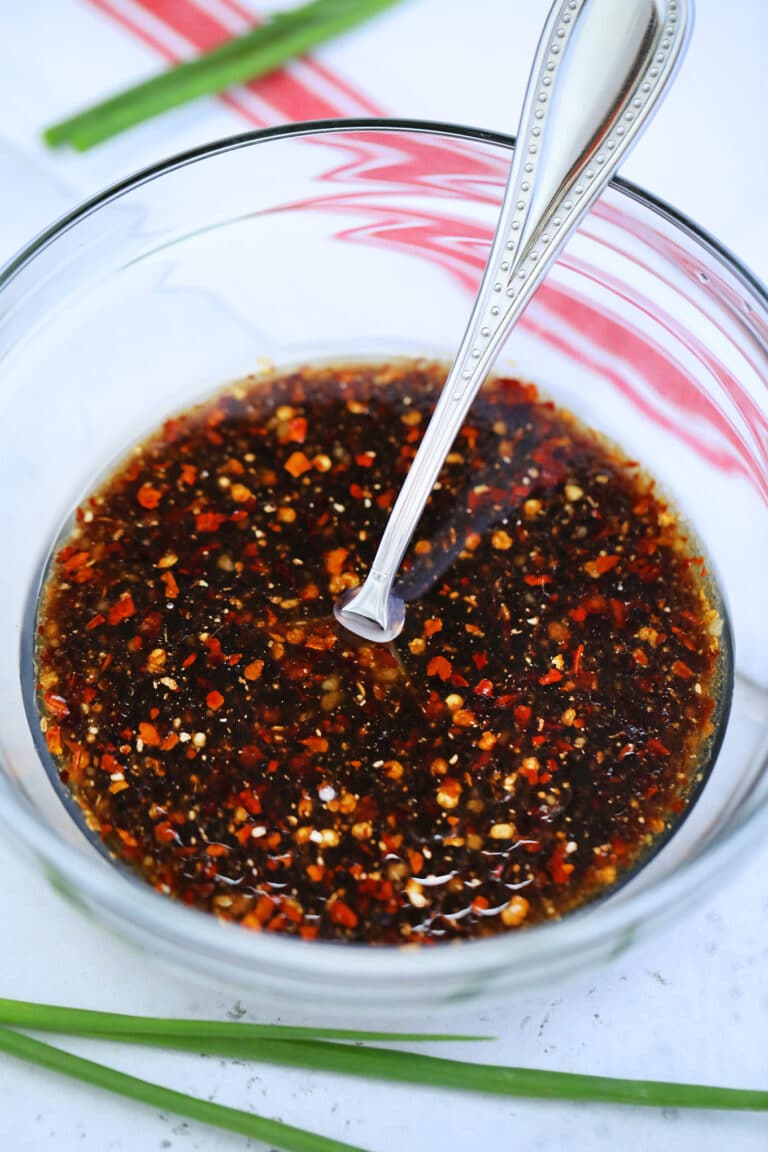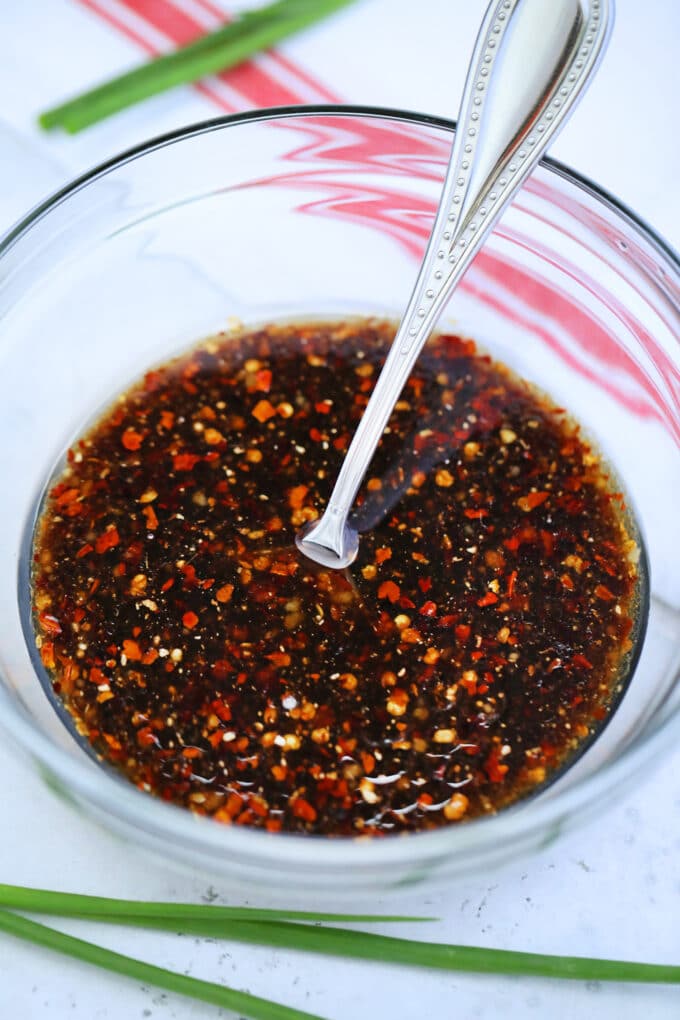 How do you make Asian Steak Marinade?
In a bowl, combine all the ingredients and mix well. That's it!
To use as a marinade, put this in a zip lock bag along with the meat. Seal the bag by squeezing out the air. Make sure that the meat is coated well, then, refrigerate.
Marinate the meat for how long you want it. Then, you can take out the meat and grill!
How long should you marinate the steak?
The marinating time greatly depends on the cut of meat that you are going to cook. For tender cuts like tenderloin, rib-eye, and porterhouse, 15 to 20 minutes will do. More than that, the meat may degrade because of the acid content.
Meanwhile, for tougher cuts like flank steak, round, or skirt, you can tenderize the meat by marinating longer, say from 6 hours to overnight.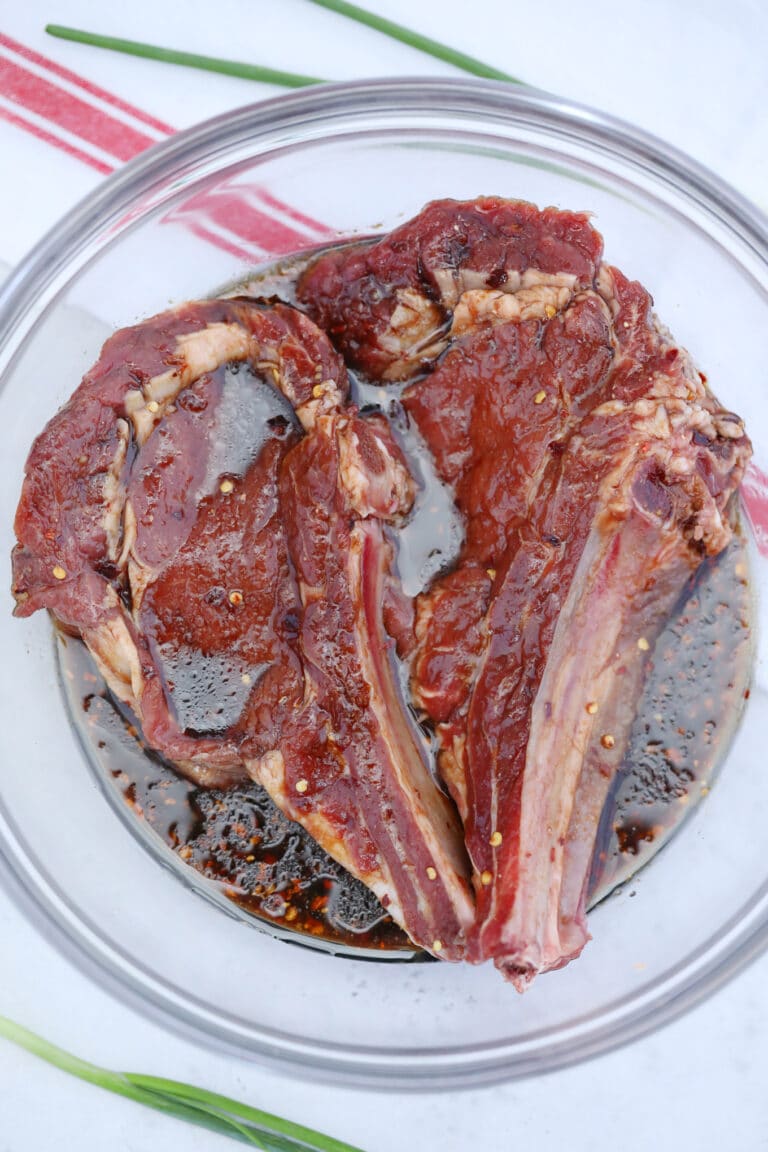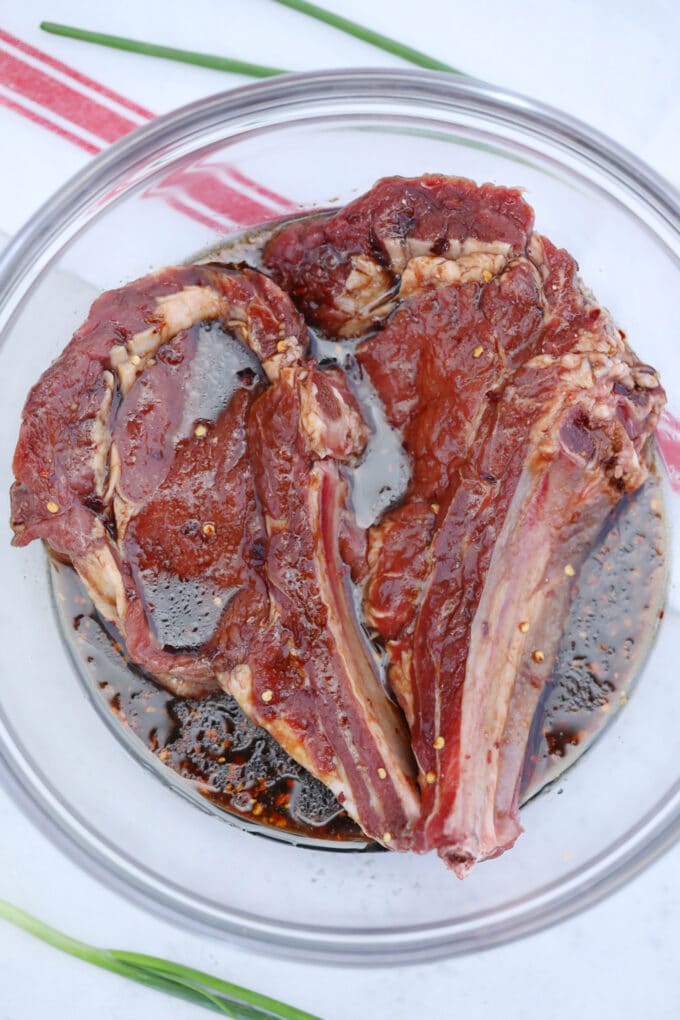 How to choose the best steak cut?
Want a pro tip? Ask your local butcher! They know which ones make for the best steaks! But say that he's out of town and you need a quick guide, then, refer to this section for recommendations.
Good marbling: Having some fat is good since they dry out a lot slower than lean ones. But too much can be bad for your health, too, so trim the excess ones if present.
Fresh: As a rule of thumb, get only the fresh ones that have nice color! The meat must be dry, too, not slimy or dripping wet.
Thick: It is best to get thicker ones if you want rare to medium-rare steaks because the inside will cook slower while the outside is being charred.
Tenderness: If you want flavorful and tender cuts, go for tenderloin or rib-eye. But these are more expensive than the tougher cuts like flank or skirt for which this marinade will work the best!
How to grill a steak?
Just keep in mind these pointers:
The grill must be scorching hot when you put in the beef. This will give the surface a nice char, sealing in the flavors.
Once you put the meat on the hot grill, keep an eye on it as some cuts may dry out faster than others.
The doneness depends on your preference. If you want it rare, then, grill for about 2 minutes per side. Add two minutes more per side if you want it medium and add yet another couple of minutes if you want it well-done.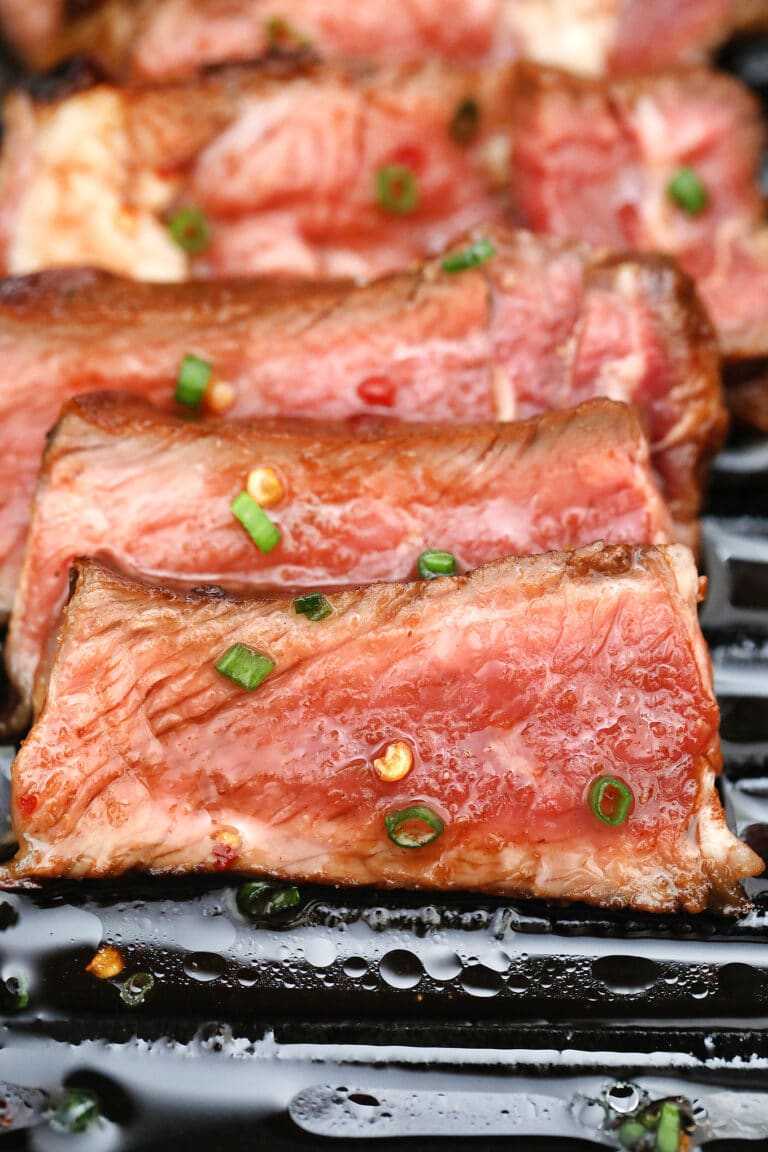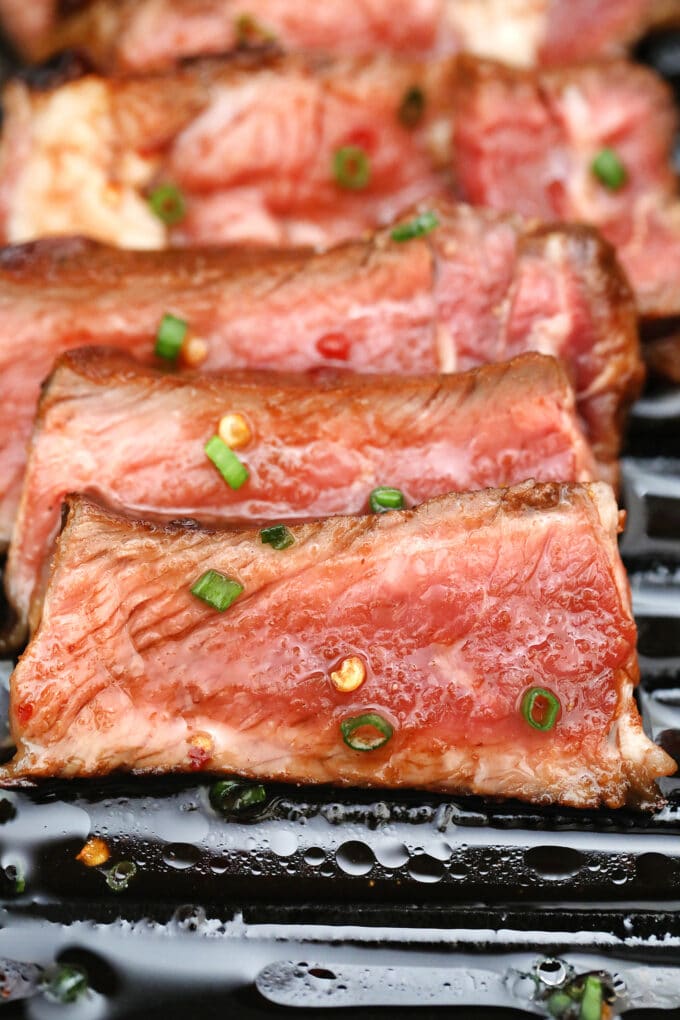 How to store Asian Steak Marinade:
You can keep a huge batch of the marinade and refrigerate it for up to two weeks.
You can also freeze it and make it available anytime for up to 4 months.
Recipe Tips:
Double the recipe so that one half can be used to baste the beef as it cooks.
It is best to discard the marinade once it has been used to be on the safe side.
To serve, slice the meat in the direction that is perpendicular to the direction of the fibers or grain.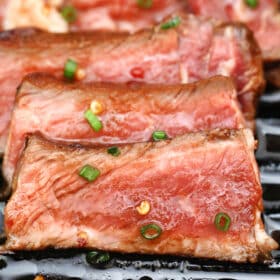 Asian Steak Marinade
Asian Steak Marinade is oozing with umami! If you want to turn your steak into something more flavorful rather than just salty, then, this is perfect!
Save
Share
Print
Pin
Rate
Ingredients
4

8-ounces

steaks

(I used Rib-Eye)
Marinade:
1/3

cup

balsamic vinegar

1/3

cup

soy sauce

1/3

cup

vegetable oil

1

tablespoon

Worcestershire sauce

2

tablespoons

maple syrup

1/4

cup

brown sugar

1

teaspoon

onion powder

1

teaspoon

garlic powder

1/2

teaspoon

ginger powder

1/4

teaspoon

red pepper flakes

Garnish:

Green onion

(chopped)
Instructions
Whisk together all the MARINADE ingredients in a bowl or in a ziplock back.

Add 2 to 4 steaks and marinade, tossing the steaks a few times to coat well. Chill for 15-20 minutes.

Preheat a grill or a cast iron grill pan over high heat. Lightly brush with oil.

Use tongs to transfer steaks to the preheated grill/or pan. Cook until the desired doneness is reached. Use a meat thermometer to check the temperature: for RARE less than 130 degrees, for MEDIUM-RARE 130 degrees, for MEDIUM 135 degrees, for MEDIUM-WELL 150 degrees and for WELL-DONE 160 degrees.

Allow resting for 5 minutes before serving. Garnish with fresh green onions if desired.
Nutrition
Calories:
276
kcal
|
Carbohydrates:
26
g
|
Protein:
2
g
|
Fat:
18
g
|
Saturated Fat:
14
g
|
Cholesterol:
0
mg
|
Sodium:
1132
mg
|
Potassium:
148
mg
|
Fiber:
0
g
|
Sugar:
23
g
|
Vitamin C:
0.6
mg
|
Calcium:
37
mg
|
Iron:
1
mg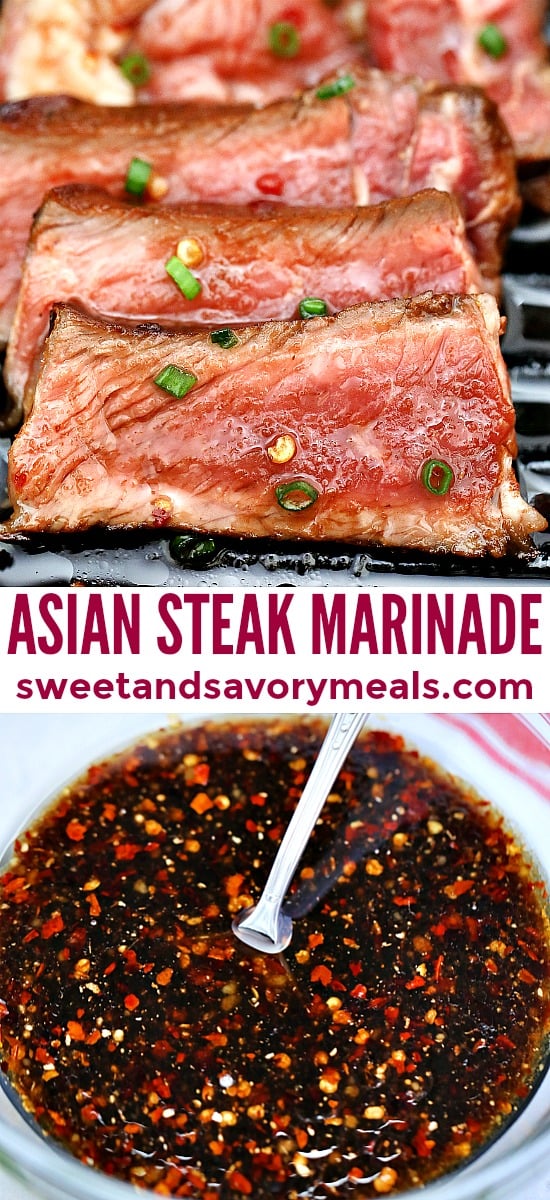 More recipes you might love