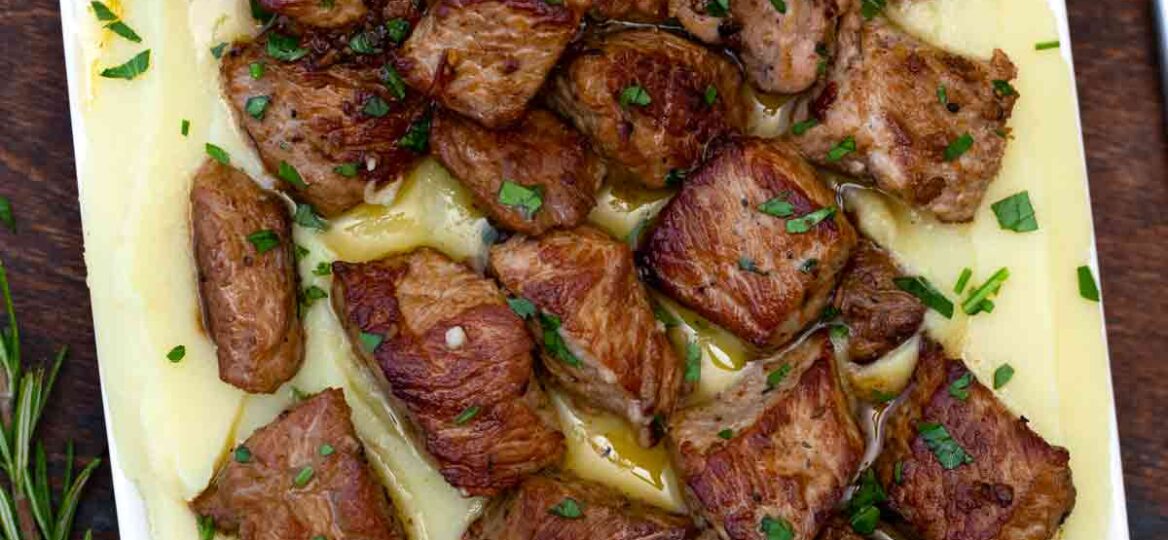 Garlic Butter Steak Bites
Garlic Butter Steak Bites packs a ton of flavor into juicy sirloin cubes drizzled with a delicious garlic-butter pan sauce. Perfect over mashed potatoes, hot rice, with pasta, or a bowl of low-carb cauliflower rice!
I have a soft spot for easy, tasty meals that won't leave a mountain of dirty dishes behind. For more delicious and quick one-pan dinners, try our Cranberry Orange Chicken, Whole Roasted Red Snapper with Potatoes, and Italian Chicken and Rice!
Steak Bites – 15 Minutes Recipe
Garlic Butter Steak Bites are for those days when I'm craving steak but don't have the energy to cook a full-course meal. Just give the sirloin cubes a good sear, make a quick butter sauce, and you're all set! All of it takes less than 15 minutes from prep to plate.
This dish is so flavorful and delicious that we make it every month. The meat is tender and juicy, and the garlic butter sauce makes it so much better. The bite-size pieces of steak make it so much more appealing. You can also serve it as an appetizer or snack if you are hosting a gathering.
Serve this with your favorite low-effort side dish for a tasty meal! Also, it goes well over tacos, quesadilla, or even a salad. Or, feel free to serve right in the skillet and set out toothpicks so everyone can help themselves. Make a double or triple batch because these bites always run out fast!
Ingredients for Garlic Butter Steak Bites:
I prefer sirloin for its exceptional tenderness, but other cuts will work too. You can also use tenderloin, rib eye, or New York strip steak instead. Prepare a neutral oil for searing such as canola oil. Black pepper and flaky salt create a flavorful crust.
Unsalted butter adds richness to the pan sauce and helps deglaze those umami-packed brown bits. Garlic is a classic aromatic for steak, and the butter-garlic combination tastes heavenly.
The splash of Worcestershire sauce adds a hint of tanginess and highlights the savory beef along with the rosemary and a pinch of red pepper flakes. Chop some parsley for garnish.
How to make Garlic Butter Steak Bites?
The entire recipe only takes a few minutes from start to finish, so all the ingredients should be ready before you start:
Sear the sirloin cubes: Sear the beef pieces in hot oil for at least two minutes without moving them. Season very well. Then, cook for another couple of minutes, and transfer to your serving dish.
Make the sauce: melt butter, then put your red pepper flakes, herbs, and garlic. Stir and cook until they're lightly toasted and aromatic, around 30 seconds. Add a splash of Worcestershire sauce. Stir. Discard the herb sprigs.
Serve: Drizzle the seared sirloin cubes with the sauce. Sprinkle with parsley and serve warm.
Best Cut of Beef to use for Steak Bites?
Sirloin is my go-to cut for this dish because it's unbelievably tender and lends itself well to quick-cooking methods like searing.
However, you can use other cuts. Since we're cooking them in small pieces, there's less chance of getting overdone meat.
You can also use the rib eye (no need to go prime grade here, but feel free to do so!) or tenderloin. I've also used strip loin, and strip steak works well too. Whatever you choose, select a well-marbled cut for maximum juiciness.
What to serve with Garlic Butter Steak Bites?
Any side dish you like eating with steak will pair perfectly with these bites! Potatoes are always a winner, whether they're chunky mashed, twice baked, or sweet potatoes.
Also, I like serving them with roasted asparagus, cauliflower, and brussels sprouts. For something simple and healthy, it's hard to beat a Classic Caesar Salad or arugula salad.
Best dipping sauces:
When I serve the bites as an appetizer, I like to dip them into my homemade sauces. Some of my favorite ones are:
Can I make it with other meats?
Yes! Use cubed chicken breasts or skinless thigh fillets for a lighter option. If you'd rather use pork, choose a thick pork chop or pork steak with great marbling. Turn this into a vegan dish by swapping out with vegan meat substitutes!
More beef recipes:
How to store leftovers?
Cool the dish completely. Then, using an airtight container, refrigerate it for up to three days.
You can also freeze the bites for up to 3 months.
Recipe Tips:
Pay attention to your garlic so it only gets lightly toasted, not burnt.
Before serving, try adding a squirt of lemon for a citrusy kick.
Also, the cubes should be cut in equal sizes so that everything cooks evenly and at the same time.
DO NOT OVERCOOK. This is a quick dish, and the meat cooks in about 4 minutes. Therefore, it is important to keep that in mind and monitor it closely.
Transfer the meat to a serving dish ASAP to prevent overcooking.
Ideally, use cast-iron for the recipe because it creates the best sear. Stainless steel will work too. Non-stick pans may not be able to withstand the high heat needed for that sear.