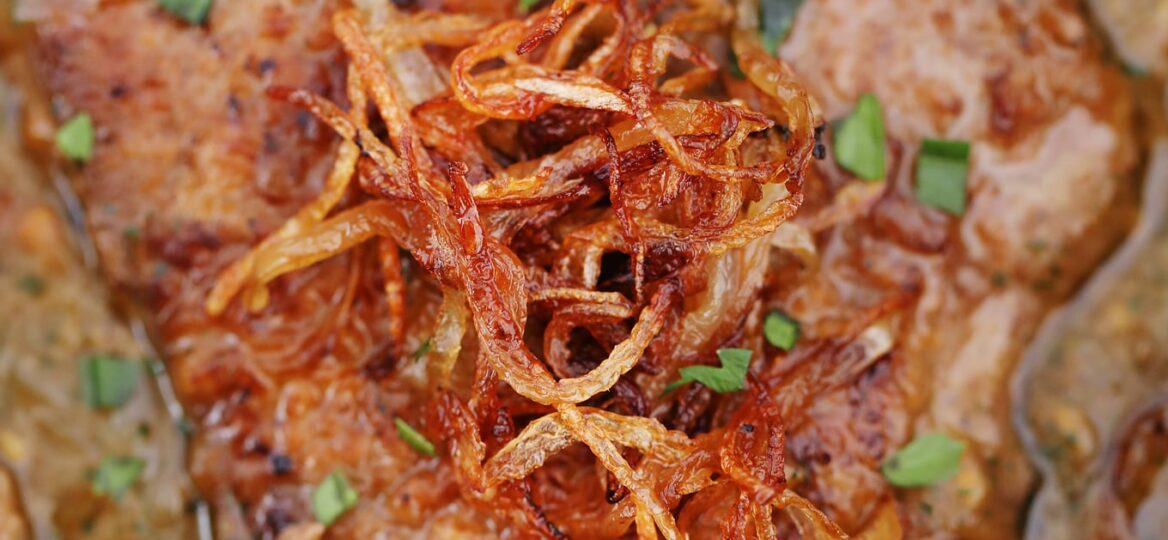 Cube Steak Recipe
Cube Steak is tenderized beef pan-fried to perfection and served with onion gravy. This easy beef recipe is ready in 30 minutes, and is perfect for quick dinners!
For a well-balanced meal, serve this low-carb main course with our all-time favorite sides like mashed potatoes or Mexican salad.
Beef cubed steak got its name from the marks left by the meat tenderizer which form small marks from where the tenderizer pierced through the meat. Usually, it comes from the top sirloin or top round – both parts that are known to be quite tough. That makes this kind of cut cheaper than others which makes this dish more affordable, yet quite delicious!
In this recipe, we will harness all the beefy goodness and turn this dish into a sumptuous dinner! The recipe calls for frying the steak quickly on high heat to seal in all its juices and flavors.
Read on as we will also teach you how to make this recipe in the crockpot! Slowly but surely, this method yields one of the best family meals!
What is Cube Steak?
Cube steak is a cut of top round or top sirloin beef that has been tenderized by beating the meat with a meat mallet.
Simply put, this is beef dredged in seasoned flour then, pan-fried, and soaked in gravy. All you need to prepare this comfort food is the meat, flour, and a bunch of seasonings that you already have in your pantry.
Nothing fancy, no complicated technique, and no special ingredient. However, the results are amazingly delicious and nostalgic for your chaboutdhood!
How to cook Cube Steak?
First, put the flour in a shallow bowl and season evenly with garlic powder, paprika, onion powder, salt, and black pepper.
Then, coat the meat with the flour mixture.
Next, heat the cast-iron pan to medium-high and then, add in oil. Once hot, cook the beef for about five minutes per side. When cooked, remove it from the pan and set it aside.
Cook the gravy on the same pan and once done, put back the cooked meat in the pan to reheat.
Lastly, top with the gravy then, serve with your favorite side dishes.
How to make Cube Steak gravy?
In making the gravy, use the same pan that you used to fry the beef. The residual oil has all the steak drippings that are so flavorful.
Put some flour mixture in the pan to start making the gravy. Add in onion, broth, and ranch mix. Let it simmer and continue cooking until the onions are soft.
Slow Cooker Cube Steak and Gravy:
There are many different ways to make cube steak. One of my favorite ways is to make it in the slow cooker. The crock pot does an amazing job of tenderizing cube steak to perfection.
Therefore, cooking it in the crockpot is just perfect, as it makes the beef super moist and tender. Just follow these steps:
Prepare the meat by dredging it in the same flour mixture described earlier.
Instead of frying until cooked, simply brown it in oil on a heated pan.
Once browned, transfer the meat into the slow cooker and add the mixture of the following ingredients: cream of mushroom soup, gravy, and water.
Depending on your cooker, you can cook this on low heat for about 6 to 8 hours.
How to tenderize cube steak?
Firstly, it is important to bread the steaks in flour before searing them.
Second, tenderizing the meat comes from soaking it and by slow cooking the beef in gravy.
Another way to make cube steaks tender is by pounding them. Simply use a meat mallet to pound the steaks. This will soften and tenderize the meat.
what to serve with cube steak?
You can pair it with the following side dishes:
How to store leftovers?
If there would be any leftover, transfer it to an airtight container. Then, put it in the refrigerator but take note to consume it within 3 tit o 4 days.
You can also opt to freeze it in airtight containers or freezer bags. It can stay good for 3 months and beyond.
how to reheat cube steak?
Since this part is very lean, retaining it with moisture is key. Thanks to the gravy, it adds moisture to the cooked steak, and you can simply pop it in the microwave to reheat.
With this, you can make this dish in advance, refrigerate it for a few days and simply reheat it as needed.