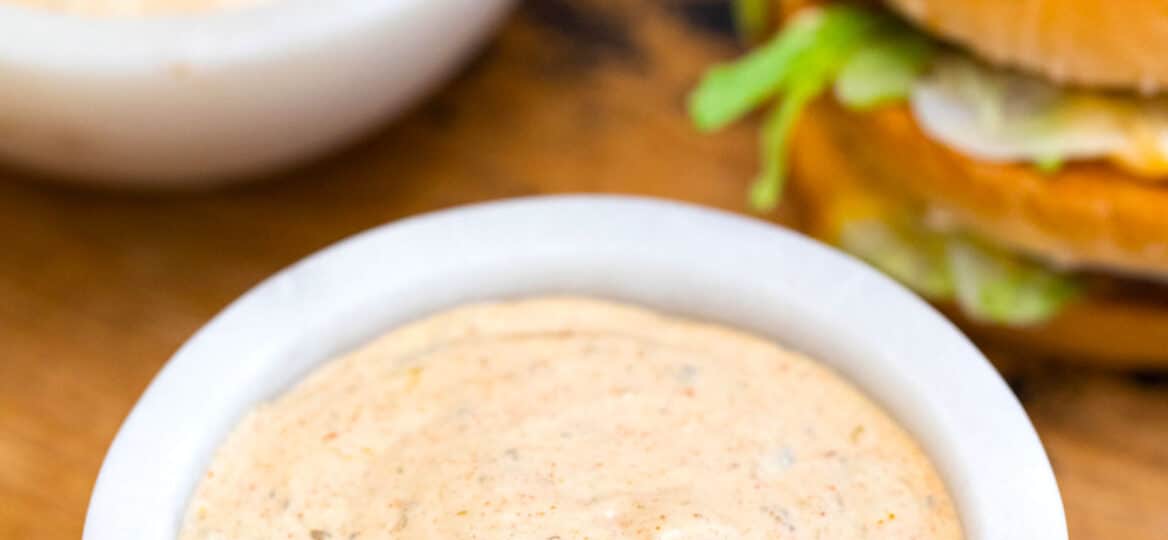 McDonald's Big Mac Sauce Copycat [Video]
Big Mac Sauce Copycat is an extraordinary condiment loved all around the world. Make this secret trade recipe in the comfort of your own home.
Craving for some fast food? Check out my version for popular meals such as Instant Pot Wendy's Chili, Chipotle Chicken, and Panera Bread Chicken Wild Rice Soup.
McDonald's Big Mac Sauce Recipe
Big Mac Sauce is a recipe that every household should learn. It goes well with a lot of dishes and kids love it.
This world-class condiment is even so easy to make. You only need a handful of ingredients and you'll have this appetizing dressing ready for drizzling.
It's so fun to see my guests' faces when they taste this sauce. Hearing compliments on how similar it is to the real thing just makes me want to share it with you.
So, you should try to make this recipe with your family. It is quite addicting, and you can easily find the ingredients right in your pantry.
Are Big Mac Sauce and Thousand Island the same?
No, they are totally different. While both are commonly mistaken for the other, Thousand Islands usually use tomatoes or ketchup as their base which isn't present in this recipe.
How to make McDonald's Big Mac Sauce easily?
Prep dry ingredients. Mix powdered onion, garlic powder, paprika, and salt.
Prep wet ingredients. Mix mayonnaise, BBQ condiment, pickle relish, apple cider vinegar, and mustard.
Serve. Combine both the wet and dry ingredients in a bowl. Mix thoroughly and let it cool in the fridge for a day. Serve.
How to use Big Mac Sauce?
With a dressing such as this, you can't seem to stop mixing it with other dishes. No matter the time, from breakfast to dinner and everything in between, this dressing just fits perfectly.
To fully appreciate how awesome this dressing is, you should try to slather it on these juicy burgers and sandwiches:
Needless to say, this also tastes extremely delectable salad recipes. Check out how you could enjoy this dressing with some of my tasty salads:
How to store it:
Storing dressings are pretty easy. Although it consists of organic ingredients, when stored properly, it can last for a long time.
In this recipe, mayonnaise is the fastest expiring recipe which is up to a week. To make sure it lasts for that time, store it in a glass jar.
Unlike plastics, glass is better in keeping liquid items. Make sure to seal the lid tightly and refrigerate it.
More delicious sauces:
If you are impressed with this dressing, you might want to try some of my other versions of dressings. Using fresh ingredients and a method that is easy to follow, you can expand your list of homemade condiments with these recipes:
Recipe Tips:
If you want to save some time, you can just actually mix all the ingredients together. However, you may have to mix some more since there might be more lumps in the beginning.
Don't have sweet pickle relish in your grocery, you can replace it with gherkin relish or most commonly known as a fermented cucumber.
Using apple cider vinegar makes the condiment healthier. If you do not have this option, white wine vinegar will perfectly work fine.

Out of onion powder? No worries, a finely minced onion will still get you that sweet and tangy flavor.
Want to make a homemade burger paired with this recipe? Preparing it in the following order arranging from the lowest: bottom burger bread, this sauce, onion, lettuce, cheese, patty, and pickles. Scape additional dressings before topping the burger lid.
Deliciousness to your inbox
Enjoy weekly hand picked recipes and recommendations