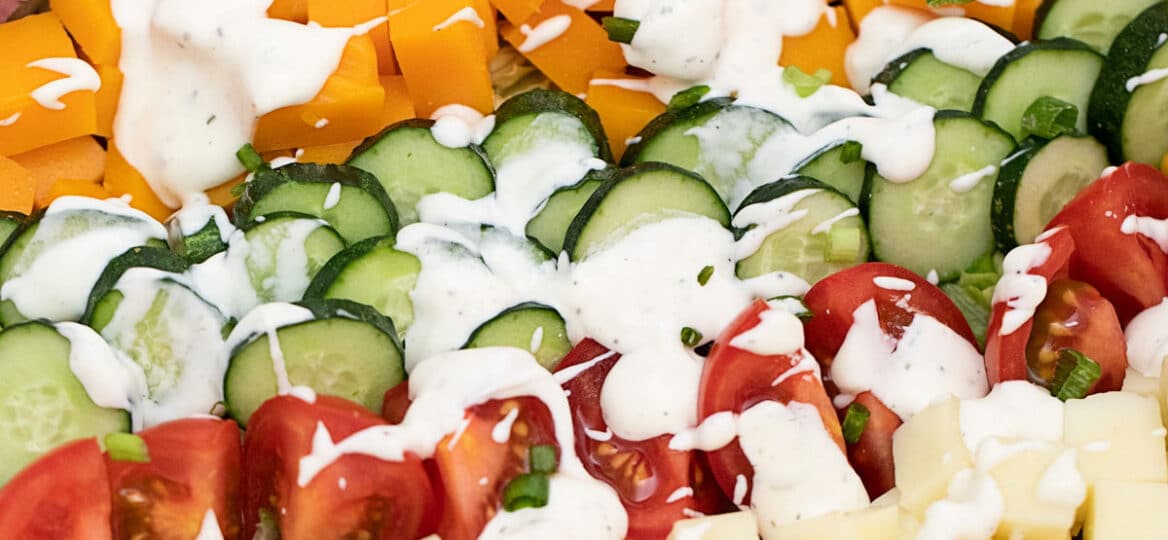 Chef Salad is a classic healthy and hearty meal that everyone easily loves! This unfailing recipe is a great addition for a filling lunch or dinner!
If you want to make more nutritious meals, check out my recipes for: Southwest Salad, Caesar Salad, and Greek Salad.
Classic American Salad Recipe
Chef Salad is one of the easiest ways, among thousands, to make a hearty meal. You can easily create it with just less than ten ingredients in your fridge.
I personally have the recipe already ingrained in my mind. It is that simple and delicious, that I make it whenever I feel like slacking off but do not want to compromise nutrition.
In addition, you do not have to grill, bake, or cook anything. All you need are the raw ingredients which makes it extremely time-efficient.
Incorporating this in your weekly meals is a great way to make your household healthier. I highly recommend it and I am excited for you to have a taste of my version of this classic favorite.
Is Chef Salad healthy?
This recipe is extremely underrated when it comes to nutrition. With the combination of greens, vegetables, and meat, you get all the necessary ingredients to start your day.
Lettuce, boiled eggs, tomatoes, and ham are great breakfast ingredients. With this recipe, you need not cook it with oil which makes it even healthier as there is no added oil fat.
How to make Chef Salad
Prep the greens. Wash, dry, and chop the lettuce.

Assemble. In a serving plate, lay the lettuce first. Afterward, top the plate with the remaining ingredients which may consist of ham, cheese, onions, boiled eggs, tomatoes, corn, and cucumber.
Serve. You can choose to drench it with olive oil or dressings. Afterward, serve.
What to serve with American Salad?
This recipe is easily one of the most versatile ones that you could ever make. You can serve it for quick breakfasts, lighthearted lunches, and even in fancy dinners.
If you are going to serve it for dinner, you may want to take a look at these recipes to pair the meal with:
What kind of dressing goes on with it?
Pairing this Chef Salad Recipe with a well-made dressing also goes a long way. You can make the dressing according to your preferred taste whether you like it sweet, salty, or sour.
The dressing can make or break a meal. Make sure to check out my proven dressing recipes for a tried and tested delicious dips:
How to store it?
A lot of people tend to shy away from making salads as they are unsure how to keep it fresh even as leftovers. However, this should not be the case since they are fairly easy to store.
Knowing how to keep lettuce fresh and crispy is the trick in preserving its tastefulness. To do so, I place the vegetable in a bow and drape a paper towel over it to absorb excess moisture. I then seal the bowl with a plastic wrap and the lettuce can last for up to three days.
Recipe Tips
For additional flavor, you can add seasonings such as salt and pepper. Seasoning the greens and not only the dressing makes the taste of the greens and topping come out.

Iceberg lettuce has always been a classic favorite. However, you can use romaine lettuce and other greens such as spinach and arugula for a varied flavor.

Herbs are also great in getting an additional kick. A dash of oregano, basil, or parsley not only makes it smell fragrant but also taste exquisite.
Deliciousness to your inbox
Enjoy weekly hand picked recipes and recommendations