Southwest Salad Recipe [Video]
Last updated on June 18th, 2021 at 09:31 pm
Southwest Salad is a hearty mix of flavorful grilled chicken, avocado, cheese, corn and beans served with a creamy cilantro dressing! It has that rich Mexican vibe, and it is done in 30 minutes or less! Just perfect for a quick meal!
This is great for cookouts where you can also serve Homemade Lemonade, Blackberry Cobbler, and Grilled Pork Tenderloin!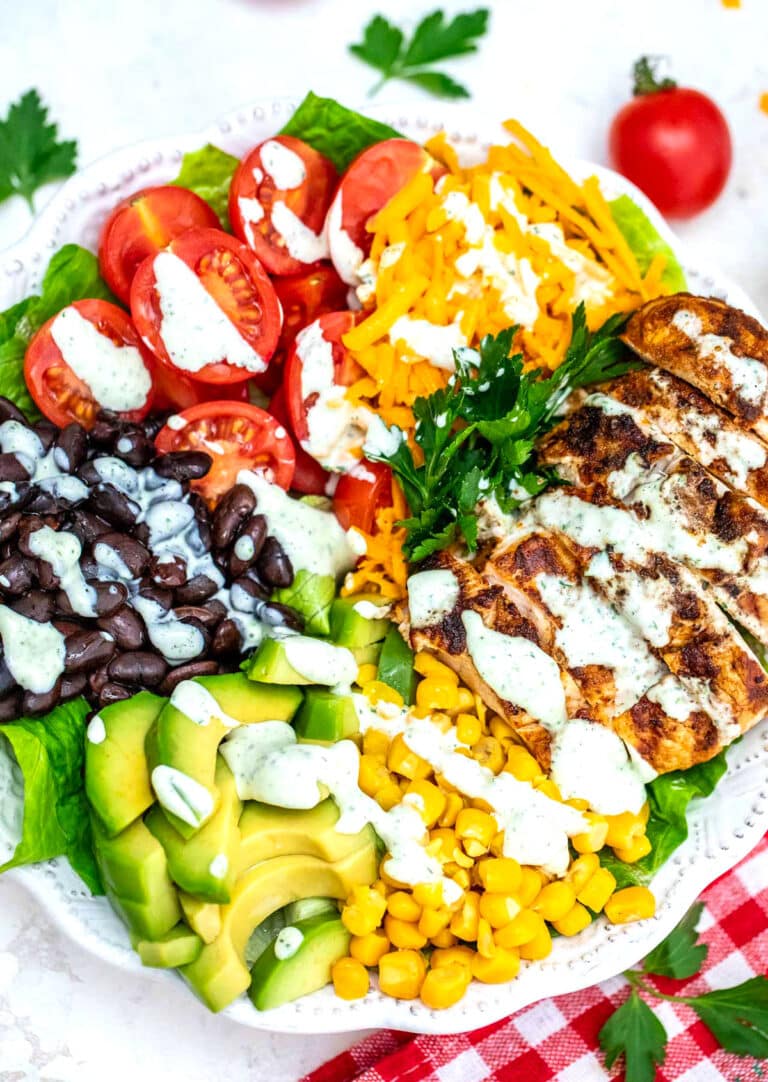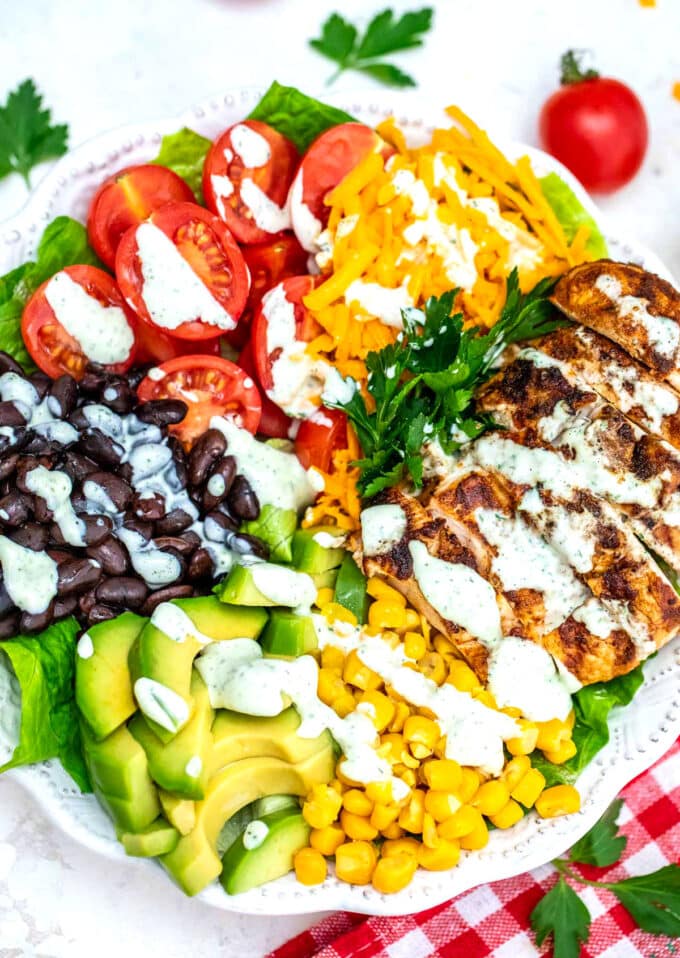 Grilled Chicken Southwest Salad
Southwest Salad is that familiar dish from McDonald's, but this recipe is all about making it at home! I love serving this to the whole family because I can make a huge batch of this in no time.
As we were planning a cookout this weekend, I immediately thought of this recipe. This dish looks appetizing with the various colors it has. And it is bursting with flavors, too!
While I love McDonald's version of this, I prefer my grilled chicken to their buttermilk crispy chicken. I like the smokiness of the grilled chicken and the creamy cilantro dressing with lime and honey goes well with it.
Liven up any meal with this festive dish that you can make easily from your kitchen!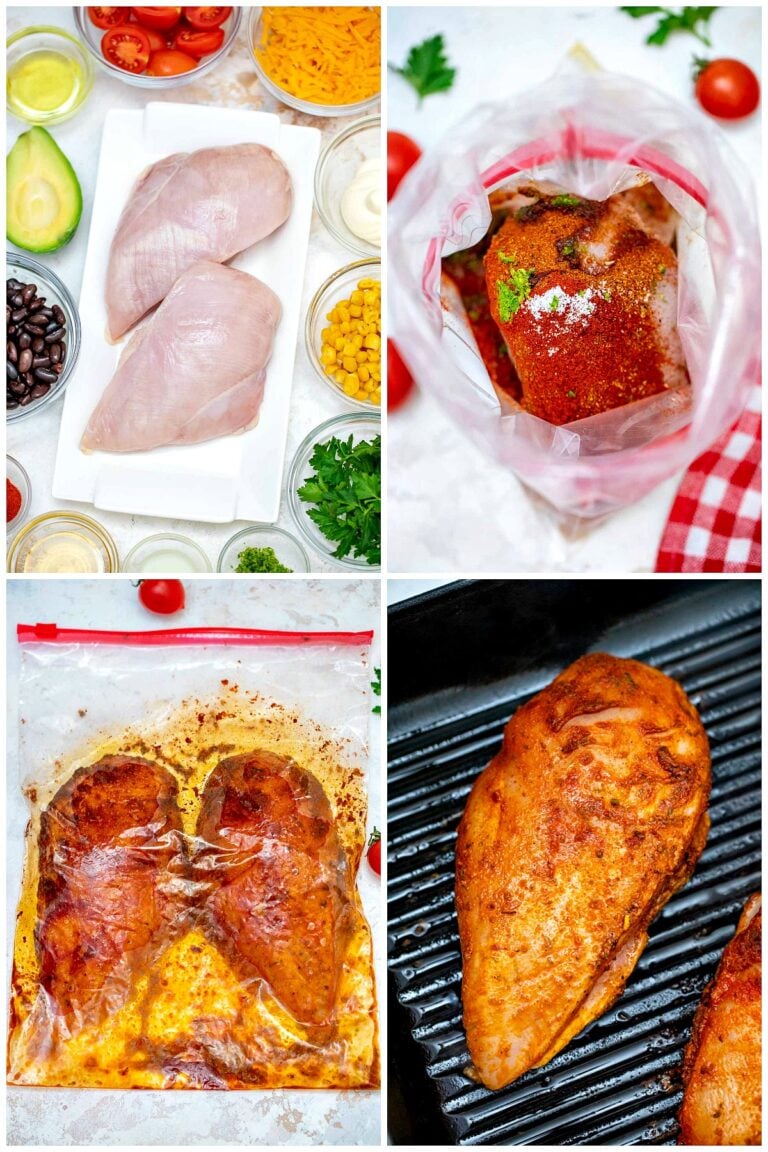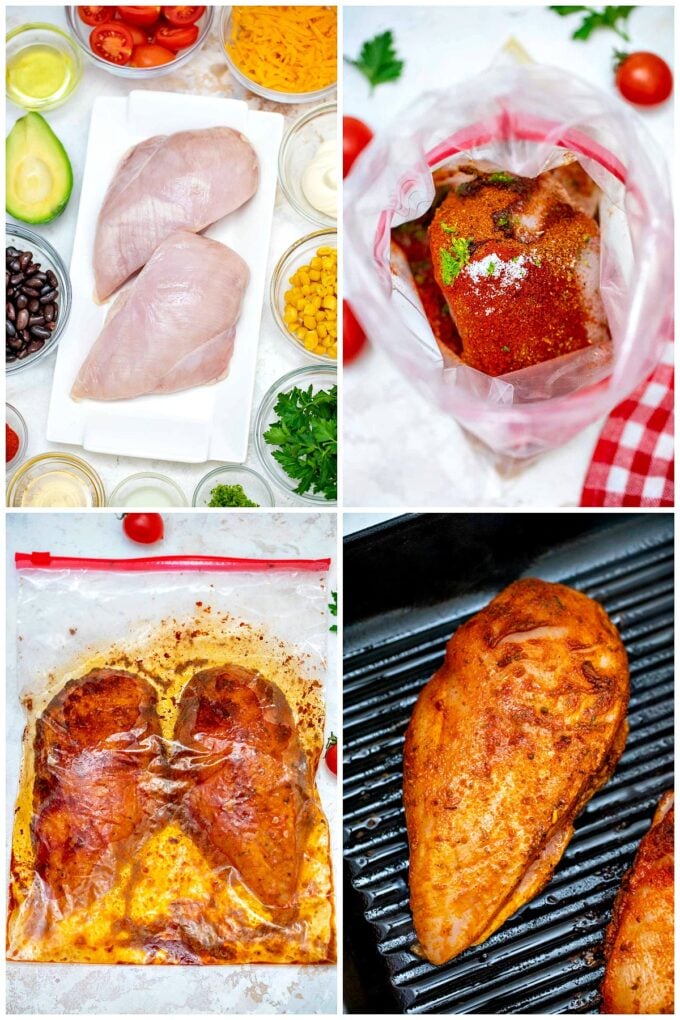 What is Southwest Salad?
It is a fresh salad with a grilled chicken and cilantro-lime dressing. Having the Mexican influence on the Southwestern cuisine, this dish has a variety of your favorite Mexican flavors.
What goes into Southwest Salad?
In this recipe, the main ingredients that you will hardly miss in this dish are the grilled chicken and romaine lettuce. You also get black beans, tomatoes, corn, avocado, and cilantro, and cheddar cheese.
The chicken is seasoned with lime, smoked paprika, taco seasoning, olive oil, and salt. And the lime ties everything together!
It is also incorporated in the creamy dressing made of Greek yogurt, mayo, lime juice, a sweetener like honey or maple syrup, salt, and more cilantro.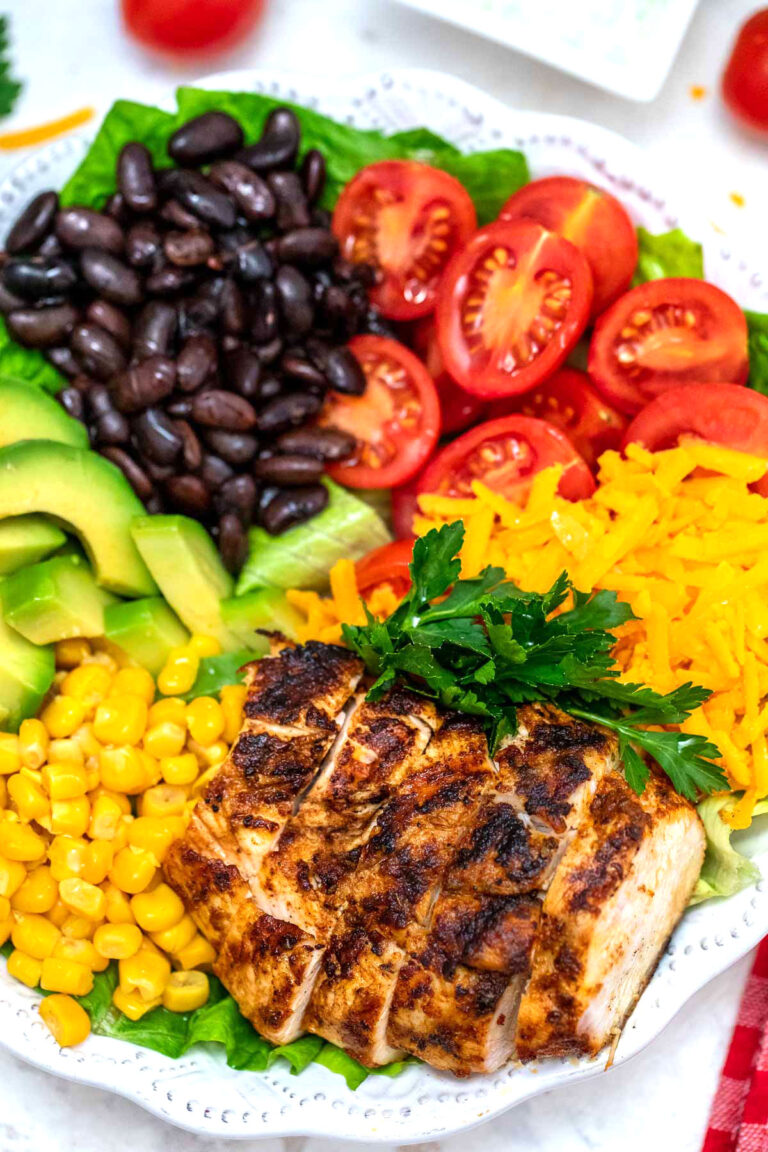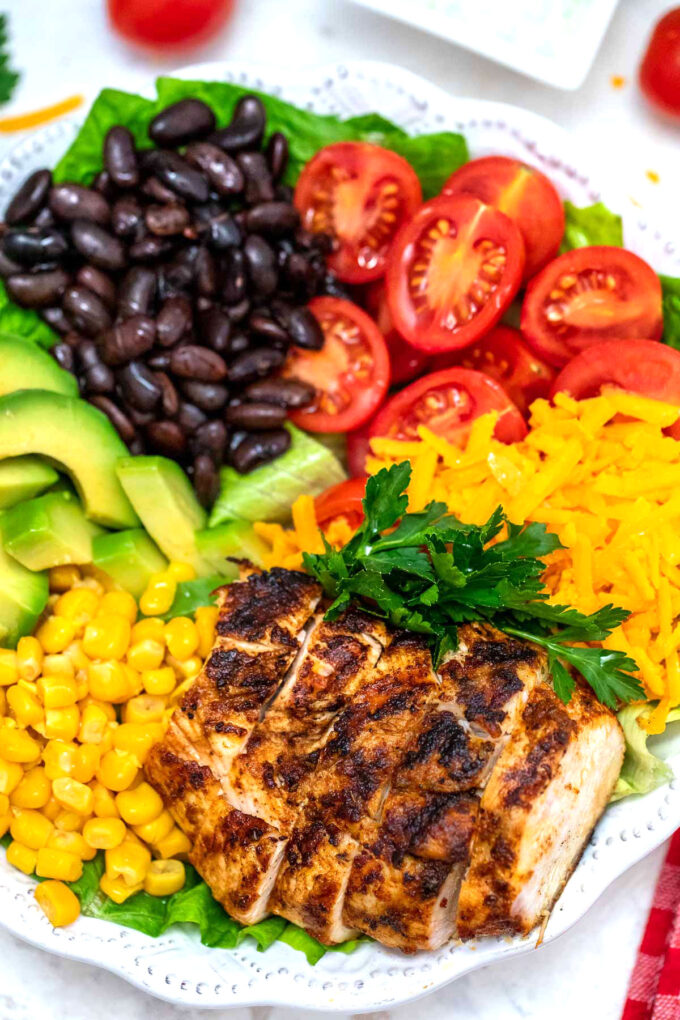 How to grill chicken?
Pound: Use a mallet to first pound the meat to make the thickness even. This is important to evenly cook it.
Marinate: In a resealable plastic bag, put the meat and the marinade ingredients. Then, shake everything to coat the meat. Marinate for at least 10 minutes. If you will marinate longer, refrigerate it. Follow USDA's guidelines on marinating poultry which say that poultry can be marinated for only up to 2 days.
Grill: Heat a grill skillet and oil it. Cook each side for up to 5 minutes.
Rest: Set aside the cooked poultry for up to 5 minutes to allow it to rest before slicing.
How to Make Southwest Salad
Grill the chicken: Marinate, grill, and rest the poultry as described in the instructions above. You will need to allow at least 10 minutes of marinating for this. So, while waiting, you can also start with the rest of the recipe. After resting, cut the meat into slices.
Make the dressing: Put the ingredients in a food processor to combine.
Assemble: In a salad bowl or plate, put the romaine lettuce first. Then, top with the rest of the ingredients.
Serve: Drizzle the dressing, then, serve!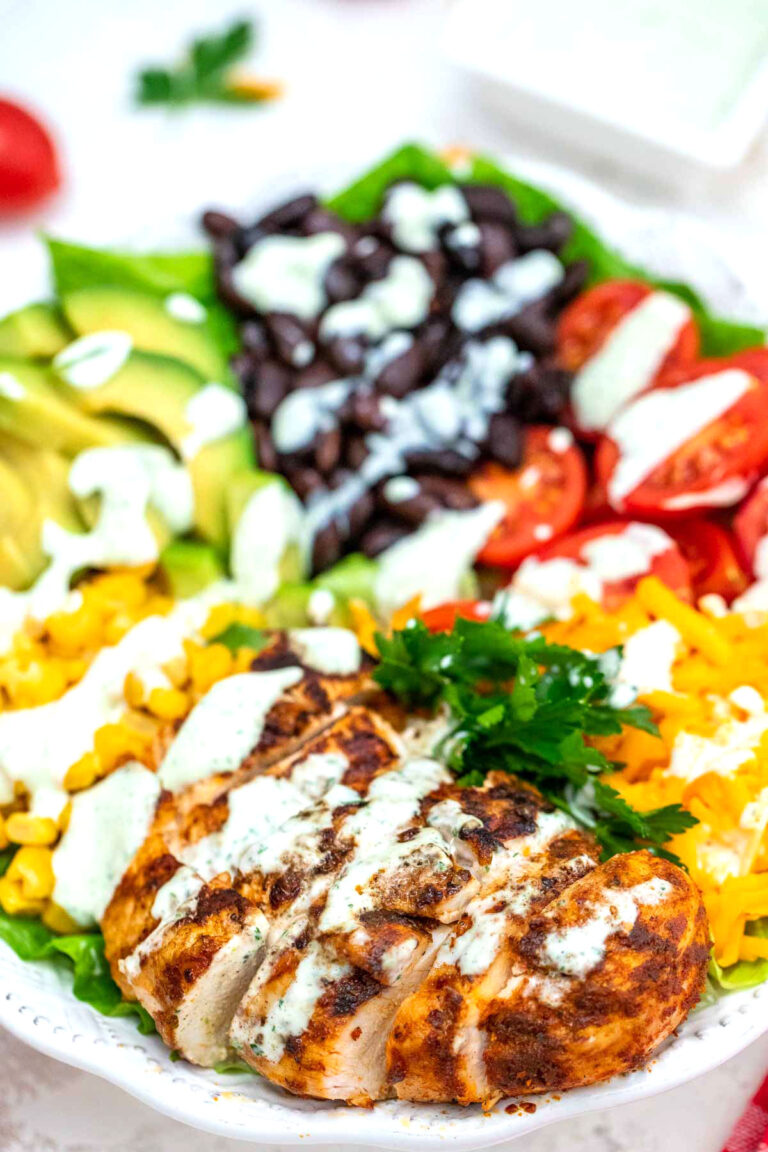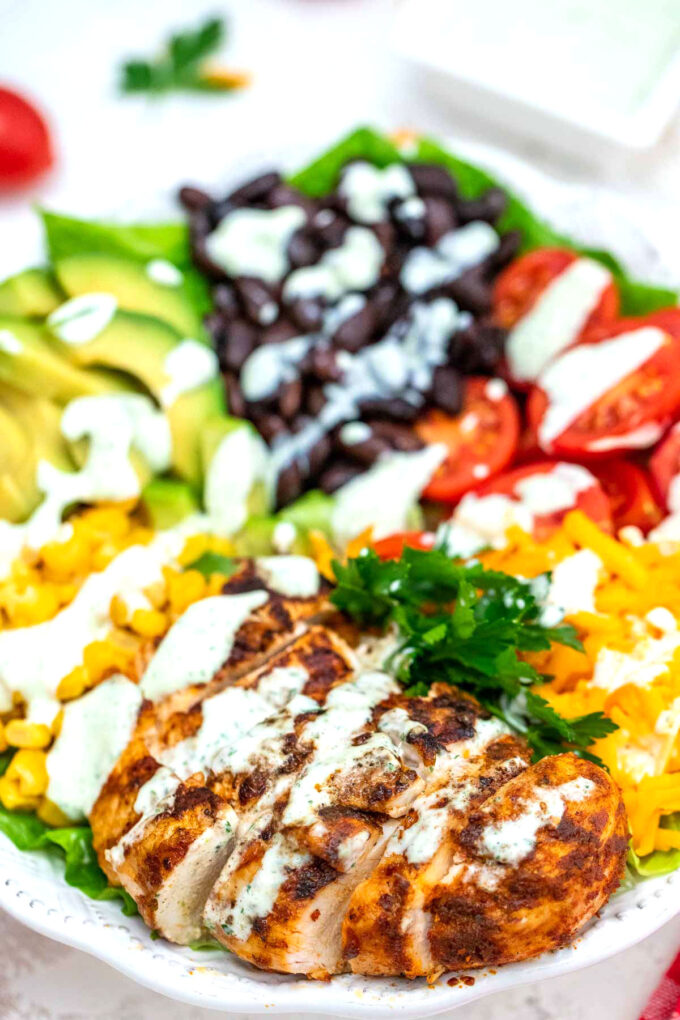 Is Southwest Salad healthy?
Yes, it is healthy! You get protein, fiber, and fat in this dish. But you may want to limit your dressing as it contains mayo.
The veggies are a good source of fiber as well as the beans. The black beans and corn also add carbs aside from fiber.
The avocado has some good fat in it and the grilled chicken breasts are lean. So, you get a balanced meal overall.
Can you make Southwest Salad in advance?
Yes! You can prepare the dressing separately and store it in the fridge a day ahead. You can also assemble everything in advance except for the tomatoes that could get watery. Grill the chicken in advance, too, if you must.
Then, just assemble everything when ready.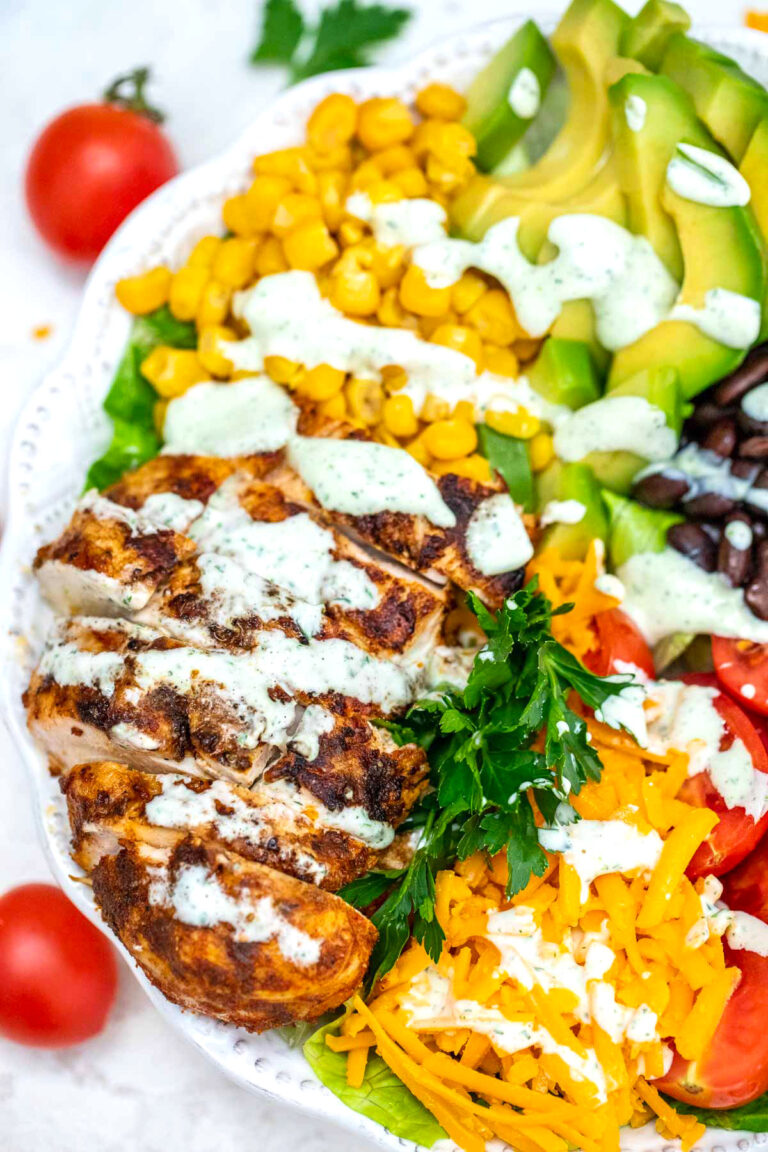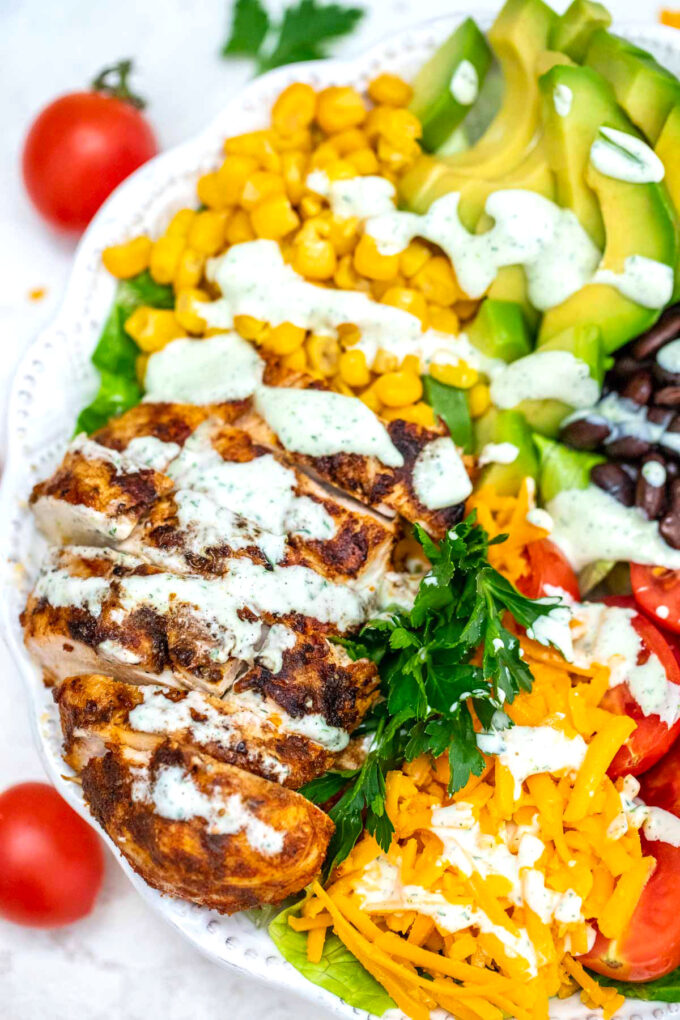 Recipe Tips:
You can make your taco seasoning from scratch!
Feel free to cut back on the cilantro if you find it overwhelming.
Layer in crumbled bacon or corn tortilla chips to add texture.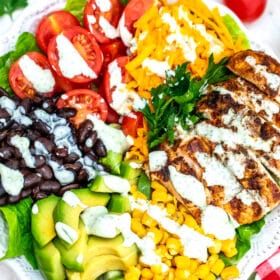 Southwest Salad Recipe
Southwest Salad is a hearty mix of flavorful grilled chicken, avocado, cheese, corn and beans served with a creamy cilantro dressing! It has that rich Mexican vibe, and it is done in 30 minutes or less!
Save
Share
Print
Pin
Rate
Ingredients
For the Chicken:
2

medium chicken breasts

1

tablespoon

taco seasoning

1

teaspoon

smoked paprika

1/4

teaspoon

salt

1

lime

(zested and juiced)

1

tablespoon

olive oil
For the Salad:
2

cups

romaine lettuce

(chopped)

1

ripe avocado

(sliced)

8

small cherry tomatoes

(cut in half)

1/2

cup

black beans

(rinsed and drained)

1/2

cup

corn

(rinsed and drained)

1

cup

cheddar cheese

(grated)

1/4

cup

cilantro

(for topping)
Creamy Cilantro Dressing:
1/2

cup

Greek yogurt

1/4

cup

mayo

1/4

cup

cilantro

(packed)

1

tablespoon

lime juice

1

tablespoon

honey

(or maple syrup)

1/4

teaspoon

salt
Garnish:
Chopped green onions

Cilantro
Instructions
Marinate the Chicken:
In a medium ziplock bag, add the chicken breasts, taco seasoning, smoked paprika, salt, lime juice, lime zest, and olive oil. Close and shake well to fully coat the chicken into the mixture.

Allow marinating for 10 minutes or up to 1-2 days in advance.
Cook the Chicken:
Place a cast-iron grill skillet over medium-high heat and once its hot brush it with about 1 teaspoon of oil

Add the chicken and cook for 4-5 minutes on each side, depends how thick the chicken is.

ou can also cook the chicken on a gas grill. Turn on the grill to medium-high, clean the grates, and grill the chicken on both sides for about 10 minutes, or until cooked through.

Allow chicken to rest for at least 5-10 minutes before slicing it.
Creamy Cilantro Dressing:
Add all the dressing ingredients to a food processor and pulse to combine until smooth.
Assemble:
Place the chopped romaine lettuce on the bottom of a salad plate or bowl.

Top with avocado, chopped tomatoes, black beans, corn, cilantro, cheddar cheese, and sliced chicken.

Drizzle the dressing on top just before serving.

Garnish with chopped cilantro and chopped green onions.
Nutrition
Calories:
481
kcal
|
Carbohydrates:
24
g
|
Protein:
38
g
|
Fat:
27
g
|
Saturated Fat:
5
g
|
Cholesterol:
85
mg
|
Sodium:
754
mg
|
Potassium:
995
mg
|
Fiber:
7
g
|
Sugar:
8
g
|
Vitamin A:
2869
IU
|
Vitamin C:
23
mg
|
Calcium:
179
mg
|
Iron:
2
mg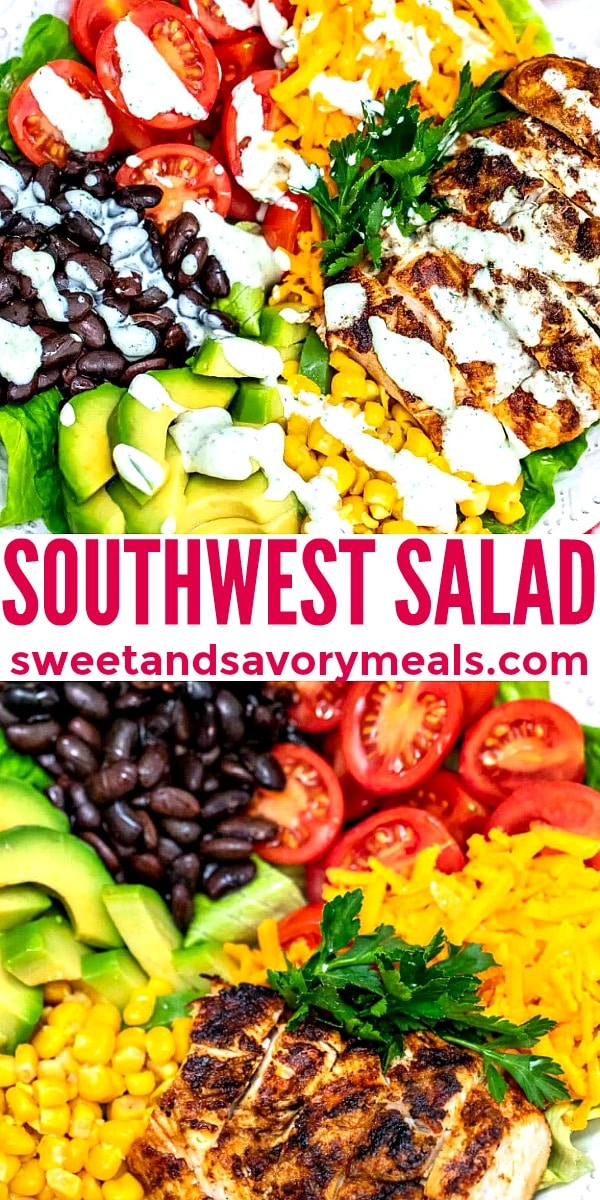 More recipes you might love