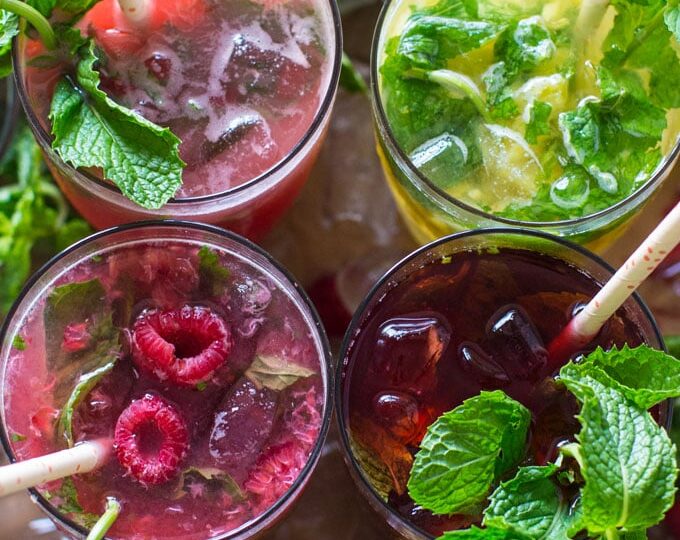 Fruit Mojitos Four Ways [VIDEO]
Fruit Mojitos are so easy to make, they are also pretty and refreshing, the perfect summer drink. Check them here in four flavors: Raspberry, Blackberry, Pineapple, and Watermelon.
Fruit Mojitos Four Ways
Fruit Mojitos are the perfect summer drink. They are easy to make, pretty, refreshing and with endless flavor possibilities. I am going to share with you my favorite four Fruit Mojitos using fresh summer fruit.
I make these cocktails all summer long and you can easily transform them in mocktails by skipping the alcohol. Also, I love my mojitos with lemon juice instead of lime but feel free to substitute.
What is Simple Syrup?
Simple syrup is an ingredient used in many cocktails. Also, it is very easy to make. First, you will need 1 cup of sugar, 1 cup of water, and optional ingredients are the juice of one lemon and 1 cup mint leaves.
Then, in a medium saucepan combine all ingredients. Bring to a boil, stirring, until the sugar has dissolved. Allow cooling. Discard mint leaves.
Raspberry Mojito:
A refreshing raspberry mojito, made with fresh raspberries is a delicious combo of sweet and tart. Very easy to make with cane sugar, or you can use Simple Syrup.
Also, you can skip the alcohol and make a virgin version that is very tasty. Taste your raspberries, make sure you are using sweet, ripe fruit for the cocktail to taste sweet.
Pineapple Mojito:
The tropical taste of this mojito will make you feel on vacation. Very easy to make with cane sugar, or you can use Simple Syrup. You can skip the alcohol and make a virgin version by adding pineapple juice. Make sure you use a ripe pineapple that is easy to muddle.
Watermelon Mojito:
There is no summer without watermelon. For this Fruit, Mojito makes sure you blend well the watermelon and use a mesh strainer when pouring it into glasses. In addition, I don't add extra sugar to this one, as the watermelon is sweet enough.
Feel free to add simple syrup if you like it sweeter. Especially tasty when made with Perrier Watermelon sparkling natural water.
Roasted Blackberry Mojito:
One of my favorite cocktails, roasting the blackberries helps get all their juice. The blackberries are roasted in lemon juice and sugar, so I usually don't add more sugar to the cocktail.
However, you can add some or some simple syrup if you prefer your sweeter. Also, make sure you use ripe blackberries.

Here is a step by step video for you: