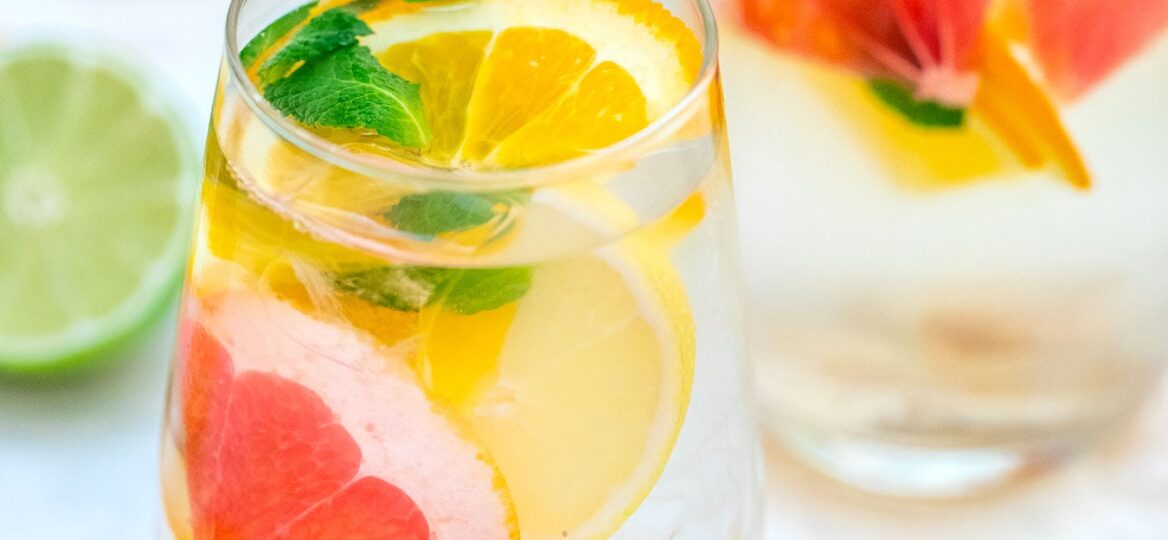 Detox Water Four Ways
Detox Water is refreshingly good, thanks to the additional fruits and herbs! Say hello to feeling energized with this drink in your regimen!
This is one simple beverage that you can drink every day. If you are looking for more homemade concoctions, check out my recipes for Spinach Smoothie, Tropical Smoothie, and Strawberry Banana Smoothie!
Detox Water Recipes
Detox Water is all the rave in health and fitness. It has been the start of all the fruit infuser water bottles on the market. It is primarily water that is flavored by the slices of raw fruits, vegetables, and herbs.
To detox means to flush out unhealthy substances. Though this drink alone will not give you that, it is part of the holistic approach to being healthy. That is, it also involves getting enough exercise, sleep, and balanced nutrition.
It does not take much effort to make, you simply mix and match the ad-ins in your drink. It is a lot healthier than the sugar-laden manufactured drinks on the market.
You taste the natural sweetness of the add-ins and gulping down enough of this drink will help you hydrate yourself properly. And as we all know, water, even in its purest form, is good for the body.
What is Detox Water?
Simply put, it is pure water that has fruits, vegetables, and herbs soaked in it. There is no need to blend in the actual add-ins, so, the caloric level does not increase as much.
Is Detox Water good for weight loss
It is popular for its slimming and cleansing effects. I like it even if it does not have these effects. It has the same thirst-quenching and refreshing effect that carbonated drinks have that makes me want to hydrate myself more.
Staying hydrated is extremely important. After all, our bodies are made up of 60% moisture. It helps with regulating our bodily functions like our metabolism.
If you hydrate yourself well, your metabolism improves and therefore, it could lead to weight loss. Drinking before eating jumpstarts your metabolism and suppresses your appetite.
The benefits that you get vary depending on what you add in it. For instance, lemon and lime help burn fat faster while mint leaves stimulate digestion. Cucumber, on the other hand, has antioxidants that can help detox.
What do you need to make Detox Water?
All you need is a big container with water and ice to put the slices of fruits and fresh herbs in. It also helps if you have a fruit infuser bottle. It is portable and there is a dedicated mechanism for the add-ins.
How to Make Detox Water:
Just follow these simple steps:
Slice: Wash the fruits and herbs, then, slice.
Assemble: In a big enough container, put alternate layers of ice and the sliced add-ins.
Steep: Then, add the water and allow the flavors to infuse for 45 minutes. Then, drink as usual!
Recipe Variations:
The more ingredients that you add, the more festive the colors and the flavors will be! Here are a few combinations that you can try for an enjoyable experience:
Citrus: orange, lime, lemon, grapefruit, fresh ginger, mint leaves
Citrus Berry: orange, lime, lemon, blueberry, strawberry, fresh ginger, mint leaves
Cucumber Rosemary: lime, lemon, English cucumber, rosemary, mint leaves
Tropical: lime, orange, English cucumber, pineapple, kiwi, mint leaves
Recipe Tips:
You can reuse the add-ins by simply refilling the container until the flavors diminish.
Lightly bruise the fruits when you cut them to help them infuse more.
If you like making fruit-based drinks like this, then, you may also enjoy this homemade apple cider recipe.
Deliciousness to your inbox
Enjoy weekly hand picked recipes and recommendations