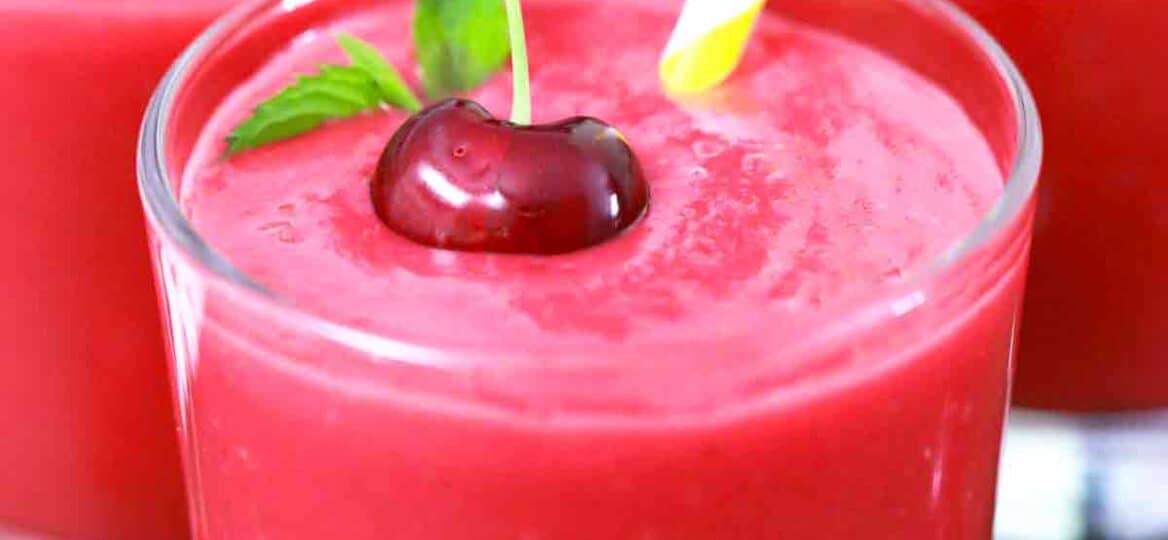 Cherry Smoothie Recipe [Video]
Cherry Smoothie is so easy to make with cherry juice, a banana, cherries, Greek yogurt, and vanilla extract. Mix these up for breakfast or just for a snack between meals for a nice fruit treat that only takes a few minutes to prepare.
Make a batch of these or mix it with other fruit smoothies like Creamy Peach or Avocado Lime. And if you are looking for a more filling fruity dessert, add the ingredients to this Instant Pot Pineapple Upside Down Cake. Whether you are looking for a quick and refreshing drink or a healthy dessert, this recipe can be combined with all sorts of others. This beverage is great to add it part of a meal plan as it makes a great breakfast or snack on the go.
Homemade Cherry Smoothie Recipe
Smoothies are a fantastic treat for kids instead of candy or cookies. This recipe uses fresh fruit and no preservatives like other sweets. But this cherry smoothie will also pair well with a workout at the gym or when going for a walk. Or freeze it and take it out to the pool to keep you nice and cool in the heat.
Another great idea is to serve these cherry smoothies with a meal of apple cinnamon pork chops or instant pot apple cider pork chops. The fruity tartness of the cherry blended with the mild sweet taste of the banana goes well with pork or chicken.
This recipe is so fast and easy that it can be made in large batches for a group of friends on a spa day. All you need is cherry juice, a banana, cherries, Greek yogurt, and vanilla extract. Make sure to print the recipe to have it on hand. You will see how delicious and versatile it is!
Ingredients needed:
For the exact measurements, take a look at the recipe card below. Here is what you will need:
Cherry juice: Freshly made is great but you can also use store-bought juice.

Banana: Make sure it is ripe but not too brown. Actually, the banana adds extra creaminess and sweetness, that's why it's important to use a ripe banana. Also, you can use a frozen banana to make it more refreshing.
Sweet dark cherries: Use frozen or fresh pitted sweet dark cherries.
Greek yogurt: Vanilla is best, but you can use another flavor if you have to.

Always look for low sugar, high protein version.

Vanilla extract: It is best to use pure vanilla extract or make your own from scratch.
Fresh cherries: Use sweet cherries or other fruit for garnish. Fresh fruit is highly recommended for garnish. Also, we enjoy adding a lime wedge and squeezing it on top of the drink before serving.
Ice Cubes: While they are optional, you can always add a few to your drink.
How to make a cherry smoothie from scratch?
Get the fruit ready: First, clean and pit fresh cherries for garnish.
Measure: Next, you need two cups of frozen sweet dark cherries. Measure and have them ready on hand.
Halve the banana: After that, peel the banana and cut it in half lengthwise.

Prepare: Then, add the yogurt, vanilla extract, frozen cherries, banana, and juice in the blender.
Blend: After, blend until smooth on high.

Pour: Finally, pour the smoothie into two glasses and add fresh cherries or other fruit on top.

Store: If you only want to drink one glass, you can store the rest in a covered container in the fridge for two to three days.

Freeze: This drink freezes well, just add it to freezer-safe Ziploc bags, seal and lay flat in the freeze. Another option is to freeze it in an ice cube tray. When ready to use just add the frozen drink to the blender with a bit of liquid of choice and blend. Also, to defrost you can microwave it for a few seconds.
Recipe variations:
Make it minty: Add a sprig of fresh mint to the top of the smoothie for a minty flavor.

Try almond, peach, or orange: Add a different type of extract instead of or in addition to vanilla.

Almond extract would be great in this recipe.

Add chocolate: Pour a tablespoon of semisweet chocolate chips into the smoothie before serving.

Also, you can add some chocolate sauce or chocolate powder, or a more pronounced chocolate flavor to make a chocolate cherry smoothie.

Mixed fruit: Throw a handful of frozen blueberries, frozen raspberries, or strawberries into the mix.

Change up the yogurt: Try lemon or banana yogurt instead of vanilla.
Milk: Add a cup of cow milk, soy milk, unsweetened almond milk, vanilla almond milk, or coconut milk, to make it more filling and add extra creaminess. As you can see you can add dairy milk or dairy-free milk to the recipe.
Boost the health benefits: Add a boost of nutrition to this drink by adding protein powder, chia seeds, flaxseed meal, almond butter, peanut butter.
Add greens: Increase the vitamins by adding a handful of spinach or kale.
Make it without using a banana: While cherries and bananas are delicious together, actually, many prefer their smoothies without a banana. Hence, this recipe is very versatile and you can skip the banana. Either replace it with your favorite fruit, or with other ingredients. A combination of oats and some type of milk is great to add texture and creaminess.
Sweetener: To make your beverage sweeter add some honey, maple syrup, or agave.
How to serve:
These are best served in a frosty glass with a handful of fresh cherries on top. But there are other ways to serve these smoothies to make them unique. Here are a few of our favorite ideas:
Spoon a dollop of whipped cream or ice cream on top.
Also, serve it as a dessert with some whipped cream on top.
Blend it into this green smoothie bowl for a nice cherry flavor.
Sprinkle a bit of granola in the mix for a more textured and filling snack.

Serve it with this air fryer Caprese chicken for dinner for a refreshing summer meal.
Another trick, to make it boozy, add it to margaritas or some other adult beverage.

Mix it into this tropical smoothie or mango smoothie recipe.
However, for a healthy boost spoon in some chia seeds or flax.

Make a cherry smoothie bowl and serve it topped with sliced fruit and granola.
Frequently Asked Questions
What is the healthiest liquid to put in a smoothie?
The cherry juice used in this recipe is healthy if you use fresh homemade cherry juice or store-bought with no added sugar. However, if you want to use something that does not add any calories at all, try filtered water. Another option is to use coconut water, which is also fantastically healthy with potassium and fiber. If you want to add milk, try unsweetened almond milk or coconut milk instead of dairy milk, but watch the calories and sugar content.
Is there something I can add to help lose weight?
There are many things that you can add to a smoothie to help with weight loss or to make it healthier. For instance, if you add protein powder, the extra protein will make it more filling so you will drink and eat less. Other good ideas include nuts, berries, beans, tofu, flaxseed, and hemp seeds. Keep in mind that I am not a registered dietician, so any changes to your diet should be discussed with a professional first.
Is it okay to drink smoothies every day?
It is actually healthy to drink one of these cherry smoothies every day if you make it with sugar-free cherry juice and low-fat Greek yogurt. Actually, none of the other ingredients in this smoothie is unhealthy so you can drink them every day with no problem. This also adds fruit to your diet, which is important and can help stop you from craving sweets.
More Refreshing Drinks:
Recipe tips:
Actually, try adding almond butter for a smooth and fresh taste addition.
Also, if you are using fresh cherries instead of frozen, be sure to add ice.

Keep in mind that to make your smoothie thinner by adding more juice, water, or milk.

Also, using extra ice will make your smoothie thicker.
Another trick is to add avocado to your smoothie to make it extra creamy.
However, use tart cherries if you prefer a smoothie that is not as sweet.
Deliciousness to your inbox
Enjoy weekly hand picked recipes and recommendations