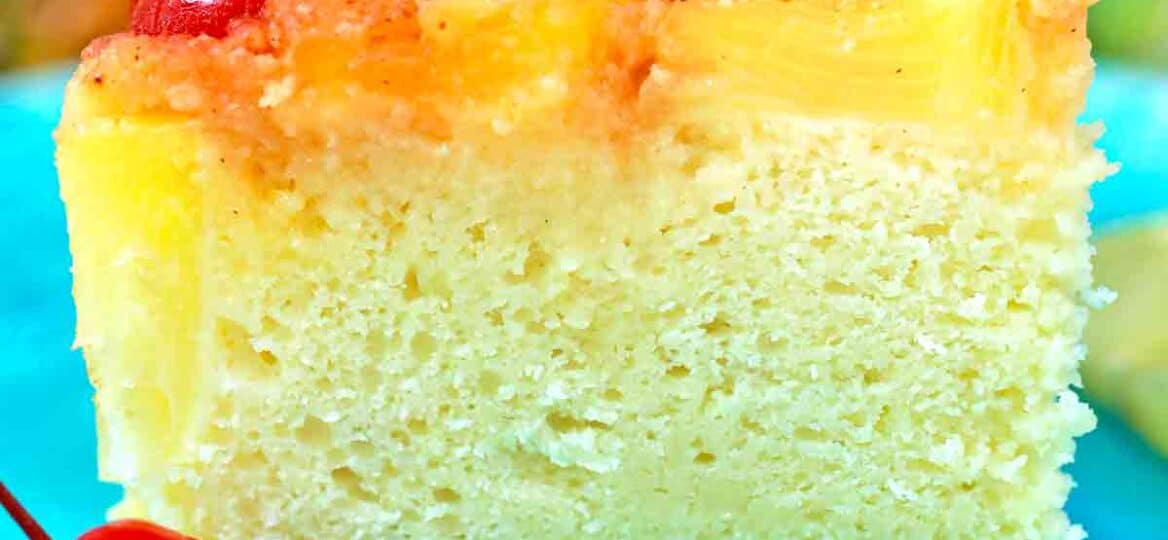 Instant Pot Pineapple Upside Down Cake [Video]
Instant Pot Pineapple Upside Down Cake features a rich, coconut-infused cake crowned with pineapples cooked in a sweet cinnamon-butter sauce. You're going to love the sweet tropical flavors of this dessert!
Pineapples are very versatile fruits, and we love using them for savory and sweet recipes. For instance, it's the star in our Pineapple Cake, Pineapple Smoothie, and lends a subtle sweetness to our Slow Cooker Pineapple Ham.
Instant Pot Pineapple Upside Down Cake
Instant Pot Pineapple Upside Down Cake is a beautiful medley of sweet pineapples, red cherries, and cake. The fruits are cooked in spices, sugar, and little butter to create a sauce. The cake is simple and moist, with extra richness thanks to the coconut milk.
We love seeing the golden syrup go down the side of the fresh-baked cake when we turn it upside down! Finally, it smells and tastes incredible. We love serving it during the summer, but it's perfect anytime you want a light and fruit dessert, too!
What is an upside-down cake?
What sets this dessert apart is that the cake and fruit topping is not just baked together, but it starts with the topping on the bottom. After baking, you flip the pan onto the plate to release. Because of this, it becomes "upside-down," because the fruit is now on top.
Ingredients for IP Pineapple Upside Down Cake
For the topping:
Fruits: Prepare pineapple slices, and set aside the juice. We're also using whole cherries (maraschino).
Butter: Melt about 4 tbsps. of butter, unsalted.
Sugar: Aside from adding sweetness, brown sugar also encourages caramelization.
Flavorings: To complement the fruits, we're flavoring the topping with coconut extract, a splash of lime juice, and nutmeg plus cinnamon.
For the cake:
Dry: Easy pantry ingredients like flour, salt, and baking powder (makes the cake light and fluffy!) go into our batter.
Wet: To complete the batter, we're adding both red and white sugars, soft butter, plus a fresh egg.
Coconut flavor: For extra richness and flavor, we're adding a mix of coconut milk and coconut extract.
How to make Instant Pot Pineapple Upside Down Cake
Cook the fruit syrup. First, melt your butter. Then, add the spices, sugar, and juices, followed by the extract.

Assemble the fruit topping. Brush butter all over your pan, then pour the spiced syrup in there. Place a slice of pineapple in there, then place a whole cherry in the center. Slice the rest of the slices in half. In each hole, place a cherry.

Make the batter. Beat the butter with both sugars, followed by the extract and egg. Into this, gently mix in the coconut milk and the dry components.
Cook. Gently pour the batter over the fruit topping. Place the pan in the IP, carefully positioning it on the rack. Cook on high for about 50mins., then leave it for 20 mins. to release steam. Cool before inverting on a plate.

Serve. Slice and enjoy!
Recipe variations and substitutions:
Mango: Use sliced mangoes and toss them with a bit of orange zest. Add some orange zest into the batter as well.
Strawberries: Use fresh/thawed frozen strawberries and add a splash of lemon to the batter. You can also use our delicious strawberry pie filling!
Cinnamon apple: Use our Cinnamon Apples, and add some nutmeg and cinnamon to the batter.
Peach: Use sliced peaches tossed with cinnamon.
Blueberry lemon: Use fresh/thawed frozen blueberries and add lemon zest to the batter.
Mixed berries: Combine blackberries, blueberries, and blackberries.
Frequently Asked Questions
Can cake mix be made with pineapple juice instead of water?
Yes, go ahead! It gives the dessert a more intense fruit taste.
Can I substitute canned pineapple with fresh?
Of course, but make sure it's sweet and ripe. However, we do recommend using canned because it's both convenient and delicious. Also, you can buy it already sliced, so that's less prep work!
How to prevent upside-down pineapple cake from sogginess?
The usual reason for this is that there's too much juice, or you didn't cook the fruit sauce long enough so that it turns into a slightly thicker syrup.
Aside from following the recipe amounts exactly, make sure to flip it soon after cooking so it has a chance to cool down instead of getting soggy in the pan.
Topping suggestions:
Top it with ice cream, sweet vanilla cream, or whip cream! We also love topping it with caramel sauce, toasted coconut, raisins, and crushed nuts. Finally, a drizzle of lemon curd offsets the sweetness and adds a refreshing twist to each bite.
More instant pot desserts to try:
How to store Instant Pot pineapple upside down cake?
Cool it down first, so the condensation doesn't make it soggy. Place in an air-tight container, and keep chilled for up to 5 days. You can serve it cool, or warm it up for a couple of minutes so it tastes fresh-baked!
Deliciousness to your inbox
Enjoy weekly hand picked recipes and recommendations