Instant Pot Cinnamon Apples [video]
Instant Pot Cinnamon Apples make for a perfect fall side dish or dessert! Pressure cook this quick and simple dish for just two minutes to make an easy and delicious dessert!
It is almost autumn season and I just cannot wait to enjoy my favorite apples! Enjoy along with other desserts like the Strawberry Banana Bread, Berry Cheesecake Salad, and Peach Cobbler!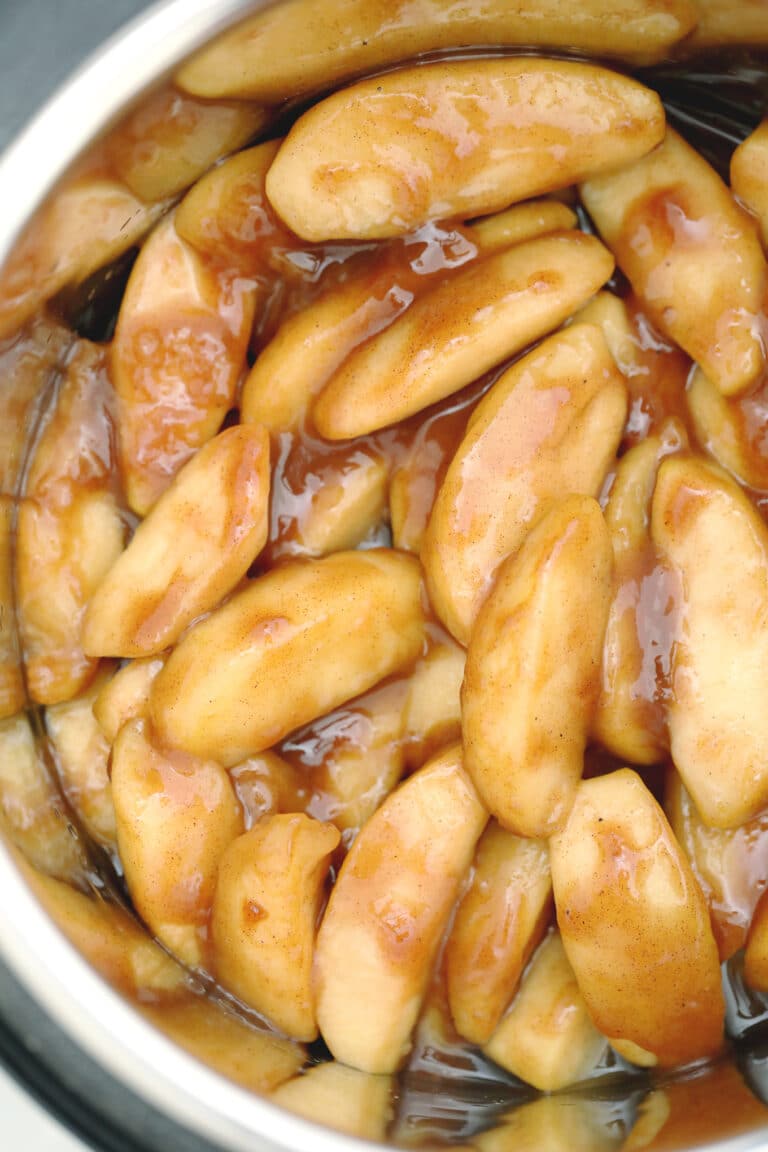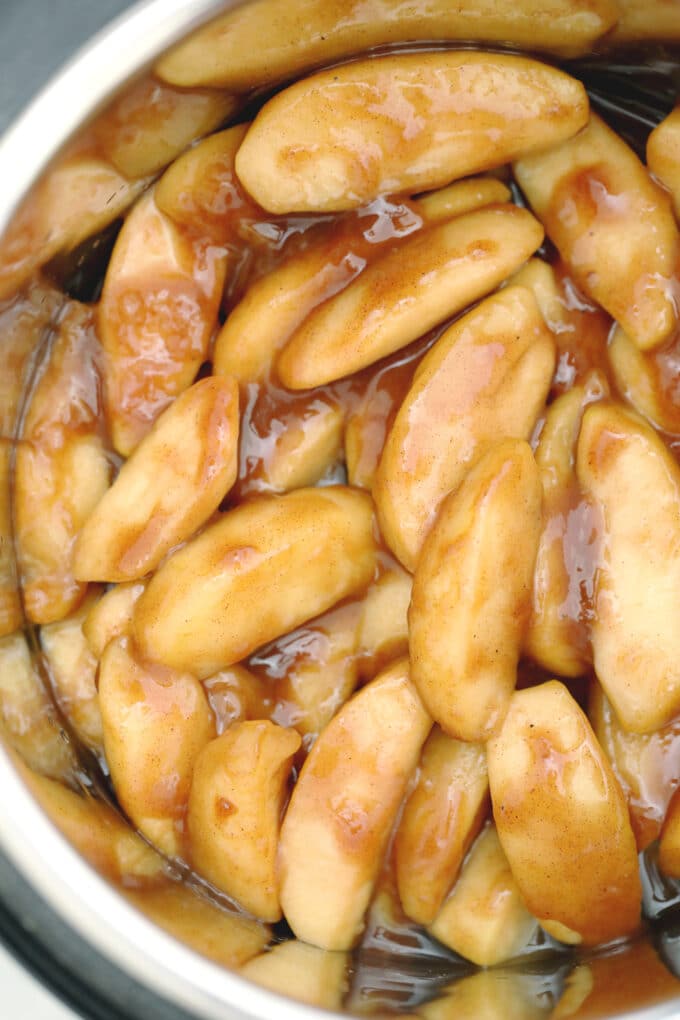 How to Pressure Cook Apples
Instant Pot Cinnamon Apples are easy to make! Just prepare the apples, put the pieces in the pressure cooker, and cook. In a matter of minutes, you will be able to enjoy this great dessert!
Others make this dish as a dessert, but I also enjoy it as a side dish. I like the woody taste and aroma that the cinnamon brings.
And who does not love apples?! I like how the spice complements the fruit, and how soft it becomes once pressure-cooked.
I made this the other day and my son cannot stop talking about it! He insists that I make it again soon. This time, I documented the whole process to share this easy recipe with you.
What is an Instant Pot?
It is a multipurpose kitchen appliance that cooks food easily through pressure cooking. Basically, you just throw in the ingredients, close the lid, forget it for a while, and then, release the pressure to open.
You need to put in a small amount of liquid from which the steam will be generated, leading to high pressure inside the pot.
It is a good investment as you can use it in many ways. What takes hours to cook in the oven, or on the stove, or slow cooker, can be finished for a fraction of the time in the IP.
So, if you have not gotten yourself yet with one, I strongly recommend that you do so. I have used mine for quite some time now, and it has been delivering good results as expected – all by just touching a few buttons.
Still not convinced? Then, check out the countless Instant Pot recipes that I have shared in the past using this kitchen essential to convince you further how good this is.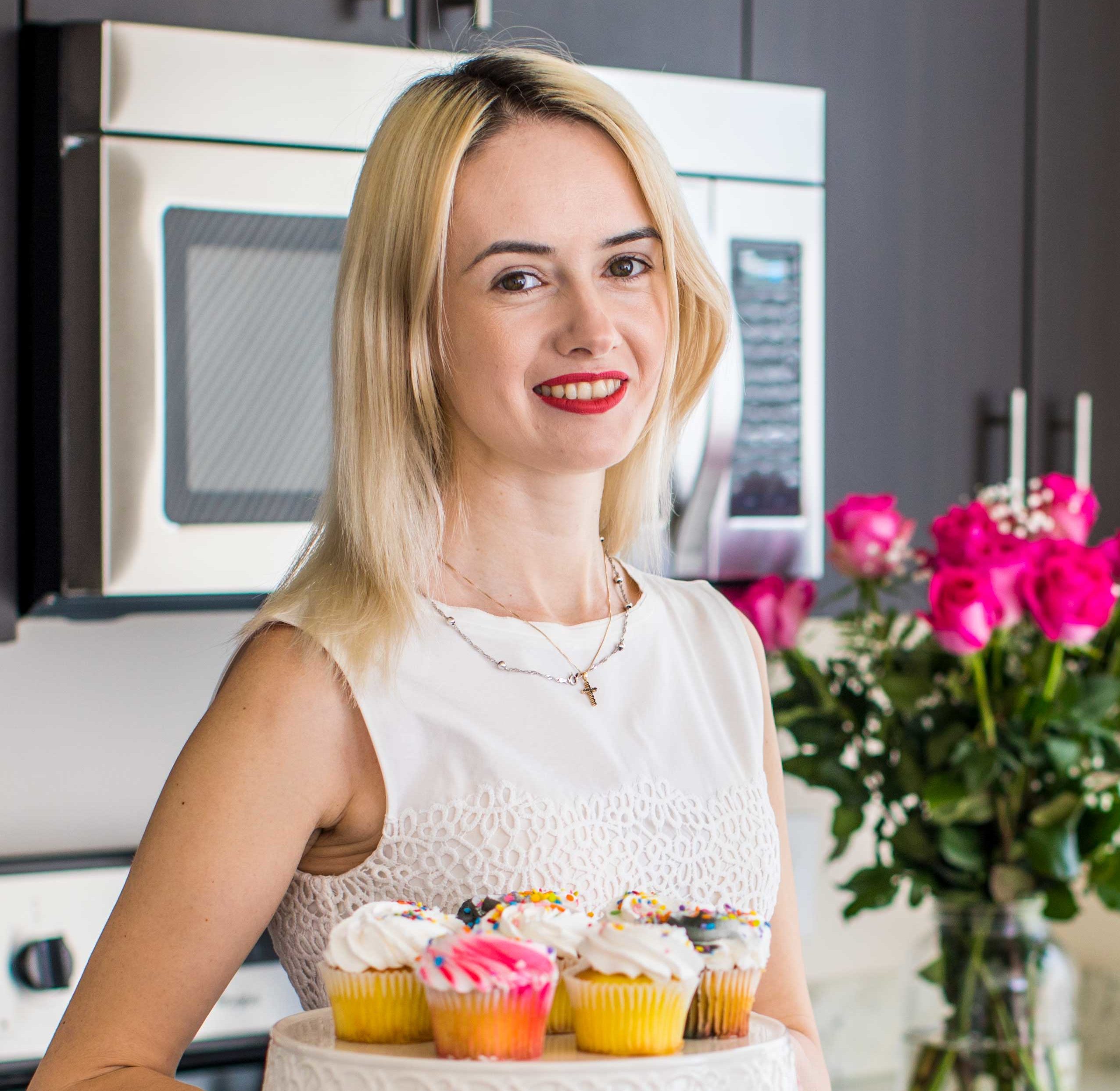 Follow us on Pinterest for more delicious recipes!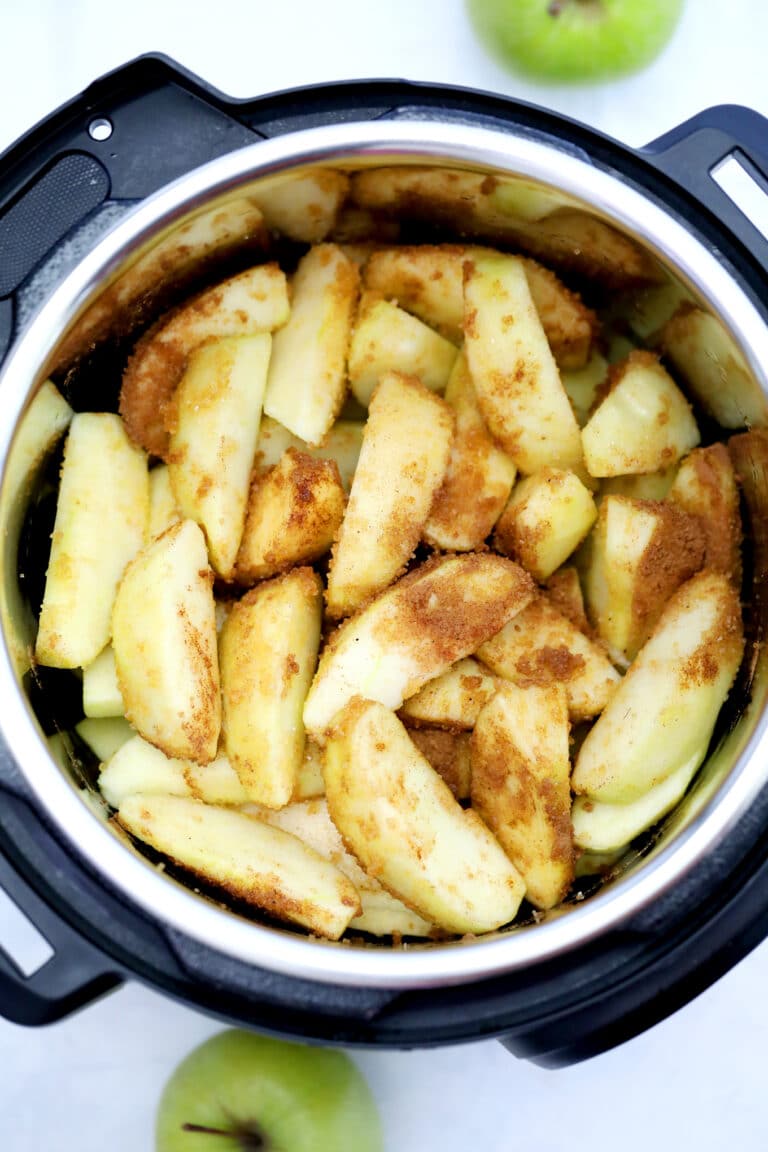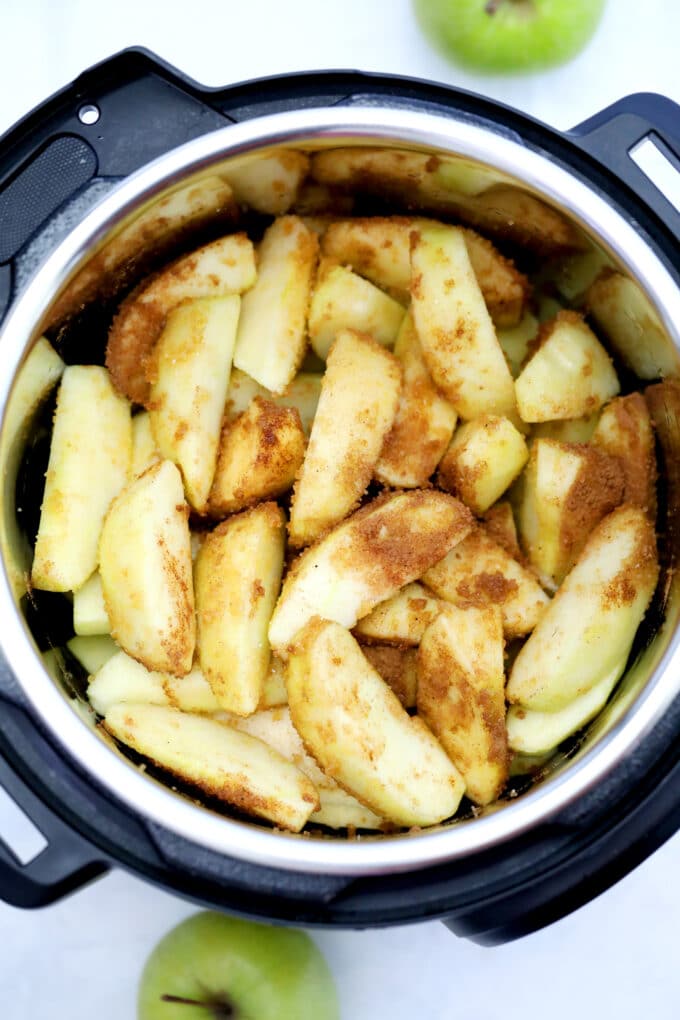 What do you need to make Instant Pot Cinnamon Apples
This is rather a simple dish. All you have to prepare are the following ingredients:
lemon juice
granny smiths
brown sugar
ground cinnamon
ground nutmeg
maple syrup or honey
cool water
cornstarch
How do you make Instant Pot Cinnamon Apples?
Prep the granny smiths: In a bowl, put some lemon juice. Cut the fruits. Take out the seeds and core, then, slice thinly. Dip each surface of the slices in the lemon juice.
Prep the IP: Once done, put the slices and juice in the IP. Add the rest of the ingredients including the slurry. Pour everything inside the IP then, mix the ingredients.
Pressure cook: Seal (valve in sealing position) the IP then, set the schedules manually. Set 2 minutes if you like your crispy or 10 minutes if you want it to be softer.
NPR: Once done, do a quick release. Then, open the lid and serve!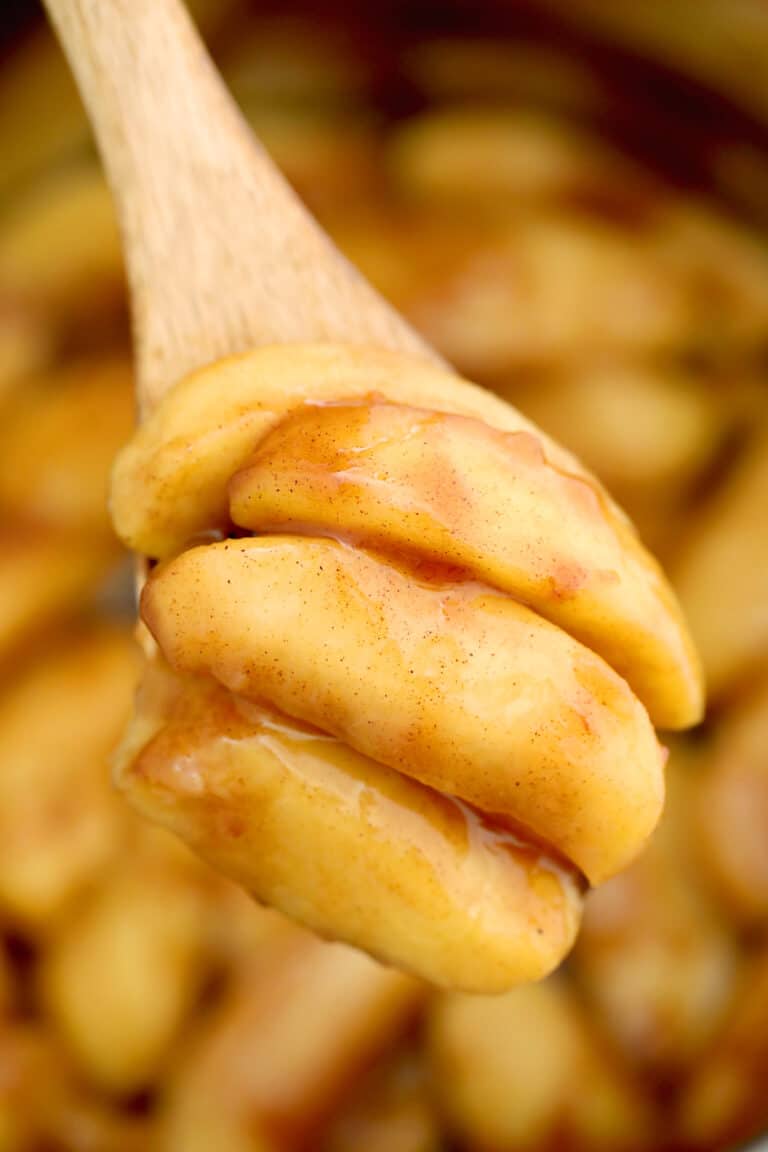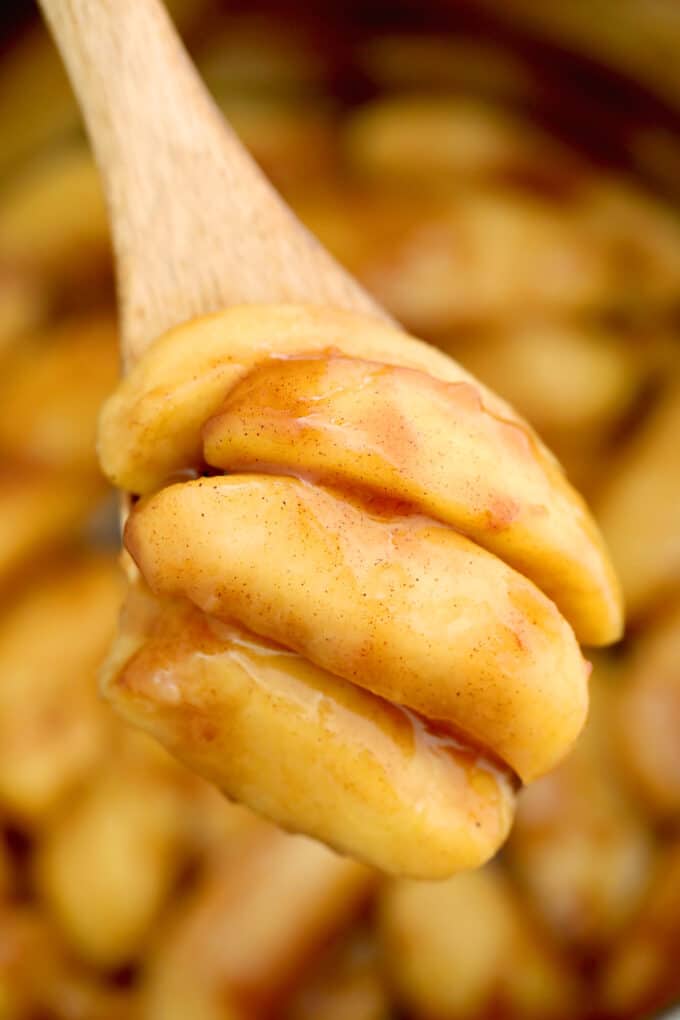 What apples are best for this recipe?
I use granny smiths for this because I like the sourness. But any variety will do depending on your preference. Basically, if you want something that will hold its shape, go with Ida Red, Honey Crisp, Braeburn, or Golden Delicious.
How to prevent apples from getting mushy while pressure cooking?
The key here is to cook the fruits along with the sugar from the very beginning. If the fruit will be cooked before adding the sugar, the osmosis effect will cause it to be mushy.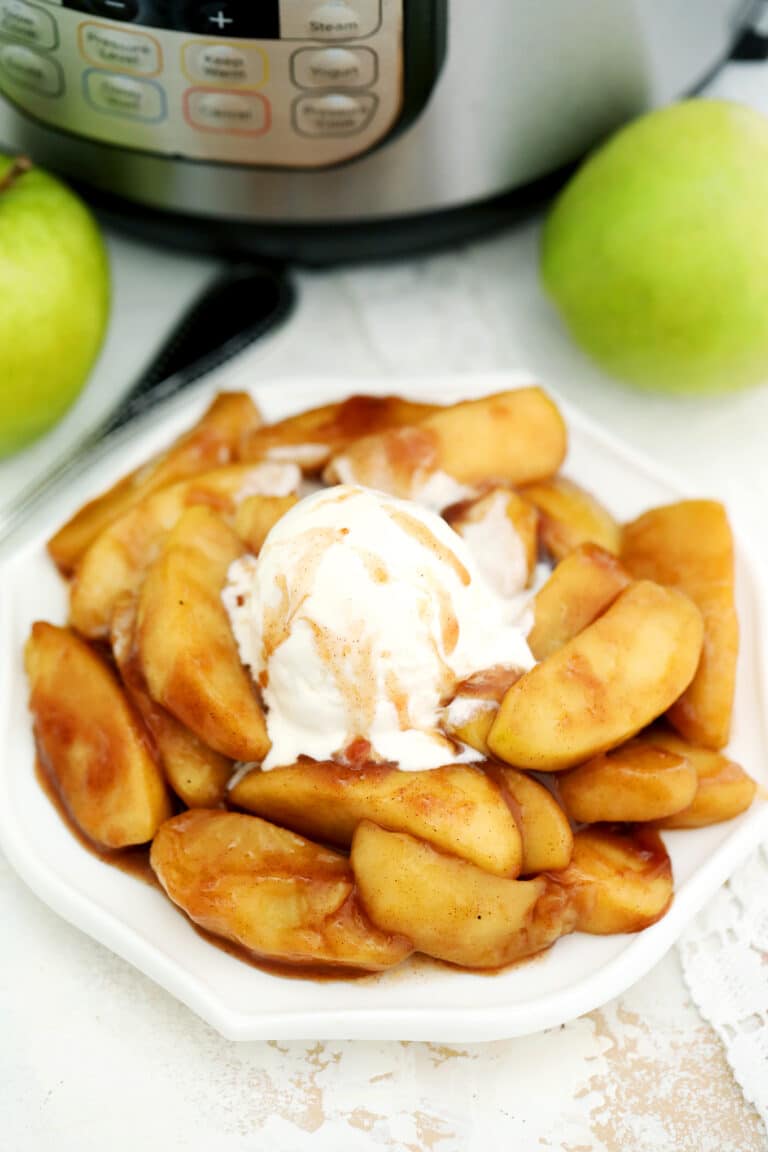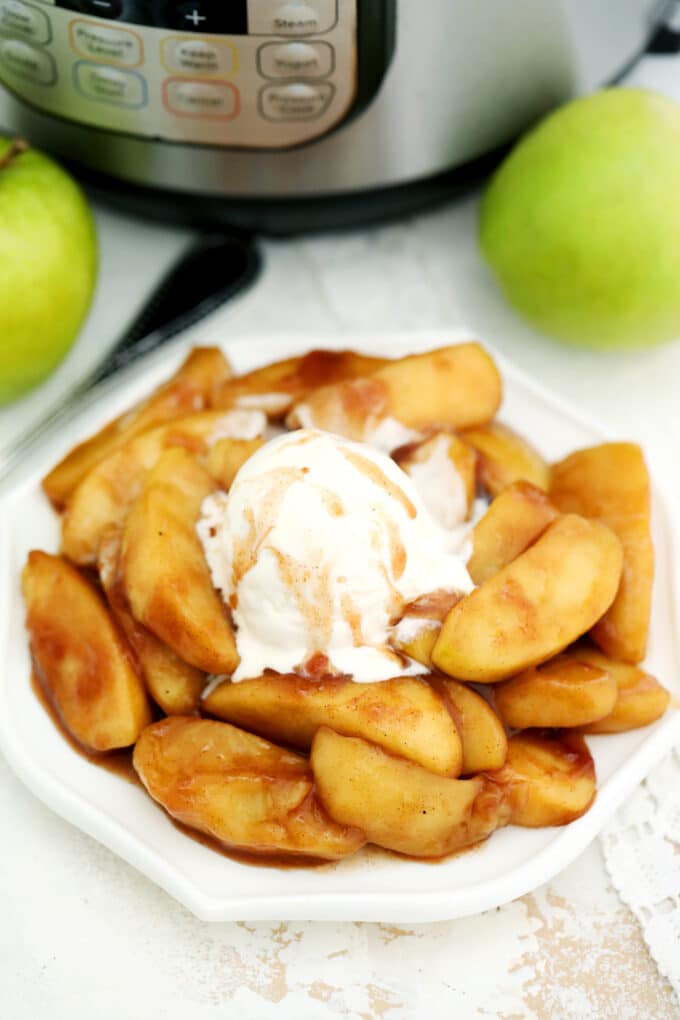 Burn notice on the instant pot:
If you get a burn notice while cooking the apples, it means that the inner pot is too hot, and it stopped heating to prevent the food from burning. You can press the cancel button to quickly turn off the pressure cooker. Then, quickly release the steam by turning the valve.
Also, you can prevent this by ensuring that there is nothing sticking to the bottom of the pot. If the IP detects something sticking at the bottom, it will cause a burn notice. So, use a spatula or wooden spoon to gently stir the ingredients together, so nothing is stuck to the pot.
Lastly, you can add some moisture to the pot, like water. The moisture will help avoid the burn notice.
How to store:
You can refrigerate this for up to a week in an airtight container. To reheat, simply pop it in the microwave for a minute or two.
More apple recipes:
Recipe Tips:
You can combine different apple varieties in one batch.
In this recipe, I removed the skin. But it depends on you if you want to simply cut the fruits and not peel them anymore. It will save you precious time!
Another time-saver is the apple slicer. Use it for faster preparation.
Serve this as a side dish to your meals or as a dessert topped with vanilla ice cream. You can eat it on top of your favorite cakes and bread, too.
Save Recipe
Instant Pot Cinnamon Apples
Instant Pot Cinnamon Apples make for a perfect fall side dish or dessert! Pressure cook this quick and simple dish for just two minutes to make an easy and delicious dessert!
Author: Catalina Castravet
Serves: 6 servings
Prep time:

10

minutes
Cook time:

2

minutes
Total time:

12

mins
Nutrition information
Calories: 273 Carbohydrates: 71 Protein: 0 Fat: 0 Saturated Fat: 0 Cholesterol: 0 Sodium: 14 Potassium: 262 Fiber: 5 Sugar: 59 Vitamin A: 100 Vitamin C: 9.5 Calcium: 62 Iron: 0.6
Save Recipe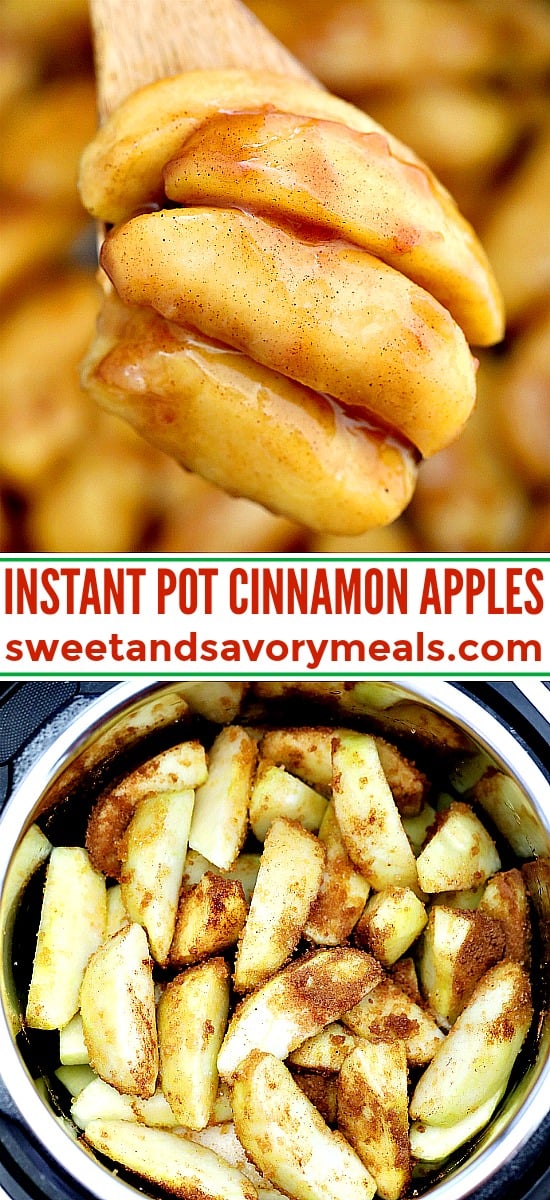 More recipes you might love