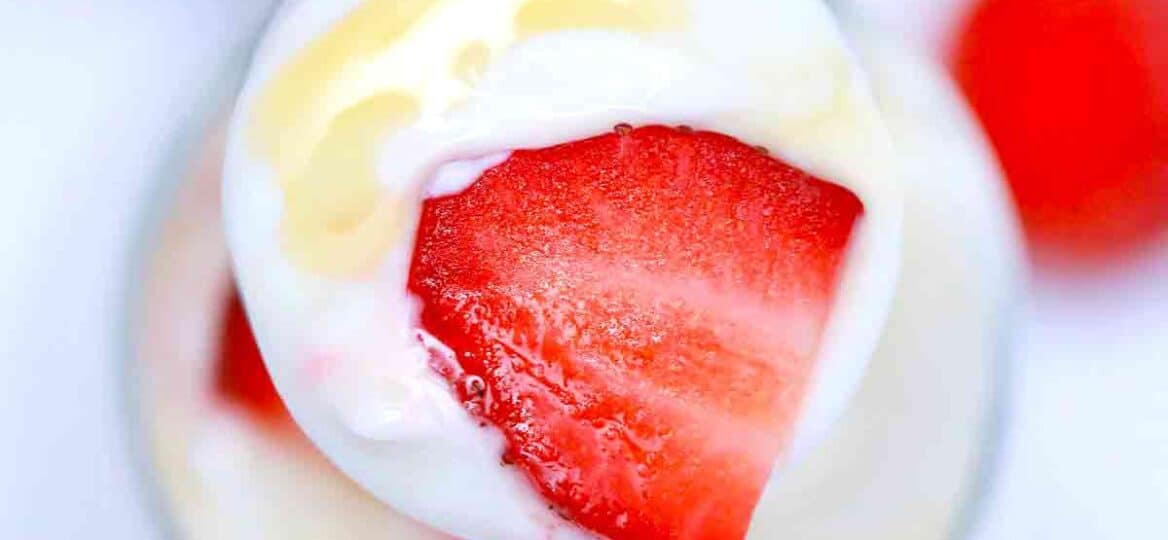 How to Make Yogurt in the Crockpot
How to make yogurt in the crockpot is one of the easiest recipes you will try! Creamy, lush, and healthy homemade yogurt made with very little effort. Add fruit and other toppings, use it in recipes and baked goods, or enjoy plain!
Learn how to make homemade versions of other pantry basics like buttermilk, pesto, and flavorful stock, all from scratch!
Crockpot Yogurt Recipe
How to make yogurt in the crockpot is infinitely better than anything store-bought, and it has no preservatives, too! Aside from being really easy to make, there are countless ways to enjoy this. We love mixing in spices, fruits, and sauces for healthy desserts and snacks. You can also use it for baking and cooking!
What goes into the crockpot yogurt recipe
Milk: We highly recommend whole, but skim or 2% will work, too. Don't use non-dairy.
Plain yogurt: We're using a cup as a starter. Make sure it has live cultures like s. thermophilus or l. bulgaricus (check the package).
Gelatin: Homemade yogurt is not as thick as store-bought, so this will create that creamy texture.
How to make crockpot yogurt
Bring it up to 180F. Set the crockpot to low, pour in the milk, and leave it for about 2-3 hrs. until the temp heats 180F.
Cool. Turn the crockpot off and allow the milk to naturally cool down to 110F. This will take 3-4 hours.
Add starter and set. Check the temp again. Once it's at 110F, add the starter, plus gelatin, and stir. Let it sit for at least 8-10 hrs., or as long as overnight.
Strain. Pour into a cheesecloth fitted over a bowl and leave it to strain naturally.
Enjoy. You now have pure, homemade yogurt!
Recipe variations:
Milk: 2% or skim can also be used aside from whole.
Thicker: Strain at least 4 hrs.
Stockpot: Manually heat and cool the milk in a stockpot over the stove (doublecheck temp) before setting and straining.
Frequently Asked Questions
Do you need a yogurt maker?
Absolutely! We're using the beloved crockpot, our trusty partner for family favorites like Beef Stew and hearty soups.
Don't have a slow cooker? No worries. Later on, we're sharing instructions on how to make yogurt in the stockpot as well!
Can you make yogurt in the slow cooker?
Yes, and it's BEYOND EASY. In fact, we recommend it if you have a yogurt-loving home like ours. It's far cheaper to DIY it, and you know exactly what goes into each serving.
Is yogurt the same as curd?
They start out the same – from milk – and undergo a similar process of heating the milk gently and giving it time to form. However, the curd is coagulated/curdled milk, usually from the addition of lemon or vinegar. It's semi-solid and looks closer to cheese than thickened milk.
Can you make yogurt if you don't have a starter?
No need for a starter. Plain yogurt has all the live cultures we need for this recipe.
Is Greek yogurt better than regular yogurt?
They do have a couple of differences. The Greek kind is thicker and has a bit more protein, but the regular type is a little lower in calories.
Aside from these, they're both really good for you! They pack a lot of probiotics and are excellent for digestion, heart health, and weight loss.
How to thicken homemade yogurt?
Start with our crockpot or stockpot instructions. For thicker results, simply strain it for longer or at least 4 hrs.
How to store crockpot ypgurt:
Scoop into an air-tight container and chill in the refrigerator. Finish within 2 weeks.
Also you can freeze it for up to 2 months in a Ziploc, well-sealed container, or even in ice cube trays. Defrost, and mix it very well before using.
Yogurt Topping and Serving Suggestions:
The ways to enjoy this are virtually unlimited! Below are some awesome ideas:
Recipe tips:
Use a thermometer to double-check precise temp.
Choose a cool, draft-free place to leave your pot in.

For the starter, check the label. It should have live cultures, or the recipe may not work.
Deliciousness to your inbox
Enjoy weekly hand picked recipes and recommendations