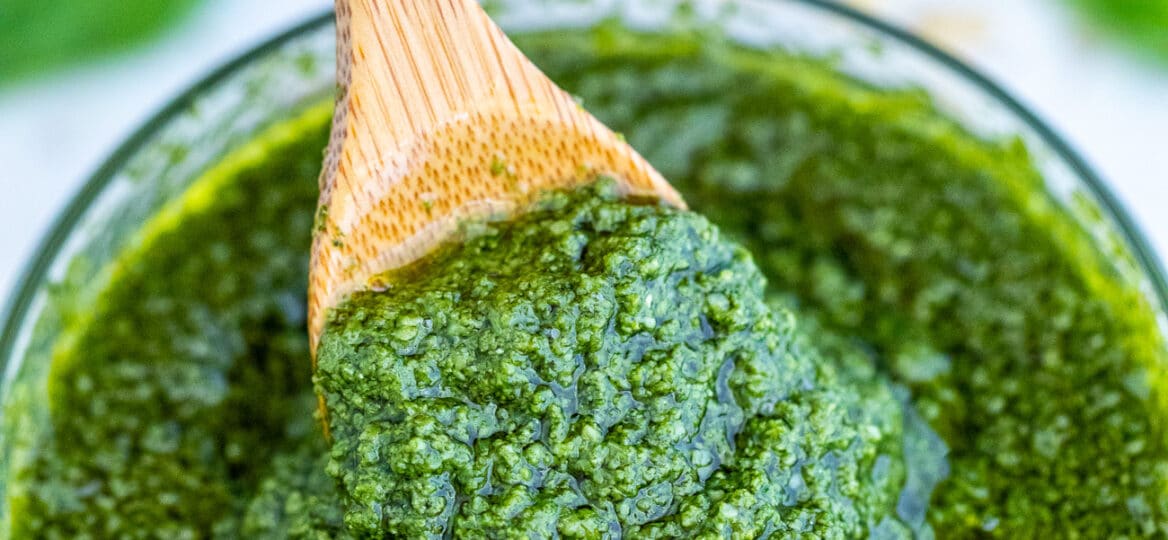 How to Make Pesto [Video]
Pesto is the favorite olive oil-based sauce made with basil. Make that gourmet pasta you like with this recipe and enjoy restaurant-quality food at home!
If you like a full Italian spread this weekend, then, make this sauce along with other Italian-inspired recipes that we have! Pasta pairs well with Italian Chopped Salad, Keto Italian Chicken Skewers, and Italian Chicken and Potatoes!
Easy Homemade Pesto Recipe
Pesto is cheesy and flavorful with its unique mix of herbs and aromatics. When I crave pasta, I sometimes try to avoid the cream-based or tomato-based sauces that we have all the time.
Nothing bad with them, of course. They are delicious! Just a couple of days ago, I was craving for something out of the ordinary and tried to add variety to our menu rotation, I made this pesto instead!
And guess what, my family loved it! With it, you can easily elevate a simple pasta meal, or just use it to make a Caprese salad. So, if you are like me who always strives to serve something new and fresh, then, this recipe is perfect for you!
What is pesto?
This sauce originated in Genoa in Italy. The name is derived from an Italian word that means "to crush," this sauce is mainly made with crushed basil leaves in a base of olive oil.
What is pesto made of?
Aside from being fresh-tasting and uber easy to prepare, this recipe requires only a handful of ingredients! The only five ingredients that you will ever need are the following:
fresh basil
pine nuts
garlic cloves
extra-virgin olive oil
parmesan cheese – freshly grated
Is pesto healthy?
Yes! But the sodium levels of commercially available ones are off the charts, making it ideal to prepare at home where you can control the ingredients.
This dip is made with two main ingredients: olive oil and basil. We all know that olive oil has lots of antioxidants and even if it has fats, they are the monosaturated kind which is healthy. Meanwhile, the fresh basil leaves have many health benefits, too.
They are packed with antioxidants and nutrients with negligible calories. Also, they can help with regulating blood sugar levels and lowering blood pressure.
Basil is a good source of vitamin K which helps in blood clotting. Hence, consult your doctor regarding the intake of basil if you are on medication especially related to blood pressure and sugar.
How do you make pesto:
Once you have prepared the ingredients, then, it is only a matter of time before you can taste your final product! Follow these easy steps:
Mince: Use a food processor to mince the fresh basil leaves, garlic, and pine nuts. Then, turn the food processor to LOW.
Add oil: Slowly pour in the olive oil and process until smooth.
Add cheese: Throw in the parmesan cheese and combine well.
Serve: Scoop out and serve!
Can you make pesto using frozen basil?
Technically, people freeze fresh herbs all the time and use it for their recipes. But, personally, I will not use frozen basil to make pesto because freezing changes the color and texture.
Or, if you freeze it properly by blanching the leaves first, they can retain the color, but the flavor is unlike the fresh ones, and the texture changes, too.
What is pesto used for?
It can be used in many dishes and recipes. Some of the most popular ways to use it is as the perfect dressing for pasta salad, in chicken kebabs, and pizzas. Also, feel free to add it for extra flavor to rice, mashed potatoes, or steamed veggies.
You might also love:
How to store it?
Refrigerate: Store it in an airtight container then, refrigerate for 5 to 7 days.
Freeze: You can put in ice cubes, then, when frozen, transfer to freezer bags. Each time you will need it int he future, just get a cube or two. The sauce can keep for 3 to 4 months.
Recipe Tips?
You can enjoy this sauce as a dip, as a spread, or as a topping to just about anything.
To vary, substitute walnuts to pine nuts, or add parsley and mint to the basil.
Also, if you have many fresh basil leaves, you can dry them and use for future recipes.
Deliciousness to your inbox
Enjoy weekly hand picked recipes and recommendations