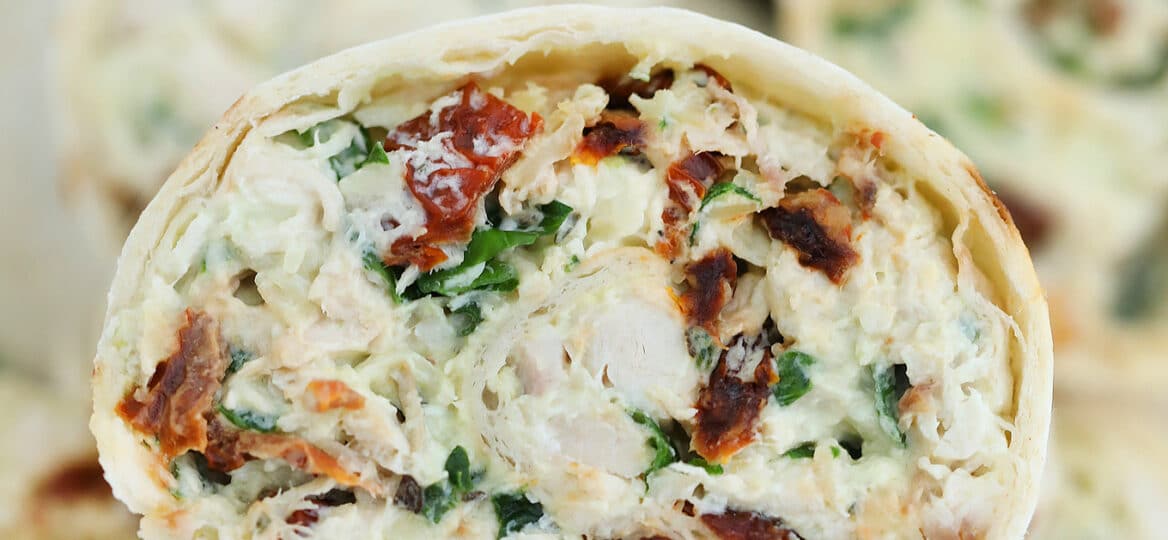 Tuscan Chicken Pinwheels [Video]
Tuscan Chicken Pinwheels are rolled with a creamy chicken filling! Italian flavors combined in one easy-to-make dish makes this a great lunchbox meal! Watch the video tutorial below and you'll see how easy this is.
I love Italian-inspired dishes and the colors of this dish simply remind me of the Italian flag! Want some more Italian-inspired dishes? Then, you will surely approve of our recipes for Pesto Pasta Salad, Instant Pot Lasagna Soup, and Strawberry Tiramisu!
Tuscan Chicken Pinwheels
Tuscan Chicken Pinwheels are perfect for cocktail parties! They are easy to eat since the servings are in individual rolls. Also, they look great on the table with all those swirls arranged in a platter.
You also get a balance of saltiness and tartness in one easy recipe. It is a nice appetizer for almost any kind of celebration. And the colors are just perfect!
The sundried tomatoes add the chewiness factor which enriches the texture of this dish. The herbs and spices tie the whole dish together. And the shredded chicken is perfect for the creamy sauce.
You have protein, carbs, and fiber in one dish! For this reason, it is a healthy lunchbox meal for kids. Each piece easily fits a lunchbox and does not make a mess. Just perfect!
What are pinwheels?
They are appetizers that are made with rolled up tortillas with various fillings inside and cut into bite-size portions. The cross-section of each tortilla looks like spirals and resembles the real thing.
There are many recipes with the filling as the only difference. You can experiment on the combination of protein, vegetables, and sauce to create one.
What do you need to make Tuscan Chicken Pinwheels
Aside from the flour tortilla, you will need the following for the filling:
rotisserie chicken
cream cheese
mayo
mozzarella cheese
sundried tomatoes
spinach
Italian seasoning herbs
If you have large tortillas, this recipe is good for three pieces. Otherwise, use 6 smaller ones.
How do you make Tuscan Chicken Pinwheels?
Prepare the filling: In a bowl, mix the shredded meat, cream cheese, and mayo until fully combined. Then, mix in the herbs, tomatoes, and spinach.
Roll: Put the tortilla on a flat surface. Then, spread the filling on it. Roll tightly.
Serve: Cut each tortilla into one-inch-thick pieces before serving.
Recipe Variations
The Tuscan cuisine is characterized by a few simple ingredients, but never short on flavor. It uses only the freshest ingredients that are in season.
To make variations of this recipe, use different kinds of meat, vegetables, and fruits. You can vary the cheese and add some legumes, too.
For the sauce or dressing, you can opt to still use the one in this recipe.
Here are a few combinations that I suggest:
provolone cheese, lettuce, pepperoni, or salami
provolone cheese, pepperoncini pepper, roasted red pepper, ham
goat cheese, lettuce, tomatoes, prosciutto
How to Store:
Refrigerate: Before cutting the rolls, you can refrigerate them for up to 24 hours. Hence, you can make this in advance. You can also separately refrigerate the filling and then, assemble and cut before serving.
Freeze: To ensure that the rolls will not crumble, bake them first for 15 minutes at 350 degrees. Let them cool before putting them in the freezer bags before freezing. When ready to serve, simply thaw in the refrigerator.
Can you serve Tuscan Chicken Pinwheels cold?
Sure, you can! Putting the wraps in the refrigerator before cutting up the portions can help the flavors meld. Also, the wrap turns firmer which makes cutting it easier.
Recipe Tips:
For a great lunchbox meal, you can serve this with crackers, nuts, chips, and fruits.
You can vary the tortilla by using special flavored ones. But, in any case, it is better if you will use soft ones since they are easy to roll without cracking.
If you want a vegetarian version, feel free to leave out the meat.
Deliciousness to your inbox
Enjoy weekly hand picked recipes and recommendations