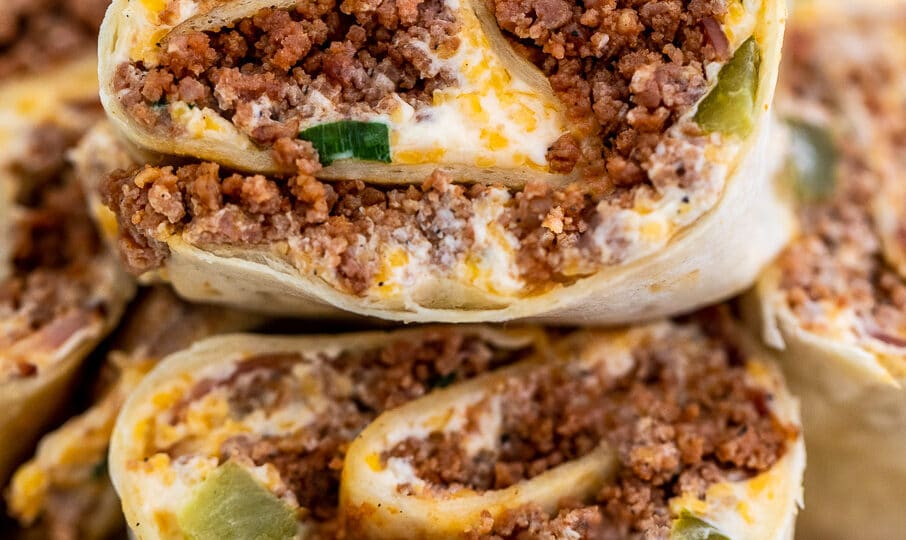 Cuban Sausage Pinwheels [Video]
Cuban Sausage Pinwheels are great for parties or lunchboxes! Serve this dish as an appetizer or simple snack that is loved by both kids and adults alike! Check out the short video recipe tutorial below, and see how easy these are to make!
Having a party soon? Try this recipe and our other party favorites like the Taco Dip, Crack Chicken Pasta Salad, and Grilled Chicken Wings!
Cuban Sausage Pinwheels
Cuban Sausage Pinwheels are flavorful and pretty easy to make! Generally speaking, pinwheels look great with all the spirals. You cannot go wrong serving this dish at a party.
You can also put it in lunchboxes as this dish is ideal as finger food. The kids will surely have fun eating it along with other goodies.
Adults will also rave about this dish with all its flavors! The bacon and sausage lend a meaty combination that is hard to beat. The cheeses with the mayo also taste heavenly!
Don't even get me started with the pickles! They provide a nice balance to all the flavors that this dish has to offer.
Enough with all these and all that is left is for you to try this recipe!
What do you need to make Cuban Sausage Pinwheels:
For this recipe, you will need these easy-to-find ingredients:
ground sausage
canola oil
paprika
salt
pepper
cream cheese
mayo
cheddar cheese
bacon
green onion
pickles
tortilla
How do you make Cuban Sausage Pinwheels:
Make the cream cheese mixture: Combine the cheeses and the mayonnaise. Mix until smooth and everything is fully incorporated.
Add the other ingredients: Add in the bacon, green onion, and pickles.
Cook the meat: In a skillet, cook the ground sausage in oil. Season with salt, pepper, and paprika.
Assemble: On the tortilla, spread a layer of the cream cheese mixture first. Then, top with about half a cup of the cooked meat. Then, roll tightly.
Serve: Before serving, cut into one-inch-thick slices.
Recipe Variations:
Tuscan Chicken is another great combination.
Turkey Pinwheel can be made with leftover turkey. Equally delicious!
Bacon Cheddar Ranch Pinwheel is one of my favorite flavor combinations!
Also, aside from the regular flour tortilla, you may opt for a puff pastry instead.
Thin out the puff pastry, put the filling as you would in a tortilla, then, roll tightly. Brush with some egg white and then, slice into the desired size. Then, bake in the oven until golden.
Another variation would be to use a different-flavored tortilla. Sundried, spinach, or jalapeno are popular ones that you can try.
Can you make Cuban Sausage Pinwheels in advance:
Yes! What you can do is separately store the cream cheese mixture, cooked meat, and tortillas. Then, assemble when ready to serve.
However, note that you may need to chill this before serving. This is set everything in the wrap so that it will not unravel when you slice it.
It also freezes well. So, taking that into account, you can have a stash of this hearty snack right in your freezer for when you crave for it!
How to Store them:
Refrigerate: Refrigerate this dish in an airtight container away from anything that could make it soggy. Since the meat in this dish is cooked, you may refrigerate it for up to 3 days.
Freeze: You can bake this first to set everything before freezing. The cheese may crumble if you do not. It will stay good in the freezer for up to 3 months.
To Reheat: Simply bake it in the oven again for about 15 minutes or more until heated through at 350 degrees.
Recipe Tips:
Did you know that you can make your tortilla wrap? Simply mix all-purpose flour with baking powder, a little salt, and melted butter. Make a dough out of it. Then, divide the dough and shape it into small balls that you can then roll flat. Heat in a non-stick pan, and then, cook until brown.
If you want something spicier, add in red pepper flakes.
You can add herbs for a richer flavor. You can try sage or parsley.