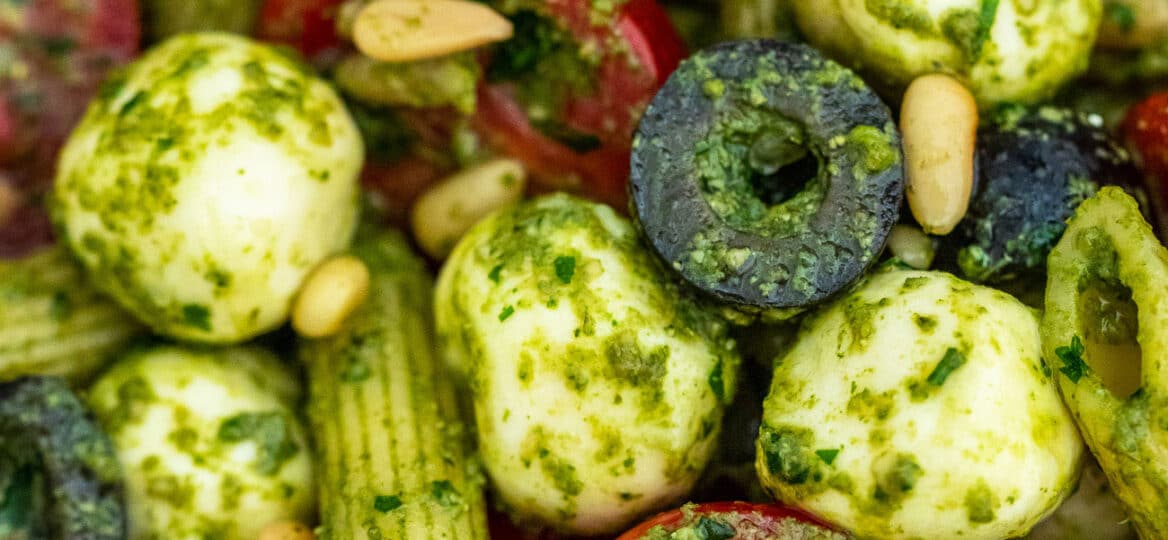 Pesto Pasta Salad [Video]
Pesto Pasta Salad is a fresh and delicious side dish perfect for any occasion. You only need to combine pesto sauce with pasta, cheese, and some veggies, to make this recipe!
This recipe is perfect for your picnic with the family! Make sure to enjoy it with other yummy dishes like the Perfect BBQ Pork Chops, Best Grilled Potatoes, and Strawberry Pie.
Quick and Easy Pesto Pasta Salad
Pesto Pasta Salad is an all-time favorite. Our family loves how even with just a bit of pesto sauce, the dish is already bursting with flavor.
I often make this dish during summer because I prefer to serve it cold. It tastes so refreshing and healthy! The kids love it too, especially when I serve it with grilled chicken.
I love making pesto sauce from scratch. I always use fresh ingredients and use more basil than required. When I don't have enough time, however, ready-made pesto from stores is a great alternative.
This dish can be prepared in just a few steps. Just cook the pasta, let it cool, and coat it with pesto dressing.
What is Pesto?
When you see a green-colored pasta, dip, or salad dressing, you just know that it is made of pesto. But you probably didn't know that pesto is made from a mixture of crushed pine nuts, basil, olive oil, cheese, and garlic.
The sauce originated from Italy. In fact, the word pesto evolved from the Italian word pestare, which means to pound. Traditionally, the ingredients are pounded manually using a mortar and pestle.
Is pesto good for you?
Contrary to popular belief, fresh pesto is actually healthy if taken in moderation. Basil and garlic have antioxidant properties. Cheese is high in calcium and other minerals.
While olive oil and pine nuts are high in calories, they are also rich in monounsaturated fats that help lower the risk of heart disease.
If you want to be sure, it is better to use homemade pesto sauce. This way, you can control the ingredients as well as the amount of salt in the mixture.
What is Pasta Salad?
Pasta salad is a common side dish or appetizer. It is often made of chilled or cold pasta with the usual salad dressing – vinaigrette, oil-based, or mayonnaise.
Oftentimes, pasta salad is served with some herbs and vegetables. Other variations include seafood and chicken as part of the dish.
How do you make Pesto Pasta Salad?
You only need to prepare a few ingredients! You can use any short type pasta like macaroni, but we recommend using corkscrew pasta. The pesto sauce can either be bought from a store or made from scratch.
To prepare the pesto pasta salad, follow the instructions below.
Cook the pasta in salted boiling water. Make it al dente.
Transfer the cooked pasta to a separate bowl along with cheese and your favorite steamed vegetables.
Combine it with pesto sauce and make sure to toss it well to coat evenly.
Add pine nuts and parsley. Serve and enjoy!
Recipe Variations
Make a creamy version of the pasta salad. In a pan, add olive oil, heavy cream, salt, and a bit of water into the pesto sauce. Stir often while cooking.
Serve the pasta salad with grilled or sauteed chicken, shrimp, or seafood.
Add your favorite herbs and steamed vegetables to the dish.
Can you make Pesto Pasta Salad in advance?
Definitely. One way to do it is by making the pesto sauce a few days in advance and storing it in the fridge. Warm the sauce and add it to the dish on the day you are going to serve and cook the pasta.
Another option is by preparing everything at once. Combine the sauce with cooked pasta days before the occasion and store the salad in the fridge.
How to cook perfect pasta for pasta salad?
First, you need to add a tablespoon of salt to the boiling water. Next, add a bit of oil while cooking the pasta to prevent it from being sticky afterward. Stir occasionally.
To cool it down, run cold water over the cooked pasta.
Do you serve pasta salad cold?
Pesto pasta salad can be served warm or cold. It depends on your preference!
How to Store leftovers?
If you have leftovers, you can save them for eating later. Place it in an airtight container and put it immediately in the fridge. You can also freeze the salad if you want it to last longer.
More pasta recipes:
Recipe Tips:
If you are making pesto sauce from scratch, you don't have to crush or pound the ingredients manually. Use a food processor to blend and mix everything. It will save you a lot of time.
To make the dish dairy-free, just remove cheese in your ingredients. It will still taste amazing.
When making this dish in advance, make sure to prepare extra pesto sauce as well. The pasta absorbs sauce easily so it will be best if you can add more dressing before serving.