Ragu Sauce Chicken Pasta Recipe
A one pot, creamy Ragu sauce chicken pasta recipe that is easy to make, comforting and perfect for a weeknight flavorful and affordable dinner.
This post has been sponsored by Ragu. All text and opinions are my own. Thank you for reading.
Happy Savory Wednesday my friends, I am bringing back the tradition of sharing homemade family dinners with you on Wednesday's with this delicious Ragu Sauce Chicken Pasta recipe. I have been quiet busy for the last few weeks and usually only had time to cook during the weekend, but I have a very good meal to share with you, that is budget friendly and tastes outstanding. I come from a family that loves good food, and we share a lot of memories around certain dishes. As in probably many other families, pasta is a big favorite in mine, especially when made with delicious Ragu Pasta Sauce.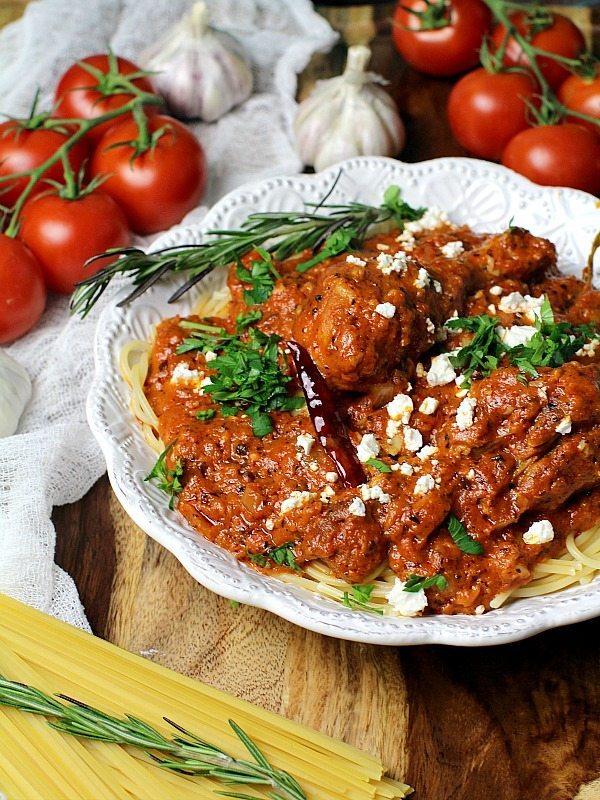 I am going to share with you today a Ragu Sauce Chicken Pasta Recipe that my mom loves to make for us. The story behind this recipe is that my father spent a few years in Italy and when he returned home he brought back with him an endless love for pasta and quality pasta sauce.

My mom put a spin on it and created this very comforting Ragu Sauce Chicken Pasta Recipe that is very comforting and delicious and it also brings back a lot of beautiful memories. This pot of delicious creamy chicken over spaghetti became a tradition in our family and I plan on making it again for Valentine's Day for my loved ones.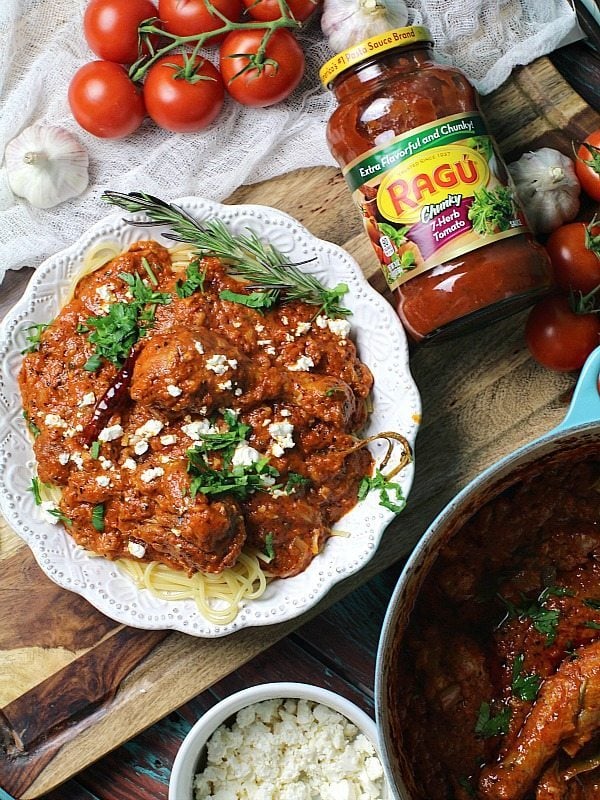 This recipe is perfect for the cold days outside, its warm, hearty and comforting. But you can also make it year around, as its an easy, and flavorful, one pot dinner that your whole family will enjoy. To make it I used Ragu Pasta Sauce, that I appreciate for it's farm grown ingredients, commitment to high standards, great flavor and affordability.

MY LATEST VIDEOS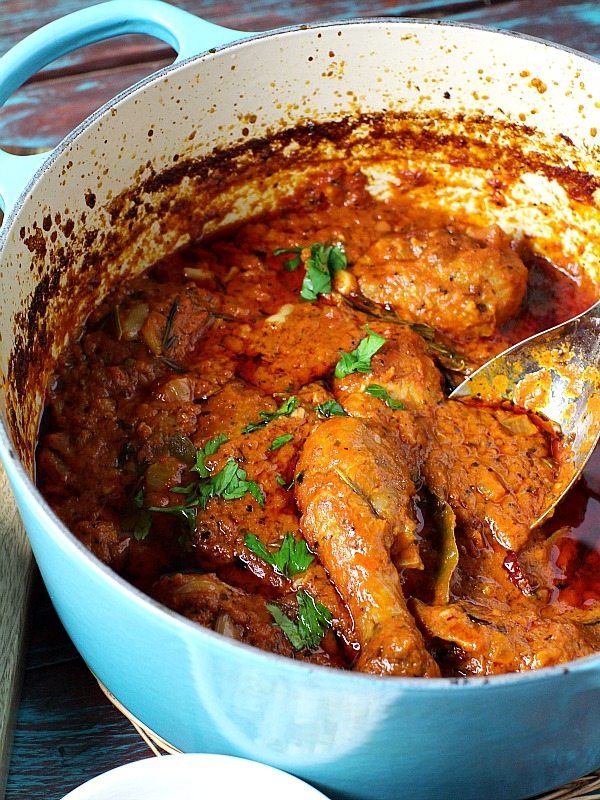 This Ragu Sauce Chicken Pasta Recipe starts with tender chicken drumsticks browned it lots of garlic and a little cream, covered in a hefty amount of Ragu Pasta Sauce and baked in the oven. This is a one pot meal that you have to try. Served over spaghetti this is the perfect February meal, it will make you feel warm and fuzzy and put a big grin on your face while you ask for seconds.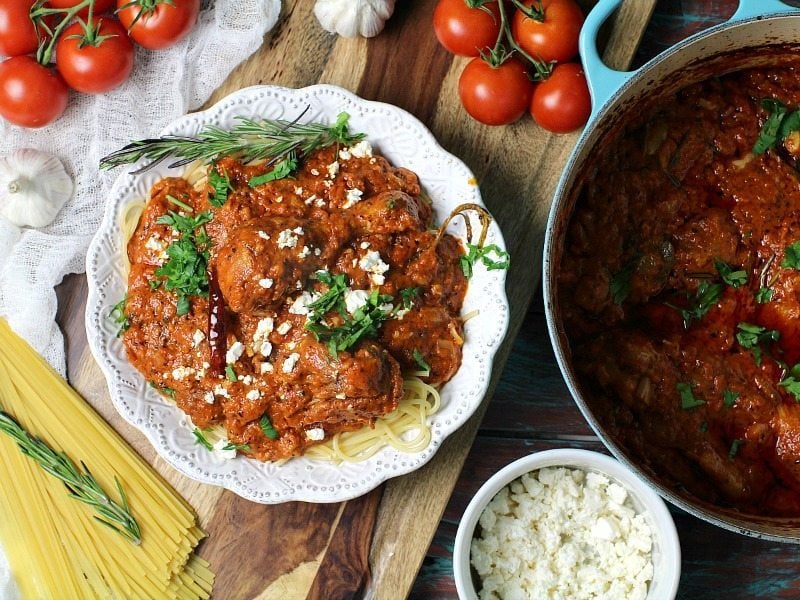 The sauce is very flavorful, creamy, chunky and delicious and all thanks to the Ragu Pasta Sauce, the meat is tender and almost falls of the bone, served over pasta and topped with a few crumbs of salty feta this is the perfect weeknight meal to feed your family and maybe even start a new tradition.
Ragu Sauce Chicken Pasta Recipe
A one pot, creamy Ragu sauce chicken pasta recipe that is easy to make, comforting and perfect for a weeknight flavorful and affordable dinner.
Author:
Katalina Kastravet
Ingredients
2 jars (24 ounces each) Ragu Pasta Sauce - Chunky 2 Herb Tomato
9-10 drumsticks
½ cup olive oil
1 large onion, chopped
15-20 Garlic cloves, minced
1 cup heavy whipping cream
4 rosemary sticks
3 dried chili peppers
salt
pepper
1 box of spaghetti
Optional Garnishes:
crumbled feta
chopped parsley
chopped basil
Instructions
Preheat oven to 375F.
Place a large dutch oven on the stove over medium heat, once the dutch oven its warm add the olive oil. Once the oil is hot add the chopped onion and cook for 3 minutes, stirring occasionally, add the minced garlic and dried chili peppers, cook for 3-4 minutes stirring occasionally. Add the chicken and cook for 8-9 minutes on one side, than flip on the other side and cook for another 8-9 minutes. The chicken must be golden brown.
Add 1 cup of heavy cream over the chicken to deglaze the pan, add salt and pepper to your own taste. Pour the Ragu Pasta Sauce over the chicken and gently stir until combined.
Add rosemary sticks on top, cover with a lid and transfer to the oven, cook for 40 minutes.
minutes before serving bring a large pot of water to a boil, add to the water 1 teaspoon of salt and 1 tablespoon of olive oil and cook in it the spaghetti. Usually ready in 11-13 minutes.
Remove the baked chicken from the oven, drain the spaghetti using a colander, and serve the chicken over pasta, making sure to top it with a lot of the sauce.
Any leftover pasta can be added to the sauce and saved for later.