Pasta al Forno Recipe [Video]
Last updated on June 18th, 2021 at 11:09 pm
Pasta al Forno is oven-baked rigatoni drenched in a hearty sausage and marinara sauce mixture, then covered in a hot and bubbly mozzarella layer. A cheesy, comforting entrée is great for feeding a crowd!
While you're at it, why not go ahead and make an Italian-inspired meal? Wake up the palette with this beautiful Tomato Bruschetta, then plate up the baked rigatoni with a portion of Chicken Florentine. For dessert, cleanse the palate with a smooth and creamy fruit, Panna Cotta. This a dinner your guests won't forget!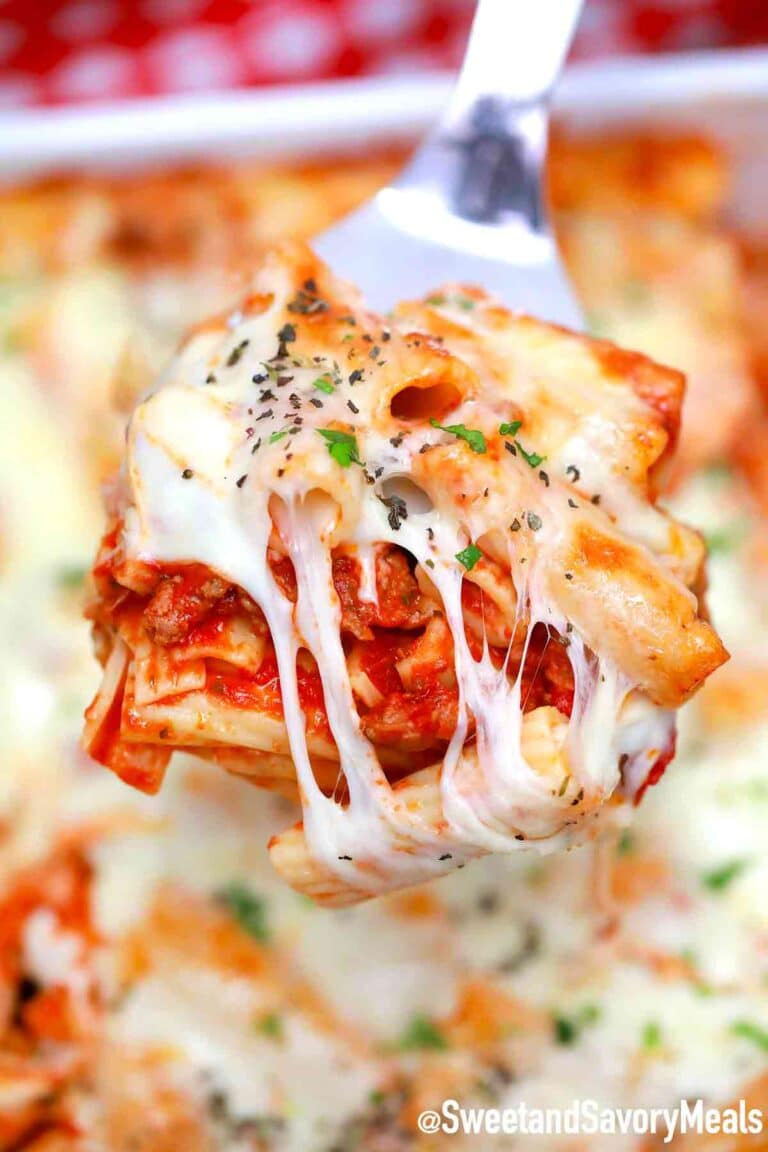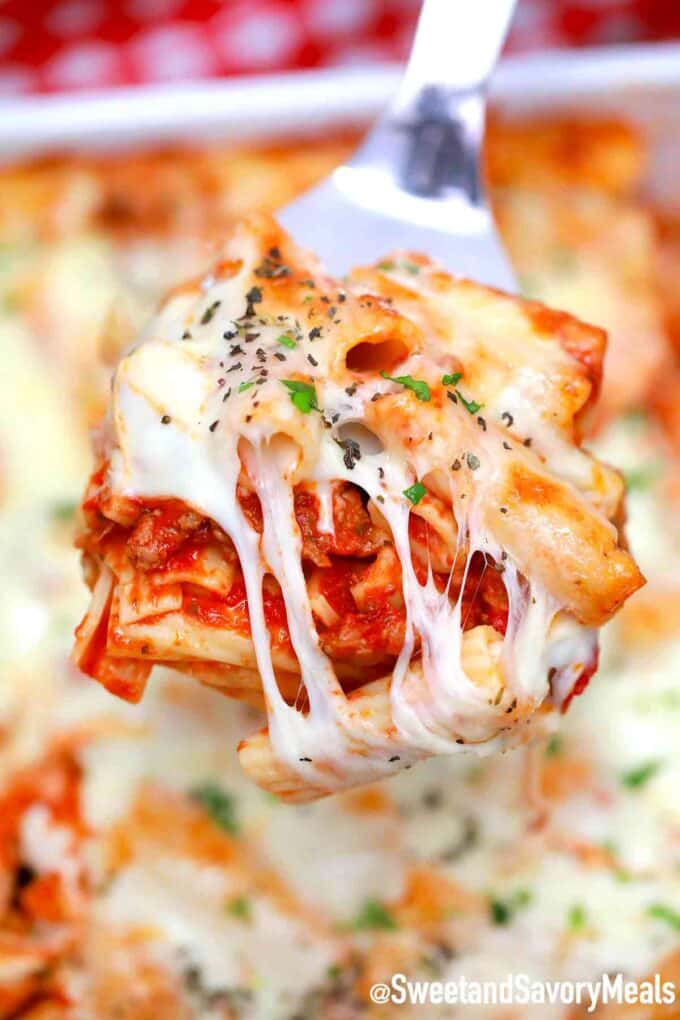 Cheesy Baked Pasta Recipe
Pasta al Forno sounds fancy, doesn't it? But it's actually one of the most no-frills Italian dishes around. It's basically baked pasta, similar to lasagna or a chicken parmesan casserole, and equally as delicious and comforting.
The cooking process is incredibly easy, too! The simple meat sauce takes minutes. You toss the rigatoni with it, place in the pan, pile the mozzarella on top and bake. In less than an hour, you have a dinner hit on your hands! Need to feed a big group? Double or triple the dish easily.
I love making a big batch because let's face it, cheesy pasta makes the best kind of leftovers. Especially when it's as good as this!
What does Pasta al forno mean?
In Italian, the words "al Forno" loosely translate to "from the stove," aka oven baked. So quite literally, this dish means baked pasta!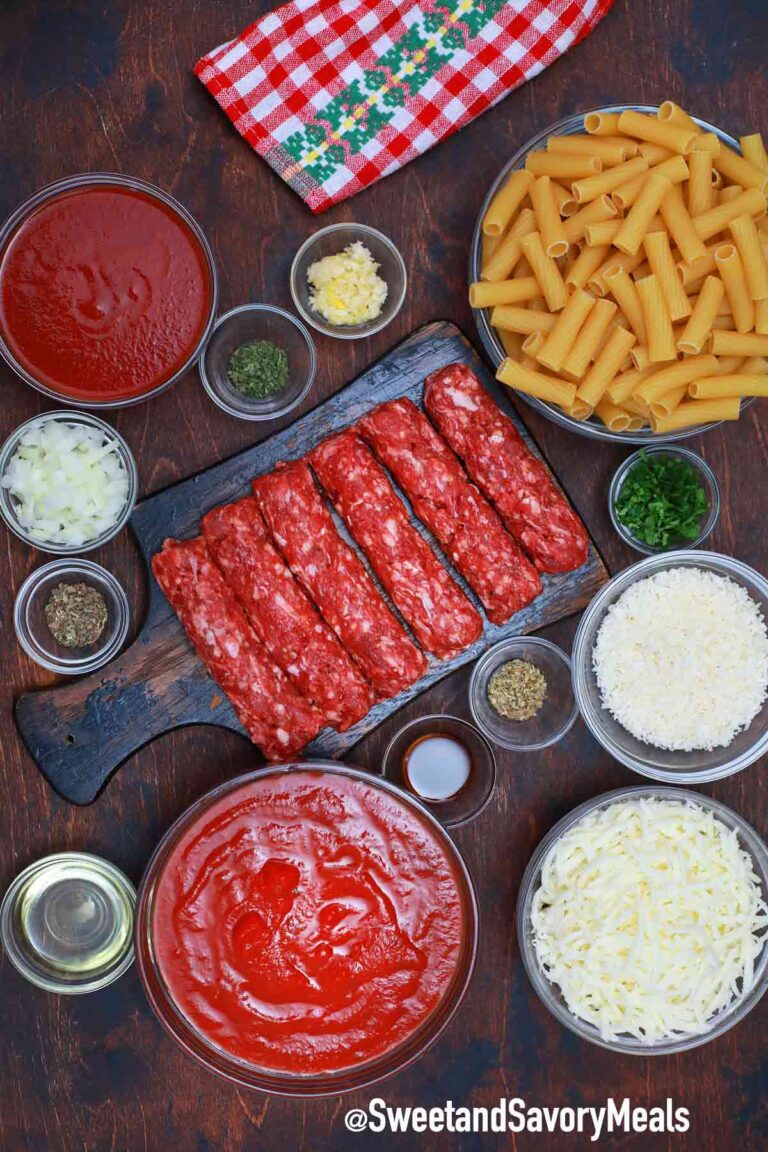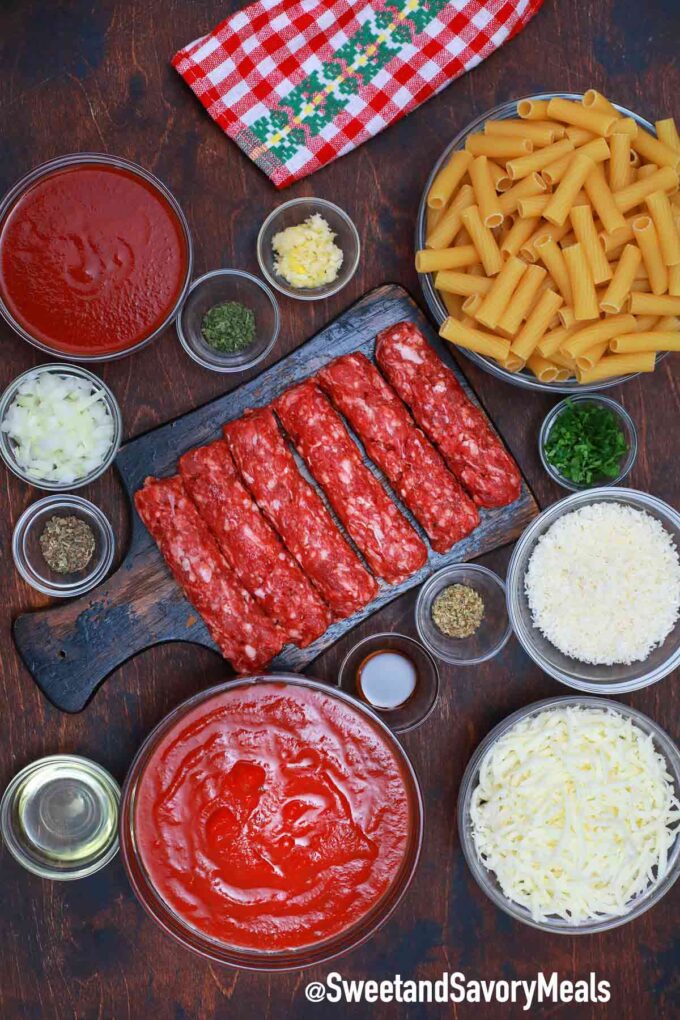 What is al forno style?
It's a Northern Italian style of cooking that involves baking food in a wood-fired brick oven. Common dishes done this way are bread, traditional Italian pizzas, and pasta.
What does al dente mean?
The term means "to the tooth" in Italian. It refers to pasta that's cooked until it has a firm bite, which is when it feels and tastes the best.
Al dente noodles slightly chewy and retains their shape no matter what sauce or cooking method you use with it.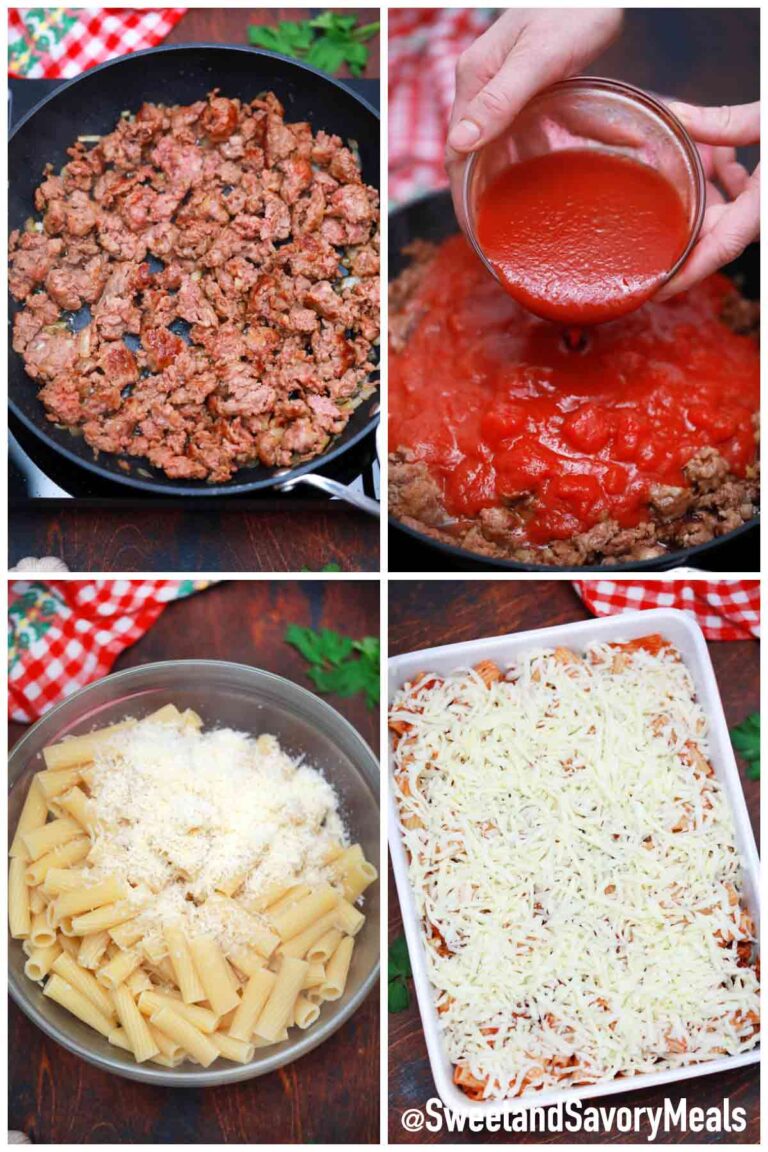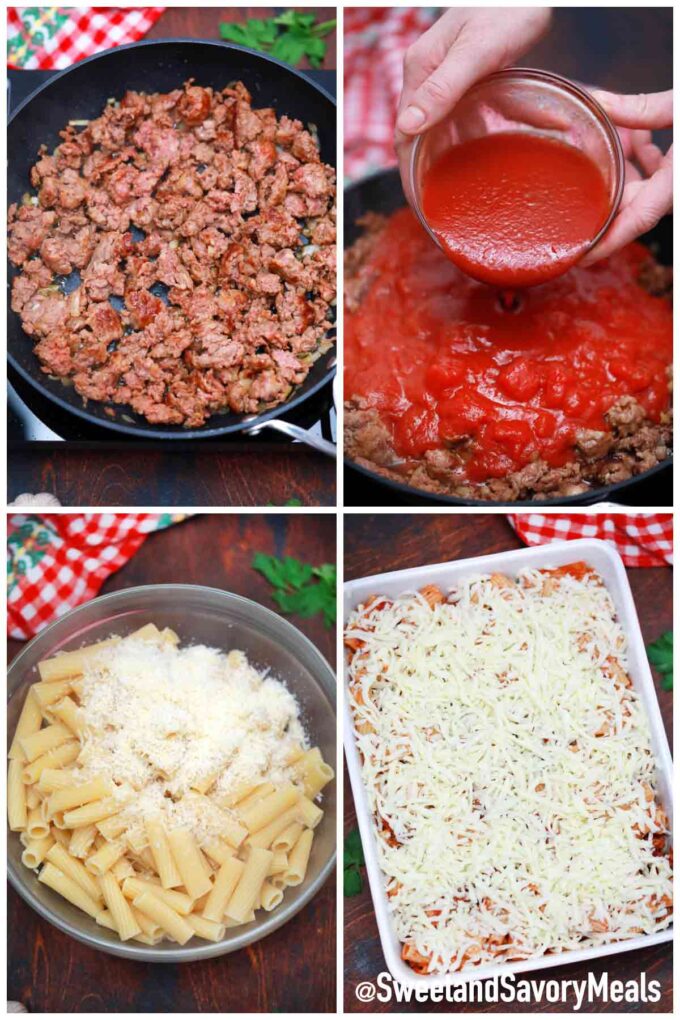 How do you make Pasta al Forno from scratch?
Make the sausage marinara mixture. Take the meat from the casing, break it up in the pan, and sauté until it's nicely browned. Then, add the aromatics and sauté. Follow this up with the marinara plus the herbs and seasonings. Bring to a gentle simmer until slightly thickened. If you have time, I highly recommend you make this Homemade Marinara sauce to hand on hand and use it in this dish.
Assemble: After boiling the rigatoni al dente, drain well and toss with the parmesan and sauce. Arrange in an even layer in your baking dish. Shred mozzarella on top.
Bake. Next. pop in a 350F oven for 20 mins, covered. Remove cover and bake for an additional 20 minutes until the surface is golden, and the cheese is melted and bubbling hot.
Serve. Let the dish stand for 5 minutes, then sprinkle with chopped basil and parsley. Enjoy!
Recipe Variations:
Use other meats: Pasta al Forno will taste great with some hot Italian sausage for a kick! You can also use a mix of ground pork and beef or ground chicken for a lighter version. Even ground turkey will work in this easy and cheesy baked pasta recipe.
Use a mix of cheeses: Aside from mozzarella, you can also use spicy pepper jack, creamy provolone and swiss, smoked cheddar, or a layer of ricotta. Crumbled blue cheese is a delicious add-on, too!
Try other noodle shapes: Don't have rigatoni? Any tube-shaped noodle will do, such as ziti or penne. Even macaroni will do in a pinch!
Make it vegetarian: Use crumbled meat substitutes as well as vegan cheese.
Add Veggies: This is a delicious recipe in which you can add as many veggies as you want! We like sauteeing some zucchini, mushrooms, and bell peppers to add a layer of veggies with the meat. Another option is to make it fully vegetarian, by replacing the meat mixture with a veggie marinara mixture.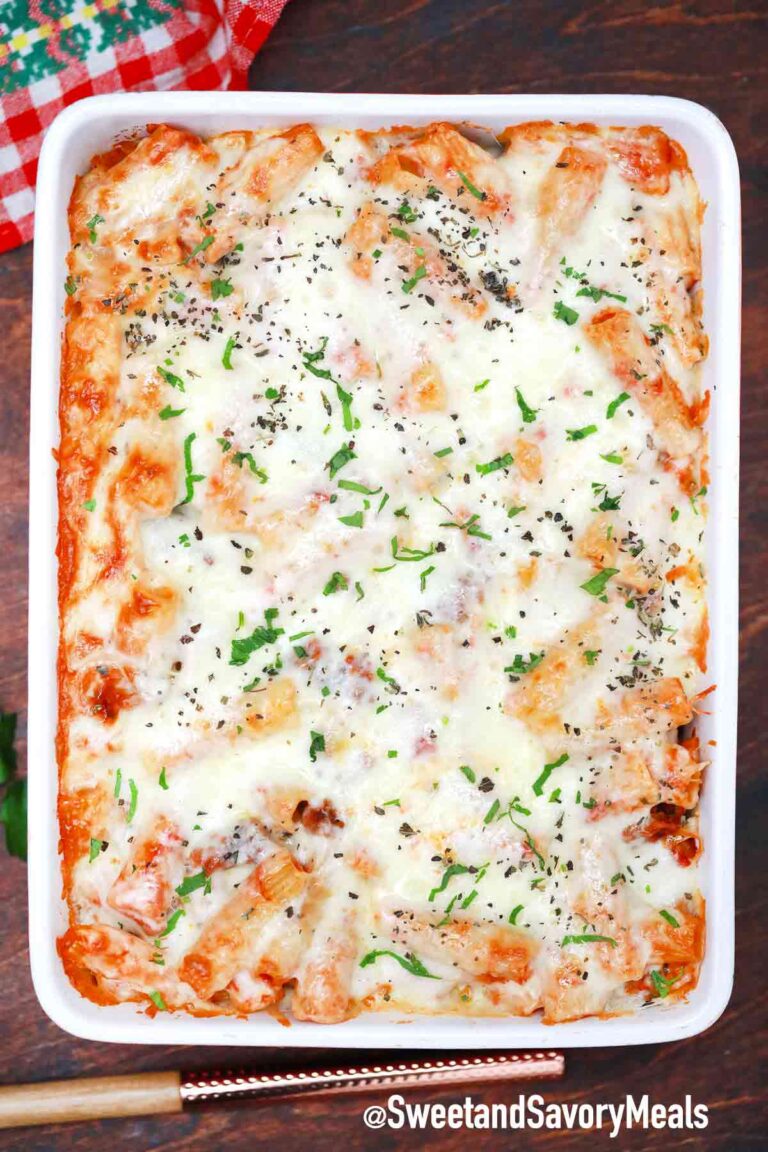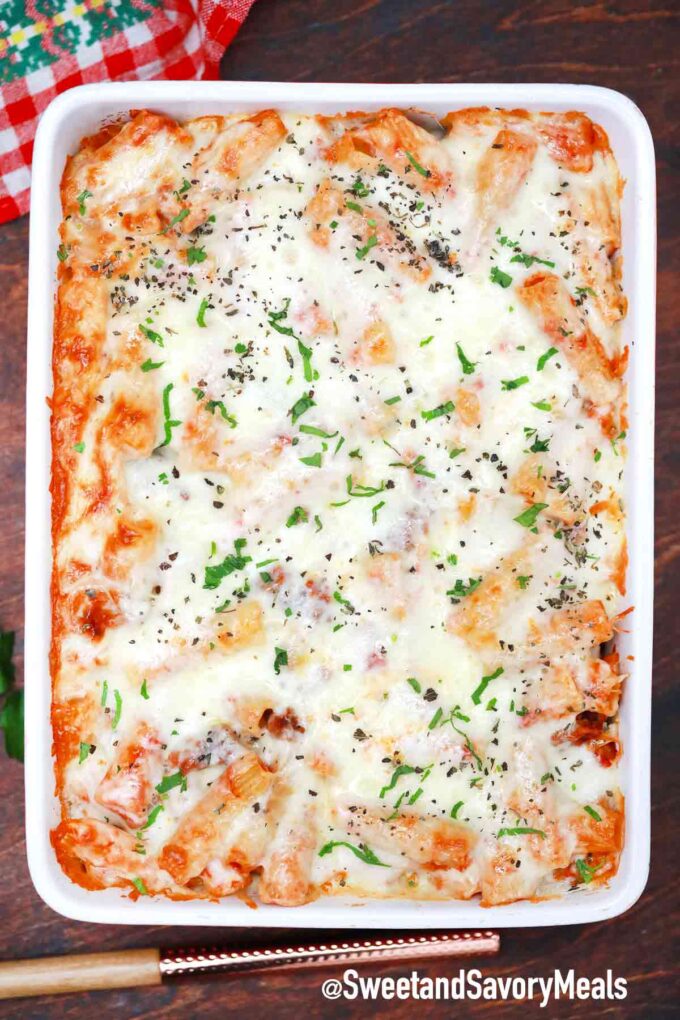 Can you overcook pasta?
Yes, and very easily at that. Always follow the package instructions, then reduce it a minute or two if you want firmer noodles.
In addition, before you add the noodles to the water, make sure it's already at a rolling boil so the noodles cook immediately instead of just soaking up liquid.
How to store Baked Pasta:
Cover the baking dish with cling plastic and foil once it's completely cool. Keep in the fridge, and consume within 4 days.
How to reheat Pasta al Forno:
Bake it at 325F for about 20 minutes or microwave for a few minutes until piping hot and cheese has remelted.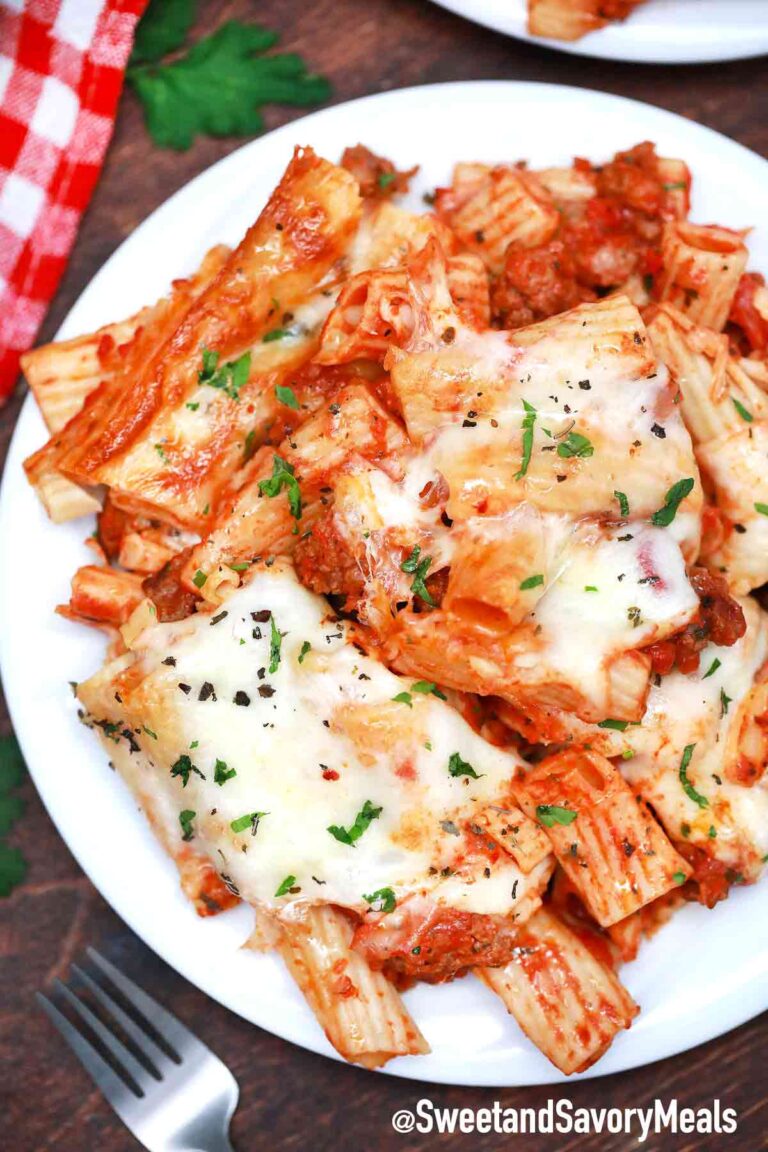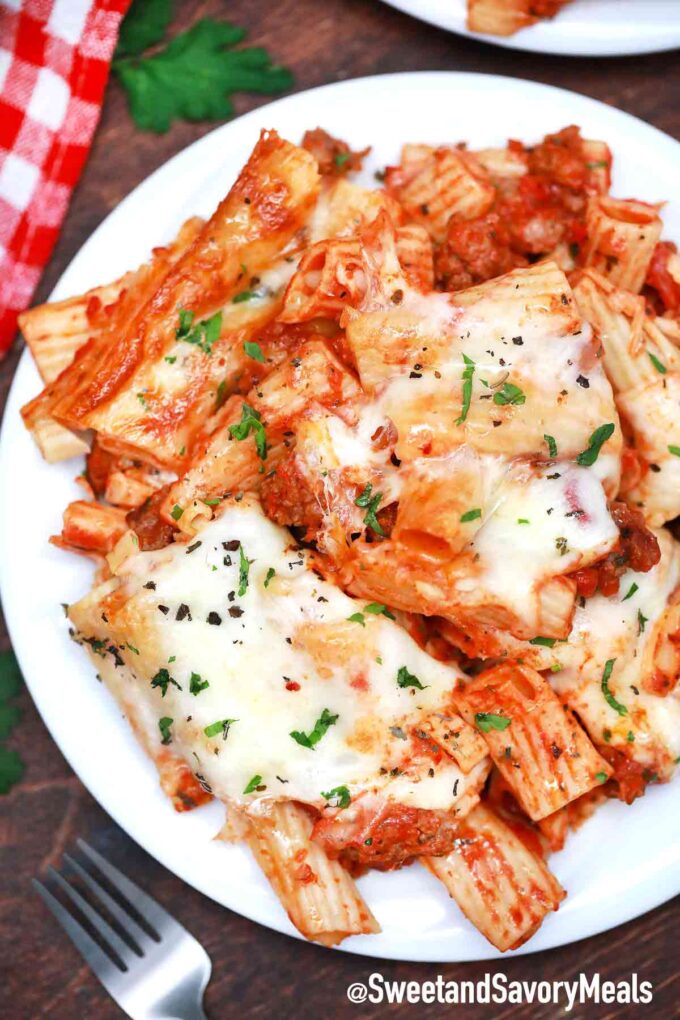 How to freeze baked pasta:
Cool the dish down, then cover the pan as tightly as you can with cling plastic then foil. Freeze up to 3 months.
I also like slicing up the casserole into individual portions, then freezing them individually before placing them into baggies and storing them in the freezer.
More Pasta Recipes: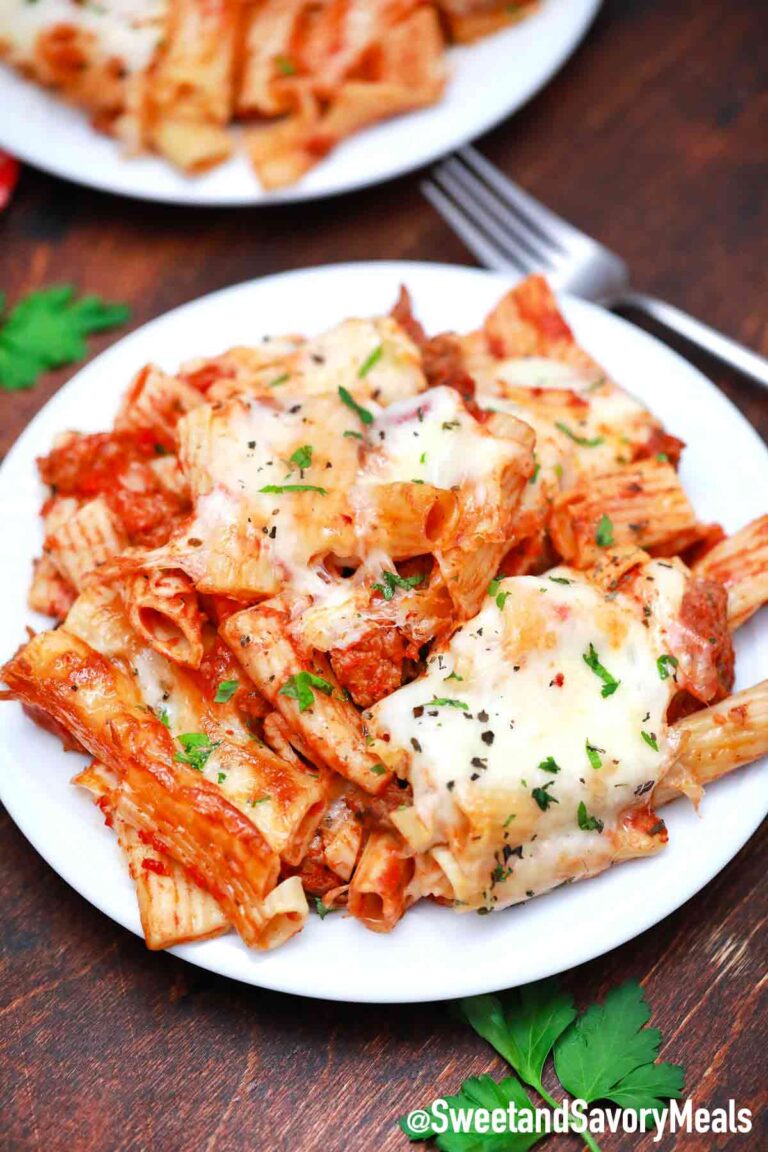 Recipe Tips:
If you want al dente noodles after baking, undercook them a little before placing in the pan.

Also, for a creamier dish, add a splash of double cream to the sausage marinara.
Make it ahead! Assemble and pop into the fridge for up to 8hrs, then bake when you're ready.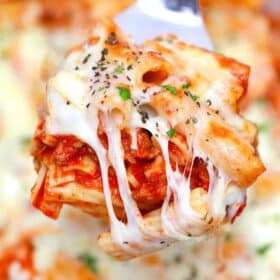 Pasta al Forno Recipe
Oven-baked rigatoni drenched in a hearty sausage and marinara sauce mixture, then covered in a hot and bubbly mozzarella layer.
Save
Share
Print
Pin
Rate
Ingredients
2

tablespoons

olive oil

2

pounds

mild Italian sausage

(casings removed - you can use hot sausage as well)

1/2

small onion

(very finely diced)

6

cloves

garlic

(minced)

1/2

teaspoon

dried basil

1/2

teaspoon

dried oregano

1/2

teaspoon

dried parsley

1

tablespoon

Worcestershire sauce

24

ounce

jar marinara sauce

(or homemade)

8

ounce

can tomato sauce
Assemble the Baked Pasta:
16

ounces

rigatoni

(cooked according to package directions - aim for al dente)

2

cups

mozzarella cheese

(shredded)

1/2

cup

parmesan cheese

(shredded)

2

tablespoons

fresh parsley

(chopped)

2

tablespoons

fresh basil

(chopped)
Instructions
Preheat oven to 350 degrees F.

Coat a 9"x13" pan with cooking spray or brush it with a bit of olive oil.
Sauce:
Place a large pan over medium-high heat and add the olive oil.

When the oil is hot, add the sausage to the pan, cook it without moving it for 1 minute, to get a nice sear on it. After that, break it up into small pieces with a wooden spoon, and cook it for another 3-4 minutes.

Add the onion to the pan, stir and cook for 4-5 minutes, until softened.

Add the garlic and cook for 30 seconds. Add the seasonings, the marinara sauce, Worcestershire sauce and tomato sauce to the pan. Stir the mixture and bring it to a small simmer.

Let the sauce simmer for 5-7 minutes, or until just thickened. Remove from heat.
Assemble:
Toss the cooked pasta with the meat sauce and the parmesan cheese and add the mixture to the prepared pan. Top it with the shredded mozzarella cheese on top.

Cover loosely with foil, so it doesn't touch the cheese layer.

Bake covered for 20 minutes, uncover and bake for another 15-20 minutes, or until bubbly and cheese is melted and lightly browned.

Remove from oven, let stand for 5-10 minutes, then sprinkle with chopped fresh parsley and basil and serve.
Nutrition
Calories:
719
kcal
|
Carbohydrates:
68
g
|
Protein:
50
g
|
Fat:
49
g
|
Saturated Fat:
16
g
|
Cholesterol:
121
mg
|
Sodium:
2201
mg
|
Potassium:
1135
mg
|
Fiber:
6
g
|
Sugar:
10
g
|
Vitamin A:
1162
IU
|
Vitamin C:
14
mg
|
Calcium:
521
mg
|
Iron:
5
mg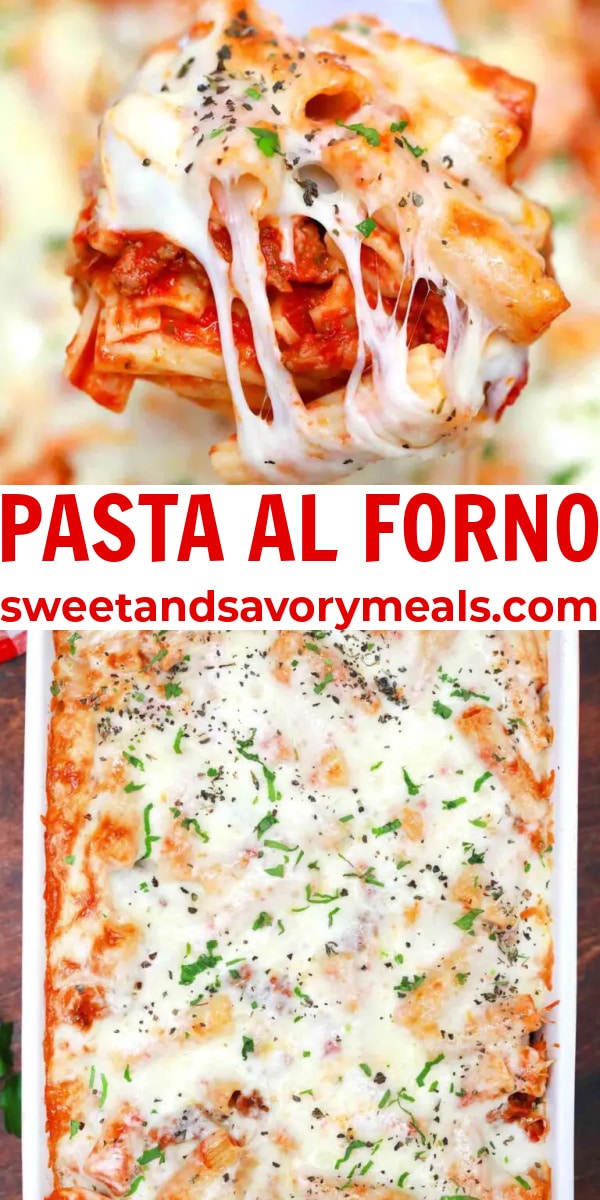 More recipes you might love