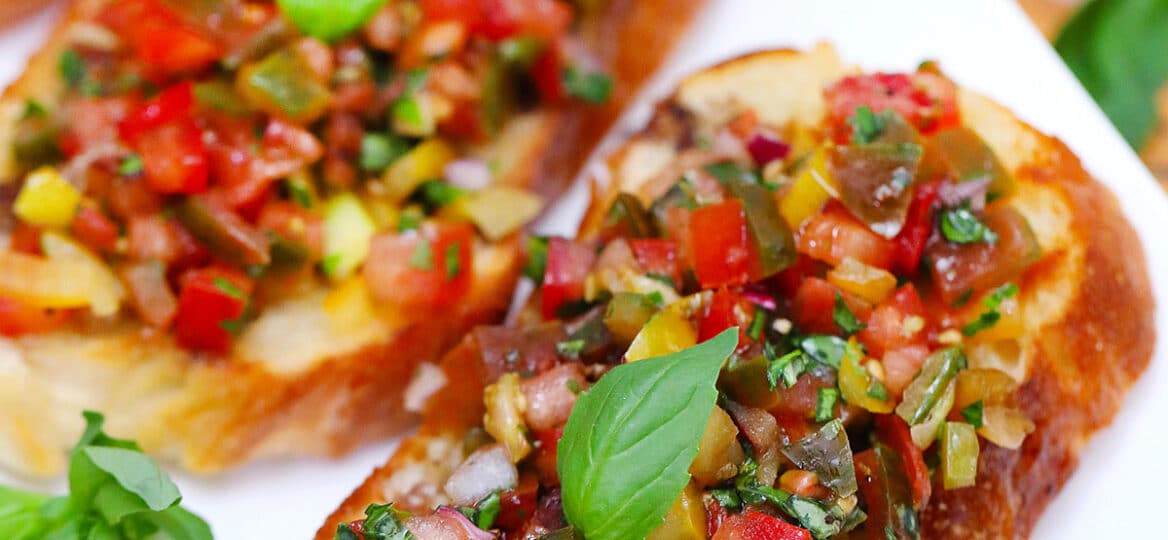 Italian Tomato Bruschetta
Tomato Bruschetta is simple yet so festive that it will brighten up any meal! Its colors and flavors make it so appetizing and a great starter overall!
My family loves Italian dishes like this just because they taste so lovely like they were bought from a restaurant. We love starting with this dish and then, following it up with a Lemon Chicken Piccata with a side of Italian Chopped Salad, and finishing everything off with a Strawberry Tiramisu!
Italian Tomato Bruschetta Recipe
Tomato Bruschetta is an Italian starter or an antipasto in Italian terms, and it is obvious in the colors! It is bread topped with tomatoes, basil, and other flavorful and fresh ingredients.
It is a simple dish and there are no complicated steps on how to go about this recipe. But the outcome has an elegant taste to it. There are components in this dish that have intense flavors, yet the overall taste and feel remain light and refreshing making it a great appetizer.
I love how easy it is to prepare in individual servings, too. And so, it is convenient to serve at a buffet or a cocktail party. And you need only a few ingredients to start with the basics. But of course, you can always elevate it and make it heartier by adding more toppings.
What do you need to make Tomato Bruschetta?
Bread: This recipe calls for sourdough or ciabatta. You need something crusty and will remain to be so even when moisture penetrates it.
Tomatoes: Any ripe fresh tomato will do. But we love cherry tomatoes, so, we are adding in some yellow ones in there. Using a mix of varieties offers a variety of colors and flavors, too, as some could be sweeter than others.
Herbs: Put fresh basil, fresh parsley, and oregano, too. They boost the flavor profile.
Aromatics: Not just aroma, the garlic, and onions along with the celery stalk add savor.
Other seasonings: Aside from salt and pepper, you will be able to taste a bit of red wine vinegar, olive oil, and balsamic reduction.
How do you cut tomatoes for Tomato Bruschetta?
For the cherry tomatoes, you can simply quarter them. For the other bigger varieties, you can simply follow these simple steps:
Cut the bottom and this will be the base on which the fruit stands stable on the chopping board.
Cut it into two or four equal parts. Then, remove the seeds and pulp, if you like.
Dice into smaller pieces and try to cut each piece as uniform as possible.
How to make Tomato Bruschetta
Prepare the topping: In a bowl, mix the vegetables, herbs, and season with salt.
Prepare the bruschetta: Heat the grill or BBQ. Brush the bread slices with olive oil and put each piece on the grill. Toast both sides. When done, rub the garlic against the bread and sprinkle some salt.
Assemble: Put the topping on top of the bruschetta.
Serve: Drizzle with some balsamic reduction if you like, then, serve.
What is the best bread to use for Bruschetta?
The best bread for this is something crusty and dry, even a day-old bread will be a good one for this kind of dish. The Tuscan loaf is a good choice if you have access to it.
I like the slight tang that sourdough has, and the ciabatta soaks up the excess moisture nicely. If you do not have these, you can use a baguette.
How to Store:
You can only store the topping mixture separately placed in an airtight container in the fridge. Use it to top freshly grilled bread within 3 days.
Any leftover bruschetta may still be edible for up to two hours. But longer than that, they may turn hard.
Recipe Tips:
As much as possible, put the toppings right after the bread has been grilled to avoid it getting soggy. Eat it within minutes of being served.
You can add more toppings like your favorite cheese, some marinated vegetables, or even meat like prosciutto.
You can also resort to canned tomatoes as they are processed at their optimum ripeness and can be a good choice when this fruit is not in season. Just remove the seeds and drain excess moisture.