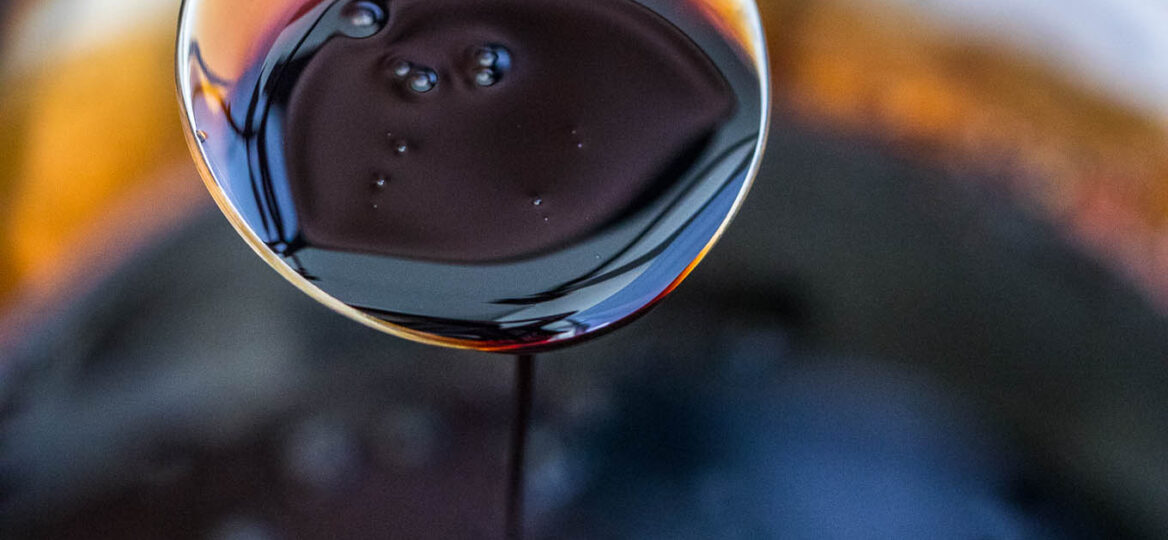 Perfect Balsamic Glaze [video]
Balsamic Glaze is easy to prepare with just two ingredients at most, balsamic vinegar and dark brown sugar, simmered into a thick and sweet reduction! This is a simple recipe that you can make in batches, refrigerate, and use when needed.
Looking for more recipes with balsamic glaze? Try our Instant Pot Balsamic Pork Tenderloin recipe with soy sauce and molasses or Instant Pot Balsamic Chicken flavored with honey, rosemary, cinnamon, and other fresh herbs.
Homemade Balsamic Glaze Recipe
Balsamic glaze is a thick syrup made from balsamic vinegar. It is often used to drizzle over egg dishes, salads, beets, raspberries, cheese, and so on and so forth. The list of possible recipes where you can use it is endless.
It is also known as balsamic reduction and is made by reducing balsamic vinegar to a concentrated intensely flavored thick sauce in a gentle boil with a little brown sugar. This extraordinary condiment can be used for many dishes from sweet to savory. It tastes great on vegetables, pasta, and chicken as well as sweets like ice cream, fresh fruits, cake, or cookies.
You can make this recipe in minutes, and you really only need two ingredients, balsamic vinegar, and sugar. You can even skip the sugar if you want to and use honey. In fact, skip the added sugar and just use the vinegar.
This recipe makes one-half cup, but you can double or triple the ingredients to make a large batch and store it in the fridge for all sorts of delicious recipes.
You just need to have good-quality balsamic vinegar and you will never need to buy balsamic glaze ever. To prepare this, you just need about 15 minutes. Probably less time than actually going to the grocery store and buying it. You can make this in the comfort of your kitchen, saving money, time, and effort.
In this recipe, you will be performing a cooking technique called reduction. In fact, balsamic glaze is also called balsamic reduction. Read on how to make this easy recipe.
Other recipes you can use with this delicious glaze include brown sugar pork chops seasoned with Worcestershire sauce, garlic, and molasses, or air fryer chicken and veggies served with zucchini and bell peppers. It also tastes amazing on any kind of salad like this pear salad with goat cheese and candied pecans.
Follow us on Pinterest for more delicious recipes!
Ingredients needed:
There are only two ingredients in this Balsamic glaze recipe. Scroll down to our recipe card for complete instructions and exact measurements.
Brown sugar: Light or dark brown sugar will do for this recipe.

High-quality balsamic vinegar: Use the finest quality balsamic vinegar you can get for the best results.
How to make balsamic glaze from scratch?
Stir the balsamic vinegar and sugar: First, add brown sugar and balsamic vinegar to a small saucepan and stir to dissolve the sugar and combine well.

Boil: Next, bring the balsamic vinegar and brown sugar to a boil on medium heat. Then, reduce heat to medium-low and continue cooking.

Simmer the balsamic glaze: Continue letting the balsamic glaze simmer while stirring occasionally for about 10 to 15 minutes, or until it is reduced to about one-half cup.

Check the balsamic reduction: You can remove your glaze from the pot when the sugar and balsamic vinegar thickens enough to cover the back of a spoon.

Done: After it cools to room temperature, pour the balsamic glaze into a clean glass jar with a lid and put it in the fridge. Remember, the homemade balsamic glaze will thicken as it chills.
How to use it on chicken:
You can grill or bake some chicken breasts and in between flipping, brush the surface with a thin layer of glaze.
It gives a nice color to the grilled chicken and it enhances the flavor, too.
Recipe variations:
Maple syrup: If you like sweet balsamic glaze, use maple syrup instead of brown sugar.
Warm honey: Similarly, you could also use warm honey.

Extracts: Add your favorite flavor extract to your glazes such as raspberry, strawberry, or vanilla.
Cinnamon flavor: Toss in some cinnamon for a different flavor.
Spice it up: Add some heat with red pepper flakes if you like spicy dishes.
Molasses: Spoon a bit of molasses into your sauce after you reduce the heat.
How to serve:
There are so many dishes you can make with this glaze. In fact, you can put it on just about anything from chicken to vanilla ice cream.
Drizzle balsamic glaze over roasted vegetables for an amazing side dish.

You could also use balsamic glaze on top of lettuce, sliced tomatoes, and fresh mozzarella to make a scrumptious salad.

Homemade balsamic glaze is perfect for Italian recipes like Caprese salad or pancetta pizza.
It also tastes delicious on salmon, tuna, or any kind of seafood recipe.
In addition, this glaze also makes the perfect marinade for this Asian steak recipe.

Also, the kids will love balsamic glaze over watermelon or other fresh fruits.

Another option is to try your new homemade balsamic glaze in this balsamic pork loin recipe.
Optionally, you can even drizzle some of this delicious glaze on top of any kind of pasta instead of pasta sauce.
Frequently asked questions
What is Balsamic Glaze?
It is a sweet and tangy condiment that is perfect for just about anything, especially salads. A good flavor enhancer that has an intense flavor and a little amount goes a long way.
In making it, the balsamic vinegar evaporates and what is left is a thick liquid. Even without adding sugar, the reduction will still be sweet from the sugars in the balsamic vinegar.
You can find it next to vinegar and olive oil in grocery stores. They are usually packed in tubes or easy-to-squeeze bottles.
How can I thicken my homemade balsamic glaze?
First of all, do not rush the process of homemade balsamic reduction by overboiling. It is better to take the time to do it properly for at least 15 minutes, stirring occasionally. You should also use a heavy saucepan for even heat dissipation.
Remember that this sweet and tangy balsamic glaze will thicken slightly as it cools so make sure you let it cool completely before you panic. If it still is not thick enough after it chills, add a half teaspoon of corn starch and simmer on medium heat until it covers the back of a spoon.
How long can I keep the balsamic glaze?
The balsamic glaze keeps well for up to two weeks in a clean glass jar or another airtight container. When you make balsamic glaze, you are just reducing the balsamic vinegar, so it does not need to be kept in the refrigerator either.
What are the nutrition facts on balsamic glaze?
Balsamic glaze is a healthy condiment although the nutritional calories can vary a little bit depending on what you use. Using brown sugar to make balsamic glaze, there are 15 calories per tablespoon. Using honey will give you a few more calories.
The antioxidants in balsamic vinegar can help lower cholesterol and can be helpful in weight loss. It also has probiotics that promote healthy digestion, improve circulation, and lowers blood sugar. It may even lower your blood pressure.
What is the difference between balsamic vinegar and balsamic glaze?
Balsamic glaze is just a balsamic reduction. Using this recipe of balsamic vinegar and sugar, you can have balsamic glaze ready for your delicious recipes in minutes. All you have to do is bring it to a boil and let it simmer until it is reduced by half.
Can you make Balsamic Glaze with honey?
Alternatively, many people prefer to use honey instead of sugar. You can make a honey balsamic glaze on your own. For one cup of balsamic vinegar, you may use 2 teaspoons of honey. If you want you may even choose maple syrup. Also, check our Recipe Variations section for more options.
How to make Balsamic Glaze without sugar?
In addition, make sure you use dark balsamic vinegar for this. Just heat it up in a saucepan over medium to low heat while constantly stirring. The process will take about ten minutes until the original amount of the liquid has been reduced to about a quarter or half.
How to store leftovers:
Store: This balsamic reduction, like many other homemade condiments, will stay fresh for up to two weeks at room temperature. It can also be stored in the fridge for up to one month.
Freeze: It is not recommended to freeze it.

Reheat: Balsamic reduction will be too thick to use once it is chilled to room temperature. Reheat the glaze in the microwave for 30 seconds before using it.
More delicious sauces:
Cooking tips:
As mentioned above, it is important to use high-quality balsamic vinegar. Look for those made in Reggio Emilia or Modena, Italy. These are the two top-rated producers of balsamic vinegar.

Balsamic reduction is the most important step in this homemade balsamic glaze recipe. It is essential to simmer your sauce until it is down to just one-half cup. This gives it the intense flavor that comes with traditional balsamic vinegar glaze.
Another thing to note is that balsamic glaze is also referred to as balsamic reduction by most people. So, when you see the words "balsamic reduction," it typically means balsamic glaze rather than the actual process of reducing the sauce.

Use this balsamic glaze immediately, or you can refrigerate leftovers in a covered jar for up to 2 weeks. It will solidify in the refrigerator, so make sure to bring it to room temperature before serving.
Alternatively, you can make this recipe without any added sweetener if you like. It will still taste sweet and tangy without the brown sugar, honey, or maple syrup. However, the cooking time may need to be adjusted since the sweetener makes it cook faster.
Keep in mind, that you should use this condiment sparingly. Just a drizzle has a lot of intense flavors.
Best Balsamic Glaze
Ingredients
2

cups

balsamic vinegar

good quality

1/2

cup

dark brown sugar
Instructions
Place a small saucepan over medium heat.

Add balsamic vinegar and sugar, stir to combine, and dissolve the sugar.

Bring to a light boil, after which, reduce heat to medium-low. Let the mixture simmer, stirring occasionally, until it thickens and is reduced to about 1/2 cup, this will take about 10-15 minutes.

The sauce is ready when it's thick enough to coat the back of a spoon. Once chilled it will thicken more.

Remove from heat and allow to cool completely before serving over salads, fruits, cheese, or meat.

Store in an airtight container in the fridge.