Perfect Balsamic Glaze [video]
Balsamic Glaze is so easy to prepare with just two ingredients at most! This is a simple recipe that you can make in batches, refrigerate, and use when needed.
We love using balsamic vinegar in our dishes, such as in Cranberry Orange Chicken, Instant Pot Short Ribs, and Instant Pot Chili. If you have some in your pantry today, then, you are well ready to make this amazing recipe.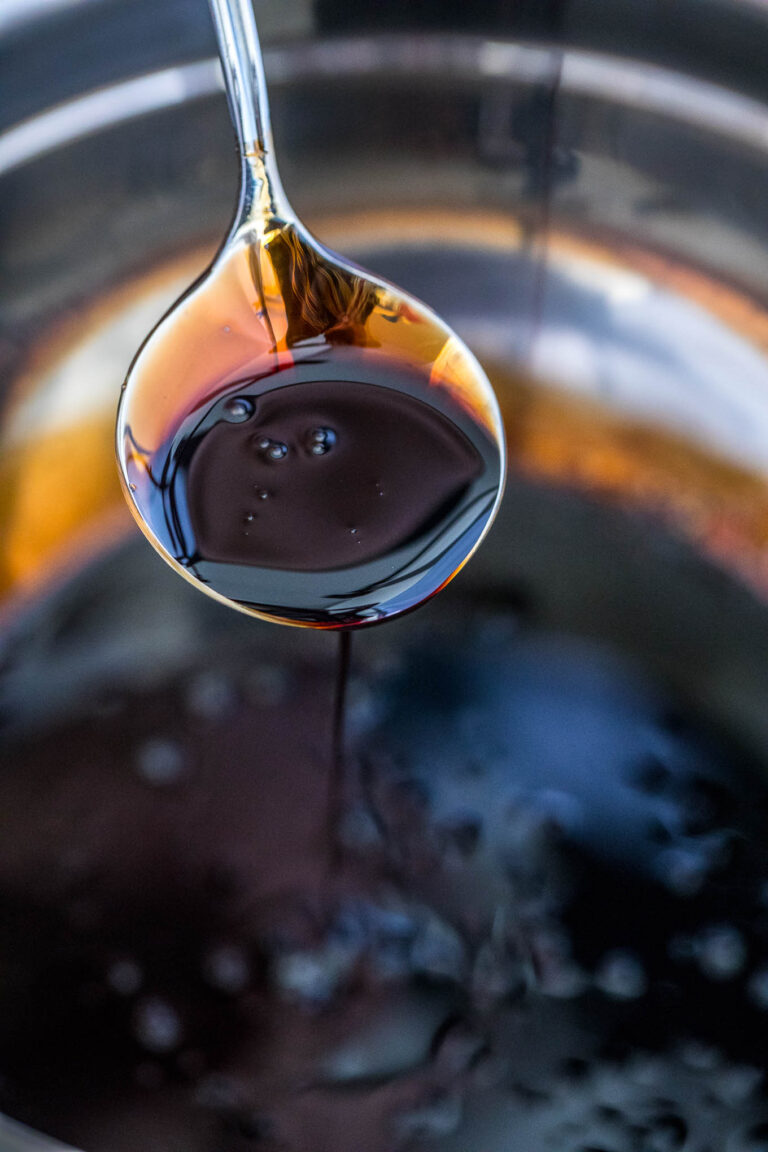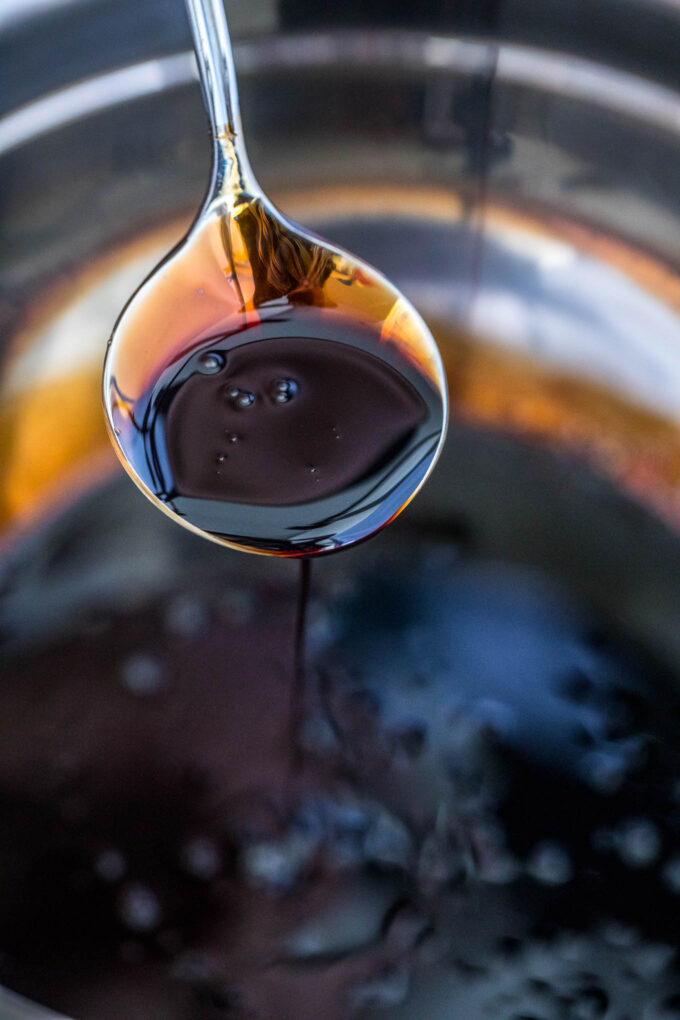 Homemade Balsamic Glaze Recipe
Balsamic glaze is a thick syrup made from balsamic vinegar. It is often used to drizzle over egg dishes, salads, beets, raspberries, cheese, and so on and so forth. The list of possible recipes where you can use it is endless.
You just need to have good-quality balsamic vinegar and you will never need to buy balsamic glaze ever. To prepare this, you just need about 15 minutes. Probably less time than actually going to the grocery store and buy it. You can make this in the comfort of your kitchen, saving money, time, and effort.
In this recipe, you will be performing a cooking technique called reduction. In fact, the balsamic glaze is also called balsamic reduction. Read on how to make this easy recipe.
What is Balsamic Glaze?
It is a sweet and tangy condiment that is perfect for just about anything especially salads. A good flavor enhancer that has an intense flavor and a little amount go a long way.
In making it, the balsamic vinegar evaporates and what is left is a thick liquid. Even without adding sugar, the reduction will still be sweet from the sugars in the balsamic vinegar.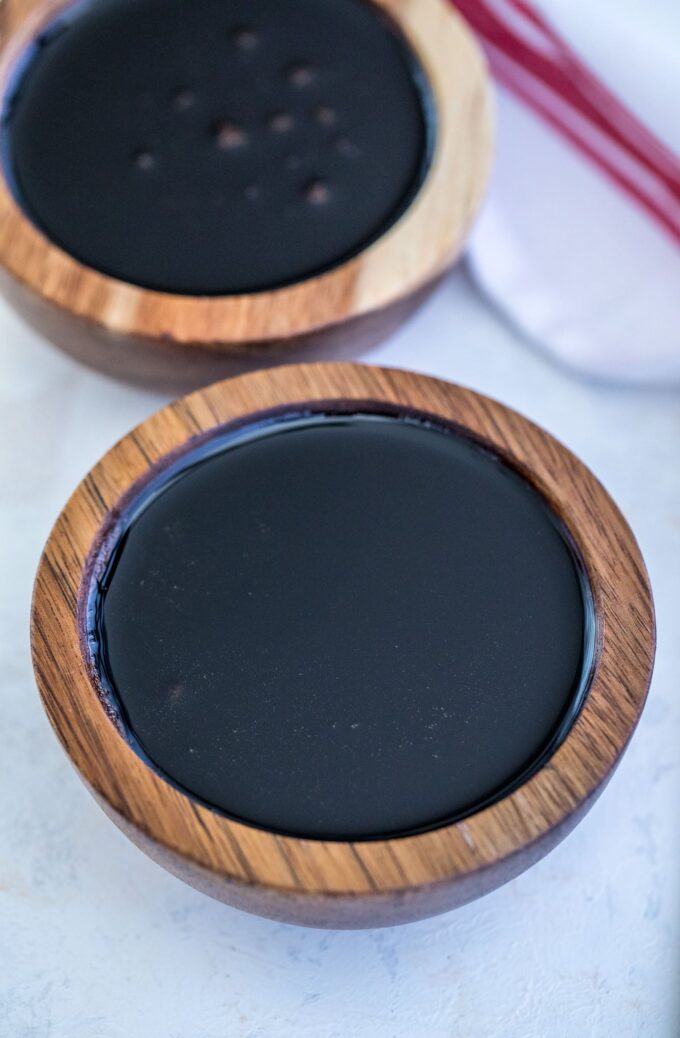 How to make the best Balsamic Glaze?
For exact measures, please follow the recipe card below. Also, watch the recipe video tutorial attached.
Buy a good-quality balsamic vinegar. Pour about a couple of cups of it in a saucepan, then, heat it over medium heat. Get a half-cup of brown sugar and add it to the saucepan and dissolve it. Bring it to a light-boil then, lower the heat to simmer.
To avoid sticking to the bottom of the saucepan, stir the liquid from time to time. In about ten minutes, you should see that the liquid has grown thick and concentrated to just about half a cup.
You will know it is ready when it can cover the back of the spoon. Remove it from heat and set it aside to cool down completely. It will continue to thicken even afterward.
Store it in an airtight glass jar and keep in the refrigerator.
How to make Balsamic Glaze without sugar?
Make sure you use dark balsamic vinegar for this. Just heat it up in a saucepan over medium to low heat while constantly stirring. The process will take about ten minutes until the original amount of the liquid has reduced to about a quarter or half.
How to make Balsamic Glaze for Caprese Salad?
Just follow the above-mentioned steps on how to make the glaze concoction. To make the Caprese salad, you will need tomatoes, mozzarella cheese, and basil leaves.
Cut thick slices of tomatoes and mozzarella cheese. Arrange them in a platter alternating each piece. In between the tomato and mozzarella cheese slices, slide in basil leaves. Drizzle over your freshly made sauce and your Italian Caprese salad is done!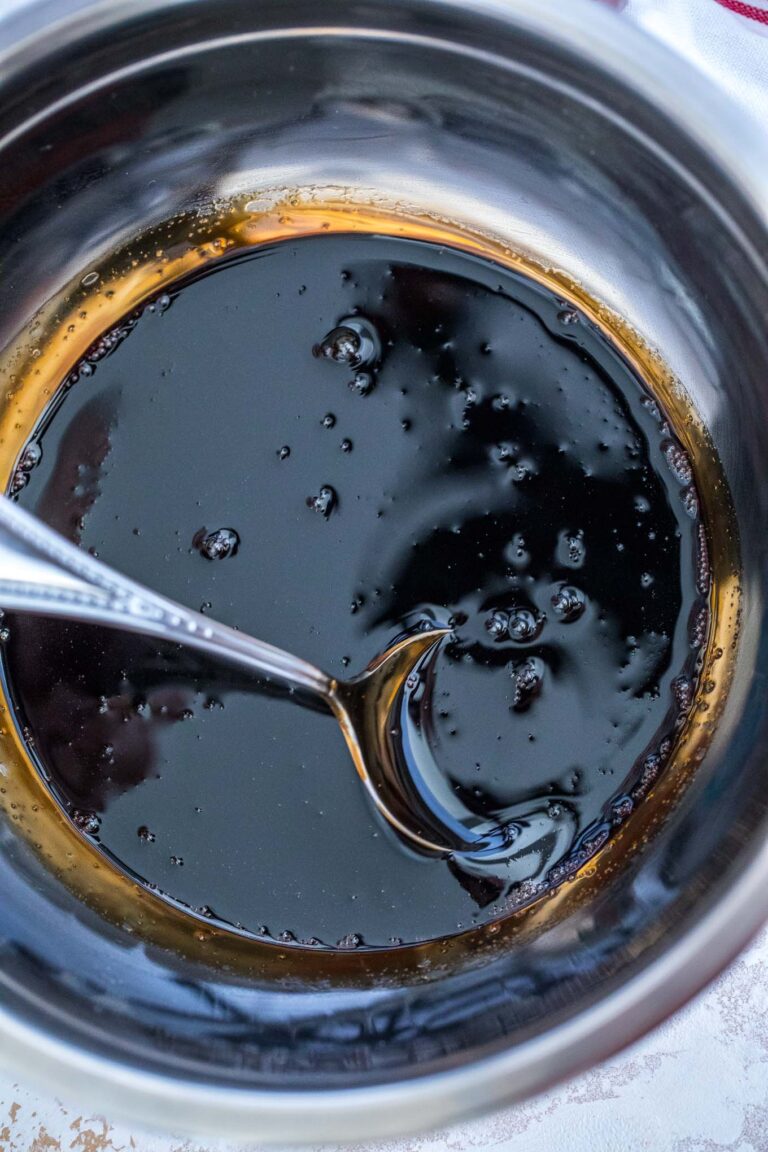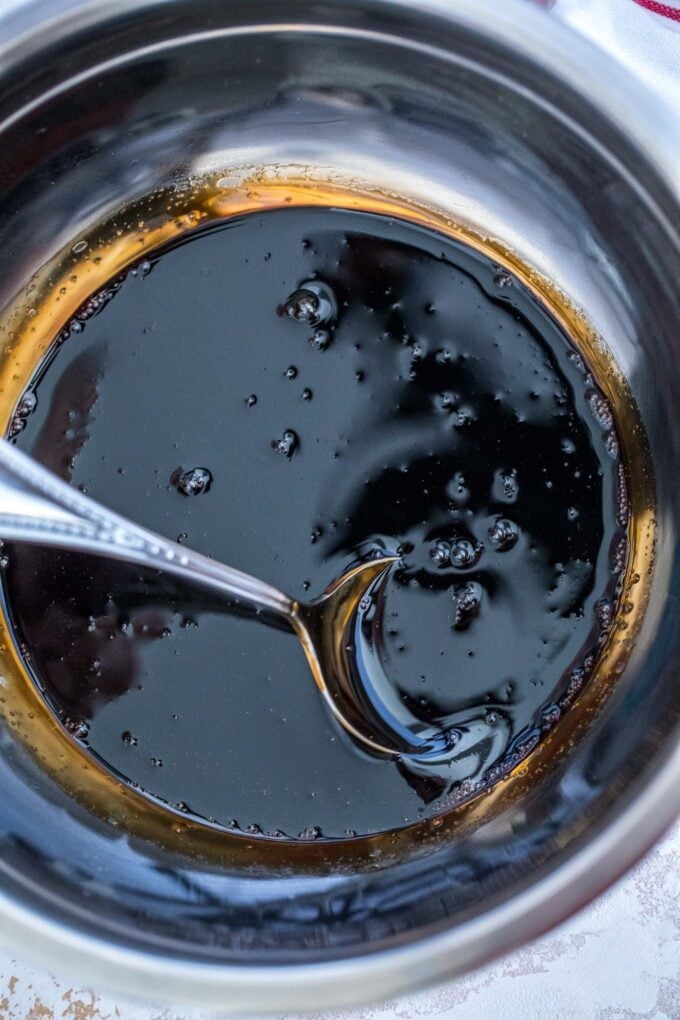 Where to find Balsamic Glaze in the grocery store?
In grocery stores, you can find it next to vinegar and olive oil. They are usually packed in tubes or easy-to-squeeze bottles.
How long does homemade Balsamic Glaze last?
After cooking, it continues to thicken and so, quickly transfer it to a microwavable glass jar which you can reheat later. Generally, it will last for at least two weeks until about a couple of months.
How to use Balsamic Glaze on chicken?
Adding chicken to a Caprese salad, or any other salad is a nice mix. You can grill some chicken breasts and in between flipping, brush the surface with a thin layer of glaze. It gives a nice color to the grilled chicken and it enhances the flavor, too.
Can you make Balsamic Glaze with honey?
Many people prefer to use honey instead of sugar. You can make a honey balsamic glaze on your own. For one cup of balsamic vinegar, you may use 2 teaspoons of honey. If you want you may even choose maple syrup.
How to thicken Balsamic Glaze?
To thicken it, do not rush the reduction. Do not overboil the balsamic vinegar. Instead, take some time stirring it until it thickens.
It is also good to use heavy saucepans this so that the heat dissipates evenly unlike when cast iron is used.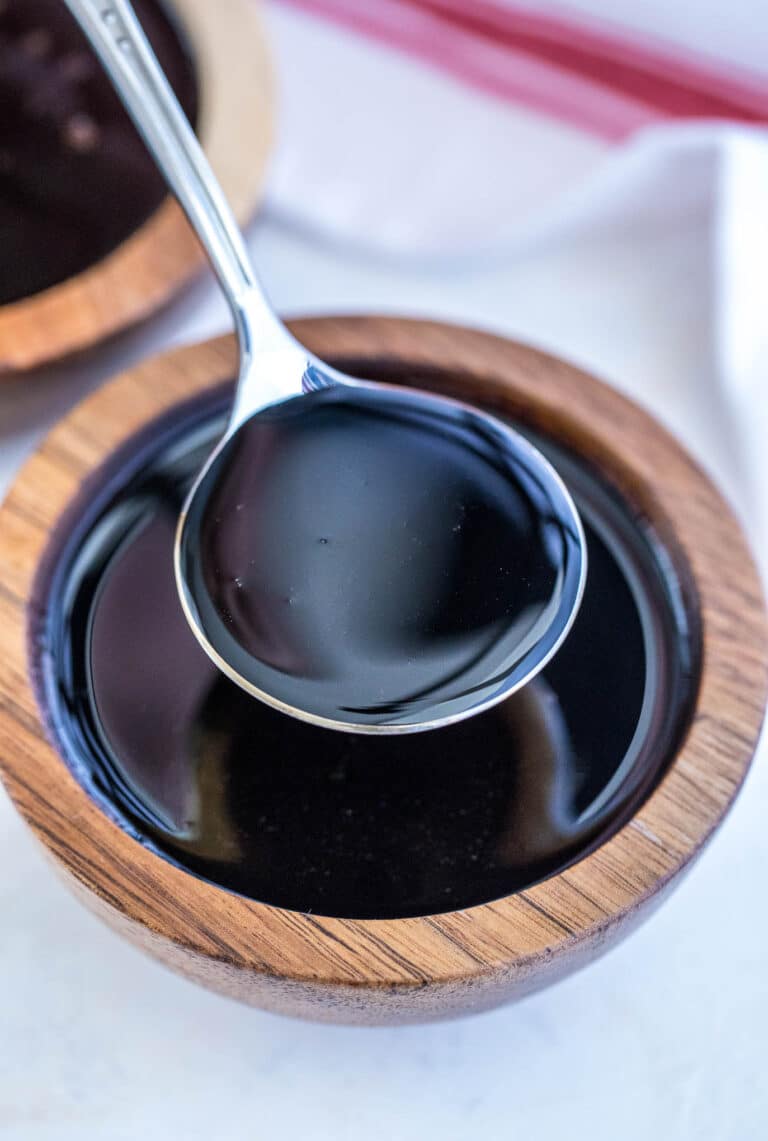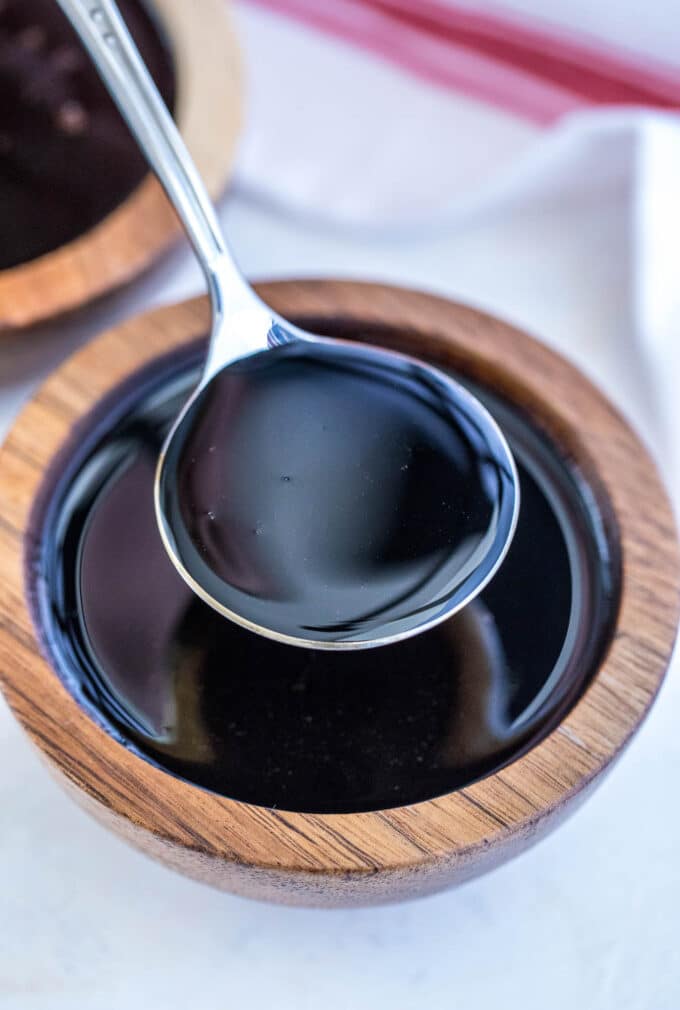 More delicious sauces
Homemade Balsamic Glaze – Recipe Tips
In choosing the balsamic vinegar to use, choose the ones that are marked as made in Modena or Reggio Emilia in Italy. These two provinces are famous for being the producers of top-rated products in this niche.
Instead of sugar, you may use honey or maple syrup to develop a sweeter taste if you like. Otherwise, you can still reduce the mixture sugarless.
Do not leave the saucepan unattended as this needs frequent stirring to avoid overboiling.
When cooking this, prepare for the strong smell emitted by the reducing vinegar.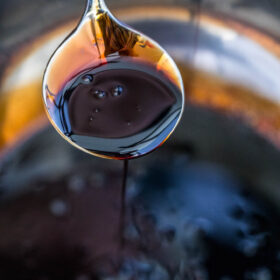 Best Balsamic Glaze
Balsamic Glaze is so easy to prepare with just two ingredients at most! This is an easy recipe which you can make in batches, refrigerate, and use when needed.
Save
Share
Print
Pin
Rate
Ingredients
2

cups

good quality balsamic vinegar

1/2

cup

brown sugar
Instructions
Place a small saucepan over medium heat.

Add balsamic vinegar and sugar, stir to combine and to dissolve the sugar.

Bring to a light boil, after which, reduce heat to medium-low. Let the mixture simmer, stirring occasionally, until it thickens and is reduced to about 1/2 cup, this will take about 10-15 minutes.

The sauce is ready when it's thick enough to coat the back of a spoon. Once chilled it will thicken more.

Remove from heat and allow to cool completely before serving over salads, fruits, cheese or meat.

Store in an airtight container in the fridge.
Nutrition
Calories:
216
kcal
|
Carbohydrates:
48
g
|
Protein:
0
g
|
Fat:
0
g
|
Saturated Fat:
0
g
|
Cholesterol:
0
mg
|
Sodium:
37
mg
|
Potassium:
179
mg
|
Sugar:
45
g
|
Calcium:
57
mg
|
Iron:
1.1
mg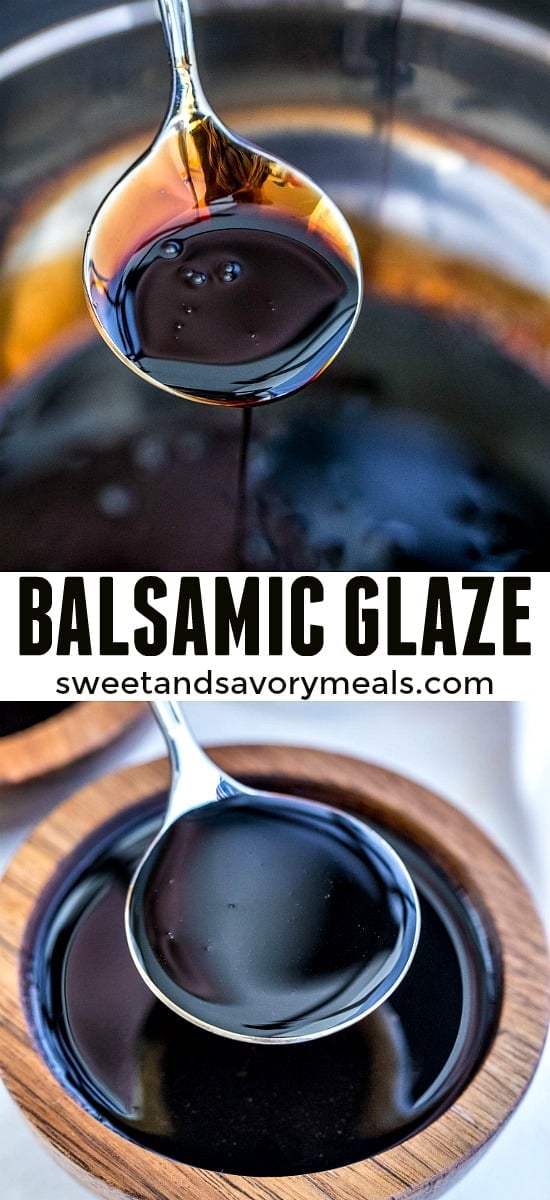 More recipes you might love